Lopez Lomong is BAAACK, Makes History by Becoming First American to Win 1,500 and 10,000m Titles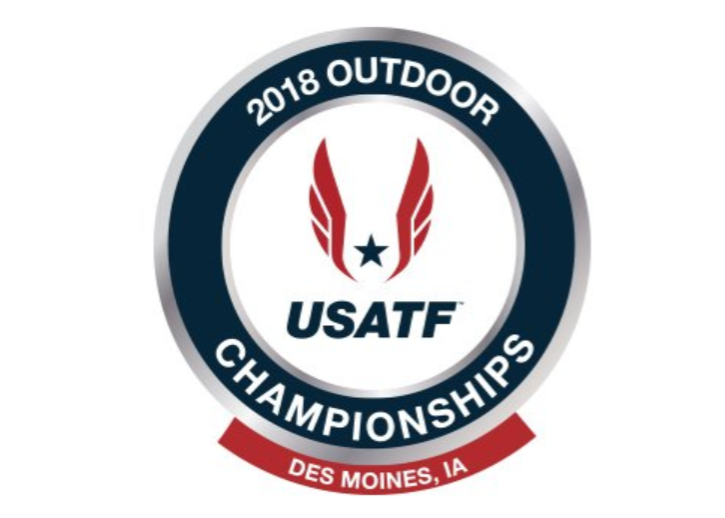 June 21, 2018 to June 24, 2018
by LetsRun.com
June 21, 2018
DES MOINES, Iowa — America, it's time to get familiar with Joie Ray. Ray is the only American ever to run at the Olympics at 1,500 (1920) and the marathon (1928) and until Thursday was the last American to win US titles at the mile or metric mile and the 10,000m.
Ray's 1,500/10,000 feat had never been matched in the modern era, but two-time US 1,500m champion Lopez Lomong used a blistering 54.16 final 400 to stun Shadrack Kipchirchir and win the 2018 USATF title in 28:58.38 to join Ray in the history books as Kipchirchir had to settle for runner-up honors for the third straight year in 28:59.67. Elkanah Kibet was third in 29:05, and former Drake runner Reed Fischer was fourth in 29:06.
Article continues below player
This one started slow. For the first 4,000m of the race, all the main contenders were running over 70 seconds per lap. Then the leaders dipped under 70 for the next 3 laps and hit 5k in 14:51 before Kipchirchir blew things open with a 64.49 14th lap and 65.56 15th lap and the lead pack, which was 13 men deep, was instantly down to 4: Kipchirchir, Lomong, Garrett Heath, and Elkanah Kibet. They then recovered with two 70+ second laps, and three laps later, the lead pack was back to 8. They would never go under 67 seconds again until the final lap.
With 4 laps remaining, the lead pack consisted of six: the eventual final top 4, plus Heath (who wound up 5th in 29:09.15) and Matthew McClintock (6th, 29:11.47). It was Fischer, who went to Drake and now runs for Tinman Elite, but had briefly been dropped, that led the final mile until Kipchirchir took over before the bell and he and Lomong were off to the races.
Lomong stalked Kipchirchir the final lap until he blew buy him on the final straight and did the US Army salute that Paul Chelimo is famous for at the finish.
(Interviews below results)
Results
  1 Lopez Lomong                 NIKE/Bowerma          28:58.38  
  2 Shadrack Kipchirchir         NIKE                  28:59.67  
  3 Elkanah Kibet                U.S. Army             29:05.51  
  4 Reed Fischer                 Tinman Elite          29:06.81  
  5 Garrett Heath                Brooks/BROOK          29:09.15  
  6 Matthew McClintock           ZAP Fitness           29:11.47  
  7 Ryan Mahalsky                Hansons-Broo          29:18.16  
  8 Zachary Zarda                Kansas City           29:23.38  
  9 Zachery Panning              Grand Valley          29:23.97  
 10 Mark Parrish                 Pure Athleti          29:24.92  
 11 Colin Bennie                 Syracuse              29:27.14  
 12 Joel Reichow                 Team USA Min          29:28.10  
 13 Kevin Lewis                  Team USA Min          29:42.59  
 14 Ben Bruce                    HOKA ONE ONE          29:48.16  
 15 Tyler Mueller                Tinman Elite          29:52.91  
 16 Kyle Masterson               SKECHERS PER          29:53.60  
 17 Sean Davidson                HOKA Aggie R          29:58.55  
 18 Gregory Leak                 Tacoma City           30:06.49  
 19 Nicholas Kipruto             U.S. Army             30:19.75  
 20 Craig Lautenslager           Unattached            30:21.73  
 21 Will Geiken                  HOKA Aggie R          30:25.29  
 22 Rajpaul Pannu                HOKA Aggie R          30:46.07  
 -- Sid Vaughn                   Hudson Elite               DNF  
splits here
Lopez Lomong is back baby! — with incredible range
10 years ago, Lopez Lomong finished 5th in the famous 800 final at the 2008 Olympic Trials. Eight years ago, he won the U.S. title at 1500 meters on this same Drake Stadium track. Tonight, he became the national champion at 10,000 meters.
There aren't many runners even capable of qualifying for USAs in the 800 and the 10,000, let alone placing highly in both. And Lomong is the only man to have won U.S. titles in both the 1500 and the 10,000.
However, if you go back far enough, there are some old-timers who accomplished the equivalent. Joie Ray won eight U.S. titles in the mile from 1915 to 1923 and won the 10,000 title in 1928 (these were AAU titles, but that is the meet that USATF recognizes as the national championship for those years on its website). Go back further and Alex Grant, Thomas Conneff, and Edward Carter all won U.S. titles in the mile and 5-mile runs. But considering the last of those titles came 105 years ago, it puts in context just how rare the feat is.
Plus, Lomong has struggled the last few years at USATFs. Once a regular on US teams, here is how he had done the last 3 years at USAs:
2017 5th 5000
2016 10th 5000
2015 6th 5000
Lomong, officially 33 years old (though some speculate he may be older; Lomong, like many of the Lost Boys of Sudan, has a January 1 birthdate), said that he's been banged up in recent years but everything has gone great in 2018.
"The thing is, it's been a while," Lomong said. "I've been battling a lot of injuries for the last three years. This year has just been perfect. Training has been amazing, everything has been clicking really well. [Chiropractor] John Ball fixed me up."
Lomong watched video of previous 10,000-meter races at USAs, including the surge-filled 2017 edition, and was prepared tonight. But in reality, his strategy was pretty simple: just hang on the leaders and kick — hard — at the end.
While he's now a national champ in the 10k, Lomong said that his focus will be the 5,000 next year.
Shadrack Kipchirchir may have benefitted from using the Molly Huddle approach

Kipchirchir has battled a hip injury this spring, so it's hard to totally knock him today, but when you're a guy with a 27:07 pb (#3 all-time U.S.), 39 seconds faster than the next-best guy in the field (Garrett Heath), your best chance is to make it fast. That's not something Kipchirchir was willing to do — "I'm not a front-runner," he admitted. The closest he came was a move just after 5k, when he went 64.49-65.56 from 5200m to 6000m, but after he realized he had not successfully shaken free of the field, he decided to bide his time and allow it to come down to a kick.
Had Kipchirchir's training been better this spring, that might not have been a bad idea — remember, he ran 3:55 for the mile in February. But even though Lomong is no longer an 800/1500 guy, he can still kick, and the winning time (28:58) was far enough removed from his pb for him to unleash those vaunted wheels.
That said, even though this was a weak field, Lomong ran a nice race tonight. Last year, Hassan Mead won a very deep 10k in 29:01 and closed in 55.22. Lomong ran 28:58 tonight and closed in 54.16. The difference is, Mead's final 1600 was 4:08 and Lomong's was 4:21.
Kipchirchir is sponsored by Nike now and no longer competing for WCAP, but said that there is essentially no difference as he still trains with Scott Simmons' group in Colorado Springs. He says that there are a few minor duties he no longer needs to do but that they were "not affecting my training" even when he was doing them.
Dreams Become Reality Department: Drake alum Reed Fischer, who works a full-time job, had the lead with two laps to go and finished 4th on his college track
Fischer was a 4:30/9:24 guy in high school and finished 11th in the 3200 at the Minnesota state meet as a senior in 2013. Five years later, he had the lead with 800 to go and held off fellow Minnesotan Garrett Heath to finish fourth at USAs.
"It's an indescribable feeling," Fischer said "…I thought on a really good day, I could be top five. And I put myself in the hunt for the win, which is all I could really ask for."
Obviously it helped that this was a non-championship year (only one of the top 9 finishers from last year returned) but Fischer ran unafraid tonight and scored one for the blue-collar runners. Fischer, who trains with the Tinman Elite group in Boulder, is a marketing and communications manager at the Colorado Mountain Club, a nonprofit based in Golden, Colorado. Fischer's coworkers had to cover for him during this trip, and he rewarded them with a job well done.
Update: The Des Moines Register has a nice profile on Fischer and why he chose to join Tinman Elite (where he'd need to get a job) instead of Zap Fitness.