Emma Coburn knocks back challenge from Courtney Frerichs, wins 5th straight US steeplechase title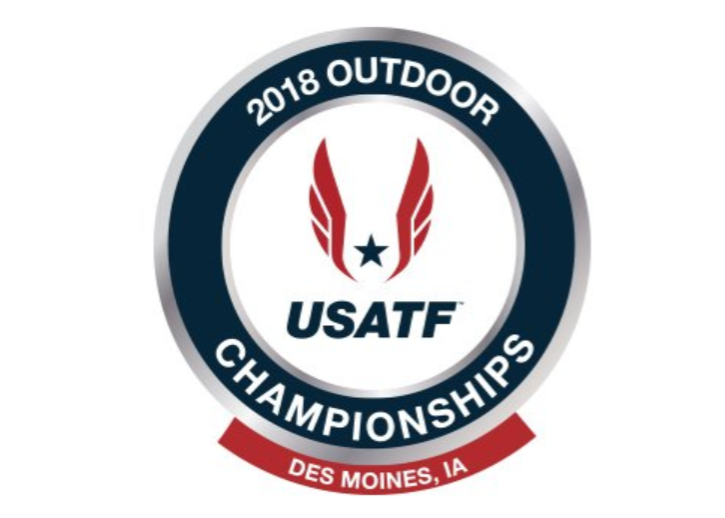 June 21, 2018 to June 24, 2018
by LetsRun.com
June 23, 2018
DES MOINES, Iowa — In a battle between the gold and silver medallists from last year's world championships in the final of the women's steeplechase today at the 2018 USATF Outdoor Championships, the gold medallist came out on top as Emma Coburn used a 64.44 final lap (after a 67.54 penultimate lap) to get the win in a Drake Stadium record of 9:17.70 as Courtney Frerichs was second once again (9:18.69). This was Coburn's 5th straight US steeplechase title and 7th overall.
As expected, those two were the class the of field as Mel Lawrence ended up a clear third in 9:33.30 with Shalaya Kipp fourth in 9:41.24.
Article continues below player
Kentucky's Katy Kunc was the surprising early leader as she built up an early gap, but Coburn passed her just after 1k and would lead the rest of the way. But Coburn had company, as Frerichs stuck to her like glue and was the only woman to match Coburn's big surge with two laps to go. Even though Frerichs fought to keep it close on the backstretch of the bell lap, Coburn began to open a gap approaching the final water jump and would maintain it all the way to the finish line as her margin of victory was .99 of a second. This marked the third straight year that Coburn and Frerichs finished 1-2 (in that order) at USAs, and it may not be the last — though things could change if/when Frerichs' teammate Colleen Quigley returns to the event.
Results appear below.
Analysis below results.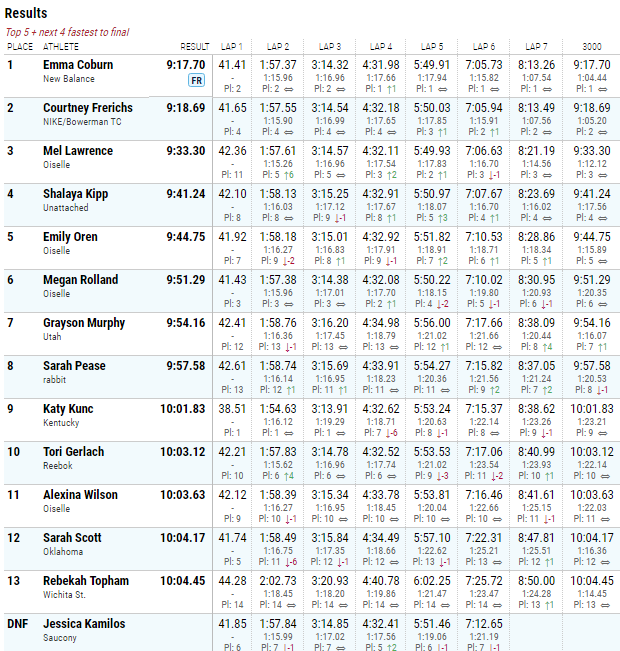 Quick Take: Courtney Frerichs is the real deal, but Emma Coburn remains queen of the steeple
Courtney Frerichs has come a long way since the first time she raced Emma Coburn at the 2013 NCAA championships. Back then, Coburn, a senior at Colorado, defeated Frerichs, a sophomore at UMKC, by 20 seconds in what was her final collegiate race. The gap has closed significantly, as Frerichs was still in contention at the top of the final straight, but once again the world champion Coburn was too good, running her career record to 11-0 against Frerichs in the steeple and 13-0 across all distances.
Coburn said that last year's win in Sacramento was actually a more challenging race as she led from the gun on a hot day and was recovering from food poisoning, but she had to work for it today as well. Coburn wanted to make her move at some point between 1200 and 700 meters to go. She chose to go with two laps to go, and though Frerichs was able to hang on for a while, Coburn succeeded in wearing her down.
This is now seven U.S. titles for Coburn, easily the most ever by a female steeplechaser (though USATF only recognizes champions since 1999). In all likelihood, Coburn would have eight in a row had she not missed the 2013 meet with a stress fracture. And at 27 years old, she should add quite a few more before she retires.
Quick Take: Which barrier will an American break first: 9:00 in the women's steeple or 8:00 in the men's?
Coburn, whose pb is 9:02, is aiming to break 9:00 in the steeplechase at the same time as her counterpart, U.S. steeple king Evan Jager, is trying to break 8:00. Jager has already said that his aim is to do it in Monaco on July 20 — a meet famous for its fast distance times — and Coburn said that that will be one of her best opportunities as well, in addition to the Diamond League final in Brussels.
"It's always great when a meet gives you the resources and the rabbits and the atmosphere to make that happen and Monaco has kind of been keen on delivering to that," Coburn said.
Quick Take: Courtney Frerichs: "Worlds wasn't a fluke. I'm not going anywhere."
Frerichs lost handily to Coburn in Oslo, but she was much closer today, even though she remains winless against Coburn in her career.
"I really believe the chaos [Editor's note: in Oslo where a barrier was placed at the wrong height] did affect my race, and I think today showed that and that I'm right there with Emma," Frerichs said. "Worlds wasn't a fluke. I'm not going anywhere."
That's a change from how Frerichs viewed herself in the past.
"Until last year, I put [Emma] on a pedestal," Frerichs said, noting that she had never raced a distance over 800 meters when Coburn won her first national title in 2011. I'm finally feeling confident that I'm there and that one day it'll happen. And I think that when it does, it's going to be an amazing thing for the U.S."
Talk about the action on our world famous messageboard.
MB: Official 2018 USATF Outdoor Championship Day 3 Discussion Thread
MB: HOT TAKE: Courtney Frerichs is going to beat Emma Coburn at USA's