2018 NCAA Indoor DMR Preview: Josh Kerr & New Mexico Are Favored On Men's Side; Can Elise Cranny Carry Stanford To Title After String Of Near Misses?
By LetsRun.com
March 7, 2018
The 2018 indoor track and field season culminates this weekend at the 2018 NCAA Indoor Track & Field Championships in College Station, Texas. We'll be on-site in the Lone Star State starting Thursday, but before we get down there we're previewing the mid-d/distance events so that you can know what to watch for at the meet. Below you'll find our look at the men's and women's distance medley relays.
Be sure to enter the $200,018 Running Warehouse prediction contest.
Article continues below player
800 preview: Sammy Watson Is Primed to Break Through; Can Isaiah Harris — Or Anyone Else — Hang With Michael Saruni?
Mile preview: Josh Kerr Favored To Repeat As Elle Purrier Tries To End Her NCAA Title Drought
3k/5k preview: Justyn Knight & Grant Fisher Renew Rivalry; Can Karissa Schweizer Avenge NCAA XC Defeat To Ednah Kurgat?
DMR Preview: Josh Kerr & New Mexico Are Favored On Men's Side; Can Elise Cranny Carry Stanford To Title After String Of Near Misses?
*Schedule/start lists/broadcast information *All LRC coverage
TV/Streaming: The meet will be streamed live on Watch ESPN.
Men's distance medley relay (Friday, 9:45 p.m. ET)
Entries below courtesy TFRRS
Note: Athletes listed are the ones who ran the qualifying time and are subject to change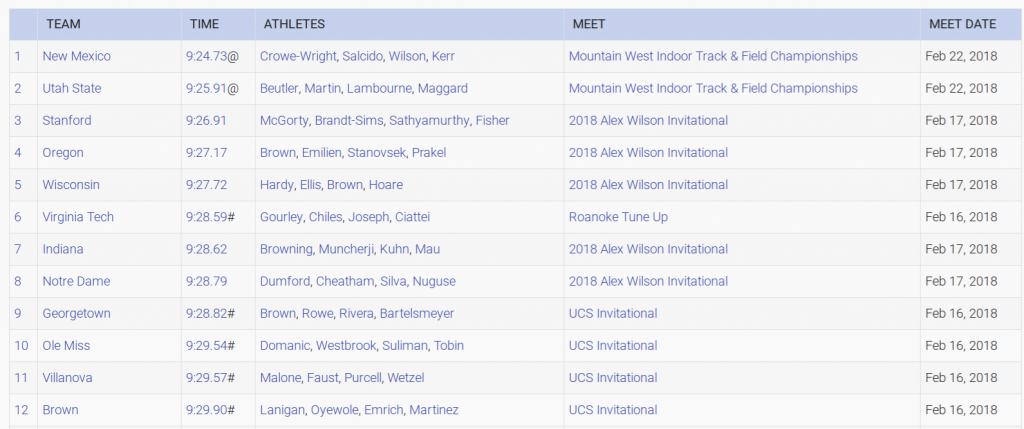 Let's get something straight: New Mexico and Utah State are not the two greatest DMR teams in NCAA history.
Here's what happened. At the Mountain West Championships in Albuquerque, New Mexico ran 9:33.41 to win and Utah State ran 9:34.61 to place second. But thanks to some generous altitude conversions, those marks got adjusted down to 9:24.73 and 9:25.91 for NCAA qualifying purposes — both of which are faster marks than the 9:25.97 that the Leo Manzano-led Texas team ran to set the collegiate record in 2008.
While we understand the purpose of altitude conversions, nine seconds in a DMR is too much. Think about it: there are four legs on the DMR. Altitude obviously hurts the 1600 leg significantly, and it probably hurts the 1200 leg a bit too. But the effect on the other two legs is marginal at best; in fact, the NCAA conversion goes the other way in the individual 400 — run a fast time in that event at altitude and time is added to your mark for NCAA qualifying purposes. If you're arguing that the current altitude conversions for the DMR are correct, you're arguing that the two greatest DMR performances in collegiate history just happened to take place in the same race at the 2018 Mountain West Championships. We're not buying it.
With that said, we still think New Mexico will win the DMR on Friday. The single biggest advantage you can have in a DMR is to have the best anchor leg. And in NCAA 1500/mile champion Josh Kerr, the Lobos clearly have the best anchor — if they choose to run him.
That's the thing. The mile/DMR double seems like a common one, but with the mile prelims taking place on the same day as the DMR final, it doesn't happen as much as you'd expect. Since 2009, the mile/DMR double has been achieved the same number of times (2) as the 3k/5k/DMR triple, which on paper is way harder.
Below, we've put together a table that includes every year (since 2000) in which the athlete who won the mile at NCAAs had a squad from his school that qualified in the DMR. Here's what happened:
| | | | | |
| --- | --- | --- | --- | --- |
| Year | Mile champion | School | Did he run the DMR? | DMR result |
| 2000 | Gabe Jennings | Stanford | Yes (1200) | 1st |
| 2001 | Bryan Berryhill | Colorado St. | No | 12th |
| 2003 | Chris Mulvaney | Arkansas | No | 9th |
| 2004 | Sean Jefferson | Indiana | No | 13th |
| 2005 | Nick Willis | Michigan | No | 1st |
| 2007 | Leo Manzano | Texas | Yes | 8th |
| 2008 | Leo Manzano | Texas | Yes | 1st |
| 2009 | Lee Emanuel | N. Mexico | No | 18th |
| 2011 | Miles Batty | BYU | Yes | 1st |
| 2015 | Edward Cheserek | Oregon | Yes | 1st |
| 2016 | Henry Wynne | Virginia | No | 10th |
| 2017 | Josh Kerr | N.Mexico | No | 10th |
Both of those statements come with a bunch of qualifiers, however. Yes, of the five guys in the table above who attempted the double, four managed to win both races. But there's a hefty chunk of selection bias in there as well. If you're in the table above, it's a given that you won the mile — it doesn't include the guys who ran the DMR and failed to win the mile. It goes the other way as well — the table doesn't include guys whom their coach kept out of the DMR to keep them fresh and failed to win the mile anyway.
So while it might seem obvious that Kerr will try the double this year, it's not a slam dunk. New Mexico coach Joe Franklin told us that he won't decide whether to run Kerr in the DMR until after the first round of the mile and that it's dependent on how Kerr feels. And that's not just coachspeak. Franklin held Kerr out of the DMR at NCAAs last year, and held Lee Emanuel out in 2009, when Emanuel went on to win the mile. If Kerr tells him that the DMR is too much, Franklin will listen.
That said, we expect Kerr to run the DMR. Last year, the Lobos were only seeded 6th; this year, they're seeded 1st. Plus, Kerr is easily the best miler in the field (meaning his prelim shouldn't be too much trouble) and he's already won the NCAA mile title; trying to win the mile and DMR would be a new challenge. With over three hours between the two events, Kerr should be recovered enough to provide a fast anchor leg as well.
If Kerr was totally fresh, all the Lobos would have to do is keep it close through the first three legs and they would win. Kerr has run over two seconds faster in the mile this year than anyone else in the NCAA, and with people to chase, we could easily see him making up a 3- to 4-second deficit. And it's not like UNM's other legs are awful. Michael Wilson has run 1:49.69 this year which, converted for altitude, puts him #30 on the 2018 NCAA list. Among potential 800 legs, Wilson ranks 5th out of 12 — Virginia Tech, Indiana, Utah State, and Ole Miss have had guys run faster. They're in an even better spot at the 400 leg. Carlos Salcido has run 46.60 this year (converted to 46.71 at altitude), which puts him #36 on the 2018 NCAA list. But only one school in the DMR has a guy who's run faster for 400 this year — Oregon's Cameron Stone (46.37, converted to 46.48 at altitude).
That just leaves the 1200 leg, and UNM has a couple of options there. Ian Crowe-Wright (4:06.42 mile converted to 4:01.05 for altitude) and Kristian Hansen (1:50.96 800 converted to 1:50.34 for altitude) are both good enough to at least keep it close through six laps.
With Kerr on anchor, totally fresh, that's easily a championship team. Since he's coming back from the mile prelims, we think it's probably still a championship team but aren't certain of it as clearly the table above shows the chart isn't easy to pull off and some of the other teams in the field are prety good as well (And if Kerr doesn't run, there is zero chance New Mexico wins and this race is truly wide open).
Utah State was only a second behind New Mexico at the Mountain West champs. Stanford ran faster than anyone this year and has the second-best anchor in the field in Grant Fisher and Fisher is totally fresh (he'll be running the 3k final the next day). Oregon has three sub-4:00 milers on its team, with 3:56 guy Sam Prakel on anchor. Reigning champ Ole Miss returns its 800 and 1600 legs from last year in Sean Tobin and 3:54 miler Robert Domanic (though Domanic ran just 4:06 in his only mile this year and didn't qualify individually for NCAAs). Last year's runners-up, Virginia Tech, may have the most middle distance talent in the country in Patrick Joseph (1:46/3:59), Neil Gourley (1:47/3:59), and Vincent Ciattei (1:47/3:59).
We're fairly confident Fisher will run the DMR (the 3k/DMR double is very doable), but Oregon and Virginia Tech could field significantly different squads to the ones that qualified as they have several entrants in the individual mile and may choose to keep their guys fresh if they qualify for the final.
LRC prediction: Since we don't know if Kerr is running, we think Stanford is the safest pick.
Now if Kerr runs, the question is who do think will win? If Stanford can build up a lead, a fresh Fisher is a strong enough miler that he may be able to hold a tired Kerr off. And if Virginia Tech doubles all of its guys back from the mile, they might have a strong enough squad to pull this off if they commit to hammering every leg as hard as possible.
One LetsRun writer, who never anchored a DMR in his life, was adamant we still pick a tired Kerr FTW. Another staffer, who once coughed up a lead running a DMR anchor in college tired after an individual event, wasn't so sure. So….. In the end, we keep remembering this.
Last year at the #ncaaTF Indoor Championships, @UNMLoboXCTF's Josh Kerr defeated the collegiate record holder. This year, he returns to defend his title. pic.twitter.com/8f3eSRSHhj

— NCAA Track & Field (@NCAATrackField) March 7, 2018
New Mexico FTW (if Kerr runs).
Women's distance medley relay (Friday, 10:00 p.m. ET)
Entries below courtesy TFRRS
Note: Athletes listed are the ones who ran the qualifying time and are subject to change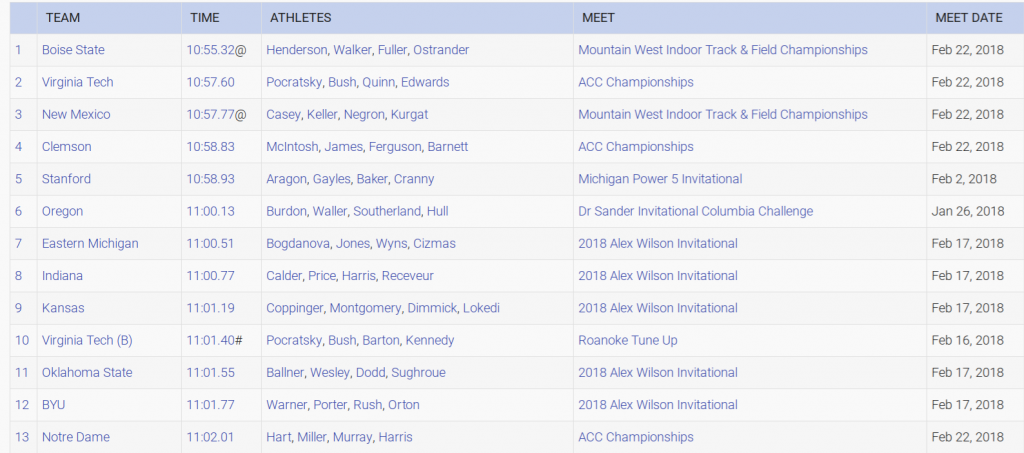 Unlike the men's race, there's no clear favorite in the women's DMR. Boise State is the #1 seed but, like the New Mexico men, the Broncos benefited from a friendly altitude conversion of their 11:05.39 time from the Mountain West meet. We're counting out #3 seed New Mexico, largely because the anchor from their qualifying team, Ednah Kurgat, is already entered in the 3k and 5k at NCAAs and almost certainly won't run the DMR. The actual fastest team on the year is Virginia Tech at 10:57.60, but they're not that far ahead of Clemson and Stanford, both of whom have run 10:58. And spots #6 through #12 are a complete toss-up as those seven schools all have seasons bests' within two seconds of each other.
Boise State, with 2:03 800 runner Sadi Henderson and a pair of solid milers in Alexis Fuller (4:45 at altitude) and Allie Ostrander (4:46 at altitude) is a genuine threat to win, even if its 10:55 seed time is a little misleading. And Virginia Tech, with 4:34 miler Rachel Pocratsky on anchor, has a strong team as well. Clemson has two 2:03 women (Fellan Ferguson and Kamryn McIntosh) and a 4:33 miler in Grace Barnett, but all three of those women will be coming off prelims earlier on Friday night. For these teams — in fact, for most of the field — the key to winning will be to break it open before the anchor leg as their anchors aren't the strongest in the field.
Assuming every school runs its best athletes — and with many of them entered in individual events, that's not a given — we expect this race to come down to Stanford vs. Oregon. Not only do they have the two fastest milers on the year in Elise Cranny (Stanford, 4:31.29) and Jessica Hull (Oregon, 4:31.76), they each have another miler who ranks in the NCAA's top 10 this year (Oregon's Lilli Burdon has run 4:32.30, Stanford's Christina Aragon has run 4:34.76). Hull and Burdon both look set to do the DMR (they passed up the individual mile to run the 3k, which means both will be fresh on Friday), and while Aragon is also entered in the 3k, it's possible Stanford holds out Cranny as she's doing the mile and will thus have a prelim on Friday as well.
Even though Cranny beat Hull at the MPSF meet two weeks ago, we're giving Oregon the edge. For one, the Ducks have a much better 400 leg. Oregon's Hannah Waller has an SB of 52.44, whereas Stanford's top 400 runner, Olivia Baker, has run 53.35. But wait: Baker is also the Cardinal's top 800 runner and we bet she runs that leg instead. Next up would be Gabrielle Gayles (53.93), which gives Oregon almost a second-and-a-half advantage on that leg. Factor in that the other legs are about a draw (Baker has a 2:04.00 800 SB vs. 2:04.38 for Oregon's Sabrina Southerland) but Oregon will have fresh legs on both the 1200 and 1600 and Stanford will not (if it chooses to run Cranny at all) and we lean toward the Ducks.
It's possible, however, that Stanford doesn't run Cranny at all as the Cardinal could put Aragon on anchor and Vanessa Fraser (4:35 mile) on the 1200 leg. But Cranny is the best miler on the team, and if she's not running, Stanford's chances go down. Running Cranny on anchor would also give her the chance to finally win the DMR in her senior year. Cranny has run on teams that have placed 2nd (2015), 3rd (2016), and 2nd (2017), anchoring the 2015 and 2017 squads. It would be cool to see her end her indoor career as a champion.
Oregon has its own defeat to avenge, however, as after setting the collegiate record earlier in the season and holding the lead on the final lap of NCAAs in 2017, the Ducks — who have never won this event at NCAAs — finished 3rd behind Pac-12 rivals Colorado and Stanford.
LRC prediction: Oregon seemed destined to win this race last year. And even after losing Raevyn Rogers (who was part of the NCAA record team but didn't run the DMR at NCAAs last year) and Katie Rainsberger (who has not raced at all in 2018), we think the Ducks get it done thanks to the best 400 leg in the field (Waller) and two fresh studs on the longest legs in Burdon and Hull.
Talk about the DMR on our world famous messageboard: MB: 2018 NCAA DMR Discussion Thread – Who wins if it comes down to a tired Josh Kerr vs fresh Grant Fisher? Oregon or Stanford?
---
Be sure to enter the $200,018 Running Warehouse prediction contest
800 preview: 2018 NCAA Indoor 800 Preview: Sammy Watson Is Primed to Break Through; Can Isaiah Harris — Or Anyone Else — Hang With Michael Saruni?
Mile preview: 2018 NCAA Indoor Mile Preview: Josh Kerr Favored To Repeat As Elle Purrier Tries To End Her NCAA Title Drought
3k/5k preview: Justyn Knight & Grant Fisher Renew Rivalry; Can Karissa Schweizer Avenge NCAA XC Defeat To Ednah Kurgat?
*Schedule/start lists/broadcast information *All LRC coverage