Hot Weekend Preview: Hasay vs. Huddle for the American 13.1 Record in Houston, Mo Farah Begins the Post-Salazar Era in Doha and XC in Edinburgh
2018's first big weekend of racing is here. From Mo Farah's first race under new coach Gary Lough in Doha to the Great Edinburgh XCountry to Molly Huddle, Jordan Hasay, and a loaded men's field at the Houston Half Marathon, we preview it all.
By LetsRun.com
January 11, 2018
The last month has been pretty lean as far as top-tier running events go, but we're now two weeks into 2018 and the running world is waking up. We've still got a few weeks until indoor track really gets started, but the road and cross country seasons are already underway, and this weekend features four big events spread across three days and three continents. On Friday (Thursday night U.S. Eastern Time), four-time Olympic champ Mo Farah will run his first race as a former member of the Nike Oregon Project at the Ooredoo Doha Half Marathon (Farah ended up not starting with an achilles problem). On Saturday, U.S. stars Chris Derrick, Leonard Korir, Desi Linden, and Molly Seidel will do battle at the Great Edinburgh XCountry in Scotland where Laura Muir will compete in front of her home nation in the 4x1k relay and two-time Foot Locker champ Claudia Lane is entered in the junior race. Later in the day, 4,400 miles away on America's West Coast, the University of Washington will host its first indoor meet of 2018 with NOP stars Clayton Murphy, Yomif Kejelcha, and Sifan Hassan all expected to be in action. Finally on Sunday, Molly Huddle and Jordan Hasay will square off at the Aramco Houston Half Marathon, where Deena Kastor's 67:34 American record could go down. We run through what to watch at each event below.
Article continues below player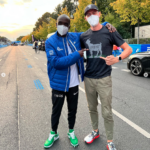 Kipchoge loves the 1:59:40 Shirt Get Yours Today
Shirts are $10 off if he breaks the world record and you order today.
Ooredoo Doha Half Marathon (Thursday, 10:30 p.m. ET)
Update: Results are in. Mo Farah warmed up, did not start because of a tight achilles problem.
Allie Kieffer, the surprise 5th place finisher at the NYC marathon, kept it rolling with an easy win in 1:10:40, lowering her PB from 74:13 as Alex Kibet won the men's side.
Female
1.
Allie Kiefer
31
USA
1:10:40
—
2.
Gemma Steele
33
GBR
1:12:37
+0:01:56
3.
Faith Chepkoech
24
KEN
1:12:44
+0:02:03
4.
Emma Bates
26
USA
1:12:52
+0:02:11
5.
Esma Aydemir
20
TUR
1:13:36
+0:02:56
7.
Azucena Diaz
19
ESP
1:14:35
+0:03:54
6.
Monica Silva
25
POR
1:16:10
+0:05:29
Male
1.
Alex Kibet
27
KEN
1:01:53
—
2.
Benard Korir
25
KEN
1:02:07
+0:00:13
3.
Chris Thompson
37
GBR
1:03:03
+0:01:10
4.
Ayad Lamdassem
36
ESP
1:03:09
+0:01:16
5.
Abdi Abirahman
41
USA
1:03:18
+0:01:24
6.
Michael Shelley
35
AUS
1:03:20
+0:01:27
7.
Scotty Bauhs
31
USA
1:03:52
+0:01:58
8.
Hendrik Pfeiffer
25
GER
1:04:12
+0:02:18
9.
Ivan FERNANDEZ
30
ESP
1:04:46
+0:02:53
10.
Bekir Karayel
35
TUR
1:06:08
+0:04:14
Pre Race: This is the sixth year of this event, but the first year that it has created any significant buzz as the organizers have invited several recognizable Western athletes, led by Mo Farah (or is it Mohamed now?), Abdi Abdirahman, and German 2:08 marathoner Arne Gabius. On the women's side, Allie Kieffer — who recently signed with Oiselle and was 5th at the NYC Marathon in November –converted Italian triathlete Sara Dossena (6th at NYC), and Brit Gemma Steel (68:13 HM pb) are the headliners.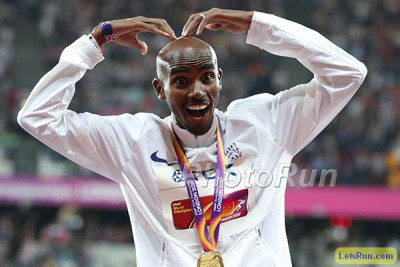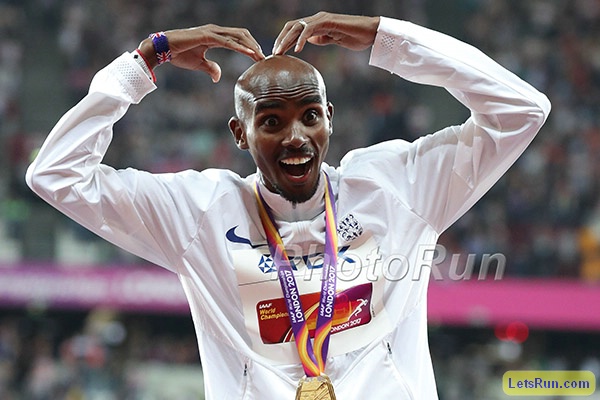 After one final golden year on the track in 2017, Farah is a road racer now
The race won't be streamed (to our knowledge) and though there are several intriguing names, there are zero Africans in the elite fields, which really hurts the quality of competition.
This race is all about Farah. It's his first race since he announced in October that he's leaving the Nike Oregon Project and coach Alberto Salazar to return to London and work with Gary Lough. Given the competition, we expect Farah to win comfortably — Gabius and the 41-year-old Abdirahman are not threats to Farah over 13.1 miles — but don't read too much into the outcome. Farah is running a serious tuneup half marathon in London in March against Callum Hawkins, Daniel Wanjiru, and others, so at best this can be considered a tuneup to the tuneup. It's a chance for Farah to get the legs moving again and cash a fat appearance check in the process.
[gravityform action="polls" id="626″ mode="

poll

" cookie="1 month" show_results_link="false" display_results="true" percentages="true" counts="false" ajax="true"]
Great Edinburgh XCountry (Saturday, 8:15 a.m. ET)
How to watch in the U.S. 
Stream it live through USATF.TV+ (subscription required). Broadcast begins at 8:15 a.m. ET (schedule of races here).
How to watch in the UK
Live on BBC One from 13:15 – 15:15
***
Laura Muir is the biggest name in the field and will have plenty of fans cheering her on as she runs on the British team in the 4x1k mixed relay. Muir, who is building up for the World Indoor Championships in March, began her 2018 season with an impressive 8:37 3k in Glasgow this week. Her squad has won the mixed relay in each of the past three years, and with her on anchor, GB will be favored again. Scotland also has two separate teams entered, and its A squad is a threat to win with 3:34 1500 man Jake Wightman and 4:02 1500 runner Steph Twell (the U.S. team is Will Geoghegan, Travis Mahoney, Ayla Granados, and Rebecca Mehra).
In the men's 8k, the U.S. will be favored as Team USA includes the last four champions in this event in Chris Derrick (2014, 2015), Garrett Heath (2016), and Leonard Korir, who won in a thrilling down-to-the-wire battle with Callum Hawkins a year ago. Korir became just the second American ever under 60 in the half marathon when he clocked 59:52 in New Delhi eight weeks ago, so we're giving him the edge as the favorite. But Derrick and Heath, both Stanford alums, are two of the country's best XC runners, and both are very familiar with the Holyrood Park course (Heath won the short-course event in 2014 and 2015).
We expect a U.S. individual victory, but anything can happen in this race — remember, Mo Farah was only 7th a year ago. Ben Connor (6th at Euro Cross), Dewi Griffiths, who debuted with a 2:09:49 at the Frankfurt Marathon in October, and veteran Andy Vernon are the top Brits, while the gold and silver medalists from last month's Euro XC champs, Kaan Kigen Ozbilen of Turkey and Adel Mechaal of Spain, lead Team Europe.
The gold and silver medalists from the women's race at Euro Cross, Turkey's Yasemin Can (who won this race by 21 seconds last year) and Sweden's Meraf Bahta, will also be in Edinburgh and are among the favorites for the women's 6k title. Emelia Gorecka (8th Euro XC) is the top Brit, but the biggest challenge will come from the Americans. Molly Seidel was in good form last fall, winning the Mayor's Cup XC in Boston and taking second at the US 5k road champs, while Natosha Rogers was 23rd at World XC last year and coming off a year in which she set PRs at 5k (15:08) and 10k (31:54). Two-time Olympian Desi Linden, who was 8th at the Campaccio XC meet in Italy last week, is also entered.
We'll go with Team GB to win the mixed relay once again and for Korir and Can to defend their titles from a year ago.
[gravityform action="polls" id="627″ mode="

poll

" cookie="1 month" show_results_link="false" display_results="true" percentages="true" counts="false" ajax="true"]
UW Indoor Preview (Saturday, all day)
How to watch
Live on Flotrack (requires subscription)
***
The stakes aren't incredibly high in this one (marks from Washington's 307-meter track cannot be used to qualify for World Indoors) but the meet should serve as the season opener for several big names. Reigning World Indoor 1500 champ Sifan Hassan will be dropping down to the 600, scheduled to go off at 5:00 p.m. ET (remember, she has 1:56 800 speed), NCAA XC runner-up Amy-Eloise Neale of Washington goes in the 3k (7:20 ET) against Sara Vaughn, and Clayton Murphy is slated to run the men's 800 (5:40 ET) in what will be his Nike Oregon Project debut. New NOP teammate Yomif Kejelcha is set to battle the Brooks Beasts' Drew Windle in the 1k (2:25 ET), though he's also entered in the mile (3:05 ET). Craig Engels rounds out the NOP contingent in the 3k (8:00 ET) — per All-Athletics, this will be his debut at the distance.
UPDATE: Paul Merca reports that Shalane Flanagan is a late addition to the women's 3k field. This will be Flanagan's first indoor race since 2011.
Aramco Houston Half Marathon (Sunday, 8:00 a.m. ET)
How to watch
Live on the Longhorn Network and WatchESPN starting at 8:00 a.m. ET. Local station ABC13 will also be broadcasting the race locally and streaming the race globally.
***
Women's race: Will the American record go down? "I think she's as prepared as she's ever been for a half marathon," says coach Ray Treacy of Molly Huddle
When the elite fields were announced last week, we already hyped the women's race, which includes U.S. stars Molly Huddle and Jordan Hasay, as a battle for the American record. And after talking to Huddle's coach Ray Treacy, we're even more convinced that something special could be in the cards on Sunday.
"Everything's gone well, right through the fall, through Manchester Road Race (where Huddle finished one second behind winner Buze Diriba)," Treacy said. "The training has gone very well since then. There's been no hiccups or anything like that. Just looking forward to see what she can do on Sunday. I think she's as prepared as she's ever been for a half marathon, in terms of what she's done in [the] New York [Half] the last couple years, so I would expect a really good performance."
That's encouraging news as Huddle has already run several fast half marathons. She ran 67:41 in 2016 to miss Kastor's AR by seven seconds, and last year ran 68:19 to win the NYC Half in chilly 34-degree temps over training partner Emily Sisson. With conditions on Sunday in Houston looking close to ideal for a half marathon (sunny, high of 51, 7 mph winds), Huddle could be poised to run much faster than her PR. In New York last year, Huddle came through 5k in 16:59 (71:39 HM pace) but ran 67:09 HM pace for the final 10 miles.
"Last year in particular, I think she could have got very close [to Kastor's record]," Treacy said. "They went very, very slow for five miles. I think Emily and [Molly] were running very close to 5:00 pace the last seven or eight miles. I think she was ready at that stage to run much faster she did that day if the race had gone from the word go. She was very fit.
"It's just a matter of how the race develops early on [Sunday]. You would hope that the race would go quick enough that she would have a chance at breaking Deena's record."
Indeed, with Hasay and sub-67 half marathoners Edith Chelimo, Eunice Chumba, and Mary Wacera in the field, the pace should be hot (Diriba, who beat Huddle in Manchester, is also entered).
Treacy said that, with a spring marathon on the horizon for the first time, Huddle's volume this winter has been higher than in previous years in order to ease her transition into marathon training, which Huddle will begin in earnest after Houston. So far, so good, though the test will come on Sunday.
As for Hasay, we did not speak to her coach Alberto Salazar, but the expectations for the 26-year-old will be almost as high. A year ago, Hasay came to Houston with the ambitious goal of running 68:00, and though she didn't achieve it, she surpassed all external expectations by running 68:40 on a warm, humid day where the winner ran 67:58. Given that all Hasay has done since then is improve — she ran a 67:55 half in Prague, debuted with a 2:23:00 marathon in Boston, and finished the year with a 2:20:57 in Chicago — it's certainly feasible to think that Hasay could go faster than 67:34 this weekend, assuming her late-fall/early-winter training has gone well.
As good as Huddle and Hasay are, they have a better chance at breaking the AR than winning the race. Kenya's Mary Wacera, a two-time World Half champs medalist, owns the U.S. all-comers record of 66:29, set at this race two years ago. However, she was only third here last year, just two seconds ahead of Hasay. Instead, the co-favorites are Edith Chelimo and Eunice Chumba, both of whom ran extremely fast last fall (Chelimo ran 65:52 in Cardiff, Chumba ran 66:11 in Copenhagen). One of those is likely your champion, but if the American studs can hang with the top African-born studs early, they could both be dragged to very fast times.
We predict the American record goes down with…Huddle being the one to do it.
[gravityform action="polls" id="628″ mode="

poll

" cookie="1 month" show_results_link="false" display_results="true" percentages="true" counts="false" ajax="true"][gravityform action="polls" id="629″ mode="

poll

" cookie="1 month" show_results_link="false" display_results="true" percentages="true" counts="false" ajax="true"]
More: American Record Alert: The 2018 Houston Half Marathon Is Going to Be Incredible
***
Men's race: How many men crack 60:00?
Given the high-profile showdown between Americans on the women's side, that's the race that will get the most attention (since Houston will be broadcast by a local station, we imagine that's the race they will focus on). But the race of the day — and the race of the weekend — is the men's half in Houston as it's beyond loaded. There are six guys entered with sub-60 pbs, led by Kenya's Alex Korio, whose 58:51 in Copenhagen last fall made him the eighth-fastest in history over 13.1. That performance makes him the slight favorite, but there are several men who could win it. Guye Adola (59:06 pb) is coming off the fastest debut marathon in history (2:03:46 in Berlin). Daniel Wanjiru (59:20 pb) won the London Marathon last year. Feyisa Lilesa (59:22 pb) holds the Houston course record of 59:22 and was second last year. Leonard Barsoton (59:28 pb) was 2nd at World XC last year. It's going to be a phenomenal race.
UPDATE: The men's field is now even better as New Zealand's Jake Robertson (60:01 pb) is a late add. Thanks to reader Tomek Baginski for tipping us off.
Perhaps the most interesting question is how many men break 60 minutes. It's only been achieved nine times on U.S. soil (Lilesa and Ryan Hall are the only men to have done it in Houston), and no U.S. race has ever seen three men break the barrier. But with such a stacked field and good weather for running, that could change on Sunday.
Among Americans, Luke Puskedra bears watching as he makes his Oregon Track Club Elite debut (he began working with OTC coach Mark Rowland after last year's Chicago Marathon). Puskedra ran his PR of 61:29 here two years ago. Another American with past success on this course is Diego Estrada, who won this race three years ago in 60:51; he's entered again in 2018. Sam Chelanga (61:04 pb) and his former training partner, 43-year-old Bernard Lagat (62:33 pb) are two more entrants familiar to U.S. fans.