Shadrack Kipchirchir (13:57) Wins 6-Way Kick, Molly Huddle Earns Title #6 (15:24) at 2017 USATF Road 5K Champs
By LetsRun.com
November 4, 2017
NEW YORK — The men's race at this morning's Abbott Dash to the Finish Line 5K/USATF 5K Championships was a thriller, with Shadrack Kipchirchir outsprinting a tight pack (the top six were separated by just two seconds) to win his second national title in a tactical 13:57.
The women's race was easier to call. Molly Huddle was running, and when Molly Huddle runs a US road race, there's only one outcome. Huddle broke the field just after the 3k mark and cruised to her sixth US 5K title (25th overall) in 15:24, nine seconds ahead of fellow Notre Dame alum Molly Seidel.
Not much happened in the men's race until the final straight in Central Park, which is the same one 50,000 marathoners will run down in tomorrow's marathon. The first two miles (4:37, 4:35) did little to thin out a deep pack on a crisp, sunny fall morning, and entering the park, almost the entire 22-man elite field was still closely bunched. Even with 400 to go, about a dozen men remained, leading to a furious kick with plenty of bumping. Ultimately it was Kipchirchir, who won last month's US 10-mile champs in Minneapolis, who closed best, holding off a hard-charging Tommy Curtin (13:58) and Kirubel Erassa (13:58) to win. Such was the depth of this field that Olympic silver/World Championships bronze medalist Paul Chelimo could only manage fourth (13:58) while US 10,000 champ Hassan Mead was only ninth (14:02).
There was no kick in the women's race; there rarely is with Huddle. She hit the mile in 4:55 and slowed slightly during mile 2 (5:10, per Huddle's watch) before crushing everyone over the final mile in Central Park to win easily. Seidel, who in addition to her first name and alma mater also shares with Huddle an ability to grind from the front, was second in 15:35 as Rogers crossed in third in 15:39.
Quick Thought: Molly Huddle does not lose to Americans on the roads
If you're an American woman, and you see Molly Huddle on the start line of your road race, you're racing for second. She has been utterly dominant on the roads for the last five years: per All-Athletics, no American woman has defeated Huddle in a road race since March 2012 (Janet Bawcom at the US 15K champs), a span of 24 races that includes Huddle's marathon debut in New York last year.
Huddle is just getting rolling into her current block of training, which will culminate with an American record attempt at the Houston Half Marathon in January. Next up for her is the Manchester Road Race in Connecticut on Thanksgiving.
Quick Thought: Shadrack Kipchirchir says don't underestimate his speed
Given the PRs of some of the guys in this field (Mead and Ben True have both run 13:02, Chelimo has run 13:03 and has two global medals), it was surprising to see a top three of Kipchirchir (13:18), Curtin (13:26), and Erassa (13:23) — none of whom were invited to the pre-race press conference — earn the top three places.
But November 4th is an odd time on the calendar for professional runners, which means it's all about who's fit right now. Kipchirchir has run well this fall, having also won the US 10-mile champs, and was basically peaking for this race (he's taking a break afterwards), so perhaps it's not surprising that he emerged victorious.
Article continues below player.
"I'm a 10k guy, but I'm really a good 5k guy, but I've not had a chance to run a fast 5k," Kipchirchir said. "In training, I know I have it but it's a matter of putting them together, the strength and the speed. I respect them, but I didn't care. I just came here to win."
Quick Thoughts: Good day for the Saucony Freedom Track Club, coached by Tim Broe
Molly Seidel and Tommy Curtin both are in Saucony's Freedom Track Club. The club, coached by USATF 5k legend Tim Broe, was started last year, but Curtin was in Boston and the other main male athlete in the club, Brian Shrader, was based in Flagstaff. This fall, Saucony greatly expanded the club, and all of its members moved to the Boston area to make it a local-based club in the bustling Boston running scene. Today's results were a good one for the club. Curtin was "super pumped" with his result and had no hard feelings about being bumped in the final 100m. Curtin was battling for the lead when the runners got momentarily confused on which side of the finish line they should go to (the finish line was divided in half) and there was some bumping, but Curtin said it didn't affect the outcome.
Curtin on Saucony Freedom Track Club: 
Curtin on today's run
QT: Kirubel Erassa has joined the ADP
The American Distance Project keeps getting better. We didn't get to speak to him afterwards, but third placer Kirubel Erassa has left the Atlanta Track Club group to move out West and train with Scott Simmons' American Distance Project.
QT: This was Molly Seidel's first road race where she wasn't wearing a turkey costume
Seidel has had a nice fall season, winning her professional debut at the Mayor's Cup XC two weeks ago and now placing second behind Huddle — which, as we noted above, is basically as well as any American can do on the roads.
This was Seidel's first road race as a pro, but not her first ever. Last fall, she ran 34:29 to win the Berbee Derby 10K in Madison by over three minutes. Not bad considering she was wearing a turkey costume!
Men's Results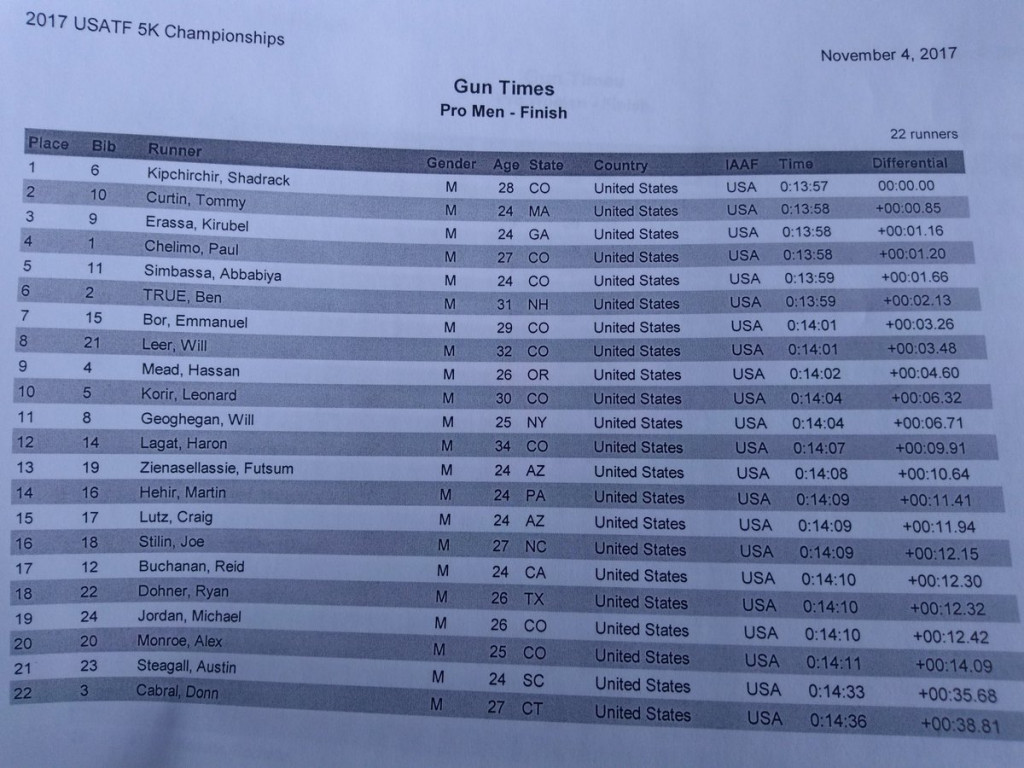 Women's Results