2017 Great Edinburgh XC Recap: Leonard Korir Outkicks Callum Hawkins in Thrilling Duel as Mo Farah Finishes 46 Seconds Back in 7th Place
By LetsRun.com
January 7, 2017
Mo Farah's season debut fizzled, but Leonard Korir and Callum Hawkins started 2017 with a bang by staging an epic duel over 8,000 meters this morning at the 2017 Great Edinburgh XCountry. Hawkins, a Scot running on native soil who was 9th at the Olympic marathon in Rio, repeatedly tried to break Korir and almost succeeded, but the American Olympian never gave up, making up a five-meter deficit in the homestretch to prevail in a thrilling kick and earn a one-second victory, 24:03 to 24:04. Farah went out conservatively (he was 16th after the second of six laps) and though he'd move up to seventh by the finish line, he was 46 seconds behind Korir and six back of Garrett Heath, who took sixth after winning in Edinburgh in 2014, 2015 and 2016.
Americans dominated in the men's senior race, taking four of the top six places, and that performance, coupled with a strong showing in the men's junior race (1-3-4) was just enough to give the U.S. the team title over Europe and Great Britain. Turkey's Euro XC champ Yasemin Can put on a show to win the women's senior 6K race by 21 seconds over Ireland's Fionnuala McCormack, while a stellar anchor leg by Laura Muir handed Great Britain the title in the mixed-gender 4x1K relay (though that event did not count toward scoring for the team competition).
Recap, top-8 results and analysis from all the day's action in Edinburgh, starting with Korir's big win in the men's senior race. Full results here.
Article continues below player.
Re-live the action on our live messageboard thread here: MB Garrett Heath goes for #4 vs Mo Farah: Official 2017 Great Edinburgh XC live discussion thread
MB: Mo Farah goes home DEVASTATED!!!
Men's Senior Race: Leonard Korir Prevails in a Great Duel with Callum Hawkins
This was undoubtedly the race of the day, though not for the reason many expected. Entering the meet, all the headlines had been about a rematch between Garrett Heath, who had won in Edinburgh the past three years, and four-time Olympic champion Mo Farah of Great Britain. By the end of this one, it would be two different men battling it out for the win.
Conditions were much better today than in years past, 48 degrees Fahrenheit and overcast with no snow and minimal mud on the ground. The marathoner Hawkins was dropping down the most distance from his specialty and as a result, he made an effort to push the pace from the gun against a field of mostly 5k/10k runners. Heath and Korir joined him at the front, and by the end of the second lap, just 5:44 into the 8K race, they had already put 12 seconds on Farah, who was way back in 16th place.
With such a large gap to Farah, none of the leaders wanted to give him a chance to come back and Hawkins continued to surge up front. The furious pace was too much for Heath, who began to fall back on the fourth lap and was dropped for good on lap five. Farah had made a concerted effort to start moving his way up the field, but even after moving up to seventh place by the end of lap four (a little past halfway), he was 28 seconds down.
It was now a two-man race between Hawkins and Korir. Hawkins, who has never broken 14:00 for 5,000 meters and whose 10k pb (28:49) is over a minute slower than Korir's (27:29), knew he couldn't let the race come down to a kick and did his best to keep pushing on the sixth and final lap. Hawkins succeeded in creating a gap of about five meters midway through, but he was reaching his limit, a pained expression evident on his face, which moved from side to side with every exhale.
Korir was not licked however, and he pulled level once again as they hurdled a stream. As the pair neared the finish line, Hawkins attacked up a hill, and with just under 400 to go, his lead was seven meters and growing. But Hawkins slipped a little as he navigated the rocky stream on the course's final turn, and with 100 to go, his lead was down to about five meters.
Hawkins still looked to have it won in front of the screaming Scottish crowd, but Korir saw that the gap between the two men was not growing and threw in one more kick. Hawkins, sensing Korir gaining on him, looked back to see the American right behind him and shifted into his final gear, drifting faintly to his left to hold off the charging Korir. Though he succeeded in blocking Korir momentarily, the American was too strong, plowing by on Hawkins' outside 25 meters from the line, which gave him time to jab his fingers into the air in celebration before breaking the tape. He won it in 24:03, with an exhausted Hawkins crossing a second later. European champ Aras Kaya of Turkey, who passed Heath on the final lap, was a distant third in 24:21, as Sam Chelanga, Stanley Kebenei and Garrett Heath all finished in the top six to cap a strong day for American men. Farah never looked comfortable and finished a well-beaten seventh in 24:49.
The good conditions meant that times were much faster than last year — Korir ran 24:03 for the win compared to Heath's 25:29 in 2016.
Longest video we've found of finish:
https://twitter.com/Sports4Life007/status/817765604463640577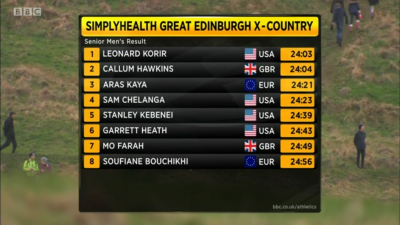 Quick Thought #1: What a terrific race
Anyone who got up on a Saturday morning to watch this race back home in the U.S. was rewarded with a real treat. Hawkins and Korir aren't global superstars like Farah, but their duel was still compelling, a classic matchup of strength versus speed. Add in an awesome course at Holyrood Park that featured hills and multiple points on the course where runners had to hurdle rocky streams, and this was a tremendous event. More proof that you don't need fast times to create great competition.
Quick Thought #2: Korir couldn't believe he actually won while Mo Farah admits he's got "quite a lot of work to do"
After the race, Korir was in shock during his BBC interview, as he had resigned himself to second entering the home stretch.
"I can't believe I won," said the 2016 10k Olympian. "I was really saying I was number two, I knew I was number two."
Farah said that he knew after a subpar workout 10 days before the race that today was going to be a hard day but said that he still wanted to come out and represent his country.
"It's not what I wanted but it's where I am," Farah said. "Got quite a lot of work to do… I'm definitely a little bit behind. The last bit of training hasn't gone as well as I wanted."
Quick Thought #3: Hats off to Callum Hawkins
Hawkins didn't win, but he ran a ballsy race, hammering from the gun and leading almost every step until Korir passed him at the line. We give a marathoner a lot of credit for coming out and testing himself over 8 kilometers in January, but unfortunately Hawkins won't be running World XC in March; instead, he's totally focused on the marathon at Worlds in August. It was also a historic result for Hawkins, as shown below:
We think that run makes @callhawk the first Brit to beat @Mo_Farah in any race for SEVEN YEARS! #GEXC2017 pic.twitter.com/eoO0zvtfff

— scottishathletics (@scotathletics) January 7, 2017
Women's Senior 6K: European Champ Yasemin Can of Turkey Wins Handily
On paper, Can, who was 6th at the Olympics in the 5k and 7th in the 10k, was the best woman in the field, and like Muir in the relay, she came through in spades. Can and her Turkish teammate Meryem Akdag began separating on the first loop but really put the hammer down on lap two. By the end of the second lap, Can had a three-second lead on Akdag and 10 seconds on Ireland's Fionnuala McCormack, who was 5th at Euro XC last month. McCormack, in turn, had 12 seconds on the chase pack.
Can, who like Korir was born in Kenya, ran unchallenged over the final two laps, though Akdag began to fade after the hot early pace. McCormack, to her credit, never gave up and reeled in Akdag for second on the final lap, but this was Can's day.
The Americans couldn't touch the top three, but former Villanova star Emily Lipari impressed, outkicking Romanian Ancuta Bobocel for fourth.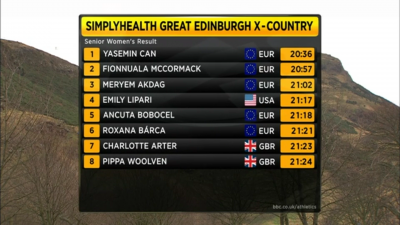 4x1K Mixed Relay: Great Britain Wins as Laura Muir Destroys Everybody on the Anchor Leg
No team had a bigger advantage in this race than Great Britain on anchor with 3:55 1500 runner Laura Muir. As a result, all the Brits needed to do was keep it close through three legs, and that's what they did.
Conditions were better for running today than in years past, with no snow and far less mud, and as a result, times were quick across the board. James Bowness (GB), Kyle Merber (USA) and Jake Wightman (Scotland A) all handed off together in 2:36, three seconds faster than the previous record. The U.S. got its best leg of the day from Lianne Farber on leg 2 as she pulled even with Great Britain's Charlene Thomas with 150 to go and handed off one second in front.
The U.S.'s third leg, Will Leer, held a slight lead on GB's James West for the first half of his leg, but for American anchor Heather Kampf to have a chance against Muir, Leer needed to create separation and that wasn't happening.
Leer was caught just before 200 to go, and Scotland A actually handed off in front thanks to a huge kick from 21-year-old Neil Gourley, the 2015 Euro U23 bronze medallist at 1500 meters. Great Britain, USA and Ireland were all within two seconds, however, and the race was over almost as soon as Muir got her hands on the baton. 200 meters in, she had already put 10 meters on the field and she wound up splitting a record 2:53 to give Great Britain a comfortable 10-second win.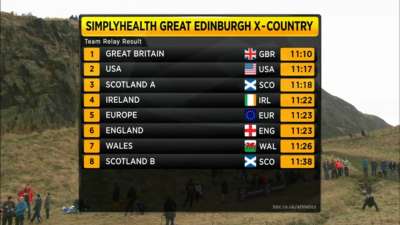 Quick Thought #1: After a great 2016 season, Laura Muir has started fast in 2017
On Wednesday, Muir broke the British indoor record by running 14:49 for 5,000 meters in Glasgow and today she looked like the class of the field as she was dominant on the anchor leg. Muir will head back to South Africa (where she trained in November and December) on Tuesday before she returns to Great Britain to go after Kelly Holmes' UK 1k record of 2:32.96 in Birmingham on February 18.
Men's Junior 6K: Syracuse Commit Noah Affolder Leads 1-3-4 Finish for Team USA
Women's Junior 4K: Brit Harriet Knowles-Jones Wins Easily as Foot Locker Runner-Up Nevada Mareno is 3rd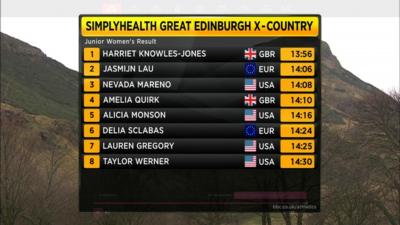 Re-live the action on our live messageboard thread here: MB Garrett Heath goes for #4 vs Mo Farah: Official 2017 Great Edinburgh XC live discussion thread
MB: Mo Farah goes home DEVASTATED!!!