WTW: The Amsterdam Marathon Was Super Deep and Fast, The Toronto Marathon Dropped an Illegal Rabbit Out of a Car, Ed Whitlock Still Going Strong, EPO Non Positives and More
The Week That Was In Running – October 10 – 16, 2016
by LetsRun.com
October 18, 2016
For US fans, a lot of the key running action came on the collegiate scene as last week was the biggest regular season weekend of the year for NCAA cross country. If you missed our detailed analysis of that action, you can catch up now at the following links (*Wisconsin men *Wisconsin women *Pre-Nats).
Article continues below player
Past editions of The Week That Was can be found here. Questions or comments? Please email us or post them on our fan forum.
****
Amsterdam Is A High-Quality Marathon and The Kenyans Are Incredibly Good At 26.2
Over the weekend, the 2016 TCS Amsterdam Marathon was held. The conditions reported by Race Results Weekly for the race — no wind, 48 – 54F — were ideal and the men took advantage of it as the times were fast — very fast. The top three male runners — all Kenyan — ran under 2:06, led by Daniel Wanjiru's course record of 2:05:21. The top 8 runners — all Kenyan — broke 2:07. Thirteen guys (11 Kenyan) broke 2:10, the most of any marathon in 2016.
The race featured the second-fastest times ever for 6th through 12th place. Only the 2012 Dubai Marathon was deeper.
Not a total surprise as Amsterdam is certainly a high-quality marathon. While not one of six Abbott World Marathon Majors – Tokyo, London, Boston, Berlin, Chicago and New York – Amsterdam certainly is what we'd consider to be in the "Not a major but maybe it should be if more are added" category (Related: MB: There are 6 Abbott World Marathon Majors – Name the 6 next best marathons that maybe should be majors).
Think about that for a minute. Eight Kenyans broke 2:07 in a single race. In all of history, two Americans (Ryan Hall and Khalid Khannouchi) have ever broken 2:07.
Only 15 Americans have ever broken 2:10. If you add in the Kenyans that broke 2:10 at the Scotiabank Toronto Waterfront Marathon (1) and the Dong-A Ilbo Gyeongju Marathon (5), which were also both held last week, a grand total of 17 Kenyans broke 2:10 last weekend.
Sub-2:10s in 2016
Amsterdam
13
Dubai
13
Berlin
8
Paris
8
Seoul
7
London
6
Lake Biwa
6
Tokyo
6
Gongju
5
Dongying
4
Milan
4
Prague
4
Rome
4
Rotterdam
4
Eindhoven
4
Cape Town
3
Mumbai
3
Gold Coast
2
Hamburg
2
Košice
2
Rio (Olympics)
2
Toronto
2
Barcelona
1
Brescia
1
Brighton
1
Cologne
1
Linz
1
Oita
1
Ottawa
1
Seville
1
Warsaw
1
Vienna
1
Rabat
1
Twin Cities
1
Boston
0
Chicago
0
Total
124
Ace statistician Ken Nakamura sent us some interesting post-Amsterdam facts.
The average of the top 10 times ever run in Amsterdam is now 2:05:47, 8th fastest in the world

Amsterdam

Marathon course record  (2:05:21) has moved up to 12th (from 13th), passing Hamburg Marathon
Best marks for place for (at least) 1st to 12th in

Amsterdam

 Marathon (not all competitions) were set at Amsterdam this year
Daniel Wanjiru, Marius Kimutai and Laban Korir became 65th, 66th and 67th, respectively, runners to crack 2:06 for the marathon
With his 2:05:45 in

Amsterdam

, Sammy Kitwara's top 5 average performances is now

2:05:35

, 10th fastest in history.
By finishing 2nd in

Amsterdam

Marathon, Kitwara keeps the honor of "Fastest runner (PR: 2:04:28) without the marathon win (after 10 marathons)"
The 10 Fastest Marathons In History, Ranked On Average of Fastest 10 Times Ever Run On Course
| | | |
| --- | --- | --- |
| Rank | Time | Course |
| 1 | 2:03:35 | Berlin |
| 2 | 2:04:34 | London |
| 3 | 2:04:40 | Chicago |
| 4 | 2:04:40 | Dubai |
| 5 | 2:04:52 | Rotterdam |
| 6 | 2:05:39 | Boston |
| 7 | 2:05:40 | Frankfurt |
| 8 | 2:05:47 | Amsterdam |
| 9 | 2:05:57 | Paris |
| 10 | 2:06:05 | Seoul |
The Top 20 Fastest Course Records In Men's Marathoning
| | | | | | |
| --- | --- | --- | --- | --- | --- |
| Rank | Race | Time | Name | Nation | Year |
| 1 | Berlin | 2:02:57 | Dennis Kimetto | KEN | 2014 |
| 2 | Boston | 2:03:02 | Geoffrey Mutai | KEN | 2011 |
| 3 | London | 2:03:05 | Eliud Kipchoge | KEN | 2016 |
| 4 | Frankfurt | 2:03:42 | Wilson Kiprotich Kipsang | KEN | 2011 |
| 5 | Chicago | 2:03:45 | Dennis Kimetto | KEN | 2013 |
| 6 | Dubai | 2:04:23 | Ayele Abshero | ETH | 2012 |
| 7 | Rotterdam | 2:04:27 | Duncan Kibet | KEN | 2009 |
| 8 | Paris | 2:05:04 | Kenenisa Bekele | ETH | 2014 |
| 9 | New York | 2:05:06 | Geoffey Mutai | KEN | 2011 |
| 10 | Seoul | 2:05:13 | Wilson Loyanai Erupe | KEN | 2016 |
| 11 | Fukuoka | 2:05:18 | Tsegaye Kebede | ETH | 2009 |
| 12 | Amsterdam | 2:05:21 | Daniel Wanjiru | KEN | 2016 |
| 13 | Hamburg | 2:05:30 | Eliud Kipchoge | KEN | 2013 |
| 14 | Prague | 2:05:39 | Eliud Kiptanui | KEN | 2010 |
| 15 | Vienna | 2:05:41 | Getu Feleke | ETH | 2014 |
| 16 | Tokyo | 2:05:42 | Dickson Chumba | KEN | 2014 |
| 17 | Eindhoven | 2:05:46 | Dickson Chumba | KEN | 2012 |
| 18 | Seoul – Joon | 2:05:50 | James Kwambai | KEN | 2012 |
| 19 | Reims | 2:06:05 | Mariko Kipchumba | KEN | 2012 |
| 20 | Lake Biwa – Otsu | 2:06:13 | Wilson Kipsang Kiprotich | KEN | 2011 |
Pre-Race, Nakamura reported that Amsterdam had produced only one of the top 100 performances in history (see table below) but now that is up to at least 2.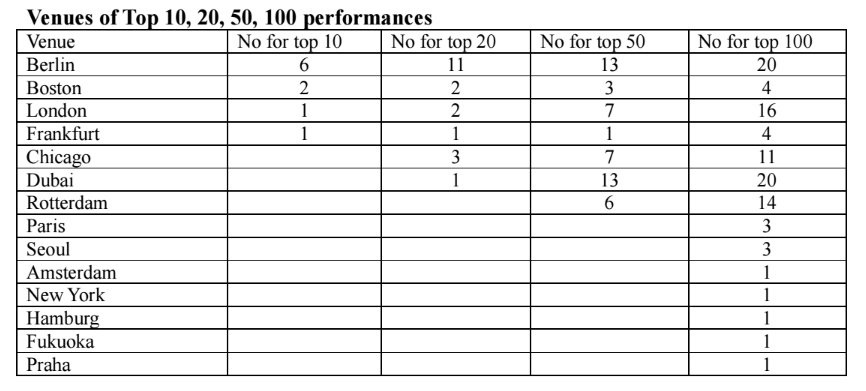 More: MB: There are 6 Abbott World Marathon Majors – Name the 6 next best marathons that maybe should be majors
*Daniel Wanjiru Pulls Off Upset And Wins Amsterdam In New CR Of 2:05:21 As Three Kenyans Break 2:06
*Meselech Melkamu Wins Women's Race In 2:23:21 It was her second marathon win this year.
*MB: Fernando Cabada 2:14:51 in Amsterdam
****
The Canadian Marathon Record May Not Have Been Broken But Ronnie Harris's 30-Year-Old Navy Home Course Record Was as Navy Swept Army
At the 2016 Scotiabank Toronto Waterfront Marathon, Kenya's Philemon Rono shrugged off a pre-race mishap that left his face bloodied and won in 2:08:30 as Canada's Eric Gillis, who was 10th in the Olympics in Rio, came up short in his Canadian record attempt as he finished 5th in 2:13:44. Thus Jerome Drayton's 2:10:09 Canadian marathon record from 1975 survived yet again.
That being said, last week one long-standing record did go down.
Ronnie Harris's 30-year-old course record of 23:47.8 on Navy's home cross country course at the United States Naval Academy Golf Course finally fell by the wayside as Navy's Lucas Stalnaker ran 23:39.4 to lead the Midshipmen to a second straight 1-5 sweep of Army in their annual dual meet.
Harris was top 3 at the 1996 US Olympic Trials in the 5000 but never hit the 13:28.00 Olympic standard as he tied up and ran 13:29.25.
****
Age Group Aces / Ed Whitlock Keeps On Rolling
Gillis may not have broken the Canadian record but 85-year-old Canuck Ed Whitlock got another age group world record in Toronto by running 3:56:39 for the full marathon, crushing the previous 85-89 world record of 4:34:55. Whitlock, the only man to ever break 3:00 over the age of 70, is now the only man over the age of 85 to break 4:00. That being said, he was hoping to actually run faster – he told runningmagazine.ca that his goal was 3:50 (he ran 3:15:54 at age 80) – but couldn't maintain pace over the second half. He ran the first half in 1:54:34 and the second in 2:02:05.
Whitlock is certainly an inspiration – well an inspiration to nearly everyone except maybe the executives at the major shoe and apparel companies. Whitlock raced in a 30-year-old singlet and shoes that have been reported to be either 15 or 25 years old (Brooks).
You think a shoe company might actually sponsor Whitlock.
Ed Whitlock, 85, beat his age group record by 40 minutes by running a marathon this week in 3:56. Best guess on age of shoes? 25 years old! pic.twitter.com/g6JgWhUlw7

— Darren Rovell (@darrenrovell) October 17, 2016
LRC messageboard poster RJM33 reports that Whitlock has broken 7 WRs this year.
1) 1500m Indoor World Record – 6:38.87
2) Mile World Record – 7:18.55
3) 3000m Indoor World Record – 13:41.96
4) 5K World Record – 24:03.99
5) 10K World Record – 51:07.53
6) Half-Marathon World Record – 1:50:47
7) Marathon World Record – 3:56:33
On the opposite side of the age spectrum, Uganda's Jacob Kiplimo, who raised heads this summer by running 27:26 at a listed age of just 15 to snag bronze at the World U20 Champs, won the 46th Giro Podistico di Pettinengo in Pettinengo, Biella, Italy on Sunday in 28:08 (9.6 km). Kiplimo, who has a 13:19 5000 pb, also ran in the heats of the 5000 at the Olympics after World U20s.
More: MB: Ed WHITLOCK 3:56:33 WORLD RECORD MARATHON M85-89. PLEASE STOP IT.
*MB: 15 yr old just ran a 27:26 10K at the World Junior Championships!
****
Video of The Week / Controversy in Toronto
The 2016 Scotiabank Toronto Waterfront Marathon was also noteworthy because race organizers drove rabbit Gilbert Kiptoo to the 35k mark and had him get out and start pacing Canadian Krista Duchene. Kiptoo had been pacing a different group of elite women earlier in the race, but they dropped out.
See for yourself.
That's clearly against the rules. But since race organizers did it, we're glad there was no DQ.
Rabbiting has been a controversial topic in our sport since before Roger Bannister's sub-4. In mixed-gender races, it's even more problematic as any elite female could have a rabbit for the entire race if they (or the race) produces the funds to pay for a strong enough man to run the whole race with them.
But stunts like the one shown above shouldn't take place for a simple reason — they are against the rules. IAAF rule 144.3 (a) prohibits an athlete from receiving assistance in the form of pacing from an athlete not participating in the same race. And to us, it's clear: once Kiptoo got in the car, he was no longer participating in the race. If you don't like the rules, get them changed. If officials decide it's ok for rabbits to come and go (imagine if in a men's WR attempt four different set of rabbits ran 10k each) and change the rules, then that's one thing, but a race can't simply make up its own rules.
MB: Canadian Marathon Champs controversy – Did a pacer pop-out of a van mid-race (video)? –
****
This Section Is For Everyone Who Thinks If Someone's 'A' Sample Comes Back Positive, That Means They Are A Doper
Those of you that are messageboard readers are likely very much aware that this summer there was a lot chatter about how Bernard Lagat had an 'A' sample come back positive for EPO in 2003 as Peruvian Olympian David Torrence went off after Lagat made the US Olympic team at age 41.
We were thinking of that last week when some Norwegian EPO experts published an a scientific article in Lab Times casting doubt on the EPO suspension of Irish sprinter Steven Colvert.
One of the Norwegian scientists had this to say about Colvert's suspension, "I cannot understand how experts in the field were able to conclude the first sample, or B-sample, was positive, because it's so similar to the negative controls and the other samples. This data cannot be trusted….The only labs that have experience with this EPO analysis are those working in the WADA laboratories and they are obviously protecting each other."
If you aren't persuaded by that highly disturbing quote from the scientists, then we suggest you listen to Roger Pielke Jr., professor and director of the Sports Governance Center at the University of Colorado-Boulder and author of The Edge: The War against Cheating and Corruption in the Cutthroat World of Elite Sports, who wrote a piece in Newsweek saying Colvert shouldn't have been suspended.
More:  MB: Torrence Speaks Out Against Lagat After 5k Final
*EPO expert says Irish sprinters initial ban was a misjustice
*Irish Sprinter Steven Colvert Calls Anti-Doping System A "Farce" After New Evidence Shows He May Have Wrongly Been Banned For EPO Use When Colvert tested positive for EPO (unusual for a sprinter) he screamed his innocence. Now more than 2 years later with his ban over, he's still screaming as multiple scientists have cited "flaws in the procedure" which tested his sample.
*Newsweek: "Why An Irish Sprinter Serving A Doping Ban Deserves A New Hearing" Even the WADA expert at Colvert's original hearing said there was such a small amount of EPO in his sample that "you need to be an expert to clearly identify it."
*Lab Times Journal Article With Research By Four Norwegian Scientists
*Ross Tucker Among The Scientists Who Think Irish Sprinter Steven Colvert Should Be Cleared C
****
Quotes of the Week (that weren't quote of the day)
#1 Yes, Kenya Is Amazingly Good At The Marathon
"(Today's marathon) really goes to show the depth of African running. Gillis was 10th at the Olympics for Canada where there's 3 max athletes per country. These no name Africans show up and still run a muck on the comp."
-messageboard poster "Iamanextzoneplayer" writing on the messageboard in the middle of the 2016 Scotiabank Toronto Waterfront Marathon where Eric Gillis, who was 10th in the Olympics in Rio, was 5th in 2:13:44.
More: Unofficial Scotiabank Toronto Waterfront Marathon thread
#2 Sometimes It's Good To Get Busted For Doping
"When the police searched my apartment, they found two used EPO syringes I'd used for the Worlds the year before. I had kept them tucked away on a bookshelf as a morbid reminder of what I'd done. Yet it was those syringes that ultimately saved me — without them, no doubt I'd have tried to lie my way out of the situation and continued on the downward spiral my life was already in.
"I served a two-year ban. My life was in ruins, but I felt relieved — at least I was free of all the deception and disgust. When I returned to the sport, I was determined to do everything in my power to prevent the next generation of riders having to make the decisions I'd made. Telling my story is my way of helping to prevent other athletes' careers being poisoned as mine was."
–David Millar, a former world champion in cycling, writing in a New York Times column entitled "How To Get Away With Doping."
More: Ex Cycling World Champ David Millar Writes Great NY Times Column: How To Get Away With Doping
#3 A Legend Says Farewell
"This has been one of the toughest decisions I've had to make. But I know that retiring now is right. I've always said I want to leave my sport on a high and have no regrets and I can truly say that."
–Jessica Ennis-Hill writing on Instagram last week that her track and field career is over. We were surprised by the move as we figured financially it would be hard to retire with Worlds being in London next year.
More: 
****
Recommended Reads
We highlight some of our favorite reads from last week. To read our favorite reads from previous weeks, go here.
Nethaneel Mitchell-Blake Talks About The Highs And Lows Of His Breakthrough Season Which Saw Him Become The Third Brit Under 20-Seconds For 200m
"Jessica Ennis-Hill's Easy Charm Disguised A Tungsten Spirit; She Was More Than A Marketeer's Delight, This Was Someone Who Delivered"
Meet Sam Lapray: The Real Estate Developer/RunGum Co-Founder And Assistant Coach To Nick Symmonds
Ex Cycling World Champ David Millar Writes NY Times Column: How To Get Away With Doping
EPO expert says Irish sprinters initial ban was a misjustice
Toni Reavis Analyzes Chicago And Why The No Rabbits And Prize Money Structure Encourages A Race For First Rather Than A Fast Time Reavis says the prevalence of rabbitted races has developed a generation of "runners" rather than "racers" and ponders what is in the best long-term interest of the sport.
****
Quotes Of The Day And Last Week's Home Pages
To see the actual quotes of the day from last week or last week's home page or any home page, go to our archive page.
Past editions of The Week That Was can be found here. Questions or comments? Please email us or post them in our running fan forum.