Lausanne Diamond League: Souleiman Wins 1000m Clash with Centro and Kiprop With Ease, Elaine Thompson, Kendra Harrison Keep Winning
August 25, 2016
by LetsRun.com
After a one-month break for the Olympics, the 2016 IAAF Diamond League season resumed today in Lausanne, Switzerland. Though a few Olympic champs (Caterine Ibarguen, Dalilah Muhammad, Elaine Thompson) earned victories tonight, most of the best performances came from athletes who didn't make it to the top of the podium in Rio. In the men's 1000, it was Olympic fourth placer Ayanleh Souleiman who earned a dominant victory in 2:13.49, well ahead of Olympic champs Asbel Kiprop and Matthew Centrowitz. Olympic silver medallist Genzebe Dibaba scorched a 57.47 final lap to win the women's 3,000 in a meet-record 8:31.84, while Francine Niyonsaba took advantage of Caster Semenya's absence to crush the women's 800 field in 1:57.71.
In other action, American Sam Kendricks looked great in tying his PB of 5.92 meters to win the pole vault, Asafa Powell went sub-10.00 to win the men's 100 and Churandy Martina clocked a blazing 19.81 from lane 7 to win an exciting men's 200.
We recap the entire meet below, beginning with the mid-d/distance events.
For full 2016 Lausanne results here. For progressions in jumps/throws click here.
Men's 1000m: Ayanleh Souleiman Wins as Clash of Titans Fizzles a Bit
15 men lined up for this one including world indoor 1000m record holder Ayanleh Souleiman, reigning Olympic gold medallist Matt Centrowitz (sounds good doesn't it), and the #3 fastest of all-time at 1500 and 2008 Olympic gold medallist Asbel Kiprop.
Article continues below player.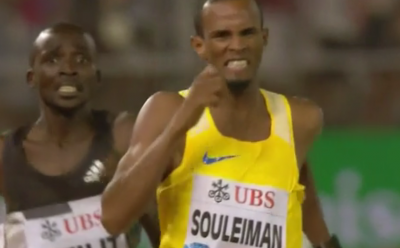 The only guy who brought his "A" game was Souleiman and it showed. The race had a waterfall start and of the three guys mentioned above, the only one to get out aggressively was Souleiman. He quickly was on the heels of the two rabbits, who went out in 26 mid, and hit 400 in 52.80. Kenyan 800m man Jonathan Kitilit was the most aggressive behind Souleiman as they continued to follow the rabbit through 600 (1:19.35 for rabbit, closer to 1:20 for Souleiman). Souleiman would pass the rabbit, who moved into lane 2 on the backstretch, with Kitilit staying close as they pulled away from the rest of the field. No one else was catching these two barring a collapse.
And what was happening with the rest of the field? Kiprop went out like it was a Sunday jog, going out slower here than he often does in his 1500m races. He his the first 200m in 28 and the 400m in 55 according to the TV broadcast. To his credit, he didn't mail it in after that and would move up to place 4th. Matt Centrowitz went out in the middle of the pack but never seriously challenged Rick Wohlhuter's American record of 2:13.9. They were racing for pride the final lap.
Up front, Souleiman and Kitilit were at least 10 meters clear of everyone else as they hit the final straight. Souleiman moved away from Kitilit and pounded his chest before the finish line, getting the meet and Diamond League record of 2:13.49. Kitilit would actually get passed by a late closing Robert Biwott and finish 3rd as Kiprop moved up to 4th, 800m runner Marcin Lewandowski set a national record of 2:14.30 and Matt Centrowitz settled for a PR in 5th in 2:16.67.
1000 Metres - Men                                             
                                                            Pts
    1 Souleiman , Ayanleh              DJI    2:13.49         10        
    2 Biwott , Robert Kiptoo           KEN    2:13.89          6        
    3 Kitilit , Jonathan Kiprotich     KEN    2:13.95          4        
    4 Kiprop , Asbel                   KEN    2:14.23          3        
    5 Lewandowski , Marcin             POL    2:14.30          2        
    6 Centrowitz , Matthew             USA    2:16.67          1        
    7 Kipkoech , Nicholas Kiplangat    KEN    2:16.68                   
    8 Ingebrigtsen , Filip             NOR    2:16.95                   
    9 Rogestedt , Johan                SWE    2:17.88
   10 Soet , Gilbert Kwemoi            KEN    2:18.63
   11 Hochstrasser , Jan               SUI    2:18.66
   12 Kiplagat , Silas                 KEN    2:19.80
      Rimmer , Michael                 GBR        DNF                   
      Rotich , Andrew Kiptoo           KEN        DNF                   
      Melly , Edwin Kiplagat           KEN        DNF
Splits: 200m 26.
400 52.80
600 1:19:35
800 1:45.95
Quick Take #1: If you want to see a fast time, run this in lanes
If the runners were restricted to running in lanes the first 200m, more of them are going to attack the opening 200m. Instead here most of them broke in and settled in.
Quick Take #2: Asbel Kiprop, Come on Man
Kiprop took to social media to tell the critics to not be so harsh on him on his poor tactics in Rio. If you figured the fire would be burning inside of him to really go after it tonight, forget about it. It was a terrible, terrible performance the first 200m. Kiprop ran the fastest last 800m in the field (probably just a tad over 1:46), but to run a fast 1000m, no one, not even world record holder Noah Ngeny, can go out in 28. If Kiprop was going to go out in 28 seconds, he shouldn't even have bothered running this race.
QT #3: Matt Centrowitz Gets a Pass
The Olympic gold medallist ran a personal best. Many no doubt would have wanted a little better, but Centro has not run great at the shorter distances this year.  We couldn't have cared less what he ran tonight. He's the Olympic gold medallist, gearing up for a shot at the American 1500m record.
Closing in a slow race and speed in a shorter race are clearly different things. Even at the Olympics, we think after he won gold (it may have been after his semifinal), Centro was saying he hoped to run faster than the 1:47.17 he ran at the Eugene Summer Series Track Town Meet.
Today's run made Souleiman the 5th fastest of all-time and he was pleased with that. "I had a really bad Olympics and today finally I was strong, ready and I had a great mindset. Last year I was injured and today I have shown that I am back and doing great. I am really proud of my time and the hard work I have put in explains the fact that I have beaten my personal record by more than two seconds and an incredible 5th best performance of all time! I want to come back to Lausanne next year and am looking forward to the final streak of the season," he said.
3000: Genzebe Dibaba Closes Fast As Alexa Efraimson Fails To Get The American Junior Record
As one might expect in a race less than a week after the Olympics, the women's 3000 racers didn't go with the ambitious pace the meet organizers wanted of 4:05 for the first 1500. Instead after an opening 1k of 2:55.06, they hit 1500 in 4:24. That slow pace did have one bonus – it was perfect for American Alexa Efraimson as she was able to stay with the lead pack when she hit 1500 in 4:26 in her quest to break the 8:57 American junior record.
However, the pace soon started getting faster as Hellen Obiri of Kenya wanted to take the sting out of the kick of 1500 world record holder Genzebe Dibaba. Instantly, Efraimson was dropped and she'd struggle mightily on the way home as she'd run just 9:11 – well off of her 9:00 indoor pb.
They leaders hit 2k in 5:52.31. At 2200, there were six women still left in the lead pack. A lap later, it was down to be five. Just before the bell, after a 67 penultimate lap, Dibaba struck with a vengeance as she bolted to the lead ahead of Obiri. Obiri did her best to chase after Dibaba but Dibaba was flying. We timed the first 200 of her last lap in a ridiculous 27.8 (ht unofficial) and she'd win by a ton thanks to a 57.47 last lap. Dibaba's winning time was 8:31.84 (she ran 8:22 indoors).
"My race was very good, I am happy with the victory here today. I was injured earlier this year. This race and my kick in the last 400m in particular gives me confidence for the end of the season," said Dibaba.
Leader to leader the full lap splits starting from 200 in were as follows: 71.12, 69.75, 71.87, 70.76, 69.14, 67.58, 57.47.
3000 Metres - Women                                           
                                                            Pts
    1 Dibaba , Genzebe                 ETH    8:31.84         10        
    2 Obiri , Hellen Onsando           KEN    8:33.96          6        
    3 Cherono , Mercy                  KEN    8:34.49          4        
    4 Kipkemboi , Margaret Chelimo     KEN    8:37.54          3        
    5 Kisa , Janet                     KEN    8:43.34          2        
    6 Tirop , Agnes Jebet              KEN    8:50.74          1        
    7 Tesfay , Haftamnesh              ETH    9:11.29                   
    8 Efraimson , Alexa                USA    9:11.48                   
      Kuria , Mary Wangari             KEN        DNF                   
      Wafula , Lydia Nasimiyu          KEN        DNF                   
      Degefa , Beyenu                  ETH        DNS                   
      Dida , Dera                      ETH        DNS                   
      Teferi , Senbere                 ETH        DNS                   

Women's 800: Francine Niyonsaba Wins With Ease As Eunice Sum Rebounds From Rio Disappointment
Olympic silver medallist and Oregon Track Club member Francine Niyonsaba got the win as expected in the women's 800 as she pulled away from the rest of the field over the final 100 in much the same way that Caster Semenya (who wasn't racing here today) has pulled away from Niyonsaba all summer long.
The rabbit took things out right on schedule 57.95 (goal was 58) and the field was right on her. The problem was, on the turn Canada's Melissa Bishop, the silver medallist in Beijing last year, had to move wide as the rabbit started to struggle (the rabbit would eventually drop out between 500 and 600). On the backstretch, the two silver medallists in Niyonsaba and Bishop had passed the rabbit. They hit 600 in 1:28.65. Coming off the final turn, Niyonsaba, who said after the race she was still "a bit tired' from Rio, soon powered home to a dominant victory in 1:57.71 as Kenya's Eunice Sum, the 2013 world champ, moved up from third to grab second in 1:58.41. Britain's Lynsey Sharp came on strong as well to nab third ahead of Bishop.
Sum, who was only 7th in her semi at Rio despite running a quick 1:57.47 before the Olympics, revealed after the race why she struggled in the Olympics.
"Rio was disappointing. I felt sick during semis. Sometimes you just need to forget what happened and move on. I am trying to do exactly that," said Sum. "It was a good race tonight, I have a couple more races left this season and I am still searching for my season best."
Quick Thought: Seeing the rabbit be engulfed by the field may not look great on TV but it's way better than her gapping the field.
800 Metres - Women Race 2                                     
                                                            Pts
    1 Niyonsaba , Francine             BDI    1:57.71         10        
    2 Sum , Eunice Jepkoech            KEN    1:58.41          6        
    3 Sharp , Lynsey                   GBR    1:58.52          4        
    4 Bishop , Melissa                 CAN    1:58.71          3        
    5 Büchel , Selina                  SUI    1:58.77          2        
    6 Alemu , Habitam                  ETH    2:00.46          1        
    7 Pryshchepa , Nataliia            UKR    2:00.59                   
    8 Chebet , Winny                   KEN    2:02.21                   
      Jepkosgei , Nelly                KEN        DNF                   

Men's 3000 Steeple: A Great Duel Between the Next Generation of Kenyan Steeplers
With all but two of the Olympic finalists (Brimin Kipruto and Donn Cabral) skipping this one, first place was wide open and in the end it went to 20-year-old Abraham Kibiwott, who outdueled fellow Kenyan Nicholas Kiptanui Bett, only 19 himself (not to be confused with 400 hurdles world champ Nicholas Kiplagat Bett). Kibiwott just missed his PR by running 8:09.58, while Bett earned himself a new one by taking second in 8:10.07.
The rabbits were assigned extremely ambitious splits of 2:38 and 5:17 for the first two kilometers — 7:55 pace. Considering the world record is 7:53 and most of the world's best runners weren't in this race, those times were wishful thinking. Yet the rabbits did go out fast, (2:36.93 for 1k) and two-time defending Diamond League champ Jairus Birech was game to chase them, as he was close behind the rabbits at the k, five meters ahead of Kibiwott and another five meters ahead of Kipruto.
Birech could not handle the suicidal pace, however, and after slowing to 2:46 for the second kilometer, there were three men — Bett, Kibiwott and Birech — together with one kilometer left to run. Bett put in a move and Kibiwott responded cautiously, allowing his countryman to form a slight gap without dropping off completely. The spent Birech could not respond and would fade to fourth place by the finish.
It was now a two-man race for the win and at the bell (7:06), Bett had about eight meters on Kibiwott. But Kibiwott wasn't done and on the backstretch he began cutting into Bett's lead. By the final water jump, Kibiwott was just off Bett's shoulder, and coming into the final barrier on the home stretch, Kibiwott had a lead of half a stride. After clearing the hurdle, Bett threw in one last, desperate surge, but Kibiwott had plenty left in the tank and easily countered it, cruising to victory in 8:09.58.
"It was not difficult today," said Kibiwott. "I was taking my time as I knew I can win it in the last lap."
Bett was a clear second in 8:10.07. Americans Donn Cabral (8:20.77) and Andy Bayer (8:23.88) finished sixth and eighth respectively as Dan Huling was a pre-race scratch.
3000 Metres Steeplechase - Men                                
                                                            Pts
    1 Kibiwott , Abraham               KEN    8:09.58         10        
    2 Bett , Nicholas Kiptonui         KEN    8:10.07          6        
    3 Mutai , Abel Kiprop              KEN    8:17.88          4        
    4 Birech , Jairus Kipchoge         KEN    8:19.48          3        
    5 Kipruto , Brimin Kiprop          KEN    8:20.46          2        
    6 Cabral , Donald                  USA    8:20.77          1        
    7 Kirui , Amos                     KEN    8:22.59                   
    8 Bayer , Andrew                   USA    8:23.88                   
    9 Koech , John Kibet               BRN    8:26.76                   
   10 Koech , Paul Kipsiele            KEN    8:32.91                   
   11 Sima , Tesfaye                   ETH    8:33.26                   
   12 Kipyego , Barnabas               KEN    8:45.54                   
   13 Haileselassie , Yemane           ERI    8:45.97
      Kemboi , Clement Kimutai         KEN        DNF                   
      Kipsang , Lawrence Kemboi        KEN        DNF                   
      Huling , Daniel                  USA        DNS
Quick Thought: Watch out for Kibiwott and Bett in the future
With Ezekiel Kemboi's career drawing to a close, Brimin Kipruto in decline (he's gone from 8:04 in 2014 to 8:10 last year and 8:18 this year) and Jairus Birech not in his dominant form of 2014-15, there may be a few openings on Kenya's World Championship team over the next few years.
Kibiwott, 20, and Bett, 19, could be the men to fill that void and join Olympic champion Conseslus Kipruto (still only 21 himself) as the next generation of dominant Kenyan steeplers. Both men still have some work to do — Kemboi should have medalled this year, Brimin Kipruto medalled at Worlds last year and Birech is still only 23 and has run 8:03 this year. But it looks as if Kenya's stranglehold on the men's steeple is set to continue.
Quick Thought: Evan Jager was smart to skip this one
If Jager wants a truly fast time, he's better off chasing it when he's well-rested and has a de facto rabbit in Conseslus Kipruto to run behind. Jager had nothing to gain (other than prize money but we're sure his Olympic silver medal bonus was huge) by running in Lausanne as Kipruto has already sewn up the Diamond League title.
Quick Thought: How many Kenyans would be in the top 10 at the Olympics if Kenya was allowed unlimited entries?
Kenya went 1-2-3-4 at Worlds last year and has 9 of the 12 fastest men in the world this year (and Koech was born and raised in Kenya).
1 08:00.12 Conseslus Kipruto KEN
2 08:03.90 Jairus Birech KEN
3 08:04.28 Evan Jager USA
4 08:08.32 Paul Kipsiele Koech KEN
5 08:09.13 Barnabas Kipyego KEN
6 08:09.25 Abraham Kibiwot KEN
7 08:09.62 John Koech BRN
8 08:10.07 Nicholas Kiptanui Kenbett KEN
9 08:10.65 Clement Kemboi KEN
10 08:11.52 Mahiedine Mekhissi-Benabbad FRA
11 08:14.04 Nicholas Bett KEN
12 08:14.19 Ezekiel Kemboi KEN
Women's 100m Hurdles: Kenda Harrison and USA Keeps Trouncing People
To show how good the US is in the 100m hurdles, they went 1-2-3 here without running any of the women who swept the medals in Rio.
Kendra Harrison's Olympic break didn't stop her from picking up another Diamond League win, this time by a massive .29 in 12.42. Former Olympic champ Dawn Harper-Nelson was second in a season's best of 12.71 and Jasmin Stowers third ahead of 4th place Olympic finisher Cindy Ofili (born and raised in the U.S.).
Megan Simmonds of Jamaica got out very well here, but by the 4th hurdle Harrison was in front and would just extend her lead.
100 Metres Hurdles - Women                                    Wind: +0.7 m/s

    1 Harrison , Kendra                USA      12.42                   
    2 Harper Nelson , Dawn             USA      12.71                   
    3 Stowers , Jasmin                 USA      12.75                   
    4 Ofili , Cindy                    GBR      12.80                   
    5 Nelvis , Sharika                 USA      12.88                   
    6 Reuse-Rard , Clélia              SUI      13.00                   
    7 Simmonds , Megan                 JAM      13.15                   

Men's 100: Asafa Powell Wins in a Smooth 9.96
Powell didn't run the individual 100 in Rio as he was only fourth at the Jamaican Trials, but he looked good tonight in coming on late to take this non-DL race in 9.96. The Ivory Coast's Ben Meite, sixth in the Olympic final, was second here with British bobsledder-turned-sprinter Joel Fearon taking third in 10.05. Fearon, 27, is still raw as a sprinter, but ran 9.96 in July after never having broken 10.10 prior to this year. This was a very solid showing in his first Diamond League race in over three years.
After the race, Powell told the IAAF he "had good party time" after the Olympics and only arrived in Lausanne the night before his race, but he showed no ill effects tonight.
100 Metres - Men Race 2                                       Wind: +0.5 m/s
                                                            Pts
    1 Powell , Asafa                   JAM       9.96         10        
    2 Meité , Ben Youssef              CIV      10.01          6        
    3 Fearon , Joel                    GBR      10.05          4        
    4 Martina , Churandy               NED      10.15          3        
    5 Collins , Kim                    SKN      10.24          2        
    6 Bockarie , Solomon               NED      10.30          1        
    7 Wilson , Alex                    SUI      10.41                   
    7 Wilson , Alex                    SUI      10.41                   
    8 Aikines-Aryeetey , Harry         GBR      10.43
Men's 400: LaShawn Merritt Takes Diamond League Win #3 of 2016
With no Wayde van Niekerk or Kirani James in the field, Merritt was the heavy favorite and ran like it tonight. Merritt trailed Botswana's Isaac Makwala by half a stride coming off the final turn but he turned on the jets over the final 100 meters to win in 44.50 to move into sole possession of first in the Diamond Race standings. The Bahamas' 20-year-old Steven Gardiner closed very well over the final 50 meters and even clawed back some ground on Merritt but it was not enough and he had to settle for second in 44.75, the only other man in the field under 45.00.
For LaShawn Merritt fans who think he might think his best days are behind him think again. He said, "It has been a very long season but the show must go on. I came here to win and that is what I did tonight, I am satisfied with the performance as well. My next race will be in Zurich. I am satisfied with my performances in Rio, I did a good race there and packed a medal. That race told me that the world record is something possible. Of course, when you train, you plan to make history and I will definitely go back to training this winter with the world record in mind. I believe I need to improve my base training. Speed was ok this year. I will continue that while going for a little more base training."
400 Metres - Men Race 2                                       
                                                            Pts
    1 Merritt , LaShawn                USA      44.50         10        
    2 Gardiner , Steven                BAH      44.75          6        
    3 Bonevacia , Liemarvin            NED      45.26          4        
    4 Maslák , Pavel                   CZE      45.35          3        
    5 Rooney , Martyn                  GBR      45.46          2        
    6 Makwala , Isaac                  BOT      45.62          1        
    7 Anne , Mame-Ibra                 FRA      45.69                   
    8 Burgunder , Joel                 SUI      47.35
Women's 400 Hurdles: Olympic Champ Dalilah Muhammad Runs Her Win Streak to Five
American Dalilah Muhammad has been in a class of her own in the 400 hurdles over the past two months and she showed it once again on Thursday in Lausanne, crushing the field from gun to tape in 53.78. Amazingly, this was Muhammad's first official Diamond League win this season (she won in London on July 22 but that didn't count in the DL standings) but there's no doubt who will be World #1 when the rankings come out later this year.
Muhammad said this was her last race of 2016 and her objective for next year is already clear.
"Clearly the world record will be my objective for next year," Muhammad said. "I will keep the same training as it has only been one year that am training with my current coach, simply do some adjustments. That should get me where I want for next year, i.e. faster than the world record."
Muhammad's pb is 52.88, set at this year's Olympic Trials. The WR is 52.34, set by Russia's Yuliya Pechonkina back in 2003.
400 Metres Hurdles - Women                                    
                                                            Pts
    1 Muhammad , Dalilah               USA      53.78         10        
    2 Doyle , Eilidh                   GBR      54.45          6        
    3 Petersen , Sara Slott            DEN      54.98          4        
    4 Tate , Cassandra                 USA      55.14          3        
    5 Little , Shamier                 USA      55.20          2        
    6 Spencer , Ashley                 USA      55.86          1        
    7 Titimets , Anna                  UKR      55.99                   
    8 Sprunger , Léa                   SUI      56.05                   

Women's 100m: Elaine Thompson Is Hard Enough to Beat Without Tiring Out the Field With a False Start
Elaine Thompson is the top female sprinter in the world, fresh off her 100-200m double in Rio, so obviously she was the one to beat tonight.
However, she got even more of an advantage on the field after a false start. There was a false start, but the recall gun was not heard by most of the field. Jenna Prandini stopped almost immediately, Thompson glanced to her side at Prandini, but then tried to keep running as the field was still running in front of her, but eventually backed off halfway down the homestretch. Meanwhile the rest of the field raced all the way to the finish with Marie-Josee Ta Lou, the Olympic 4th place finisher, crossing the finish line first.
However, the false start gun had been fired, and they'd have to run the race again with less than 10 minutes' rest. Prandini was the freshest, and after that it was Thompson. That showed in the final as Thompson crushed everyone winning in 10.78 with Prandini a distant second in 11.11 (that's .33 behind). Ta Lou could only manage 5th in the re-run.
QT: This was not a fair competition. The organizers should have pushed it to the end of the program after most of the field ran a full 100m but a few didn't.
100 Metres - Women Race 3                                     Wind: +0.8 m/s
                                                            Pts
    1 Thompson , Elaine                JAM      10.78         10        
    2 Prandini , Jenna                 USA      11.11          6        
    3 Akinosun , Morolake              USA      11.16          4        
    4 Henry , Desiree                  GBR      11.17          3        
    5 Ta Lou , Marie-Josée             CIV      11.25          2        
    6 Campbell-Brown , Veronica        JAM      11.27          1        
    7 Kambundji , Mujinga              SUI      11.44                   
    8 Williams , Christania            JAM      11.48                   

Men's 110m Hurdles: Orlando Ortega wins Olympic rematch of medallists after organizers ignore false start
The starters showed sometimes discretion is the better part of valor.
The men's 110m hurdles was the only men's race that featured a rematch of all the medallists from Rio. Gold medallist Omar McLeod was in 4, silver medallist Orlando Ortega in 5, and bronze medallist Dimitri Bascou in 6. There was a false start and the timing system showed McLeod left the blocks early, but a replay showed Bascou twitched before that. Instead of DQing anyone, Bascou was given a yellow card and the Olympic medallists could square off.
They did not disappoint as all three medallists ran close to one another throughout this one with Ortega pulling out a narrow win over McLeod and Bascou holding off countryman Belocian for third.
110 Metres Hurdles - Men                                      Wind: +0.5 m/s
                                                            Pts
    1 Ortega , Orlando                 ESP      13.11         10        
    2 McLeod , Omar                    JAM      13.12          6        
    3 Bascou , Dimitri                 FRA      13.25          4        
    4 Belocian , Wilhem                FRA      13.25          3        
    5 Baji , Balázs                    HUN      13.34          2        
    6 Martinot-Lagarde , Pascal        FRA      13.37          1        
    7 Oliver , David                   USA      13.40                   
    8 Douvalídis , Konstadínos         GRE      13.69
Men's 200: Churandy Martina Gets the Win in a Quick 19.81
Martina missed out on a medal in Rio by one-hundredth of a second but after running 20.13 in the Olympic final, he went much faster tonight seven days later. He lowered his personal best and national record of 19.85 — set on this same track four years ago — to 19.81, just .03 shy of what Usain Bolt to win in Rio. It was a great battle down the home stretch as Martina came off the turn just about even with Panama's Alonso Edward (7th in Rio). Martina edged ahead early in the final 100 meters, but had to fight every step of the way to edge Edward, 19.81 to 19.92.
The 32-year-old Martina did not rule out a return to the Olympics in four years' time.
"I am running as good as I have ever run, who knows I can continue till Tokyo," Martina said. "If I manage to do so, I would have done five Olympics and that is something for a sprinter."
200 Metres - Men                                              Wind: +0.4 m/s
                                                            Pts
    1 Martina , Churandy               NED      19.81         10        
    2 Edward , Alonso                  PAN      19.92          6        
    3 Forte , Julian                   JAM      20.16          4        
    4 Tsákonas , Likoúrgos-Stéfanos    GRE      20.21          3        
    5 Prescod , Reece                  GBR      20.38          2        
    6 Bockarie , Solomon               NED      20.42          1        
    7 Ellington , James                GBR      21.34                   
      Brown , Aaron                    CAN        DNS
Men's 400 Hurdles: Bett Almost Redeems Himself from Olympics
Olympic champ Kerron Clement took this one off. Coming off the final turn, it looked like it was going to be a battle between 2015 world champ Nicholas Bett of Kenya and 2016 Olympic silver medallist Boniface Tumuti of Kenya. But on the next-to-last hurdle, Tumuti struggled mightily and came to a near-complete stop. We're not sure if he was injured but he basically walked it in from there. Bett had a big lead but he did what he's done a lot this year – totally crater on the way home as Estonia's Rasmus Magi, who was 6th in Rio, came on strong to get the win in this non-DL event as Bett had to settle for a season's best.
400 Metres Hurdles - Men                                      

    1 Mägi , Rasmus                    EST      48.59                   
    2 Bett , Nicholas Kiplagat         KEN      48.68                   
    3 Fernández , Sergio               ESP      49.22                   
    4 Mörö , Oskari                    FIN      49.81                   
    5 Cray , Eric                      PHI      49.88                   
    6 Mfomkpa , Alain-Hervé            SUI      51.58                   
    7 Tumuti , Boniface Mucheru        KEN    1:08.05
Men's Pole Vault: American Sam Kendricks Ties His PB, Earns Career DL Win #2
Olympic bronze medallist Kendricks put together a fine night of vaulting, as he was the only man in the field to clear 5.80 meters and he did so without a miss. He went over 5.92 (tying his personal best) on his second attempt before ending his night. As in Rio, the runner-up was Frenchman Renaud Lavillenie, who could only manage 5.72 tonight. Lavillenie will be okay with ceding the win to Kendricks, however, as long as he can beat him to take the win at the Meeting de Paris on Saturday.
Pole Vault - Men                                              
                                                            Pts
    1 Kendricks , Sam                  USA       5.92         10        
    2 Lisek , Piotr                    POL       5.72          4        
    2 Lavillenie , Renaud              FRA       5.72          6        
    4 Barber , Shawnacy                CAN       5.62          3        
    5 Sobera , Robert                  POL       5.62          2        
    6 Joseph , Stanley                 FRA       5.47          1        
    7 Wojciechowski , Pawel            POL       5.47                   
    8 Filippídis , Konstadínos         GRE       5.47
    8 Scherbarth , Tobias              GER       5.47                   
      Dilla , Karsten                  GER         NM                   

Men's High Jump: Barshim Wins on Final Jump
This one had the silver (Mutaz Essa Barshim) and bronze medallists from Rio (Bohdan Bondarenko) but the guys continued to struggle to approach the 2.40 barrier. 4 guys cleared 2.32 but only one could make 2.35 and that was Barshim on his final attempt. After that he called it a day.
The Diamond League finale should be a good one with $50,000 likely going to the winner of the finale. Here are the standings heading into that:
1) Bondarenko 29
2) Kynard 26
3) Barshim 24
4) Grabarz 23
High Jump - Men                                               
                                                            Pts
    1 Barshim , Mutaz Essa             QAT       2.35         10        
    2 Grabarz , Robert                 GBR       2.32          6        
    3 Kynard , Erik                    USA       2.32          4        
    4 Bondarenko , Bohdan              UKR       2.32          3        
    5 Protsenko , Andriy               UKR       2.29          2        
    6 Seliverstau , Pavel              BLR       2.25          1        
    6 Thomas , Donald                  BAH       2.25                   
    8 Baniótis , Konstadínos           GRE       2.20                   
    9 Bednarek , Sylwester             POL       2.20
      Tobe , Naoto                     JPN         NM                   
      Gasch , Loïc                     SUI         NM                   

Women's Javelin: Palameikra Wins and Takes the DL Lead
Latvia's Madara Palameikra, who was 10th in Rio, got the win with a sixth-round heave of 65.29 which edged the Czech Republic's two-time Olympic champ Barbora Špotáková (3rd in Rio), who threw 64.48. Rio silver medallist Sunette Viljoen was just 5th. The win moved Palameikra into the DL lead over Australia's Kathryn Mitchell, who was 4th here (and 6th in Rio).
"After the disappointment of Rio, I was hoping for my best here. I am very emotional after winning here today. Winning the Diamond Race will be some sort of compensation for the loss in Rio," said Palameikra. "This is my best season of my career and that makes not finishing with a medal in Rio even more disappointing, the level of the podium was not very high."
Javelin Throw - Women                                         
                                                            Pts
    1 Palameika , Madara               LAT      65.29         10        
    2 Špotáková , Barbora              CZE      64.48          6        
    3 Khaladovich , Tatsiana           BLR      64.15          4        
    4 Mitchell , Kathryn               AUS      62.85          3        
    5 Viljoen , Sunette                RSA      62.47          2        
    6 Laasma , Liina                   EST      60.91          1        
    7 Obergföll , Christina            GER      53.97                   
    8 Andrejczyk , Maria               POL      53.49
Women's TJ: Ibargüen Keeps Winning
Olympic champ Caterine Ibargüen of Colombia, who has only lost once since the 2012 Games, got the win as Olga Rypakova, the 2012 Olympic champ who got the bronze in Rio, was 2nd. Ibargüen's 4th and 5th jumps were both far enough to win as she won her 4th straight meet after losing in Birmingham.
Triple Jump - Women                                           
                                                            Pts               Wind
    1 Ibargüen , Caterine              COL      14.76         10              +0.5
    2 Rypakova , Olga                  KAZ      14.53          6              +1.0
    3 Papahrístou , Paraskeví          GRE      14.18          4              +0.3
    4 Mamona , Patrícia                POR      14.05          3              +0.8
    5 Saladukha , Olga                 UKR      13.95          2              +0.5
    6 Williams , Kimberly              JAM      13.75          1              +0.7
    7 Tsykhotska , Ruslana             UKR      13.54                         +0.6
      Elbe , Jenny                     GER        DNS                   

Men's Discus: Philip Milanov Rebounds From Olympic Flop
Belgium's Milanov was a disappointing ninth in Rio, but after throwing just 62.22 meters in the Olympic final, he eclipsed that distance on each of his final five throws, with a best of 65.61 in the final round.
Discus Throw - Men                                            
                                                            Pts
    1 Milanov , Philip                 BEL      65.61         10        
    2 Weisshaidinger , Lukas           AUT      64.84          6        
    3 Kövágó , Zoltán                  HUN      64.52          4        
    4 Harting , Robert                 GER      63.12          3        
    5 Urbanek , Robert                 POL      62.83          2        
    6 Malachowski , Piotr              POL      62.46          1        
    7 Kanter , Gerd                    EST      62.03                   
    8 Kupper , Martin                  EST      61.93                   
    9 Jasinski , Daniel                GER      60.79
   10 Brown , Rodney                   USA      58.77

Women's Shot Put: Valerie Adams Turns the Tables on Michelle Carter
After Carter upset Adams with a dramatic final-round victory in Rio, the two-time Olympic champion from New Zealand got a small measure of revenge tonight in Lausanne, throwing 19.94 meters on her final attempt to get the win this time. The drama was not as high this time, however, as Carter already had the victory in hand by that point thanks to her 19.83m effort in round two.
Shot Put - Women                                              
                                                            Pts
    1 Adams , Valerie                  NZL      19.94         10        
    2 Carter , Michelle                USA      19.49          6        
    3 Schwanitz , Christina            GER      19.33          4        
    4 Smith , Brittany                 USA      18.94          3        
    5 Márton , Anita                   HUN      18.60          2        
    6 Dubitskaya , Aliona              BLR      17.81          1        
    7 Johnson , Felisha                USA      17.54                   

Women's long jump: Olympic hangover for Tianna Bartoletta
In the Diamond League this year, only the top 4 jumpers get to take their final 3 jumps. That usually works ok and speeds up the competition but not tonight as Olympic champ Tianna Bartoletta was in 5th after 3 jumps. That paved the way for Olympic bronze medallist Ivana Spanovic's 6.83 on her 2nd (and 3rd) jump to win the competition.
Long Jump - Women                                             
                                                            Pts               Wind
    1 Španovic , Ivana                 SRB       6.83         10              +1.2
    2 Ugen , Lorraine                  GBR       6.71          6              +1.1
    3 Klishina , Darya                 RUS       6.50          4              +1.1
    4 Proctor , Shara                  GBR       6.48          3              +0.8
    5 Bartoletta , Tianna              USA       6.46          2              +0.8
    6 Okagbare , Blessing              NGR       6.11          1              +0.9
      Jones , Akela                    BAR        DNS                   
      Nettey , Christabel              CAN        DNS