Jenny Simpson Wins America's First Women's 1500 Olympic Medal As Faith Kipyegon Upsets World Record Holder Genzebe Dibaba
by LetsRun.com
August 16, 2016
RIO DE JANEIRO — Kenya's 22-year-old Faith Kipyegon turned the tables on world record holder Genzebe Dibaba tonight to capture the women's 1500 title at the 2016 Olympics. For the second global championship in a row, the final 800 of the women's 1500 was mind-boggling fast. This time, after a final 800 of 1:57.3, Kipyegon, who was the runner-up at Worlds last year, was the champion in 4:08.92, with Dibaba in second (4:10.27) and American Jenny Simpson third (4:10.53). Simpson's bronze was the US's first Olympic medal ever in the women's 1500.
Results *Race video
1 Faith Chepngetich KIPYEGON KEN 04:08.92
2 Genzebe DIBABA ETH 04:10.27
3 Jennifer SIMPSON USA 04:10.53
4 Shannon ROWBURY USA 04:11.05
5 Sifan HASSAN NED 04:11.23
6 Meraf BAHTA SWE 04:12.59
7 Laura MUIR GBR 04:12.88
8 Dawit SEYAUM ETH 04:13.14
9 Besu SADO ETH 04:13.58
10 Sofia ENNAOUI POL 04:14.72
11 Laura WEIGHTMAN GBR 04:14.95
12 Rababe ARAFI MAR 04:15.16
The Race (Race video is here)
With such a fast close, it shouldn't come as a surprise to learn that the opening 700 was very slow. At 400 (76.57), Brit Laura Weighman, who was competing in her second straight Olympic final, had the lead as three of the big pre-race medal contenders — Dibaba, Brit Laura Muir (2nd fastest woman in 2016) and the Netherlands' Sifan Hassan (bronze in 2015, World Indoor champ this year) — were content to take up the last three places in the field. The pace continued to dawdle until Dibaba decided to make a move towards the lead just before two laps remained.
At 700 (2:11.3), Dibaba wasn't quite in the lead but she soon had it as they entered the turn as Dibaba would start to squeeze down the pace. Her next five 100-meter segments were all faster than the previous – 15.4, 14.7, 14.4, 13.9, 13.7 – splits that until last year's World Championship final would seem almost inconceivable. Only two women dared/were able to go with the pace as the top three of Dibaba, Kipegyon and Muir had gapped the rest of the field by 1k.
At the bell (3:10.13), the leading trio had five meters on Hassan, who was followed closely by World Indoor runner-up Dawit Seyaum of Ethiopia as Simpson and American record holder Shannon Rowbury were more than a full second back in sixth and eighth respectively.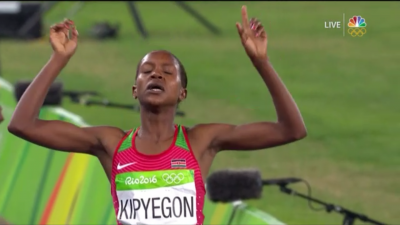 On the penultimate turn, Muir was the first one to crack as she paid a price for going with the ridiculous 56.7-second 400 Dibaba dropped from 800 to 1200. With 300 meters remaining (3:23.90), it was clear that gold was going to either Dibaba or Kipyegon.
As Ethiopia's best and Kenya's best ran down the backstretch for the final time, Dibaba was getting tired. Instead of getting faster, she slowed ever so slightly (14.2) and halfway down the backstretch glanced up at the jumbotron to see if her move had dealt a fatal blow to Kipyegon. It had not.
Kipyegon was right on her heels and just before 200 remained, the lead would belong to Kipegyon. Dibaba did her best to stay close but as they came off the final turn, Kipyegon started to pull away and her lead would only grow until the finish line. In the end, the stats would reveal that Dibaba had misjudged her kick as she tied up in the final 200 (32.2 – 15.5/16.8). That makes sense given the fact that the Dibaba ran the 600-meter segment from 800 to 200 to go in 1:26.3. Kipyegon, who equaled that 1:26.3 in part by running the 400m segment from 600m to 200m to go in 55.9, slowed as well (30.9 final 200 – 14.9/16.1) but it didn't matter as her lead over everyone but Dibaba was massive.
Article continues below player.
Behind them, the battle for the bronze was being waged. With 200 to go, Muir was still in third but she was running out of gas. Hassan was stalking her and Simpson was stalking Hassan. And if either of them faltered, the bronze would belong to Shannon Rowbury, who was following 2-3 meters behind Simpson, as she so often has on the Diamond League circuit in recent years.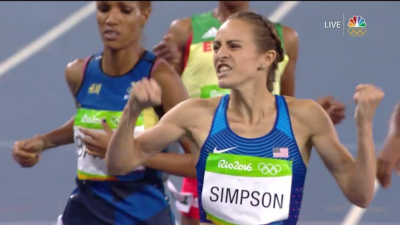 At the end of the last turn, Hassan and Simpson came by Muir. Soon Simpson opened up some daylight on Hassan, but Rowbury was stalking Simpson. Would Rowbury get by her and take the bronze, in similar fashion to the way she snagged the American record from Simpson last year in Monaco? No. Simpson's lead over Rowbury narrowed over so slightly over the first half of the final straight but then Simpson started to pull away.  
America's first women's Olympic 1500 medal would go to Simpson, the 2011 world champ, not the American record holder Rowbury. Simpson, who has an official 800 pb of 2:00.45, earned the bronze by running the final 800 in 1:59.0. Her final 200 of 30.5 was the best of anyone's in the field.
Quick Thought #1: Kipyegon is A much deserving champion
Faith Kipyegon's win today was far from a fluke. In fact, if you were going to write up a mythical resume of an Olympic champion, it would look very similar to Kipyegon's.
In 2011, at age 17, she captured the World Youth title.
In 2012, at age 18, she captured the World Junior title.
In 2013, at age 19 was 5th at Worlds.
In 2015, at age 21, she got the silver medal at Worlds.
In 2016, at age 22, she won the Olympic title.
Last year at Worlds, she closed a slow 4:08 race in what we thought at the time was mind-boggling 1:57.6 and lost. So this year she got better. This year, she closed a 4:08 race in 1:57.3 and won.
She wasn't the far only person to close fast. You can download every 100m split for the athletes but here is what we have for the top 4.
Kipyegon 1:57.3 (15.7+14.7+14.5+13.7+13.9+13.8+14.8+16.1)
Dibaba 1:58.5
Simpson 1:59.0
Rowbury 1:59.3

If you want to know what their official 800 PRs are, here they are. Kipyegon (1:58.02). Dibaba (none listed), Simpson (2:00.45), Rowbury (1:59.97).
Quick Thought #2: Jenny Simpson knows how to maximize her potential & that got her the historic medal
Running for a gold and running for a medal can often be two very different things in the 1500 meters. One need only look at Muir as an example of an athlete who hurt her medal chances by taking a risk and going for the win (more on Muir below). But Jenny Simpson doesn't view the two strategies as mutually exclusive.
"In my mind, I think I know what I have left to get me to the finish and I'm always running for the win," Simpson said. "I didn't believe that anybody in this race tonight was completely unbeatable but the best I had tonight was bronze."
It makes sense once you think about it. The best way to win a race and the best way to earn a medal are the same: get to the finish line as fast as possible. And once Dibaba took off, Simpson knew that to get to the finish line as fast as possible, she could not run a 56-second quarter and still close well over the last 300 meters. Instead, she ran more even splits (59.8/59.1 for her last 800) and wound up with the bronze. Simpson admitted that there will be a part of her that will wonder "What if?" but she wasn't going to be able to close much faster than 1:58.9 no matter what she did.
"I'm happy with a medal. I'm not going to be too hard on myself. But I'm always going to look at it and think, 'If I had been a little bit closer and had a little less kicking to do what might have come of it?' But I'm so thrilled with how I ran today."
Simpson's medal made her the seventh American woman to medal in an Olympic distance event.
Quick Thought #3: Jenny Simpson says she didn't know what place Shannon Rowbury finished until an hour after the race 
Simpson and Rowbury have had one of the best rivalries in the United States over the past few years as both women have been among the best in the world during that span. Though neither women have played up the rivalry in the past (Rowbury said "I don't feel it is much of a rivalry" in January; Simpson said last December that she enjoyed the rivalry), their matchups have produced a number of close finishes over the years, though Simpson owns a 17-6 career edge at 1500 meters.
This was the first time the pair had faced off in an Olympic final. Simpson came out on top, though once again Rowbury wasn't far behind, taking fourth, one place and .52 back of Simpson.
Simpson says she didn't realize how close Rowbury was at the time, however, and didn't see Rowbury after the race (neither did we; she did not come through the mixed zone). In fact, Simpson didn't know much about Rowbury's race at all. When a reporter asked about it whether she talked to Rowbury after the race, Simpson explained how in the craziness of winning a medal, she didn't get a chance to say anything to Rowbury before asking the reporter, "How did she finish?"
Quick Thought #4: Shannon Rowbury must be crushed
As we said above, Rowbury didn't come through the mixed zone. A lot of people wanted to talk to her and athletes are required to go through the mixed zone before leaving the facility unless they are injured, but somehow Rowbury did not make it through. Our assumption is she did not want to talk to the media after coming so close yet again to a medal. To come close to a medal in 2012 and then to be miss by one spot in 2016, being beaten by your chief American rival in the process, can't be the easiest thing to deal with.
We wonder if it's possible she ends up with a medal for the 2012 Olympics. Below are the 2012 Olympic results. (Alpetkin has been stripped of her medal, Bulut is currently being stripped of hers according to Turkish media, and Tomashova has been DQ for drugs. Abeba Aregawi tested positive for meldonium (but won't get a ban)).
Quick Thought #5: Laura Muir Went for It And It May Have Cost Her A Medal
When Dibaba began her failed dash for gold and Kipyegon went with her so did Laura Muir. The rest of the field was a bit more measured in their response. One will never know what would have happened if Muir had not chased so hard after Dibaba and Kipyegon but it's clear she paid the price. Muir's hardest 100m of the race was to the finishline with a lap to go. (Jenny Simpson's fastest 100m was not to the finish but on the backstretch of the final lap). Muir really lost ground the last 200m.
Muir told the BBC, "I just went for it. It's not every day you find yourself in an Olympic  final. I knew I was in great shape." She then added, "I'm really proud with how I ran," as her voice cracked and the emotion of the moment set in.
At the post-race press conference, Simpson was asked if she ran more for a medal than the when and Simpson said she always runs to win, but she also is good at gauging her body and how much she has left and she factors that in when racing.
Here are Muir vs Simpson's splits to the finish:
| | | | |
| --- | --- | --- | --- |
| Split for 100m to: | Muir's Split | Simpson's Split | Difference Between Simpson and Muir |
| 800 | 15.9 | 15.9 | -0.2 |
| 900 | 14.6 | 14.8 | -0.4 |
| 1000 | 14.5 | 14.7 | -0.6 |
| 1100 | 14 | 14.4 | -1 |
| 1200 | 14.2 | 14.5 | -1.3 |
| 1300 | 14.9 | 14.2 | -0.6 |
| 1400 | 16.1 | 14.9 | 0.6 |
| 1500 | 17.2 | 15.5 | 2.3 |
Quick Thought #6: Genzebe Dibaba Talks About Drugs
We have a separate article on Genzebe Dibaba here: LRC Genzebe Dibaba Addresses Drug Allegations About Her Coach Jama Aden: "I Am Crystal Clean From Doping"
Talk about the race on our fan forum / messageboard.
Screenshots from the NBC broadcast appear below. Race video is here.