Watch Donavan Brazier Shatter Jim Ryun's Collegiate 800 Record Which Celebrated Its 50th Anniversary Today
by LetsRun.com
June 10, 2016
Did you miss seeing Texas A&M's Donavan Brazier, a true freshman, run the fastest 800 in collegiate history – 1:43.55 – tonight on the very same day that Jim Ryun's 1:44.3  -a mark that some consider the collegiate record – celebrated its 50th anniversary?
Well you are in luck. You can watch the final lap of tonight's NCAA track and field championship men's 800 below.
Article continues below player
https://twitter.com/AthleticsSweden/status/741455594947633158?lang=en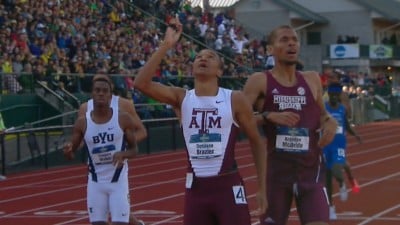 Brazier's mark is definitely the new collegiate standard – as its faster than Ryun's and it's also faster than the 1:43.74 that Earl Jones ran as a collegian in the summer of 1984 and the 1:43.97 that Jose "Tony" Parilla ran at the 1992 Olympic Trials (Track and Field news doesn't recognize marks that were run in the summer after NCAAs) and it's also faster than Julius Achon's 1:44.55 in 1996 (the fastest mark in the collegiate season). Those are the three other marks that people could consider to be the collegiate record.
We caught up with Brazier after the race. Here's the interview: LRC Donovan Brazier Talks About His 1:43.55 NCAA Record That Broke Jim Ryun's Record Plus the phenom admits he reads the LRC message boards.
---
Do you want more info on Brazier? Check out these links:
Here is a feature we wrote earlier in the year on Brazier: His 1:45.93 Opener Is Just the Tip of the Iceberg for 800 Phenom Donavan Brazier. Here is a story we wrote on Brazier after the first round of NCAAs: LRC Freshman 800m Phenom Donavan Brazier Says He Will NOT Run The Olympic Trials And Has No Idea Who Jim Ryun Is.
Here is a messageboard thread on Brazier from tonight: MB: Oh My God!!! 1:43.55!!!!!!!! for Brazier
and earlier in the year: MB: OMG. America's newest star has arrived!! True frosh Donavan Brazier runs 1:45.93 in first-ever collegiate 800!!
But people were talking about the phenom a lot last year as well:

MB: I just got a text from a top HS coach: "Grant Fisher is not the best kid in Michigan." LetsRun, meet Donavan Brazier
MB: Watch out for Donavan Brazier – Hser runs 1:48.07 – Is Grant Fisher the best prep even in Michigan?
MB: It's official: Donavan Brazier (45.92r, 1:48.07, 4:09) not Grant Fisher, is the most talented HSer in Michigan this year )