WTW: Meet Germany's Teen Phenom, How Not To Run A Marathon, The End Of The Diamond League In New York, And Praise For Doper Maria Sharapova
The Week That Was In Running – February 29 – March 6, 2016
by LetsRun.com
March 9, 2016
Last week was a light one in terms of action as things are going to be crazy over the next two weeks with NCAAs, USAs and Worlds all taking place. We still found quite a few interesting tidbits about last week's action that we want to share with you.
Article continues below player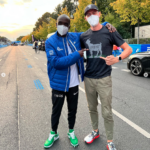 Kipchoge loves the 1:59:40 Shirt Get Yours Today
What a legend!
Past editions of The Week That Was can be found here. Questions or comments? Please email us or post them on our running message board.
*****
Meet Germany's Mary Cain Teen Phenom Konstanze Klosterhalfen
One of the interesting stories all winter long has been the fine running by young German Konstanze Klosterhalfen. This year indoors, Kloshterhalfen, who turned 19 on February 18, has run 2:03.37 for 800 and 4:08.38 for 1500, beating fellow 19-year-old Mary Cain by 12+ seconds in that 1500 in the process.
Last week, Klosterhalfen, who ran 8:53 for 3000 last year, excelled on the roads at 10k with a surprising 32:24 victory in Leverkusen. For a 19-year old to run 2:03.37 for an indoor 800 and then 32:24 for 10k just 14 days later means they've got some incredible talent and range.
We've been trying to come up with a proper measuring stick for Klosterhalfen. Is she most like Mary Cain, Alexa Efraimson, Allie Ostrander or Jordan Hasay? Decide for yourself.
PRs Achieved at Age 19 or Younger
Konstanze Klosterhalfen
Alexa Efraimson
Allie Ostrander
Mary
Cain
Jordan Hasay
800
2:03.37
2:01.11
2:11.30
1:59.51
2:09.64
1500
4:08.38
4:03.39
4:26.5*
4:04.62
4:10.28
3000
8:53.21
9:00.16
8:54.27
8:58.48
9:05.42
5k/
10k
32:24
NA
15:21.85
NA
NA
*Converted from mile.
Klosterhalfen is basically the same age as Efraimson (they were born two days apart). She, Efraimson (Feb. 20, 1997), Cain (May 3, 1996), and Ostrander (Dec. 24, 1996) still have some time to improve on their U-20 personal bests.
More: Mary Cain and Allie Ostrander are the same age
*Mary Cain 2nd to Last Place in Germany in 4:20.73
###
Speaking of teen phenoms, Harvard's Myles Marshall, the 2014 Youth Olympic champion at 800, ran 61.63 for the 500-meter distance last week at the IC4A meet in Boston. Tilastapoja.org says it's an all-time world best for a junior at 500 – which admittedly isn't a distance all juniors run. LetsRun.com coaching/stat guru John Kellogg equates it to a 46.47 400.
Marshall, who ran 1:48.43 two years ago as a 16-year-old, had a modest start to his collegiate 800 career this winter as he ran 1:49.35 indoors for his main distance. Marshall is the son of 1984 Olympian John Marshall (1:42.93 pb) and Debbie Grant (4th placer at 1988 Trials, 1:59.97 pb). He is very young for a college freshman as he only turned 18 on December 8.
###
Since we praised Klosterhalfen for her range, we should also praise Norway's 800-meter record holder Ingvill Måkestad Bovim. Bovim, who ran 1:59.82 in 2010, moved up to 10k on the roads last week and ran 34:47 for 10k in South Africa. That's not even her 10k pb – it's 34:34.
****
2016 Lake Biwa Marathon – Everyone Blows Up 
Occasionally after a big marathon, we'll read criticism by fans on the forums along the lines of, "If only the Americans had gone out faster."
We often laugh and think to ourselves, "They know roughly what type of shape they are in. If they'd gone out faster, they would have blown up."
Case in point: the 2016 Lake Biwa Marathon. For the Japanese, Lake Biwa, which was held last week, was the last of three men's Olympic selection races, but there were a number of foreigners in the race including the winner – Kenya's Lucas Rotich (2:09:11). Tthe top Japanese finisher was Hisanori Kitajima (2nd – 2:09:16) as four Japanese men broke 2:10. The Japanese like their races to start out fast, and virtually every one of the top finishers ran a huge positive split. Rotich went 63:17-65:54 for the win. But Ethiopia's Shura Kitata, a 20-year-old who has a 2:08:53 pb, topped that by a long way. He ran the first half in 62:36 and had a huge lead, which he held until just after 30k, but totally blew up. His second half was run in 73:33. His total time was 2:16:09.
His first half was run more than 50 seconds per mile faster than the second (4:46.5 pace for the 1st half, 5:36.6 for the 2nd).
Kitata didn't even have anything close to the biggest positive split of guys going out in under 64:00. Mongolian national record holder Ser-Od Bat-Ochir (2:08:50 pb) went out in 63:55 and came home in 83:35 for a total time of 2:27:30. Thus his second half was more than 90 seconds per mile slower than the first.
The worst positive split belongs to Japan's Yuichiro Ogawa. The 28-year-old, who has a half marathon pb of 61:53 and a full marathon pb of 2:20:50, went out in 65:26 but finished in 2:40:08 (second half was 94:42).
2015 World Championship bronze medallist Munyo Solomon Mutai of Uganda still doesn't have a sub-2:10 pb as after going out in 63:17 he only managed a 2:14:57.
Full 2016 Lake Biwa Marathon results
###
Lake Biwa was also interesting because Yuki Kawauchi had entered the race on his own dime trying to embarrass the Japanese federation or at least to get them to reconsider their Olympic selection process. Kawauchi had already run the first of the three selection races – December's Fukuoka Marathon – where he was 8th in 2:12:48. Because Kawauchi had run that race, the Japanese said he wouldn't be selected even if he won Lake Biwa unless he ran under 2:06:30. But the prolific marathoner Kawauchi, who ran 12 sub-2:20 marathons last year, entered Lake Biwa hoping to be the top Japanese finisher and force the hand of the Japanese selectors.
Kawauchi's plan didn't go according to form as while he went out conservatively by Japanese standards – his first half split was 64:25 (there were at least 21 people ahead of him in the race halfway) – he still faded over the second half, ending up 7th overall in 2:11:53.
With the three races now being over, all that has to happen is for the Japanese federation to select it's men's team. If you are interested in the candidates, we highly recommend that you read Brett Larner's piece on Japan Running News – Understanding the Japanese Men's Olympic Team Selection Standings – as he breaks it down in great detail.
With the men's selection saga over, the Japanese selection drama now will switch genders. At the second women's selection race on January 31 in Osaka, Kayoko Fukushi ran a brilliant 2:22:17 – #7 all-time in Japanese history – to win. But the Japanese federation didn't 100% say she was on the team – even though she was under the 2:22:30 standard – so she decided to enter the third race, in Nagoya on March 13, on her own. Recently, Fukushi has decided to not run Nagoya but if a slew of women run under 2:22:30 in that race then the Japanese will have an interesting problem on their hands.
*More: Lucas Rotich Wins Lake Biwa Marathon With 2:09:11 In Warm Conditions In the final men's Olympic selection race, three Japanese men went sub-2:10, led by Hisanori Kitajima (2nd – 2:09:16).
*IAAF Recap *Lake Biwa Results
*Understanding the Japanese Men's Olympic Team Selection Standings 
****
Stat of the Week
16.77% – percent of Russian athletes in 2015 that had meldonium in their system (724 of 4,316) according to the latest Hajo Seppelt/ARD documentary (which came out on Sunday) according to The Guardian. Seppelt's stat became a lot more interesting when the world's highest paid female athlete, Maria Sharapova, announced a few days later she had tested positive for the substance.
Update: We've finally found the English version of the ARD documentary which you can watch here.
While we don't condone trying to get to the top of sport by taking a pill, we are pleased that Sharapova did what very few track and field stars do – admitted everything.
One more thing about Sharapova's suspension that struck us: Nike immediately dropped her from its rolls, ending the 8-year, $70 million deal she signed in 2010. When WADA initially busted Lance Armstong in 2012, Nike actually stood by Lance. Does this mean that the public sentiment on doping has changed? We hope so.
More: *MB: Sharapova busted for meldonium
*MB: What do we know about meldonium (drug Aregawi was busted for)?
****
Quotes of the Week (that weren't quote of the day)
#1 Jos Hermens Emphatically Denies He's Got Any Ties To Doping
"I have never been involved or assisted any athlete at any time to dope. This is crazy. I have been coaching since 1982, I currently have over 150 athletes from 20 countries and often athletes will have different agents and different doctors and this one person cheated on their own. I don't even know what the Swedish article says at this time, but I can tell you after 40 years of coaching with no problems, why would he start doping athletes now at the age of 67."
-Super agent Jos Hermens, who is the agent for Kenenisa Bekele and Haile Gebrselassie, denying to Athletics Illustrated that he's got anything to do with Abeba Aregawi's doping positive.
More: Jos Hermens: "I have never been involved or assisted any athlete at any time to dope."
#2 Jos Hermens Knows Who Is To Blame
"The problem with her was her husband (Henok Weldegebriel or 2:04:48 marathoner Yemene Tsegay), he was a f*cking lunatic. He advised her to not pay taxes, she almost went to jail for that."
-Hermens in the same Athletics Illustrated article. We're not sure which husband he's referring to as she's been married three times to two different men – twice legitimately to 2:04:48 marathoner Yemane Tsegay and once in a sham to Henok Weldegebriel to get citizenship.
More: Jos Hermens: "I have never been involved or assisted any athlete at any time to dope."
#3 RIP Dick Brown
Brown continued his research even after he was diagnosed with acute myeloid leukemia in 2010. He was drawn to non-traditional subjects and conducted some of his final research on the concept of "grounding," which posits that direct physical contact with the Earth can benefit athletes in recovery.
"He did a lot of fringe stuff like that, trying to say, 'Can we eke out another 1 or 2 percent performance gain, but do it legally?'" said Chris Minson, former head of the UO physiology department.
-excerpt from a Eugene Register-Guard article last week after the death of former Athletics West coach and exercise physiologist Dick Brown. While the article talks about doing things legally, we give kudos to Brown for admitting that Athletics West athletes used steroids.
More: *MB: Athletics West Coach Dick Brown (Admitted to AW Athletes Being on Steroids but) told Suzy Favor she didn't need to dope
*Dick Brown, former Olympic-level track coach and Eugene resident, dies at 78
*US Distance Coach Dick Brown Passes Away At 78 Suzy Favor Hamilton and doper Mary Decker Slaney are among athletes he coached.
#4 Nick Willis Once Celebrated 150 Meters From The Finish Line
"There's something unique about being part of a team in that way. It's the only time I've ever celebrated during a race down the back straight. I think with 150 meters to go, I raised the baton to the crowd on the back straight, most of them Wolverine fans, and you'd never dream of doing that in an individual race because it would be deemed as cocky or arrogant or disrespectful to your competitors.
"It was a joy going through that team experience saying 'We did this' while representing Michigan instead of ourselves. That's what members of football or basketball teams get to experience all of the time, feeling as if you're representing the block M, and not just yourself as an individual, which is what we often can be [doing] as track and field athletes."
–Nick Willis talking to MGoBlue.com about the one time he celebrated mid-race in his career, at the end of the 2004 NCAA DMR which Michigan won in 9:27.77 (a time that still stands as the meet record). That admission by Willis, who is one of the classiest guys on the circuit, was surprising but less so than the fact that he also admitted on Facebook last week that he used to be addicted to pornography.
More: MB: Porn addiction – is it affecting your running?
*Future Friday: Q&A with Nick Willis
If you like early celebrations, read this: Who was the runner in the 1970s or 1980s that pumped his first with like 100m to go
*****
Video of the Week
As mentioned above, it was a slow week last week. This race actually happened several years ago but talk of the feat popped on the messageboard last week: MB: Gatlin runs 9.45!!!
That video is for all of you who don't think the wind helped aid the times at the 2011 Boston Marathon.
More: MB: Gatlin runs 9.45!!!
*MB: Official John Kellogg Is a Genius Thread (He Predicted The 2:03 on Boston)
****
The End Of The New York Diamond League
Last week, it was announced that the adidas Grand Prix – New York's Diamond League track meet – would not be taking place in 2016 (a meet in Morocco will take its place). We have four quick thoughts on the development.
Track and field is not a spectator sport in America. It is a sad reflection on the state of track and field in America that in an Olympic year there is now only one Diamond League meet (Pre Classic) in the entire country. New York City could not support the Millrose Games at Madison Square Garden and now it can't support the Diamond League on Randall's Island. Forget about baseball, basketball, and football; New York has two hockey teams and two soccer teams that week in and week out draw more in attendance than any track meet in New York. To be honest, we knew this going in. We were just hoping it could turn into a popular event like two other events in the NYC area that are part of relatively unpopular spectator sports in America – the Belmont Stakes (horse racing) and U.S. Open (tennis).
While we're sad the meet is a thing of the past, we never bought into the argument of "If track is going to be popular, it has to do well in New York City." The NFL has been doing amazingly well over the last 20 years without a team in LA. There is a lot of stuff going on in LA and New York and so the fans have options as to what they want to attend.
The New York date was often awful. If the sport isn't putting on an entertaining event attracting casual sport fans, then it has to attract all the track and field diehards. Last year, someone thought it was a great idea to schedule the New York meet as the same weekend as both the New York HS state meet and the NCAA championships. Not smart. Track and field promoters may not publicly admit it, but a large part of the audience at many track meets are parents, coaches and athletes.
New York's weather was often less than ideal. The weather was often way too hot and because the meet wasn't held in an enclosed stadium, it was often too windy for fast distance times. It should be remembered that even the year that Usain Bolt set his WR in the 100, the weather wasn't good and Bolt's race came after a rain delay. When you combine points #2 and #3, we think a post-Worlds date for New York would have been much better for the meet. The weather on the East Coast is much less windy in the fall than the spring. Maybe they could have somehow tied it into the NYRR 5th Avenue Mile. To get the marketing support of the NYRR would have been helpful as pointed out in this Track & Field News forum thread from 2014. Of course, we doubt the historic end-of-season meets in Europe would want to give up their slots.
More: MB: Diamond League replaces New York with Rabat, Morocco
*Rabat Meeting Will Replace New York City In Diamond League Series
*Global Athletics And Marketing Statement: The adidas GP Will Be Replaced With A Street Competition Event

****
Recommended Reads
Previous Recommended Reads from other weeks can be found here.
****
Quotes Of The Day And Last Week's Home Pages
To see the actual quotes of the day from last week or last week's home page or any home page, go to our archive page.
Past editions of The Week That Was can be found here. Questions or comments? Please email us or post them in our running fan forum.