Ryan Hall Has Retired – We Remember The Six Most Glorious Moments Of His Amazing Career
by LetsRun.com
January 15, 2016
One of America's all-time greatest distance runners has called it a career.
Ryan Hall, America's fastest-ever marathoner and a two-time Olympian, announced his retirement from professional running this afternoon in a story in the New York Times. Hall, 33, who ran 2:04:58 at the 2011 Boston Marathon, the best ever by an American, decided to call it quits after battling low testosterone levels and fatigue that have limited him to just 12 miles per week in training.

"Up to this point, I always believed my best races were still ahead of me," Hall told the Times. "I've explored every issue to get back to the level I've been at, and my body is not responding. I realized that it was time to stop striving, to finally be satisfied and decide 'mission accomplished.'"
Article continues below player.
Though he has struggled in recent years, finishing just one marathon since the 2012 Olympic Trials (in which he placed second), Hall leaves behind a towering legacy. He was a prep phenom, one-third of the heralded Big Three in the high school class of 2001 (along with Dathan Ritzenhein and Alan Webb). At Stanford University, where he met wife and fellow professional runner Sara (Bei) Hall, he was the 2005 NCAA 5,000 champion and ran for Team USA at that distance at that summer's World Championships after running his 13:16.03 pb at USAs.
But his biggest successes came on the roads, particularly at the marathon distance, where he was the only American of his generation — well, actually, in history, as previous marathon greats like Alberto Salazar and Frank Shorter didn't face a lot of African competiton — willing to chase fast times with the top Africans in major marathons (with all due respect to Meb Keflezighi, who has had an outstanding career but excels in unrabbitted, championship-style races). Hall finished in the top five in a World Marathon Major event six times and broke 2:10 eight times in his career (only Keflezighi, with nine, has more sub-2:10s among Americans).
"I remember Wesley Korir telling me after [finishing 4th at the 2011 Boston Marathon in 2:04:58] that the Kenyans were afraid of me, and I thought that was ironic, I'd never heard of a Kenyan being afraid of a white person before in the race," Hall told the Times. "I think it showed the level of respect they have for me. I love that it ruffles feathers with them, but I don't see any difference between them and me. White people can race Africans."
Hall's decision to retire comes less than a month from the 2016 U.S. Olympic Marathon Trials, which will be contested in Los Angeles on February 13.
While the fastest marathoner in U.S. history at 2:04:58, Hall isn't the U.S. record holder. Former world record holder Khalid Khannouchi is next on the list at 2:05:38 (the official American record, given that Hall's performance came on a non-record-eligible course), followed by Dathan Ritzenhein at 2:07:47. Hall also owns the American record in the half marathon (59:43), and his 2:08:24 in London in 2007 was the fastest debut marathon by an American.
Hall has been one of the most talked-about athletes in the history of LetsRun.com and we pay tribute to him below by recalling the six greatest moments of his career.
We also have 30 Minutes of Video With Ryan Hall from December: "I'm not going to be someone who hangs on. When I know my body has had enough then (I'll retire). I'll always run and always love the sport"
Discuss Hall's retirement on our messageboard: MB: Breaking: Ryan Hall Retires at Age 33
1) 2:04:58 at the 2011 Boston Marathon 
2:04:58. By an American.
Nearly five years later, the time still doesn't make any sense. Yes, the Boston course is a net downhill. And yes, the favorable tailwinds produced a historically fast set of times, including Geoffrey Mutai's 2:03:02 course record, unlikely to be replicated in Boston. But the fact remains that on April 18, 2011, Ryan Hall averaged 4:46/mile for 26.2 miles and he did so not by drafting on a set of pacemakers but by pushing the pace himself.
"I want to congratulate him," Mutai said of Hall after the race.  "He pushed it, he pushed it all the time. He was like a pacemaker; he helped us a lot."
By this point in his career, Hall's ability to race with the world's top marathoners was well-established. He ran 2:06:17 to take fifth in London in 2008 and finished third and fourth in Boston in 2009 and 2010, respectively. But Boston in 2011 (where he finished fourth again) represented the peak of Hall's career because it perfectly embodied both his fearlessness and his supreme talent, the traits that allowed him to become one of America's greatest marathoners.
The perfect conditions in Boston meant that the winning time that day was destined to be fast. But it was Hall's boldness that pushed the race beyond the ordinary and helped produce one of the most remarkable races in marathon history.
More: LetsRun.com Front Page The Day After Hall's 2:04:58
RRW: Tailwind Helps Deliver Breathless Times in 2011 Boston Marathon
MB: Big Ups: Hall, 2:04.57 AR
*2011 Boston Marathon Men's Post-Race Reaction
*Video Highlights of 2011 Boston Marathon *
MB: Official John Kellogg Is a Genius Thread (He Predicted The 2:03 on Boston)
2) 59:43 Debut Half-Marathon in Houston in 2007
For casual fans, Hall's 2:04:58 is likely the performance they remember most but true distance nerds may remember Hall's debut half-marathon most fondly.
Based on his amazing high school exploits and strong NCAA career, expectations for Hall were high as he entered the pro ranks. During Hall's up-and-down career at Stanford, he was second at NCAA cross in 2003 and then closed out his career in fine fashion in 2005 as he both won NCAAs (13:22) and made Worlds in the 5,000 (13:16). However, his first full year as a pro didn't result in much of anything as he ran just 3:43 for 1500 and 13:29 for 5,000.
Then suddenly, thanks to one race, the 2007 Aramco Houston Half Marathon, Hall was back and bigger than ever thanks to his mind-boggling 59:43 U.S. record in his half-marathon debut. The time made him the 9th fastest man in history and destroyed Mark Curp's 21-year-old U.S. half-marathon record by an astonishing 72 seconds. At the time, we called the race one of the greatest distance performances ever by an American.

More: LetsRun.com Front Page The Day After Hall's 59:43.
*LRC messageboard thread after Hall's 59:43: MB: Ryan Hall's Performance The (fill in the blank) Best American Performance EVER
3) 2:06:17 in London in 2008
The third marathon of Hall's career was a dandy. Coming after his utter domination of the 2008 US Olympic Marathon Trials in November 2007 (see point #5 below), expectations for Hall were very high (we were so pumped, we even flew to London to watch the race live) and Hall didn't disappoint as he ran 2:06:17 for fifth in London. The 2:06:17 is by far the fastest time ever run by an American-born athlete on a record-eligible course. The next-closest time is some 90 seconds slower – Ritzenhein's 2:07:47 from 2012 Chicago.
Two of Hall's trademarks – his fearlessness and his desire to always run his own race – were on full display in this one as he was with the leaders, then fell back, then caught back up.
Hall went out in this race on world record pace (62:14) and when the pace slowed in the second half, Hall sensed it and urged the rabbits to keep it going. It was a decision Hall regretted as he said after the race, "I made a classic rookie mistake. I felt the pace slowing down (4:55). I noticed some of the guys were struggling in our group … and I wanted to test them out to keep it honest to see where we're at… Then they totally took it out and gapped me."
Hall may have been gapped but he eventually caught back up with the leaders and just as was the case the year before, he was with the leaders at the 35k mark – just 7.2 km from the finish.
Given the fact that his 2:06:17 wasn't wind-aided, this marathon may have been Hall's greatest in an absolute sense.
More: LetsRun.com Homepage The Day After Hall's 2:06:17
*Race Recap of Hall's 2:06:17
*LetsRun.com Ryan Hall Reflects On his Incredible Run
*LetsRun.com Video: Ryan Hall Talks About His 2:06:17 at the 2008 Flora London Marathon
*More LRC London Videos Here
*Photo Gallery
4) 2:08:24 Marathon Debut in London in 2007
US distance fans who got up in the wee hours of the morning to watch Hall's debut marathon in London live will always remember the race as something truly special. Expectations were extremely high as it came just three months after his shocking 59:43 and Hall didn't disappoint. In the end, Hall ended up in 7th place in 2:08:24, but the time – an American debut record – and place don't do Hall's debut justice.

Hall had the lead at 35k as shown here: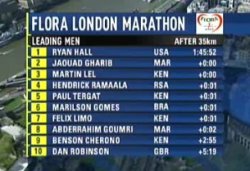 More: *LetsRun.com Front Page The Day After Hall's Debut
5) Hall Utterly Dominates The 2008 U.S. Olympic Trials 
One of Hall's greatest U.S. marathons was overshadowed by Ryan Shay's death (the LetsRun.com front page was black in honor of Shay for more than a week after this race) but Hall was truly spectacular at the Trials, which were held in Central Park in November 2007. Hall won in 2:09:04 but that was after a 66:17 first half. So Hall ran a ridiculous 62:47 second half on the hills of Central Park, destroying Dathan Ritzenhein and everyone else in America by more than two minutes (Ritz was 2nd in 2:11:07). Hall's 5k splits for that race were a thing of beauty. He went 16:44, 15:41, 15:27, 15:12, 15:05, 14:48, 14:28. Yes, that's right, Hall ran 14:28 from 30 to 35k. In the end, Hall pumped his fist, pointed to the heavens, and waved to the crowd during the final mile, savoring the incredible run, and still ran 15-minute 5k pace for the final 7.2k (14:56 from 35 to 40k).
More: LetsRun.com Homepage 10 Days After Hall's Run (Black page for Shay for nine days)
*Results *Photos *Race Recap From Runners World's Amby Burfoot
6) Ryan Hall Helps Meb Keflezighi End the American Drought at Boston in 2014
Obviously, Keflezighi deserves the vast majority of the credit for the 2014 Boston Marathon victory as he and Josphat Boit were the only runners bold enough to break away from the field just before the 15-kilometer mark. Keflezighi's performance from then on was a masterclass in physical and mental toughness, as he held on for the entire 26.2 miles to earn a historic win just one year after the finish-line bombings, in the process becoming the first American man to win Boston in 31 years.
2014 Boston would prove to be the last marathon that Hall would finish, running 2:17:50 for 20th place, but he played a key role in Keflezighi's victory, which we broke to the world in this article, the most popular to ever run on LetsRun.com. After Keflezighi broke away, Hall was a part of a pack of American runners that had caught the first chase pack around the halfway mark of the race. With the chase pack dawdling, several Americans, such as Nick Arciniaga, Craig Leon and Jason Hartmann, were tempted to keep pushing, but Hall asked them not to in order to give Keflezighi a better chance of securing an American victory.
After the race, Arciniaga recalled, "Ryan just kept turning over to me, talking [to me and saying], 'Hey don't push the pace. If [the Africans] want to let those guys go, they are going to have work to catch back up to them. We are not going to help them out with that at all. If we want an American to win, this is how it's going to be done.'"
Leon echoed that claim and Hall later confirmed the strategy to Sports Illustrated's Tim Layden.
"Before that race I said, 'Some American needs to do something special here today,' " Hall told the NY Times in his retirement article. "At the starting line, I hoped it would be me. But when I realized it wasn't my day, I said, 'Hey let's get out of the lead, if they want to stay close to Meb they have to do the work to do it.' And they didn't do the work.
"In Boston, I felt like I shared that success. You can share in other people's victories, but Americans don't usually think like that. We're more independent."
LRC: American Strong: The Untold Story of American Teamwork and How Ryan Hall Helped Meb Keflezighi Win Boston
LRC: 30 Minutes of Video With Ryan Hall from December: "I'm not going to be someone who hangs on. When I know my body has had enough then (I'll retire). I'll always run and always love the sport"
Ryan Hall's tremendous career is over. He will be missed. Discuss Hall's retirement on our messageboard: MB: Breaking: Ryan Hall Retires at Age 33