Garrett Heath Does It Again, Takes Another Huge Scalp and Beats Mo Farah at 2016 Great Edinburgh XCountry International Challenge
by LetsRun.com
January 9, 2016
American Garrett Heath has done it again and won the Great Edinburgh XC meet for the third year in a row. In the past in Edinburgh, he's taken down the likes of Asbel Kiprop and Kenenisa Bekele. Now he's beaten Mo Farah. You can watch the finishing sprint below.
He said it last year, he proves it again #GEXC2016

Why @_garrettheath just loves the cold: https://t.co/2qTdS8JnCz pic.twitter.com/Q8qJDOOQpt

— SPIKES (@spikesmag) January 9, 2016
Article continues below player
BBC One's Jonathan Edwards caught up with Heath and Farah after the race, as did Athletics Weekly.
Heath: "I didn't expect it (to win). Mo is such a great runner. I just wanted to be out there and try to run with him and compete. I saw my teammate Scott Fauble come up to next me with 800 to go and I could tell he was feeling good so I got excited and tried to move. I kept just waiting for Mo to kick past me in the homestretch as I could hear people shouting at him. … Cross country makes the variables a bit more uneven and it's also early season. It's what makes cross country exciting – you never know what's going to happen."
Farah wasn't happy that he lost but tried to put things in perspective. "Not at all [was I expecting to lose]. [But] It's early season – obviously you don't want to lose a race but it's better to lose now than later on in the year. But you know it was a cross country race. Garrett Heath is a great athlete. He always comes out every year and gets ready for this race," said Farah. When asked about the sloppy conditions, he added, "I couldn't really sprint on this but same for everyone else. It was really slippery and pretty hard." Farah said he'll now head to a training camp in Ethiopia before he'll race indoors in Glasgow.
Did you not get up early to watch it for free at USATF.tv? You are in luck. You can also watch a full replay of the races on USATF.tv here.
If you want to scroll to the various races here is the time schedule.
8:00 a.m. ET – Start
8:06 a.m. ET – 4x1k Relay (Junior race recaps to follow)
8:30 a.m. ET – Women's 6k
8:57 a.m. ET – Men's 8k
There are several messageboard threads on the race.
Top 10 Results for each race appear below.
Senor Men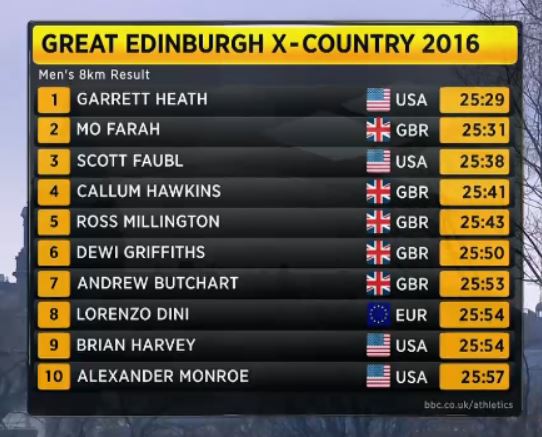 Senior Women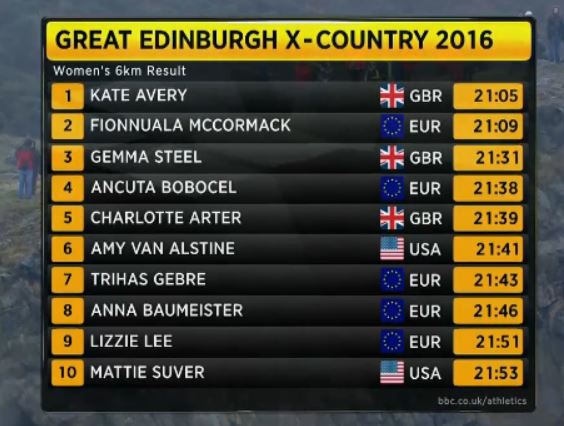 Junior Girls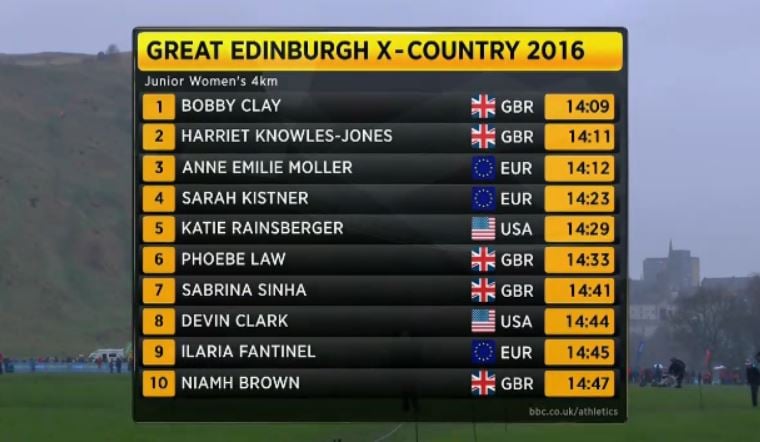 Junior Boys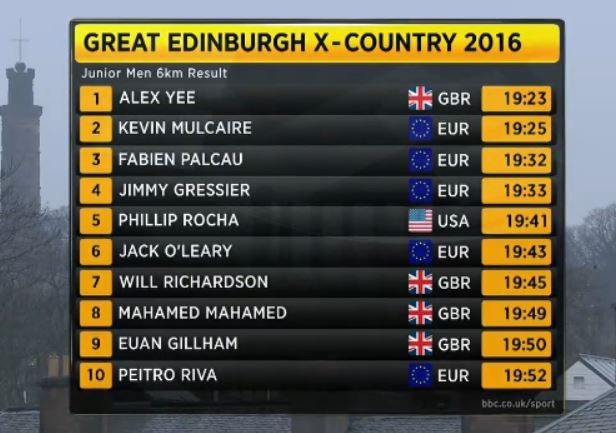 International Relay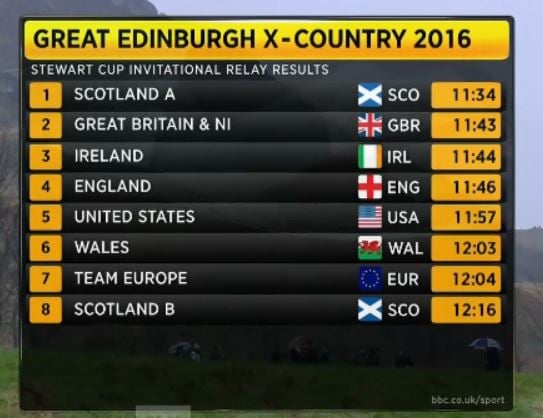 Race Preview: Great Edinburgh XCountry Preview: Can Garrett Heath Take Down Mo Farah In Their 2016 Openers?