Our Final Look at NCAA Cross: Was Syracuse Winning NCAAs The Most Significant Development In a Generation?
By LetsRun.com
November 25, 2015
The 2015 NCAA cross country season is in the books. Your champions have been crowned (congrats to Edward Cheserek, Molly Seidel, the Syracuse men and the New Mexico women).
Now it's time for one last look through the results to put a bow on the 2015 season. Below, we've got six final takeaways from NCAAs. We have a separate article: Forget About the Winners: The Biggest Surprises and Underperformers at NCAA Cross here.
Article continues below player
If you missed out any of our race-day coverage, you can read our men's race story here (LRC: Syracuse "Out-Coloradoes" Colorado For NCAA Cross Crown As Edward Cheserek Makes History Look Easy) and our women's race story here (LRC: Molly Seidel Breaks The Foot Locker Curse And New Mexico Makes History). We've also got over 1,000 photos from Louisville (men's race, women's race, banquet) and you can find links to all our NCAA coverage here. If you need a refresher on the results, you can find them here.
1) Syracuse's Win – The Most Significant Win Since 1972?
Syracuse's upset win was the story of the day at NCAAs. Running With the Buffaloes author Chris Lear told LRC, "It was the most significant win in recent memory."
Why? Teams that win NCAAs on the men's side usually are powerhouse schools with long traditions and/or schools that get many of the top recruits in the country. The founders of LetsRun.com were born in 1973. Look at the winners of NCAAs since then. Every single one of them fits the mold described above except for Syracuse (one could argue Oklahoma State broke the model but before they won for the first time in 2009, they had been on the podium in 1995, 1996 and 2007 and they also had landed the #1 recruit in the country German Fernandez).
Lear said in a follow-up email, "It's like Butler in men's basketball, but Syracuse won – they won – and this wasn't a flukey off-year deal. Colorado ran well enough to win; Syracuse needed to execute perfectly to seize the trophy, and they did just that; the manner in which the Syracuse staff methodically built this team and this program adds to the luster of the achievement…Come next summer how many other teams will ask themselves with a little more surety, 'Why not us?' Another barrier just got knocked down, and the entire sport is elevated because of this."
Prior to last Saturday, over the last 10 years, Syracuse head man Chris Fox, along with assistant Brien Bell, had quietly done an amazing job building up a strong distance program in upstate New York, basically from scratch.  In the 20 years before Fox's arrival in 2005, Syracuse's average finish at Big Easts was 8.5. The Orange were better than sixth just twice (4th in '85, 5th in '04). Given that history, it was impressive that it only took Fox five seasons to get the program to the NCAAs, and once there, starting in 2009, the Orange have become a mainstay in the top 15 of the team standings as they've made it every year since and never finished below 15th.
There was one problem – hardly anyone noticed. Few observers, outside of the teams that were getting thrashed by Orange on a regular basis at the Big East and ACC meets (the Orange won the Big East in for the first time ever in 2009 and added additional titles in 2010 and 2012; they've won all three ACC titles since joining the conference in 2013) had appreciated or even noticed the rise of Syracuse as the Orange weren't big players on the national scene either as a team or with standout individuals.
Finishing 15th at NCAAs, even 10th, which the Orange achieved in 2013 (their first top-10 finish since 1957), is a far cry from winning a national title. You can finish 10th at NCAAs and not even have a single All-American. Case in point, when the Orange first cracked the top 10 in 2013, their top finisher was just 51st.
Here are Syracuse's year-by-year NCAA results since Fox arrived.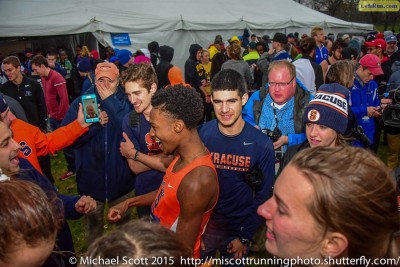 | | | | |
| --- | --- | --- | --- |
| Year | Highest  Individual | # in top 40 | Team Place |
| 2005 | DNC |  0 | DNC |
| 2006 | DNC | 0 | DNC |
| 2007 | 122nd | 0 | DNC |
| 2008 | 83rd | 0 | DNC |
| 2009 | 39th | 1 | 14th |
| 2010 | 33rd | 1 | 14th |
| 2011 | 37th | 1 | 15th |
| 2012 | 55th | 0 | 15th |
| 2013 | 51st | 0 | 10th |
| 2014 | 37th | 2 | 5th |
| 2015 | 4th | 4 | 1st |
Add in the fact that in track, until 2015 when Martin Hehir scored in the 3k (7th, 2 points) and Justyn Knight scored in the 5k outdoors (6th, 3 points), the distance men at Syracuse had scored a total of 1 point at NCAAs (Kyle Heath in the steeple in 2009) during Fox's tenure at Syracuse and we guess you can be forgiven if it seemed to you that Syracuse came out of nowhere to win the NCAA cross country title. Because in some ways they did. A 5th place team like Syracuse last year, without a low stick, is a long way from winning NCAAs even though Fox had built an incredible program off of largely local Northeast talent.
When Syracuse upped the quality of that local talent and landed nearby Canadian star recruit Knight (3:47/14:08 in high school), who committed to Syracuse in 2013, we figured he'd definitely at a minimum start getting the Orange noticed as he might be in the hunt for individual glory at NCAAs before he graduated and likely make them podium contenders.
Knight did one better as the entire team rose up a level with him. And on Saturday, the great work put up by Fox and his staff in Syracuse got noticed in a big way as the Orange won the national title with a near-perfect race.
Stat Of The Week

0 – number of Syracuse runners that had finished in the top 30 at NCAA cross during the Fox era prior to Saturday.
3 – number of Syracuse runners that had finished in the top 10 on Saturday.
Prior to Saturday, in 10 years at Syracuse, Chris Fox had coached a grand total of zero guys to the top 30 of NCAAs in cross country and a grand total of five in the top 40. On Saturday, they put three guys in the top 10, another in the top 40 (39th), and one more in the top 50 (47th). Very, very well done.
The Orange were supposed to be vulnerable at #4 and #5 but Philo Germano went from 89th at Wisco (and just 15th at ACCs) to 39th at NCAAs and Joel Hubbard went from 35th at ACCs to 47th at NCAAs (to be fair he was 28th at Wisco earlier this year) to close out the national title for Syracuse.
One other note about Syracuse. You may have noticed in some of our NCAA photos (including the one to the right above) that the men in Louisville were FaceTiming with someone on the podium. The man on the other end was former SU runner Ryan Urie, who ended his career this spring and then was diagnosed with acute myeloid leukemia in September. Urie, who had heavy duty chemotherapy this fall in San Diego and is currently preparing for a bone marrow transplant (his sister is the donor), wasn't able to be in Louisville in person but got the next-best thing as he was able to experience live video of the team's post-meet celebrations.
2) Edward Cheserek has ascended to the highest level of NCAA dominance
The highest level of dominance is an illusion. It's a trick that only someone like Edward Cheserek can pull — making the extraordinary appear routine. If you took someone to their first cross country race last Saturday and told them to watch Cheserek dominate the men's field en route to his third consecutive NCAA title, they would be in awe of what he accomplished. Cheserek ripped through the NCAA field the same way a cheetah stalks its prey; gradually waiting until he was close enough to his prize to unleash a savage burst of speed that no one else could dream of matching. Cheserek beat his nearest competitor, Villanova's Patrick Tiernan, by 26 seconds; Tiernan in turn beat everyone else in the field by an additional 26. To the first-time observer, that kind of dominance is impossible to ignore.
But for the overwhelming majority of people reading this article, Saturday was not the first time they watched a cross country race. And because of that, Cheserek's brilliance didn't feel the same as it would to someone watching him for the first time. We experienced those same feelings of awe back in 2013 and 2014, when he was upsetting Kenyan titans Kennedy Kithuka and Lawi Lalang for NCAA titles.
Cheserek ascended to his role as the NCAA's apex predator two years ago, and he's even slimmer, stronger and faster now than he was when he won his first collegiate crown. Yet because we've seen the show so many times, it doesn't hold the same appeal. The Godfather is a cinematic masterpiece, but even film buffs would grow tired of it if they sat down to watch it every weekend.
So that's where we are with Cheserek at this point. We know he's an all-timer, capable of summoning greatness whenever he chooses, but until he tests his powers against better competition (Tiernan was a worthy competitor but clearly isn't in Cheserek's league right now), his victories won't draw the same excitement as they did when he first broke onto the scene.
3) New Mexico's History Gets Overlooked as Well
New Mexico was expected to dominate the NCAA champs, and they did even better, scoring 49 points, the lowest total since 1982 (the NCAA field expanded to its current size of 31 teams in 1998).
Like Cheserek, they were victims of their high expectations. The other thing going against them in the realm of public opinion was that three of their top five weren't on the team last year and were upperclassmen transfers. The perception was New Mexico "bought" their team title, even though a ton of other schools including powerhouses like Oregon often bring in 5th-year transfers.
Coach Joe Franklin had done a tremendous job at Butler before coming to New Mexico and he didn't just recruit his way to the NCAA record books.
Four of the Lobos' top five were significantly better this year than last:
1) Courtney Frerichs 13th at NCAAs last year for UMKC, 4th this year.
2) Alice Wright 20th for NM last year, 5th this year.
3) Calli Thackery 43rd last year for NM, 15th this year.
4) Molly Renfer 23rd at Heps (Ivy League) for Harvard last year, didn't make NCAAs, 24th at NCAAs this year.
Pretty impressive that a runner who was only 23rd in the Ivy League last year was 24th at NCAAs this year.
Interesting sidenote, the only Lobo who may have underperformed this year was the biggest recruit of all, Rhona Auckland, who was the European Under-23 XC champ and finished 19th at the World XC senior race last year ahead of all the Americans. She was "just" 13th at NCAAs.
If you are a fan of women's running, we highly recommend the Daily Relay's post-race analysis as they've got some great insight into how good the 1982 UVA women's team was: DailyRelay examines in great detail whether UNM is the greatest-ever women's team and if Cheserek is the greatest-ever men's individual.
4) This was a very strong year at the top on the men's side
Syracuse may have been an underdog on Saturday, but in many years, they would have been favorites for the title. That we picked them third in our preview is not because they were a weak team; it was that 2015 was a particularly strong year for men's teams in NCAA cross country. Colorado, the two-time defending champions, returned four of their five scorers from 2014 and scored 91 points at NCAAs. Normally you're not beating a squad like that — 91 was the lowest score from a runner-up in 14 years.
Overall, this was the hardest meet to get on the podium in 15 years. From 2001 to 2014, only two third-place teams scored fewer than Stanford's 151 points (2001 Arkansas had 118, 2011 Colorado had 144) and no fourth-place team scored fewer than Oregon's 183. You have to go back to the screwy 2000 meet to find a more top-heavy field. Check out the results of that meet:
Arkansas, 83

Colorado, 94

Providence, 121

Stanford, 149

Wisconsin, 167

Villanova, 181
How stacked was that race at the top? Villanova scored 181 points, a total that would have landed them on the podium every year from 2001 to 2015. They didn't even wind up fifth.
Syracuse was able to overcome the traditional Pac-12 powers — Colorado, Stanford and Oregon — by putting three men in the top 10. Obviously scoring three men in the single digits is a huge advantage, and if Syracuse had lost on Saturday, it would have bucked a massive historical trend. A team has had three runners finish in the top 10 25 times at NCAAs, and 23 of those teams won the title. The only hard-luck losers were Arkansas in 1996 and Houston in 1959. Here are the last five teams to put three in the top 10 (all won the meet):
| | | | |
| --- | --- | --- | --- |
| Team | Runner 1 | Runner 2 | Runner 3 |
| 2015 Syracuse | Justyn Knight (4) | Colin Bennie (8) | Martin Hehir (9) |
| 2014 Colorado | Ammar Moussa (5) | Ben Saarel (7) | Blake Theroux (9) |
| 2010 Oklahoma St. | Girma Mecheso (7) | German Fernandez (8) | Colby Lowe (9) |
| 2008 Oregon | Galen Rupp (1) | Luke Puskedra (5) | Shadrack Kiptoo-Biwott (9) |
| 2005 Wisconsin | Simon Bairu (1) | Chris Solinsky (3) | Matt Withrow (9) |
5) Oregon deserves credit
Sometimes it can be hard to praise the Ducks considering all the talent distance coach Andy Powell has to work with, but Oregon's performance on Saturday is deserving of applause. If any other team went from sixth to fourth in the country after losing four of their five scorers — including the #2 runner in the entire country in Eric Jenkins — we'd be lauding the performance, so it's only fair that Powell and the Men of Oregon get credit for what they did on Saturday.
The Ducks' #2 runner, Travis Neuman, wasn't a stud in high school (PRs of 3:57/8:36) and their #4 and #5 men were true freshmen. Granted, these weren't your average freshmen (Tanner Anderson was last year's NXN champ; Matthew Maton broke 4:00 in high school) but to reload and take fourth — Oregon's first podium finish since 2009 — after suffering heavy losses was an impressive feat.
This was the last year for a while in which Oregon will enjoy the luxury of low expectations. The entire top five returns in 2016 and they'll be joined by one of the best recruiting classes in recent memory, led by the nation's top recruit (4:02/8:42 man Drew Hunter) and two studs in Austin Tamagno (Mt. SAC course record holder, 5th at FL in '14) and Levi Thomet (4:07/8:54, 15th at FL in '14). The podium will be a starting point for next year's team, and considering Anderson and Maton will overlap with next year's freshmen for three years (or four, depending on redshirts), fans in Eugene will be expecting a minimum of one national title during that span.
It was a great meet for the Oregon women as well, as they finished third overall (their best finish since winning it all on this course three years ago) but that was less of a surprise considering the Ducks came in ranked #5 and returned most of their roster from 2014.
So kudos to Oregon, but Duck fans, please stop with the messageboard posts accusing us of bias. As we said to one critic who was mad we didn't praise the Duck men for finishing fourth in our men's recap, expecting us to jump up and down when Oregon finishes fourth is like expecting a baseball journalist to jump and down when the Yankees exceed expectations and make the wild-card game.
6) It's never too early…
If you remove the seniors and re-score the 2015 NCAA Championships, here's what you get for men's team scores:
Oregon, 116

Iona, 206

Georgetown, 240

Arkansas, 272

Furman, 286
Syracuse, who return four of their top five, including two guys from the top 10 in the meet, is extremely well-positioned to defend its title. But considering the Orange lose three men from their NCAA squad (they lose #3, #6 & #7), they don't have enough to count as a team in this projection. There are plenty of other things that will shake up the championship picture between now and November 2016 — injured/redshirted athletes will return, guys will break out on the track — but right now Oregon is looking like the best bet to challenge Syracuse's supremacy.
On the women's side, New Mexico loses five of their top seven (though they return two from the top 13 in Alice Wright and Rhona Auckland), leaving Colorado as the early favorites (CU loses only #3 Maddie Alm). Providence also figures to be strong (they lose only #6 Molly Keating), as do 2015 surprise teams Oklahoma State and Boise State, who return their entire top sevens.
Colorado, 133

Providence, 153

Oklahoma State, 181

NC State, 204

Boise State, 258
More LRC NCAA Analysis: Forget About the Winners: The Biggest Surprises and Underperformers at NCAA Cross