Syracuse "Out-Colorado's" Colorado For NCAA Cross Crown as Edward Cheserek Makes History Look Easy
by LetsRun.com
November 21, 2015
LOUISVILLE, Ky. — With two kilometers to go at the 2015 NCAA Cross Country Championships, Syracuse and Colorado were all even in the team score, tied at 99.
Colorado was gunning for its third straight NCAA title while Syracuse was trying to win for the first time since 1951. Advantage Colorado.
Colorado is known for its late-charging style and had only been in 3rd place at 5200m, 40 points behind Syracuse (90 to 130) but had now closed the gap. Advantage Colorado.
However, the race isn't decided on paper and Chris Fox's Syracuse Orange did their finest Colorado impression the final 2k as the entire top five for Syracuse essentially maintained their position or moved up (Justyn Knight and Colin Bennie moved back, but only one spot each). Colorado made its customary late charge as well, gaining eight places over the final 2k, but there was no room for error today and Syracuse was too good and captured the crown, 82-91 over Colorado.
Article continues below player.
Yes Syracuse are your 2015 national champions thanks to putting three in the top 10 — Justin Knight (4th), Colin Bennie (8th), Marin Hehir (9th) — and having Philo Germano move up 14 spots over the final 10k to finish as the 4th man in 39th (29 team points). Syracuse's motto all season was TCB – "Taking Care of Business" and they definitely did that on Saturday.
Edward Cheserek Makes History Look Easy
Oregon's Edward Cheserek was the heavy favorite to become the first man to win three straight NCAA XC titles. That didn't mean his competitors were going to give him the title. Villanova's Patrick Tiernan took it to Cheserek all day and in the first half of the race, Tiernan, Cheserek, Justyn Knight of Syracuse and Anthony Rotich of UTEP were clear of the field.
Soon it was a two-man race with Tiernan and Cheserek clear of the field. They were putting on a running exhibition as they ran away from the field, building up an impressive 42-second lead on Knight in 3rd at 8k. It was not a two-man race for much longer, however. Once Cheserek made his move, he quickly reminded Tiernan he is called King Cheserek for a reason. Tiernan had no response to Cheserek's move and Cheserek would put 25 seconds on him the final mile. Pierce Murphy of Colorado moved up to take 3rd, while Knight held on for 4th, and the big surprise of the day Jonathan Green of Georgetown was 5th.
We give you seven quick thoughts of analysis now.
Quick Thought #1: Colorado didn't lose this race; Syracuse won it
After last week's Northeast Regional, Syracuse head coach Chris Fox joked that it would take a flu epidemic hitting Boulder County this week for his team to upset the Buffaloes.
But there was nothing wrong with Colorado's run today (see point #2 below). Colorado ran well – they had five All-Americans – but lost because Syracuse was amazing.
To win today, Syracuse had to knock it out of the park, and that's exactly what they did.
The trio of Justyn Knight, Colin Bennie and Martin Hehir have been running phenomenally all year and all three delivered once again, going 4-8-9 up front. Not bad for a trio that was 38th (Hehir), 95th (Bennie) and 143rd (Knight) a year ago. (Sidenote: Cuse's top man from the 2014 meet was MJ Erb in 37th. Erb transferred to Ole Miss after the season; he was 187th today).
Joel Hubbard, who was 28th at the Wisconsin Invite, came through to finish in 47th as the team's fifth man. But the hero for the Orange was fourth man Philo Germano, who went from 89th at Wisconsin to 39th today. Germano had stepped up for the Orange before this season (he was their fourth man at ACCs) and with teammate Dan Lennon fading over the second half of today's race (he dropped from 44th at 5.2k to 56th at 8k to 65th at the finish), someone needed to make up the difference. Enter Germano, who gained 14 spots over the final 2k of the race.
Germano and the rest of his teammates deserve credit for running their best race of the year when it mattered most. In our meet preview, we wrote:
"For Syracuse to win, they'll have to do something like this (team points in parentheses):
3. Knight (3)
11. Hehir (9)
18. Bennie (13)
38. Lennon (30)
50. Hubbard (40)"
We weren't far off. The places for Knight, Hehir and Hubbard were practically spot-on; Bennie and Germano ran even better than Syracuse could have hoped for, and they had to be as Syracuse only won by 9. The result is the Orange's first national title in 54 years. We hope that Syracuse now gets some major publicity – maybe a front page story on the Wall Street Journal.
"I always knew we had a shot. This race never goes perfect for anybody but I kind of think it went perfect for us today"' said coach Fox to us after the race. "It couldn't have gone any better. Our four and five guys ran out of their ass- our four, five and six guys – and I think our seventh guy did (as well)."
Syracuse's fifth-place finish at this meet in 2014 left a sour taste in the mouths of the Orange's athletes and coaching staff. Fox did a masterful job of publicly tempering expectations all fall, saying that his team would be happy with a trophy, but winning it all was always still lurking in the back of the minds of the athletes and coaches and today they all came through with an incredible performance. In many ways, the most shocking thing of all was they Colorado'd Colorado. What do we mean by that? Well Syracuse, after seeing its huge 97 to 181 lead at 2k and 90 to 130 lead at 5k evaporate to nothing at 8k (99 to 99), was better than Colorado over the final 2k which never happens.
Fox admitted he was nervous when he saw that Colorado had tied the score at 8k, but he still had some hope. "Yeah [I was nervous when I saw it was tied but] I was still going to be probably  pretty happy with second to Colorado and Wetmore – because they are awesome. But the work we do and the work everybody does, but we like to think we do it really well – is to be able to run that last mile. We didn't work on the first mile this year at all – it was all about the last mile – every workout."
Syracuse in many ways has been modeling themselves after Colorado as they've made a point of getting things done without any African talent. The Cuse are all Americans save for #1 runner Justyn Knight, whose home in Onatrio is closer to the Syracuse campus than some of the team's New York state talent. Check out our interview with Fox and Knight below (he finds out at the very end of the video about SU's victory) and the celebration videos, featuring an interview with Hubbard.
To reiterate how well Syracuse ran, you can listen to the words of Colorado coach Mark Wetmore. We  caught up with svengali afterwards and he was fairly pleased with how his men ran today. He knew it was going to be close as both Stanford and Syracuse had strong teams and indeed, Syracuse and Colorado were tied through 8k at 99 points. The last two years, Colorado separated from the competition over the final two kilometers to clinch the team title but their late push wasn't enough this time as Syracuse gained 17 places to Colorado's 8.
https://soundcloud.com/letsrun-com/mark-wetmore-talks-after-2015-ncaa-xc-champs
2) Colorado scored the fewest points by a runner-up since 2001
Colorado's 91 was a total that would have won NCAAs in five of the past 10 years; no team has scored 91 points or fewer at NCAAs and lost since 2001 (Stanford scored 91 that year but lost to Colorado). Before that, you'd have to go back to 1997, when Arkansas scored 56 and lost to Stanford. Syracuse had three guys in the top 10 yet almost lost — that's how well Colorado ran today.
Wetmore said that he couldn't think of a guy on his team who ran a bad race today, and he pointed out that all five of his scorers finished as All-Americans (in fact, all were in the top 33). Pierce Murphy ran a tremendous race for the Buffaloes, getting out well and moving up smartly throughout the race to take third overall. Freshman John Dressel was 26th after moving up 15 places over the final 2k; Ben Saarel also delivered a strong performance by gaining 19 places over the final 2k to finish 31st.
Unfortunately for the Buffs, three of their veterans gave up some places at the end as fifth-year seniors Morgan Pearson (16th to 25th), Connor Winter (27th to 33rd) and Ammar Moussa (35th to 42nd) combined to lose 22 places over the final 2k. Today served as a reminder of just how difficult it can be to roll guys up at the end — and how impressive it was that Colorado was able to close so well in the past two years.
3) Edward Cheserek's win was historic but Patrick Tiernan won a ton of new fans today
Until today, no man had ever won three straight NCAA Cross Country individual crowns in a row. Edward Cheserek has now done that and will certainly be favored for #4 in 2016.
But if the runner-up can ever be the story of an individual race, then that's what Villanova's Patrick Tiernan pulled off today. The Aussie made Cheserek work for it.
Distance running fans in recent years have had to sit through race after race where the heavy favorite with monster kick – whether it's Mo Farah in the pros or Edward Cheserek in the collegiate ranks – gets to run the first 90% of the race barely challenged before winning in a rout late.
Not this afternoon. A random fan on the course next to us summed it up best, "If he loses, at least he's making him work for it."
We caught up with Tiernan after the race and he was justifiably very happy with the effort he gave. "I'm very proud of today's race," said Tiernan. "It was a great race. I'm very happy with it." He added that when you cross the line totally exhausted, you have to be proud no matter whether you finish first or last.
Interesting fact, Tiernan said he didn't talk to coach Marcus O'Sullivan about his race plan until 15 minutes before the gun went off and added that he thought O'Sullivan would be surprised that Tiernan ended up leading most of it.
According to Tiernan, 15 minutes before the start of the race, O'Sulllivan simply went up to Tiernan and said, 'You've done it. You've been running for over 10 years now. You know what to do.'
Tiernan said he and Sullivan have a great relationship and totally trust each other. "It's a great relationship we have as a coach and athlete. He's very trusting in what I do in my race and I'm very trusting in him giving me the training."
4) How good is Edward Cheserek? His winning margin was the fifth-largest in meet history — and it all came in the final 2k
Check out the table below, courtesy of Track & Field News, displaying the largest winning margins in the men's race.
Largest Victory Margins
Margin
Year
Winner & Runner-up

40.8 secs
1992
Bob Kennedy (Indiana) 30:15.3, Gary Stolz (Stanford) 30:56.1
36 secs
1995
Godfrey Siamusiye (Arkansas) 30:09, Mark Carroll (Providence) 30:45
31 secs
1942
Oliver Hunter (Notre Dame) 20:18, Earl Mitchell (Indiana) 20:49
31 secs
1996
Godfrey Siamusiye (Arkansas) 29:49, Jonah Kiptarus (Nebraska) 30:20
25.3 secs
2015
Edward Cheserek (Oregon) 28:45.8, Patrick Tiernan (Villanova) 29:11.1
Cheserek's dominance has become so routine that even the man himself seems a little bored with it. We asked him if he ever got tired of winning NCAA titles (this was his ninth individual one, to go with one in the DMR and four team titles on the track).
"I've gotta do it while I'm still running," Cheserek said with a shrug. "You never knew in the future."
As far as race plans, Cheserek said that Tiernan's relentless pace didn't affect his strategy. His plan was always to wait until coach Andy Powell gave him the green light to go; Powell said Cheserek should move sometime between 7k and 8k. Cheserek waited slightly longer than that, but once he hit the downhill shortly after 8k, he decided to go and it was good night to Tiernan and the rest of the NCAA.
5) Surprised by Georgetown's Jonathan Green? Don't be.
Green, a redshirt sophomore, owns track PBs of 14:02 and 29:06 — very good, but not what you'd expect for a guy that just took 5th at NCAAs. But to judge Green solely on track PBs is foolish: ever since high school, the guy has been a cross country stud.
Massachusetts rotates its state meet between three courses and as a senior in 2012, Green, a Berlin, Mass., native, destroyed the course records at two of them in consecutive weeks. His 13:50 at Gardner Golf Course broke a mark that used to belong to current Oregon coach Andy Powell (Green beat Colin Bennie by 36 seconds in that race); a week later he ran 15:29 at Northfield Mountain to crush that course record as well.
Green's track bests in high school (4:24 and 9:21) weren't anything to write home about, but his exceptional cross country performances (he was also a two-time Foot Locker finalist) suggested that he could be a special runner on grass. This season, he flew somewhat under the radar thanks to sharing a conference and a region with Tiernan, who is clearly much better than anyone in the NCAA save Cheserek. But Green didn't run a bad race all year (he was 6th at Pre-Nats and then 2nd behind Tiernan at Big Easts and the Mid-Atlantic Regional) and capped it off with a stellar outing today.
6) Stanford didn't blow up, but they didn't run well, either
The Cardinal got out well (at 5.2k, the scores were Syracuse 90, Stanford 123, Colorado 130) but they didn't get out as well as Syracuse and couldn't close as well as Colorado. That left Stanford third overall — not a horrible race, but not the goal for a team that was second last year and hoping to challenge for the win in 2015.
The Cardinal got a typically stellar race from Sean McGorty (7th), a huge race from Jim Rosa (6th — a huge run for a guy who was on the verge of season-ending knee surgery three months ago) and a very nice run from superfrosh Grant Fisher (17th in his first 10k). The problems came at #4 and #5 as Garrett Sweatt (64th) and Joe Rosa (97th) weren't where they needed to be for the Cardinal to win. Syracuse ran an exceptional race and Colorado ran a very good one, Stanford merely ran okay, and that wasn't going to cut it today.
Fisher said afterwards that he was happy with his performance individually and that even though some people may view third as disappointing, he was pleased with that result and proud of how he and his teammates ran today.
We also got a chance to ask Fisher about his track plans. Fisher is flexible about what distances he will run during the 2016 season (he mentioned anything from 800 to 5,000) and said that he still needs to talk to coach Chris Miltenberg about it.
"I think everybody thinks of themselves as a miler or likes to think of themselves as a miler," said Fisher, one of just seven high school boys to break 4:00 in the mile. "I think the mile is kind of a sweet spot for me. I don't know what it will be now. This summer I thought I was a miler, I never thought I would run 10k."
7) How about some more love for the Syracuse Orange? They are the second team east of the Mississippi to win the NCAA Cross Country title since 1972 (Wisconsin is the other) and they return 4 of 5 for next year.
If you haven't watched our interview with Fox above, please do so now as it's time that the man who built the Syracuse program up over the last 11 years from the ground up (Syracuse hadn't been to NCAAs since 1974 when Fox took over) gets some love. Their win certainly went against the grain as an East Coast men's team hadn't won since 1972 (Tennessee).
Syracuse's win was a surprise to most pundits but they looked like a team that expected to win as they had by far the best tailgate spread at the meet. Check this out.
That doesn't look like a team that hasn't been on the podium since 1957. We talked to one alum from the 1990s, who helped set the spread up, and he wisecracked, "All we passed down to these guys was the locker rooms."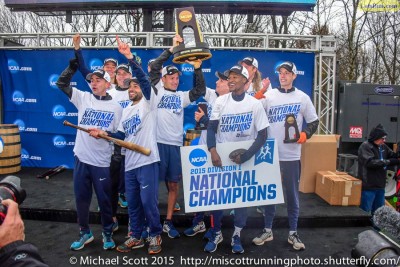 A few more highlights from the Fox interview:
When asked about how winning today compared to some of his finer accomplishments as an athlete, the former 13:31/27:53/2:13:40 man Fox said

,

"When I think of my career, I think of how many Olympic Trials I screwed up and I didn't want to screw up this opportunity…It's a special group of kids. We have no drama. We just run."

Fox said he definitely wanted the Orange to get out well early on.  "We wanted to be in the top 50. Everyone was supposed to be in the top 50 right away to stay out of trouble at the start. I'm not the biggest fan of this course – well I guess I'm a bigger fan than I was 40 minutes ago. It was a great thing because most of these guys – except for Justyn – weren't recruited by anybody that finished in the top 7 or 8 today. Marty Hehir got about three letters  – Colin Bennie was a hockey player. They are regular guys. The guy that was our 5th or 4th man today (Philo Germano was the 4th guy). He ran 4:19/9:40 – from Albany – never made a state meet. They are just good regular dudes that try hard."
(Editor's note: Dyestat lists a 4:17 1600 for Benie)
Fox didn't temper expectations for next year as he said, "We've got most of them back next year – we're going to be awesome next year." The Orange only lose one scorer – #3 man Martin Hehir.
Full Team and Top 25 Individual Results below. Full results here
| Pl | Name | Time | Pts |
| --- | --- | --- | --- |
| 1 | Edward Cheserek JR – Oregon | 28:45.8 | 1 |
| 2 | Patrick Tiernan JR – Villanova | 29:11.1 | |
| 3 | Pierce Murphy SR – Colorado | 29:37.0 | 2 |
| 4 | Justyn Knight SO – Syracuse | 29:46.1 | 3 |
| 5 | Jonathan Green SO – Georgetown | 29:49.5 | 4 |
| 6 | Jim Rosa SR – Stanford | 29:52.7 | 5 |
| 7 | Sean McGorty JR – Stanford | 29:53.4 | 6 |
| 8 | Colin Bennie SO – Syracuse | 29:55.9 | 7 |
| 9 | Martin Hehir SR – Syracuse | 29:59.5 | 8 |
| 10 | Marc Scott SO – Tulsa | 30:02.6 | 9 |
| 11 | Jonah Koech FR – UTEP | 30:04.4 | 10 |
| 12 | Erik Peterson SR – Butler | 30:05.0 | |
| 13 | Jefferson Abbey JR – Colorado St. | 30:05.3 | |
| 14 | Thomas Awad SR – Penn | 30:06.1 | 11 |
| 15 | Anthony Rotich SR – UTEP | 30:06.6 | 12 |
| 16 | Jacob Burcham JR – Oklahoma | 30:06.7 | 13 |
| 17 | Grant Fisher FR – Stanford | 30:07.9 | 14 |
| 18 | Ernest Kibet SR – Louisville | 30:09.4 | 15 |
| 19 | Jerrell Mock SO – Colorado St. | 30:10.3 | |
| 20 | Gilbert Kiru iSO – Iona | 30:11.3 | 16 |
| 21 | Lane Werley SR – UCLA | 30:13.0 | 17 |
| 22 | Thomas Curtin SR – Virginia Tech | 30:15.1 | 18 |
| 23 | Jack Bruce SO – Arkansas | 30:15.3 | 19 |
| 24 | Trent Lusignan SR – SD State | 30:15.6 | |
| 25 | Morgan Pearson SR – Colorado | 30:16.1 | 20 |
Team Results
| Pl | Name | Points |
| --- | --- | --- |
| 1 | SyracusePts: 3, 7, 8, 29, 35, (51), (99) | 82 |
| 2 | ColoradoPts: 2, 20, 21, 23, 25, (32), (160) | 91 |
| 3 | StanfordPts: 5, 6, 14, 50, 76, (172), (194) | 151 |
| 4 | OregonPts: 1, 34, 38, 44, 66, (77), (97) | 183 |
| 5 | IonaPts: 16, 33, 46, 48, 88, (121), (174) | 231 |
| 6 | ArkansasPts: 19, 30, 36, 69, 90, (137), (143) | 244 |
| 7 | LouisvillePts: 15, 31, 41, 68, 176, (204), (210) | 331 |
| 8 | WashingtonPts: 22, 24, 75, 79, 145, (200), (212) | 345 |
| 9 | MichiganPts: 52, 56, 64, 72, 104, (159), (166) | 348 |
| 10 | GeorgetownPts: 4, 37, 82, 103, 126, (147), (201) | 352 |
| 11 | UTEPPts: 10, 12, 86, 89, 157, (208) | 354 |
| 12 | BYUPts: 58, 62, 65, 106, 115, (123), (188) | 406 |
| 13 | FurmanPts: 39, 67, 87, 112, 118, (156), (177) | 423 |
| 14 | UCLAPts: 17, 95, 98, 102, 117, (148), (165) | 429 |
| 15 | OklahomaPts: 13, 63, 94, 116, 146, (178), (180) | 432 |
| 16 | Boise StatePts: 54, 73, 78, 96, 134, (135), (168) | 435 |
| 17 | Eastern KentuckyPts: 28, 70, 100, 108, 140, (161) | 446 |
| 18 | Oklahoma StatePts: 40, 80, 93, 101, 136, (203), (215) | 450 |
| 19 | MinnesotaPts: 71, 74, 81, 107, 131, (190), (206) | 464 |
| 20 | TulsaPts: 9, 26, 92, 154, 187, (209), (213) | 468 |
| 21 | Southern UtahPts: 27, 60, 111, 127, 152, (163), (182) | 477 |
| 22 | VirginiaPts: 43, 47, 119, 133, 138, (144), (185) | 480 |
| 23 | CaliforniaPts: 59, 83, 114, 129, 139, (171), (179) | 524 |
| 24 | PennPts: 11, 57, 132, 142, 184, (193), (196) | 526 |
| 25 | Michigan StatePts: 42, 61, 109, 164, 167, (169), (183) | 543 |
| 26 | Washington St.Pts: 45, 91, 120, 141, 150, (158), (186) | 547 |
| 27 | Virginia TechPts: 18, 113, 125, 155, 170, (181), (202) | 581 |
| 28 | NC StatePts: 49, 55, 105, 192, 195, (197), (198) | 596 |
| 29 | Florida StatePts: 85, 110, 122, 130, 151, (173), (205) | 598 |
| 30 | MississippiPts: 53, 124, 128, 149, 153, (175), (199) | 607 |
| 31 | TexasPts: 84, 162, 189, 191, 207, (211), (214) | 833 |