Week That Was – Paula's Blood Values, Asafa Powell's 100th Sub 10, Doping, Animal House and Nike, Props to the NYRR and Kyle Merber, Knockout Races and More
By LetsRun.com
September 15, 2015
Our weekly recap – the Week That Was – appears below.
In terms of action it was the final weekend of the track season with the Diamond League finale in Brussels which you can read all about in our 2015 Brussels DL Special Section and the 5th Avenue Mile (Nick Willis and Jenny Simpson the winners) which you can read about here. We give you insight on everything else below.
Past editions of The Week That Was can be found here. Questions or comments? Please email us or post them in our running fan forum.
****
Paula Radcliffe's Name and Blood Values Come Out
Article continues below player
(Editor's note: This section was written by LetsRun.com co-founder Robert Johnson)
Last week, the name of the high-profile British athlete with the 'suspicious' blood values came out and her name is Paula Radcliffe. Within days, her three actual suspicious values came out via Sky News, who initially claimed the values 'cleared' her as two of them were below the high altitude threshold. The third was taken immediately after a race and the anti-doping community now insists that two hours pass between a race and collection of a blood sample (Sky News has since changed the title of its article "Blood Tests That Radcliffe Says Clear Her Name").
What do I think of it?
The whole way the accusations and 'clearing' was done was poor journalism. Suspicious values don't make Radcliffe dirty but having a plausible explanation for the three tests don't instantly make her clean either. The anti-doping movement is a very complex one which requires a lot of resources, scientific knowledge and patience. Given the fact that her name is already out there and we're not going back from that, I hope that a lot more comes out about this story and a true scientific verdict can be determined.
The poorly veiled attempt to out Radcliffe without having the guts to name her or release her actual values by the Sunday Times wasn't good journalism (The Sunday Times should have just said a high profile British athlete had suspicious values, it never should have said a high profile athlete not named Mo Farah or Jessica Ennis Hill had suspicious values). But the rush to clear her name by her supporters without even letting the scientists weigh in isn't good either.
Last week the new head of the IAAF, Seb Coe said in part, "I think everybody knows Paula is a clean athlete."
That's a ridiculous statement. Ridiculous. Everybody doesn't know 100% she was clean. If they did, the Sunday Times wouldn't have been writing story after story about the famous British athlete with the suspicious values. My brother, Weldon, who paced Paula to one of her marathon world records, doesn't know she is clean. He wants to and thinks she is clean but he doesn't know it.
In the anti-doping fight, really the only person who knows 100% that they are clean is the athlete themselves. Their coaches, spouse/significant other, training partners probably have a really good idea (99.99%) but they don't know.
(LetsRun.com Weldon Johnson chiming in here: Robert's words remind me of what Paula first told me when I met her in 2002 and we talked a ton about doping problem in sport and what could be done to clean it up. She said something along the lines, "At the end of the day, you only know for certain about yourself." Paula has always said the right things to me privately on the anti-doping front and that is why I give her the benefit of the doubt and believe her. I hope she supports more data coming out.)
Coe's full statement on Radcliffe according to The Telegraph was, "I absolutely believe Paula Radcliffe is clean. I think everybody knows Paula is a clean athlete. I don't think she should have been put in that position – I really don't."
A better statement would have been, "I am a friend of Paula Radcliffe and absolutely believe she is clean. I don't think she should have been put in that position – I really don't. But now that her name is out there, I really hope the experts in the anti-doping fight, many of whom I know also believe she is clean, are given time to examine everything and explain everything as it's important that people have faith in the anti-doping movement. It's important for people to understand that under my leadership there will never be any people in our sport that are too big to fail. There is nothing more important to future health of our beloved sport than people having belief that what they are watching is honest competition."
More: LRC Wejo Speaks to Science of Sport's Ross Tucker: Paula Radcliffe Can Gain Credibility With More Transparency – Paula's Explanations are Plausible But More Info Is Needed – Tucker: 'You're not dealing with Shobukhova… here!'
*Australian Doping Expert Michael Ashenden Says The IAAF Needs A "Period Of Hyper-Transparency" To Regain Public Trust
****
Asafa Powell and Sherone Simpson Reach Financial Settlement With Supplement Maker
Need an example of the complexity of the doping fight? Here is one. In 2012, sprinters Asafa Powell and Sherone Simpson both tested positive for oxilofrone. They both said they knowingly didn't dope but were the victims of a contaminated version of Epiphany D1, a legal supplement. Regardless, they were initially suspended 18 months. That ban was reduced to just 6 months by the Court of Arbitration for Sport.
Last week, the duo's claim of a contaminated supplement got a boost when it was announced that they had reached a financial settlement with the makers of Epiphany D1. Their agent Paul Doyle was obviously thrilled by the development as he said to the Jamaica Gleaner, "I just think the out-of-court settlement … gives them some justification and clearance for their names."
Of course, we don't know the details of the settlement (did the maker of Epiphany D1 pay them some nominal amount so the athletes could claim victory and get a PR boost and the supplement makers could save a ton in lawyers fees?) so the victory is less convincing than an $8 million verdict in court would have been.
One thing we do know. Don't take so many supplements that you don't even list them on your drug testing form as you can't remember the names of them all, which was what happened to Asafa Powell in this case.
LetsRun.com fans, please realize the above stories don't mean we think all suspected dopers are innocent. Far from it. See the next section.
More: Asafa Powell And Sherone Simpson Reach Financial Settlement With Company That Sold Them Tainted Supplements
*****
Screenshot Of The Week / A Picture Is Indeed Worth A Thousand Words
One of the results websites we subscribe to is tilastopaja.org. They recently have started showing on all of their yearly lists whether someone has ever had a doping ban or not. It's a great feature as it really slaps you in the face and makes you realize doping is a serious problem in our sport.
Check out the list of this year's 10 fastest men in the marquee even of track and field – the 100 meters.
What do more than half of them have in common? Yep, a doping suspension.
****
Stat of The Week I / Consistently Incredibly Good Except When It Matters Most
Speaking of the men's 100, a big thumbs up has to go out to Asafa Powell. Last week in Croatia, he became the first human in history to record his 100th sub-10 clocking (wind legal and wind-aided). That's truly amazing. He's got more than twice as many career sub-10s as Usain Bolt and nearly twice as many as anyone in history.
Powell's consistency over the years is truly staggering. In the history of the world, only 30 men have broken 9.90 like Powell. Of those, only 15 of those guys have more than 10 career sub-10s to their name. Powell has gone sub-10 more than 10 times in a single season in five different years.
# of Sub-10s Per Year By Asafa Powell
2015 – 10
2014 – 3
2013 – 0
2012 – 6
2011 – 10
2010 – 8
2009 – 13
2008 – 15
2007 – 8
2006 – 13
2005 – 5
2004 – 9
Most career wind-legal sub-10 races (according to tilastopaja.org, only looking at people who have gone sub-9.90 in their careers)
93 – Asafa Powell*
52 – Maurice Greene
46 – Usain Bolt*
46 – Justin Gatlin*
38 – Mike Rodgers*
37 – Tyson Gay*
29 – Nesta Carter*
28 – Ato Boldon
27 – Frankie Fredericks
22 – Yohan Blake*
15 – Donovan Bailey
15 – Carl Lewis
12 – Richard Thompson*
12 – Jimmy Vicaut*
10 – Walter Dix*
9 – Leroy Burrell
9 – Linford Christie
9 – Shawn Crawford
9 – Ryan Bailey*
8 – Francis Obikwelu*
8 – Darvis Patton
7 – Michael Frater*
7 – Trayvon Bromell*
7 – Bruny Surin
5 – Keston Bledman*
4 –Steve Mullings
3 – Travis Padgett
3 – Obadele Thompson
2 – Ngonidzashe Makusha*
2 – Olusoji Fasuba
*= active athlete.
****
Kudos to the NYRR and Kyle Merber For Helping Grow The Sport
Thumbs up also need to go the New York Road Runners and Kyle Merber for helping grow the sport. For the first time, the NYRR's 5th Avenue Mile was shown live on ESPN2 on Sunday. The slick, well-produced 30-minute show was a distance fan's dream. Both the men's and women's races on 5th Avenue were shown live in their entirety in a way that doesn't take up your entire day. Well done.
Merber, who was 6th at USAs this year in the 1500 after running the opening leg on the US's world-record-setting DMR at World Relays, put on his own mile in Long Island. Taking a page from the highly successful Sir Walter Miler in North Carolina, in which Merber competed in August, Merber put on the Hoka One One Long Island Mile on Sept. 9 at St. Anthony's High School.
Successful events don't need to take hours and feature a million events. They just need good promotion and excitement.
****
Photo of the Week
Collegians, next time coach tells you to cancel the Halloween rager as serious athletes don't drink/party, show him or her this: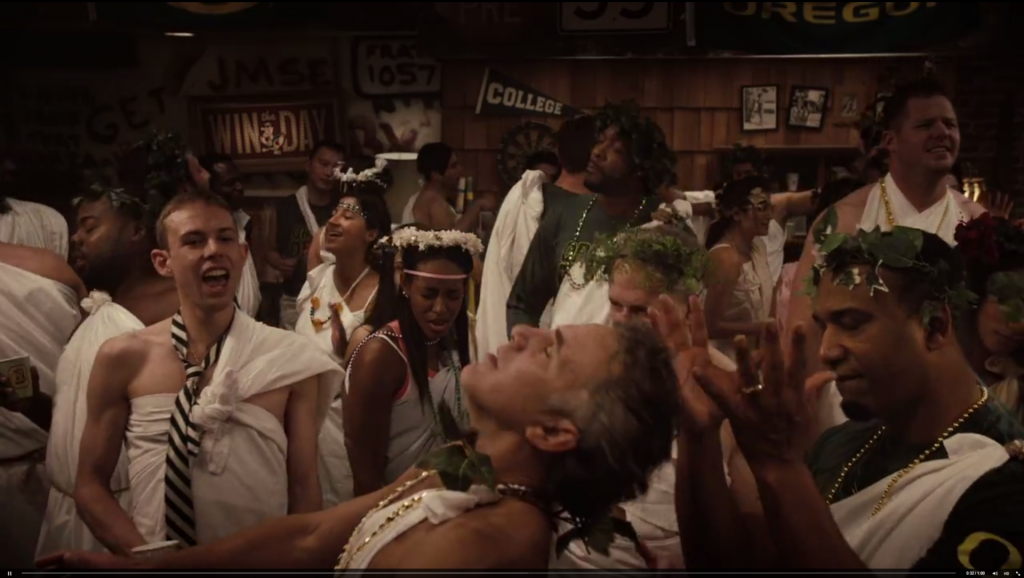 That's Galen Rupp with the tie and English Gardner with the pink headband.
Admittedly, it's not an actual party – it's a photo from a new Nike commercial re-creating a scene from the movie Animal House, which was filmed on the Oregon campus.
If you want to go to the actual party, we suggest you try Dartmouth — that's the school Animal House was based on.
You can watch the full commercial, which also has Ashton Eaton in it, below.
MB: New Nike commercial honoring Oregon Ducks/Animal House features Galen Rupp, Ashton Eaton at frat party
***

Stat of the Week II / Talent Doesn't Go Away
2:05.45 – seasonal best time at 800m of Burundi's Francine Niyonsaba when the World Championships took place this year (Niyonsaba didn't compete).
1:57.62 – seasonal best time of Burundi's Francine Niyonsaba after she ran and won in Rieti last week, crushing 2015 World Champ Marina Arzamasova in the process.
The now-22-year-old Niyonsaba was a junior phenom in 2012. After placing sixth in the Olympics in her first year on the circuit, she ran her 1:56.59 pb to win the Brussels DL to close out her 2012 campaign. In 2013, she was on fire early in the season, going three for three on the DL circuit with wins in Shanghai, Eugene and Paris.
However, she didn't compete the rest of the year or at all in 2014 – we believe because of a hamstring injury (but if you know, please email us) – but she's clearly back and someone to be reckoned with in 2016.
Niyonsaba's 2015 return according to tilastopaja.org.
800 m
2:10.9hA
SB
7
Nakuru
18 Apr
2:12.7hA
4h2
Kisii
9 May
2:11.9hA
3
Kisii
9 May
2:09.0hA
SB
2
Eldoret
23 May
2:07.9hA
SB
10
NC
Nairobi
11 Jul
2:05.45A
SB
2
NC
Kampala
18 Jul
1:59.62
SB
1
Città
Padova
6 Sep
1:57.62
SB (4)
1
Rieti 2015
Rieti
13 Sep
More: NIYONSABA BACK TO HER BEST IN RIETI
MB: What happened to Niyonsaba?
****
5 Quotes of the Week (that weren't quote of the day)
#1 – Can USADA Be Bought?
As reported by this writer (Thomas Hauser) on MaxBoxing in Dec. 2012, information filtered through the drug-testing community on May 20, 2012 to the effect that Mayweather had tested positive on three occasions for an illegal performance-enhancing drug. More specifically, it was rumored that Mayweather's A sample had tested positive three times and, after each positive test, USADA had given Floyd an inadvertent use waiver. These waivers, if they were in fact given, would have negated the need to test Floyd's B samples. And because the B samples were never tested, a loophole in Mayweather's USADA contract would have allowed testing to continue without the positive A sample results being reported to Mayweather's opponent or the Nevada State Athletic Commission.
– excerpt from a more than 7,000-word piece of investigative journalism by Thomas Hauser on SBNation.com looking into whether USADA at times has looked the other way when paid to provide independent drug testing for boxing matches.
More: MB: The most disturbing doping allegation ever? USADA caught Mayweather before his big fight but let him fight anyway.
#2 – Being A Call Girl Was More Exhilirating Than Running In The Olympics
Suzy Favor Hamilton's memoir Fast Girl came out on Monday. Last week, a lot of pre-release publicity was out on the book. The former US 1500 star gave an interview to Sports Illustrated in which she said the following about her life as a high-priced hooker.
When I was an escort, it came natural. It was so easy. It was so fun and the high from my mania was incredible. The high felt better than running races and winning. So I know as bad as that sounds, at that time because of the bipolar, because of the [antidepressant I was taking], the hypersexuality that I was experiencing it was above and beyond the biggest high…
I was the happiest I had ever been…. I honestly thought I could live this life with [my husband] and we could kind of go our separate ways, and consider our relationship as an open relationship even though that wasn't something that he was doing. I kind of justified everything I was doing.
#3 – He Thought He Was Celebrating With Champagne But It Turned Out To Be Apple Juice
"First up, I called my mom to tell her the news. USATF had a formal reception with a champagne toast for me and my coach, Art Venegas, in the lobby of the hotel. It was a great experience to be recognised by all. I hadn't had an alcoholic drink so far in 2015 as I wanted to focus 100 per cent on training. It was only after I had what I thought was champagne did I realise it was in fact sparking apple juice, so I still haven't had a drink in 2015."
-shot putter Joe Kovacs talking to Spikes about how he celebrated his world title.
4 – What A Difference 9 Months Make
"I just don't know if I'm built for this sport. My body just isn't handling it."
– What World Championship 10,000 bronze medalist Emily Infeld told coach Jerry Schumacher in December according to Spikes.
More: Emily Infeld Talks To Spikes Mag – Don't Ever Give Up
#5 – No, Not Everyone Is On Drugs
"When my dad was helping the builders put in my long jump pit at home a few weeks back, they got talking about athletics and Justin Gatlin and one of the guys just said, 'Well, everybody's on drugs, Greg included surely.'
"That's really worrying that that's a public perception. It's heartbreaking when you give everything you can and you know you've done it all clean."
-Olympic and world long jump champ Greg Rutherford talking about the PR problems facing clean athletes.
More: Paula Radcliffe backed by Mo Farah and Greg Rutherford
****
Recommended Reads
Our Recommended Reads from last week appear below. Before we list them, we share an excerpt from Toni Reavis, who had an interesting piece on how no one knows what to believe anymore as so many people in positions of power have abused the trust people put in them.
Toni Reavis:
In the 21st century rectitude has been replaced by deceit, the wholesome by the expedient. In city after city the police, once protectors, have become the feared, and the religious, rather than ones who pray are seen as ones who prey. By the time we get to sports heroes, forget it…
Nothing is what is seems anymore, even innocence. These days it is success, in and of itself, that draws skepticism. And once that skepticism has been roused, the damage is done.
This is the corrosive result of decades of lies and denials by the powerful and the privileged. Nobody believes anyone in authority anymore, and with good reason. The pillars of authority have crumbled, one by one, over the last 50 years.
"I am not a crook," said Richard Nixon.
"I did not have sexual relations with that woman," asserted William Jefferson Clinton.
And priests would never abuse their privileged positions over the innocents brought to their knee. As such we are all victims of the moral climate we inhabit, and carriers of the sins of our fathers.
Today, an athlete who might once have been seen as the truest exemplar of their sport, someone like Paula Radcliffe, finds herself instead condemned by her times, if not by her deeds. And there is nowhere left to turn for absolution.
Toni Reavis blogs about modern society – The new age of assumed guilt
Usain Bolt's Best Friend Gives Insight On Bolt's True Potential Nugent Walker doesn't think Bolt has hit his top potential and talks about going sub-19 seconds in the 200. He also explains how he selectively chooses what headlines from the media he feeds to Bolt in order to motivate him.
Ato Boldon Interviews Hicham El Guerrouj For IAAF Inside Athletics El Guerrouj talks about overtraining for the Sydney Olympics out of "fear", winning double gold in Athens and how he thinks Asbel Kiprop can get his 1500 WR.
Martyn Rooney Missed The Birth Of His Son To Anchor The GB 4×400 To A Dramatic Bronze Medal "Now I can take a medal home to my baby."
Rooney Joked About Naming His Son "Bird's Nest" "I couldn't go home without bringing something back to my wife. I'm proud of what she's done and hopefully she's proud of me."
How Did The World Champions Celebrate Their Victories In Beijing? Some drank. Some didn't. All were up very late.
IAAF Profile On Allyson Felix Felix talks about the decision to challenge herself with the 400 this year and the possible 200-400 double at Rio 2016.
Steve Magness Podcast Interview With Phoebe Wright On Mindsets, Struggles And What It Takes To Run Professionally A lot of great insights into elite running on the college and pro level and the transition in between.
****
A Few Comments About Last Week's Weekly Recap
Last week, in our weekly recap, we praised steeplechaser Jairus Birech for rocking a 60:23 half marathon just days after winning the DL jackpot. We received word that the Birech who ran the 60:23 half-marathon in France was actually Jairus' brother, Cosmas Jairus Birech.
Also last week, we gave out a thumbs up to the organizers of the Flame Games in the Netherlands for trying something new and using the 'knockout' format for a women's 1500 (whoever was in last on each lap was removed from the track) and asked for your novel ideas on how to make the sport more interesting: MB: Creative ways to make boring distance races exciting – let's hear them. Post them now.
Two of our European visitors emailed us to tell us they've seen the knockout format and they both said they didn't like it. Their emails appear below.
Email #1 on Knockout Format for Races
Hi guys,
(The knockout format) has been done already at European Team Championships in Leiria, Portugal in 2009. They dropped after that one year. Especially in tactical races this is a cool idea and adds a lot of mid-race tension. They did it in the 3k and 5k if I remember correctly. However runners would not cooperate, sometimes was a tight decision who will have to go home, so even though indicated, people would stay in the race to finish and protest afterwards or in between by their federation ("he was last because this guy did this" and so on…). Sometimes the decision was even super clear (women's 5k) as one woman was way back, but she would refuse to stop running, so what do you do??
Cannot find a video right now, but you might be more lucky…
Anyway, interesting format, but needs some work.
*****
Email #2 on Knockout Format for Races
[I am] unfortunately unable to find a video of the 1500m but in my opinion it's not a good idea. I saw the race on television last Saturday.
In the first place my attention was drawn to the back of the race/pack instead of the front. Why on earth do I want to look at the back?
Second, athletes were shown a red card, but at the first 'drop out' it was hardly to be seen who should leave the race (kind of foto finish effect). At the next two, the pack was strung out, so it just eliminated two girls, who weren't in contention for the victory anymore in that part of the race.
Sit and kick tactics are useless… but we can't run all up front.
To show the athletes the 'red card' a cyclist drove on the track… finding it difficult to keep up with the ladies (the track was wet, so slippery). Also it had to get close to the runners, pretty dangerous especially in case of a fall of the cyclist (and we Dutch know how to ride a bike as have more bikes than people in our country).
If you can't find a 4 min race interesting, please look for another sport.
This format isn't new at all. European Athletics used it a few years ago at the European Cup (best European countries team competition). Did work out at all and abandoned after one year.
Some pictures of the race: http://www.erki.nl/pics/main.php?g2_itemId=117165&g2_page=4
Greetings,
Bart van Aalst
(van Aalst, a 2011 Boston Marathon finisher, is a T&F/XC coach as well as media officer for the Tilburg Ten Miles in the Netherlands.
****
Quotes Of The Day And Last Week's Home Pages
To see the actual quotes of the day from last week or last week's home page or any home page, go to our archive page.
Past editions of The Week That Was can be found here. Questions or comments? Please email us or post them in our running fan forum.