Brussels Diamond League Finale: Great Women's Mile, Americans Come Up Short in 5k, Schippers Over Felix
by LetsRun.com
September 11, 2015
The 2015 IAAF Diamond League season came to a close today in Brussels with a slew of fast times in the distance races. Conditions were cool (50s/60s) and calm and runners in the women's mile, men's 5,000 and women's steeple took advantage as all three events saw new world-leading times. The sprint events didn't quite live up to the hype as Usain Bolt (pre-meet scratch) and Justin Gatlin (who scratched from the 200 after barely winning the 100 in 9.98) weren't able to put on their usual show, though the women's 200 was a treat as world champ Dafne Schippers took down Allyson Felix, 22.12 to 22.22.
In distance action, Faith Kipyegon ran the fastest time in 19 years (4:16.71) to take down Sifan Hassan as Shannon Rowbury and Jenny Simpson were third and fourth. The men's 5,000 saw a new world leader thanks to Yomif Kejelcha's 12:53.98, though sub-13 attempts by Americans Ben True (7th, 13:05.54), Ryan Hill (8th in new PB of 13:05.69) and Galen Rupp (10th in 13:08.38) fell short. Tunisia's Habiba Ghribi became the third-fastest female steepler of all time thanks to her 9:05.36 clocking (Emma Coburn was eighth as she lost to an American for the first time in over five years). Poland's Adam Kszczot kept rolling in the men's 800, winning in a relatively slow 1:45.12.
We've got a recap of the entire meet plus results below, including detailed recaps of all mid-d/distance action.
Article continues below player.
Men's 5000m: World Leader for Yomig Kejelcha as True and Hill Beat Galen Rupp
On a night nearly perfect for 5000-meter running (low 50s/high 60s temps, low wind), the runners came through with quick times as the first 13 finishers either set a personal or seasonal best. Coming into this race, there had only been four sub-13:00 clockings all year. In this race alone, there were four sub-13:00s. Unfortunately, for American fans, there were no sub-13:00s for anyone from the USA.
The winner of both the race and $40,000 Diamond League title (the winner was almost certainly going to win the DL title) was the young 18-year-old Yomif Kejelcha.
The 2013 World Youth and 2014 World Junior champ showed once again he may be the future of the event as he used a 55-second last lap to turn the tables on Hagos Gebrhiwet, who beat Kejelcha for the bronze in Beijing a few weeks ago. Kejelcha won in a new pb and new world-leading time of 12:53.98 (Kejelcha was the world leader at 12:58.39 coming in) as Gebrhiwet clocked 12:54.70. The Beijing bronze medallist at 1500, Abdalaati Iguider of Morocco, who put a lot of pressure on the lead pack with 3 to go, was the third guy under 13:00 in 12:59.25 (previous PR was 13:09.17) as Kenyan Thomas Longosiwa was fourth in 12:59.72.
American Ben True was 7th in 13:05.54 with Ryan Hill right behind him in 13:05.69, a big improvement of his 13:14.22 PB. Galen Rupp was 10th in 13:08.55 and Chris Derrick 16th in 13:25.23.
Results 5000 Metres – Men
1 Kejelcha , Yomif ETH 12:53.98
2 Gebrhiwet , Hagos ETH 12:54.70
3 Iguider , Abdalaati MAR 12:59.25
4 Longosiwa , Thomas Pkemei KEN 12:59.72
5 Ndiku , Caleb Mwangangi KEN 13:05.30
6 Alamirew , Yenew ETH 13:05.53
7 True , Ben USA 13:05.54
8 Hill , Ryan USA 13:05.69
9 Koech , Paul Kipsiele KEN 13:07.74
10 Rupp , Galen USA 13:08.38
11 Kipsang , Emmanuel KEN 13:08.55
12 Ahmed , Mohammed CAN 13:10.00
13 Haji , Yasin ETH 13:10.67
14 Koech , Isiah Kiplangat KEN 13:22.33
15 El Goumri , Othmane MAR 13:24.68
16 Derrick , Chris USA 13:25.23
17 Robinson , Brett AUS 13:52.41
Kaya , Ali TUR DNF
Laalou , Amine MAR DNF
Rono , Vincent Kipsang KEN DNF
Lagat , Haron KEN DNF
The Race
The race was rabbited pretty much right on 13:00 pace through 3k. 2:36/km gets you 13:00 and the first three were 2:35.71, 2:35.88 (5:11.59) and 2:36.29 (7:47.88). Any fears that things would sag too much when the rabbits dropped off faded as Hagos Gebrhiwet ripped a 60.66 lap that really broke things up.
With 4 laps remaining, none of the Americans were in the lead pack of 5. Rupp, who had gotten out aggressively in fourth (2nd racer) in pursuit of a PB and possibly American record, was in the chase pack of 4 with Ben True.
The pace slowed in the lead pack over the next three laps as they'd gather for a fast finish. Iguider led a 62.91 and then 63.28 lap. With 800 to go, the lead pack was down to 4 as Caleb Ndiku, the 2015 silver medallist a few weeks ago, was dropped. However, a 64.04 penultimate lap allowed him to briefly regain contact with the leaders at the bell.
When the real racing began with 200 to go, it soon turned into a two person battle. Kejelcha crushed the final 200 in an unofficial 25.6 to get the win.
Quick Thought #1: A great end for a great season for Kejelcha
Kejelcha, the World Youth champ in 2013 and World junior champ in 2014, came into the year with a lot of hype. And he lived up to it. The only knock on him coming into the year was that he hadn't run fast- 13:25 pb. He lowered that by 31+ seconds this year.
Not to put too much pressure on him, but when Haile Gebrselassie won world juniors, he also won in a fairly slow time (13:36.06). The next year he improved a ton like Kejelcha (32 seconds versus 31). The year after that, Haile was the world record holder.
| | | | |
| --- | --- | --- | --- |
| Haile G at 19 | 13:36.06   | Kejelcha at 17 | 13:25.12 |
| Haile G at 20 | 13:03.17   | Kejelcha at 18 | 12:53.98 |
| Haile G at 21 | 12:56.96  WR | Kejelcha at 19 | ?? |
| Haile G at 22 | 12:44.39  WR | Kejelcha at 20 | ?? |
Kejelcha at 5000 m in 2015
14:31.03A    African Champs – 1st – 8 Mar
13:10.54 WL WJL   Pre Classic – 1st – 29 May
12:58.39 WL WJL   Rome Diamond League – 1st – 4 Jun
13:12.59    Lausanne DL – 2nd – 9 Jul
13:19.38    Beijing Heats – 1ar – 26 Aug
13:52.43    Beijing Final – 4th – 29 Aug
12:53.98 WL WJL   Brussels DL final – 1st – 11 Sept.
Quick Thought #2: Note quite what the Americans wanted.
Ryan Hill, the US champion, probably is pretty happy after this one. After all, he ran a big PB and beat Galen Rupp again. However, we imagine Ben True, despite his seasonal best isn't satisfied as he wants to break 13:00. As for Rupp, we imagine he's the only one really upset. Given his showing in Beijing, we thought a sub 13:00 was almost a certainty tonight. So did Rupp, as he ran aggressively early on. Was it perhaps too aggressive? Not if he wanted a shot at the American record of 12:53.60. Hill almost ended up the third American and he was a decent amount behind the front two Americans for most of the race.
Since we were expecting/hoping an American would break 13:00 tonight, here are some interesting 5000 stats for you.
# of Sub-13s in US History
Bernard Lagat 6
Chris Solinsky 3
Bob Kennedy 2
Galen Rupp 1
Dathan Ritzenhein 1
Matt Tegenkamp 1
The Non-African-Born Sub-13 Runners In History
1 12:54.70 Dieter Baumann Germany
2 12:55.53 Chris Solinsky USA
3 12:55.76 Craig Mottram Australia
4 12:56.27 Dathan Ritzenhein USA
5 12:58.21 Bob Kennedy USA
6 12:58.56 Matt Tegenkamp USA
7 12:58.58 Moukhled Al-Outaibi Saudi Arabia
8 12:58.90 Galen Rupp USA
Two Americans have broken 13:00 in the same race –  Bernard Lagat and Chris Solinsky both did it in Zurich in 2010 – but never in history have two non-African born runners broken 13:00 in the same race. 90 men have broken 13:00 in history a total of 330 times.
Quick Thought #3: The Canadian 5000 record holder is now Mo Ahmed
Until tonight, the Canadian record belonged to Jeff Schiebler at 13:13.96 which had amazingly stood since 1998. Former Wisconsin star Mo Ahmed broke that by running 13:10.00 – a huge pb for Ahmed whose previous pb was 13:18.88. Ahmed made the final at Worlds, where he was 12th, by running a seasonal best (at the time) of 13:19.58.
Discuss this race on our forum: Ben True and Ryan Hill spank Rupp (again) in Brussels .
Women's Mile: Faith Kipyegon Prevails in Great Duel With Sifan Hassan, Runs Fastest Time in the World Since 1996 as Rowbury Beats Simpson Again
Taking advantage of a rare international women's mile, Kenya's Faith Kipyegon waged an epic duel with fellow World Championship medallist Sifan Hassan of the Netherlands before pulling away on the home stretch to tie Mary Slaney as the fourth-fastest female miler ever at 4:16.71. The time also set an African record and goes down as the fastest performance since Svetlana Masterkova's 4:12.56 world record in 1996. Hassan may not have won the race, but she received a couple of nice consolation prizes — a new national record (4:18.20) and $46,000 in prize money ($6,000 for finishing 2nd, $40,000 for taking the DL title).
Just as they did in last year's Diamond League final, Americans Shannon Rowbury and Jenny Simpson battled all the way for the line, with Rowbury avenging last year's defeat, edging Simpson for third place, 4:22.10 to 4:22.18. Rowbury bettered her indoor PB of 4:22.66 set this year but couldn't quite reach her outdoor best of 4:20.34 (#2 among Americans). Simpson's 4:22.18 puts her at #5 behind Slaney, Rowbury, Regina Jacobs and Ruth Wysocki. 
Just writing that last sentence made us wonder? Should LRC start striking all previous marks from people later convicted of major doping offenses (ie Jacobs and Slaney).
The Race
With no Genzebe Dibaba in the field, Hassan petitioned meet organizers to make this a mile in order to take a run at the world record and she did just that, following rabbits Chanelle Price and Angelika Cichocka through 409 meters in 64.4 seconds. Kipyegon, who edged Hassan for silver in Beijing, was the only woman in the field to go with her; one lap into the race, the pair had a 10-meter lead over the field, with Simpson and Rowbury well back in the pack.
A lap later (2:07.3 at 809; 62.9 lap split), Hassan still led with Kipyegon on her shoulder and the field almost 40 meters in arrears. The race behind them was shaping up to be a good one too as Simpson and Rowbury moved to the front of the chase pack with 600 to go.
As they entered the home stretch for the penultimate time, Kipyegon made her first move to the front and she held that lead at the bell (3:11.9; 64.6 lap leader-to-leader) but Hassan wasn't done yet, sitting right on her shoulder and answering back with a move of her own with 300 to go. Kipyegon, like Hassan before her, hung tough however and entering the home stretch she was right on Hassan's shoulder and poised to strike.
There would be no final-straight duel. Kipyegon attacked again this time, with more vigor, and with 90 meters to go she opened a gap on Hassan that only grew with every step to the line. Kipyegon had plenty of time to celebrate at the line, and had she waited just a few meters more, she would have found herself in sole possession of fourth on the all-time list rather than sharing it with Slaney at 4:16.71. Hassan crossed a second and a half later; 30 meters back, Simpson and Rowbury battled at the front of the chase pack, with Rowbury ultimately prevailing (no dives this time).
QT #1: This reminded us of the great mile duel between Hicham El Guerrouj and Noah Ngeny in 1999
Record chases can be exciting (example A: Genzebe Dibaba's 3:50.07 from earlier this summer) but they are usually solo affairs by the end of the race. It's just too much to expect two people in the same race to challenge the fastest time ever run. But Ngeny gave El Guerrouj everything he could handle when the latter set the mile world record 16 years ago, and Hassan really made Kipyegon work for it tonight. Of course, neither Kipyegon nor Hassan got the world record, but it was far more interesting to see them battle it out over a mile than to watch Hassan time trial it. The lead changed hands 3 times over the final 500m.
QT #2: This race was confirmation that there was nothing Rowbury or Simpson could have done to medal at Worlds
As if Kipyegon and Hassan closing in 1:57.6 at Worlds wasn't enough proof that they were on a different planet than the rest of the 1500 field (Dibaba's off in her own galaxy), they destroyed the competition again tonight as Rowbury finished 3.90 seconds back of Hassan in third (she was 3.05 back in Beijing, albeit in a slightly shorter race). Even if Simpson kept her shoe on in Beijing, there's no way she would have been able to match them over the final 800.
This is in no way meant as a criticism of Rowbury or Simpson, both of whom ran well tonight to defeat some very talented runners. As in Beijing, they were simply outclassed by two superior runners. All they can do is come back a bit better in 2016 and hope Dibaba, Kipyegon and Hassan fall back to Earth. After all, Simpson was in essentially the same shape in 2014 and ended the year as World #1; Rowbury was in much better shape in 2015 but finished 2nd in last year's DL final compared to third this year.
QT #3: The Simpson-Rowbury rivalry is very much alive
When Simpson lost to Rowbury in July in Monaco, she took umbrage to a Flotrack reporter's assertion that she and Rowbury had been "going back and forth" in their races in recent years.
"First of all, Shannon and I have not gone back and forth," Simpson told Flotrack. "Shannon hasn't beaten me in years and this is the first time she's beaten me in recent fitness and history."
Indeed, before Monaco, Simpson had won 10 straight races against Rowbury dating back to September 2013 in Brussels (a race in which Simpson fell). The two have been on more even footing in 2015. Rowbury beat Simpson again in Beijing (Simpson, of course, was running with one shoe for the final 600 meters) before Simpson got her revenge over 3,000 meters in Zurich last week. Now Rowbury has the upper hand again, but perhaps not for long: both will race again in two days' time at the 5th Avenue Mile in New York live on ESPN2 to see who ends the year with the winning head-to-head record as they are 3-3 right now.
| | | | | | |
| --- | --- | --- | --- | --- | --- |
| Date | Site | Distance | Rowbury | Simpson | Notes |
| 5/30/2015 | Eugene (Pre) | 1500 | 4th, 4:02.28 | 1st, 4:00.98 | |
| 6/28/2015 | Eugene (USAs) | 1500 | 2nd, 4:14.99 | 1st, 4:14.86 | |
| 7/17/2015 | Monaco | 1500 | 3rd, 3:56.29 | 4th, 3:57.30 | AR for Rowbury |
| 8/25/2015 | Beijing (Worlds) | 1500 | 7th, 4:12.39 | 11th, 4:16.28 | Simpson ran final 600 w/one shoe |
| 9/3/2015 | Zurich | 3000 | 7th, 8:39.92 | 4th, 8:34.43 | |
| 9/11/2015 | Brussels | Mile | 3rd, 4:22.10 | 4th, 4:22.18 | |
Men's 800: Kszczot Wins Again
David Rudisha, the world champ, didn't run here as he became a father this week, but the field was very strong as it had Nijel Amos and Mo Aman in it, both of whom didn't make the final at Worlds, plus Asbel Kiprop (who ran the 1500) and Adam Kszczot and Amel Tuka, who took silver and bronze in Beijing.
However until the final 150m there was little focus on the rest of the field as rabbit Thijmen Kupers was well in front. He hit 49.68 with the field over a second back. Kupers hit 600 in 1:17.26 and with a big gap to the field still behind him he decided to keep going. Was he going to pull this off? No. He started to tie up around the bend and realized it was futile to keep going and stepped to the outside with 150m to go but still in the lead.
Kszczot, Amos, and Aman were in prime condition to strike coming around the bend. Kszczot seized the lead, but Amos was right on his shoulder. They would battle down the homestretch but Kszczot was too good, getting the win in 1:45.12 to Amos' 1:45.25. Tuka moved up for third ahead of Aman.

Amos got the DL title as Aman did not win.
800 Metres – Men

1 Kszczot , Adam POL 1:45.12
2 Amos , Nijel BOT 1:45.25
3 Tuka , Amel BIH 1:45.45
4 Aman , Mohammed ETH 1:45.49
5 Belhanbel , Nader MAR 1:45.94
6 Biwott , Robert Kiptoo KEN 1:46.17
7 Gakeme , Antoine BDI 1:46.82
8 Kipketer , Alfred KEN 1:46.98
9 Bosse , Pierre-Ambroise FRA 1:47.01
10 Kiprop , Asbel KEN 1:47.09
11 Manangoi , Elijah Motonei KEN 1:47.40
Kupers , Thijmen NED DNF
QT #1: Kszczot Keeps Running Well
Kszczot got the silver in Beijing, won in Zurich last Thursday, was second in Berlin on Sunday and now first here. He timed his peak well. Interesting to note his fastest time of the year (and second-fastest ever) of 1:43.45 only got him 5th in Monaco.
QT #2: What's Wrong with Nijel Amos? Mo Aman?
Nothing might be the best answer for Amos. Amos didn't have a fabulous season but he was first or second in all his 800 races except for his semifinal at Worlds where he was third and didn't make the final. There isn't a lot of room for error in the 800, but Amos is one of the best. And he doesn't seem to spend too much time worrying about his competitors. Look at his flash quote after winning today: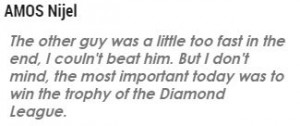 As for Aman, he won Pre and Rome, but was 9th in Doha, 8th in Lausanne and Monaco, third in Zurich and Berlin and 4th here. Not what we're used to with him.
QT #3: 1500 guys Kiprop and Manangoi struggle
Kiprop and Manangoi were second to last and last here. Kiprop was midpack for most of this one and then faded.
Women's Steeple: Habiba Ghribi Crushes It
At Worlds, Olympic silver medallist Habiba Ghribi of Tunisia stormed through the mixed zone after finishing second at another global championship, unable to hide her disappointment. Clearly, she felt like she was capable of gold and tonight we found out why as Ghribi destroyed her previous best 9:11.28 world-leading time by running 9:05.36 to move to #3 all-time in the women's steeple.
2015 World champ Hyvin Kiyeng of Kenya was second in a new pb of 9:10.15 (previous pb of 9:12.51) as Ethiopian Sofia Assefa (4th at Worlds) was third in a seasonal best of 9:12.63.
Because neither Kiyeng nor Hiwot Ayalew, who was fourth in a seasonal best 9:14.73, won, the $40,000 Diamond League jackpot went to Kenya's Virginia Nyambura, who was sixth in 9:20.78. The two Americans in the race, Stephanie Garcia and Emma Coburn, were seventh (9:25.20) and 8th (9:32.13) respectively.
The Race
The opening two kilometers were both 3:03. Coming into the final 600, this was a three-person race but Ghribi started to pull away from Kiyeng and Assefa with 500 to go and never looked back. Her final lap was 69.38.
3000 Metres Steeplechase – Women
1 Ghribi , Habiba TUN 9:05.36
2 Jepkemoi , Hyvin Kiyeng KEN 9:10.15
3 Assefa , Sofia ETH 9:12.63
4 Ayalew , Hiwot ETH 9:14.73
5 Kirui , Purity Cherotich KEN 9:17.74
6 Nganga , Virginia Nyambura KEN 9:20.38
7 Garcia , Stephanie USA 9:25.20
8 Coburn , Emma USA 9:32.13
9 Vlasova , Natalya RUS 9:36.42
10 Kertich , Eunice Jepkorir KEN 9:37.12
11 Eriksson , Sandra FIN 9:40.20
12 Gathoni , Ann KEN 9:44.82
13 Mohamed , Buzuayehu ETH 9:52.30
14 Chepkurui , Lidya KEN 9:59.78
Tuigong , Caroline Chepkurui KEN DNF
O'Flaherty , Kerry IRL DNF
Quick Thought #1: Ghribi was very excited about this one
International TV viewers could hear screams of joy off-camera from Ghribi after she had won this won. Nothing will give her the 2015 World title but ending the year with a PB and world leader is the next best thing. Ghribi's previous pb was the 9:08.37, which she ran to get 2nd at the London Olympics.
The 3 Fastest Women in Steeple History
1    8:58.81    WR          Gulnara Galkina                RUS Beijing                   17 Aug 2008
2    9:05.02                Yuliya Zaripova                RUS Stockholm                 17 Aug 2012
3    9:05.36                Habiba Ghribi          TUN Brussels             11 Sept 2015
Quick Thought #2: Nyambura was the happiest 6th placer we've ever seen
In the end, Nyambura ran out of steam at the end of the year (7th at Worlds, 6th here) as we sort of expected. Remember, she started the year as a rabbit so there is no way she was holding back early in the year trying to peak in August. But to go from that to the DL circuit champion is incredible. Hopefully in 2016, she'll plan her season to peak in August.
Post-race she said, "I am extremely happy to win the Diamond Race, i cannot describe how happy! I felt very confident before the race. In my mind I was very comfortable. Last year I was a pacer, this year I win the Diamond Race!"
Quick Thought #3: This was Coburn's first loss to an American in the steeple since 2010 NCAAs (Bridget Franek)
There was also a Men's 1500 that only had African runners as rabbits. Ryan Gregson and Chris O'Hare were in it. We recap it at the bottom of this article.
Women's 200: Dafne Schippers Beats Allyson Felix
In the battle between the reigning world 200 and 400 champs, it was the 200-meter champ, Dafne Schippers, who moved clear late to get the win over Felix as Schippers ran 22.12 to Felix's 22.22 as Jamaica's World Champs silver medallist Elaine Thompson was third in 22.26.
Felix got off to a very aggressive start and had the early lead but halfway down the homestretch the two were side by side and there was no stopping Schippers from there. Schippers was excited to get the win as she raised her right arm before the line in celebration.
Felix kept running hard through the line as she needed to finish second to secure the DL title.
Quick Thought #1: Thank You Dafne and Allyson
Track fans deserved a matchup like this. Thank you for not dodging each other.
Quick Thought #2: Casual fans may view this as an upset but they shouldn't
Women's 200 and Allyson Felix are nearly synonyms in American track circles but the facts are Schippers has a better PB than Felix at 200 (21.63 to 21.69). Given the fact that Schippers has been running well in the sprints all year, her victory was far from a surprise.
200 Metres - Women                                            Wind: 0.0 m/s
                                                            Pts
    1 Schippers , Dafne                NED      22.12          8        
    2 Felix , Allyson                  USA      22.22          4        
    3 Thompson , Elaine                JAM      22.26          2        
    4 McGrone , Candyce                USA      22.52                   
    5 Tarmoh , Jeneba                  USA      22.88                   
    6 Simpson , Sherone                JAM      23.12                   
    7 Williams , Jodie                 GBR      23.34                   
    8 Borlee , Olivia                  BEL      23.43                   
    9 Bolingo , Cynthia                BEL      23.44

Women's Triple Jump: Ibarguen Keeps Winning Streak Alive With Win on Final Jump
Caterine Ibarguen only had to show up to win the Diamond League title but she also wanted to keep winning as she has not lost since her silver at the 2012 Olympics. Ibarguen was challenged here and found herself in third place heading into the final jump of the competition after Hanna Knyazheva-Minenko took the lead on her final jump. Ibarguen saved her best for last and went 14.60 to make it 31 straight wins.
Triple Jump - Women                                           
                                                            Pts               Wind
    1 Ibargüen , Caterine              COL      14.60          8              +0.2
    2 Knyazyeva-Minenko , Hanna        ISR      14.42          4              -0.3
    3 Koneva , Ekaterina               RUS      14.37          2              +0.5
    4 Williams , Kimberly              JAM      14.28                         +0.2
    5 Rypakova , Olga                  KAZ      14.26                         +0.1
    6 Petrova , Gabriela               BUL      13.87                          0.0
    7 Assani Issouf , Jeanine          FRA      13.46                         -0.1

Men's 100m: Justin Gatlin Wins in a Suprisingly Close Race
As expected, Justin Gatlin got the win and the DL jackpot as a result, but the narrowness of his victory was unexpected. Gatlin won in 9.98 – the same time given to Qatari Femi Ogunode. Frenchman Jimmy Vicaut was just behind them in 9.99 and American Mike Rodgers was close as well in 10.02.
100 Metres - Men                                              Wind: -0.4 m/s
                                                            Pts
    1 Gatlin , Justin                  USA       9.98          8        
    2 Ogunode , Femi                   QAT       9.98          4        
    3 Vicaut , Jimmy                   FRA       9.99          2        
    4 Rodgers , Mike                   USA      10.02                   
    5 Powell , Asafa                   JAM      10.04                   
    6 Gittens , Ramon                  BAR      10.11                   
    7 Simbine , Akani                  RSA      10.18                   
    8 Ujah , Chijindu                  GBR      10.19                   
      Carter , Nesta                   JAM         DQ                   

Men's Pole Vault: Renaud Lavillenie Reigns Supreme Once Again
Lavillenie has dominated the pole vault internationally this decade, winning all six Diamond League titles. But his championship record has been spotty as he's won just one global title in that span (2012 Olympics). Lavillenie bounced back from a disappointing bronze at Worlds to win $50,000 tonight as his 5.95-meter clearance was good for the win and the DL title. World champ Shawn Barber was second after clearing 5.85 (he missed attempts at 5.90, 5.95 and 6.00).
Pole Vault - Men                                              
                                                            Pts
    1 Lavillenie , Renaud              FRA       5.95          8        
    2 Barber , Shawnacy                CAN       5.85          4        
    3 Filippídis , Konstadínos         GRE       5.80          2        
    4 Kendricks , Sam                  USA       5.65                   
    5 Sobera , Robert                  POL       5.55                   
    6 Holzdeppe , Raphael Marcel       GER       5.55                   
    7 Wojciechowski , Pawel            POL       5.55                   
    8 Scherbarth , Tobias              GER       5.40                   
    9 Chiaraviglio , Germán            ARG       5.40
Men's 400 Hurdles: Gibson Gets the Win But Jackson Gets the DL Title
The Bahamas' World Championships bronze medallist Jeffery Gibson got the win in a wild race. The U.S.'s Johnny Dutch went out extremely hard and led through halfway before totally tying up in the home stretch and finishing last. That paved the way for what looked like another Bershawn Jackson victory, but Gibson closed hard over the final 50 and pipped Jackson to the line, 48.72 to 48.76. Jackson can't be too upset though as he'll still take home $46,000 ($40,000 for the DL title plus $6,000 for finishing second in the race). World champ Nicholas Bett of Kenya was only seventh in 49.90.
400 Metres Hurdles - Men                                      
                                                            Pts
    1 Gibson , Jeffery                 BAH      48.72          8        
    2 Jackson , Bershawn               USA      48.76          4        
    3 Hussein , Kariem                 SUI      48.87          2        
    4 Bultheel , Michaël               BEL      49.66                   
    5 Barr , Thomas                    IRL      49.80                   
    6 van Zyl , L.J.                   RSA      49.86                   
    7 Bett , Nicholas Kiplagat         KEN      49.90                   
    8 Tumuti , Boniface Mucheru        KEN      50.75                   
    9 Dutch , Johnny                   USA      51.20

Men's Javelin: Tero Pitkamaki Wins Meet and DL Title
Finland's Tero Pitkamaki won his first overall DL title by winning here.
Javelin Throw - Men                                           
                                                            Pts
    1 Pitkämäki , Tero                 FIN      87.37          8        
    2 Röhler , Thomas                  GER      86.56          4        
    3 Walcott , Keshorn                TTO      84.03          2        
    4 Yego , Julius                    KEN      83.82                   
    5 Vetter , Johannes                GER      83.50                   
    6 Veselý , Vítezslav               CZE      82.30                   
    7 Hofmann , Andreas                GER      81.06                   
    8 Abdelrahman , Ihab               EGY      80.45                   
    9 Vadlejch , Jakub                 CZE      79.71
   10 Wirkkala , Teemu                 FIN      77.21
   11 Kirt , Magnus                    EST      77.13

Men's Triple Jump: The Great Christian Taylor Does It Again
World champ Christian Taylor of the U.S. didn't threaten 18 meters tonight in cool, still conditions, but his fifth leap of 17.59 was still easily enough to clinch the victory and fourth straight DL title over rival Pedro Pablo Pichardo of Cuba. Pichardo only took three jumps (17.06, foul, 16.48) before retiring from the competition in round four. Taylor knew he had to beat Pichardo tonight as he entered the meet trailing the Cuban in the standings, and thanks to his performance in Brussels he now has $50,000 to go with his gold medal from Beijing.
Triple Jump - Men                                             
                                                            Pts               Wind
    1 Taylor , Christian               USA      17.59          8              +0.1
    2 Pichardo , Pedro P.              CUB      17.06          4              +0.1
    3 Adams , Lyukman                  RUS      16.97          2              +0.1
    4 Craddock , Omar                  USA      16.96                          0.0
    5 Évora , Nelson                   POR      16.85                         +0.1
    6 Oke , Tosin                      NGR      16.66                         +0.2
    7 Sorokin , Dmitriy                RUS      16.52                         -0.2
    8 Torrijos , Pablo                 ESP      16.14                         -0.1
      Copello , Alexis                 CUB         NM                   

Women's 100 Meter Hurdles Dawn Harper-Nelson Gets the Win and DL Title
Dawn Harper-Nelson, Sharika Nelvis and Jasmin Stowers were all tied with 10 points atop the DL standings heading into this one so the winner would take home the DL title and $50,000. It was really tight between Harper-Nelson and Nelvis, but Harper-Nelson got the win.

QT #1: How Did the US Not Medal in this Event? A Tough End of the Season for Stowers
Many expected the US to sweep the medals in Beijing but the US got zero medals. Hard to believe. Stowers ends the season with three of the five fastest times on the year, but not the DL title or even a spot at the World Champs. She started the season with marks of 12.40, 12.39, 12.35 in three of her first four meets of the year, but didn't make the US team, and missed the DL title here. She could have left with $50,000 today. Instead she went home with $4,000.
100 Metres Hurdles - Women                                    Wind: +0.1 m/s
                                                            Pts
    1 Harper Nelson , Dawn             USA      12.63          8        
    2 Nelvis , Sharika                 USA      12.65          4        
    3 Stowers , Jasmin                 USA      12.76          2        
    4 Porter , Tiffany                 GBR      12.81                   
    5 Roleder , Cindy                  GER      12.91                   
    6 Zbären , Noemi                   SUI      12.96                   
    7 Talay , Alina                    BLR      12.99                   
    8 Zagre , Anne                     BEL      13.01                   
    9 Visser , Nadine                  NED      13.10
Men's 200: Qatar's Femi Ogunode Becomes First Asian Under 20.00 One Hour after Running 9.98 in 100
A sprint double was expected to generate headlines tonight, but surprisingly it was Qatar's Nigerian-born Femi Ogunode, not Justin Gatlin, who was the author of the double. Barely an hour after losing out to Gatlin by five thousandths in the 100 (both men ran 9.98), Ogunode doubled back in the 200 and with Gatlin a scratch, he powered away to victory in 19.97 becoming the first "Asian" to break 20.00. Ogunode, 24, who was 7th in the 200 at Worlds (he was the first man out of the final in the 100), is now the Asian record holder at both 100 (9.91) and 200.
200 Metres - Men                                              Wind: -0.4 m/s

    1 Ogunode , Femi                   QAT      19.97                   
    2 Francis , Miguel                 ANT      20.22                   
    3 Dwyer , Rasheed                  JAM      20.27                   
    4 van Niekerk , Wayde              RSA      20.37                   
    5 Ashmeade , Nickel                JAM      20.59                   
    6 Young , Isiah                    USA      20.61                   
    7 Borlée , Jonathan                BEL      20.65                   
    8 Matthijs , Arnout                BEL      21.38                   

Women's 400m:  Francena McCorory Rigs Up Big Time but Gets DL Crown
Francena McCorory went out hard and had a huge lead down the homestretch until she tied up and was passed by Shaunae Miller. McCorory still got the DL title so props for going for it.
400 Metres - Women                                            
                                                            Pts
    1 Miller , Shaunae                 BAH      50.48          8        
    2 McCorory , Francena              USA      50.59          4        
    3 McPherson , Stephenie Ann        JAM      51.00          2        
    4 Hastings , Natasha               USA      51.02                   
    5 Gayot , Marie                    FRA      51.75                   
    6 Day , Christine                  JAM      51.96                   
    7 Williams-Mills , Novlene         JAM      52.04                   
    8 Guei , Floria                    FRA      52.07                   
    9 De Witte , Lisanne               NED      52.53

Women's High Jump: Maria Kuchina PBs for Win
Maria Kuchina got a pr and became the 4th over 2.00 this year as Ruth Beitia won the DL title by getting third.
High Jump - Women                                             
                                                            Pts
    1 Kuchina , Maria                  RUS       2.01          8        
    2 Chicherova , Anna                RUS       1.97          4        
    3 Beitia , Ruth                    ESP       1.93          2        
    4 Pooley , Isobel                  GBR       1.90                   
    4 Šimic , Ana                      CRO       1.90                   
    6 Thiam , Nafissatou               BEL       1.90                   
    6 Licwinko , Kamila                POL       1.90                   
    8 Levchenko , Yuliya               UKR       1.85                   
    9 Kinsey , Erika                   SWE       1.85
    9 Radzivil , Svetlana              UZB       1.85
   11 Demireva , Mirela                BUL       1.85
   12 Desmet , Hannelore               BEL       1.85
Women's Discus: Perkovic Wins 4th Straight DL Crown
Croatia's Sandra Perkovic already had the DL title — her fourth straight — locked up before this one started but she won it anyway, throwing 67.50 on her fourth toss to take home $50,000 for her efforts. Perkovic lost only twice all year — in Lausanne just before Worlds and then at Words,  where she was 2nd.
Discus Throw - Women                                          
                                                            Pts
    1 Perkovic , Sandra                CRO      67.50          8        
    2 Caballero , Denia                CUB      65.77          4        
    3 Müller , Nadine                  GER      62.64          2        
    4 Pérez , Yaime                    CUB      61.84                   
    5 Fischer , Julia                  GER      60.68                   
    6 Robert-Michon , Mélina           FRA      60.58                   
    7 Ashley , Whitney                 USA      60.37                   
    8 Craft , Shanice                  GER      60.37
Men's Shot: Kiwi Tom Walsh Wins, as Kovacs Gets DL Title
Kiwi Tom Walsh, who was 4th at Worlds and has PR'd four times this year, continued to throw well and got the win with a 21.39m third-round throw, just ahead of the 21.37m that Jamaican O'Dayne Richards (bronze at Worlds) put up in round 1.
But behind the top two there was a fierce battle for the $40,000 DL jackpot between American world champ Joe Kovacs and the Beijing silver medallist David Storl as both came into the meet tied with 14 points. Kovacs did just enough to grab the DL title as he got two points for finishing third in 21.35m, thanks to his fourth-round throw, which got him past Storl, who was fourth in 21.09m.

Shot Put - Men                                                
                                                            Pts
    1 Walsh , Tomas                    NZL      21.39          8        
    2 Richards , O'Dayne               JAM      21.37          4        
    3 Kovacs , Joe                     USA      21.35          2        
    4 Storl , David                    GER      21.09                   
    5 Whiting , Ryan                   USA      20.58                   
    6 Kolašinac , Asmir                SRB      20.35                   
    7 Majewski , Tomasz                POL      20.34                   
    8 Hoffa , Reese                    USA      19.76                   
      Arnaudov , Tsanko                POR         NM
"B" Races
Men's 400m:  Renny Quow Upsets the Belgium Crowd
Renny Quow edged Kevin Borlee of Belgium for the win in 45.29.
                       

    1 Quow , Renny                     TTO      45.29                   
    2 Borlée , Kévin                   BEL      45.43                   
    3 Matthews , Peter                 JAM      45.74                   
    4 Bonevacia , Liemarvin            NED      45.92                   
    5 Vanderbemden , Robin             BEL      46.34                   
    6 Borlée , Dylan                   BEL      46.45                   
    7 Clemons , Kyle                   USA      46.69                   
    8 Gillet , Antoine                 BEL      47.11                   
    9 McDonald , Rusheen               JAM      47.89

Men's 1500: France's Morhad Amdouni Wins Against European/Australian Field
French champion and World Champs semifinalist Morhad Amdouni got the win here in this non-DL event against a field that contained no Africans. The race went out quickly, with the rabbits passing 400 meters in 56.53 and Spain's Adel Mechaal leading the main pack right behind them. By 800 (1:54.47 for the rabbit), the field was strung out single file behind Mechaal, with Samir Dahmani of France and Amdouni running in second and third.
The pace slowed on the penultimate lap as the field bunched up at the bell; eight men were still in contention at that point as Mechaal still led. On the backstretch, Dahmani took the lead and he led a tight group of men around the final curve. His lead would not last, however, as Australia's 3:31 man Ryan Gregson made a big move with 150 to go and seized the lead midway down the homestretch. As the rest of the field tied up, Gregson bolted away from everyone — everyone, that is, except Amdouni, who waited to make his move on the homestretch after finding himself in bad position on the final turn. Amdouni ran wide on Gregson's outside and grabbed the lead 20 meters from the line, holding on to win in 3:36.92 (last lap was 58.55 leader-to-leader, so likely around 58-flat for Amdouni). Gregson was second in 3:37.14 with Dahmani nabbing third further back in 3:37.81.
Quick Take #1: This 1500 seemed more like an 800
The rabbits set a hot pace early on and the field did an admirable job of following it (1:54.47 at 800), but many of the guys in this field were likely tired from a long season. Add in that this field was not DL-quality (no one in the field had broken 3:34 this year) and it's no surprise that they slowed over the second half of the race. In the end, though Amdouni and Gregson both moved well late, it was more a case of who could slow down the least rather than who could kick best on the last lap.
1500 Metres - Men                                             

    1 Amdouni , Morhad                 FRA    3:36.92                   
    2 Gregson , Ryan                   AUS    3:37.14                   
    3 Dahmani , Samir                  FRA    3:37.81                   
    4 Lancashire , Thomas              GBR    3:38.02                   
    5 Alonso , Carlos                  ESP    3:38.58                   
    6 Birmingham , Collis              AUS    3:39.32                   
    7 Hannes , Pieter-Jan              BEL    3:40.04                   
    8 Bustos , David                   ESP    3:40.19                   
    9 Orth , Florian                   GER    3:40.54                   
   10 O'Hare , Chris                   GBR    3:43.97                   
   11 Clutterbuck , Dale               GBR    3:44.02                   
      Mechaal , Adel                   ESP        DNF                   
      Bett , Reuben                    KEN        DNF                   
      Rotich , Andrew Kiptoo           KEN        DNF