London Saturday: Mercy Cherono Wins As Molly Huddle Almost Gets The Upset, Eunice Sum Stays Perfect And Nijel Amos Wins A Nail Biter With David Rudisha
by: LetsRun.com
July 24, 2015
Track and field's return to the London Olympic Stadium finished up in style Saturday at the 2015 Sainsbury's Anniversary Games. There was almost an upset in the women's 5000 as Molly Huddle was the only one to go with the rabbit, a fierce battle in the steeple between Conseslus Kiopruto and Jairus Birech, more 800 domination by Eunice Sum, and a nail biter between David Rudisha and Nijel Amos. In non-distance action, Renaud Lavillenie cleared six meters in the pole vault, Valerie Adams lost again and South Africa's Wayde van Niekerk blew the 400 field away.
Asbel Kiprop's strange victory has its own article here and we recap all the rest of the action from London below. If you missed Friday, you can read about how Usain Bolt is "almost back" here and the rest of the meet here.
Article continues below player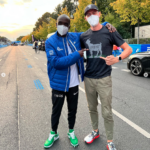 Kipchoge loves the 1:59:40 Shirt Get Yours Today
What a legend!
Women's 5,000: Molly Huddle Almost Pulls Off the Upset
Molly Huddle gave it a game effort but came up just short of becoming the second American woman to win a Diamond League 5000m as Mercy Cherono chased her down on the final lap thanks to a sub-63 lap to get the win in 14:54.81.
American Gabriele Grunewald rabbited this out at 15:00 pace and from lap #1, Huddle was the only runner to go with her. Pretty amazing considering the world record is 14:11.15 in this event.
Huddle's lead was roughly six seconds a mile into the race and would get bigger. A mile and a half in, the lead was roughly 10 seconds. Grunewald rabbited for seven laps and then Huddle was all alone up front, still going close to 15:00 pace.
Could the Kenyans, led by former World Championship silver medallist Mercy Cherono, catch her? In the final mile, Cherono separated herself from the chasers and it was clear it was going to be Huddle or Cherono as your winner. Cherono was closing the gap, but Huddle picked it up with two laps to go, running 70.79. Cherono was going even faster and was right on Huddle at the bell. Cherono went by Huddle on the backstretch but Huddle was not done and rallied back to try to challenge Cherono around the final bend. Had Cherono gone too early? No. She had something left in reserve for the final 100m, and pulled away to the win thanks to a leader-to-leader final lap of 63.42 (which means Cherono was sub-63).
Huddle had run her fastest lap of the race by far, but Cherono was too good here.
Not the smoothest today but BIG thanks @gg_runs 4 her post race rabbiting duties @ #LondonDL -almost snuck away, @Mercycherono was too fast!

— Molly Huddle (@MollyHuddle) July 25, 2015
QT #1: Hard to Believe No One But Huddle Went With 15:00 Pace
15:00 pace is not fast for professional women, yet only Huddle went with this pace. Props to her for not making this race a total jog fest, even if she didn't get the win.
QT #2: Other Americans Miss a Chance to PR
The fact of the matter is most Diamond League races are too fast for the Americans. This one was the perfect race for many of the Americans to go sub-15:00 before a huge crowd and they all missed the boat except for Huddle. USA Champ Nicole Tully was in this race and DNF'd. USA runner-up Marielle Hall finished 4th but only in 15:19.96 as once Cherono took off from the chase pack Hall could not stay with her. Emily Sisson ran 15:27.
Women's 800: Eunice Sum Stays Perfect
Eunice Sum's perfect 2015 continued as she picked up her sixth victory on the year. Sum got out well in this one and stuck right behind the rabbit for the first 400 meters (58.28). As she often does in the 1500, Sifan Hassan made a move to the front on the homestretch but couldn't get by Sum, sitting on her shoulder at the bell with Chanelle Price to her inside and Brenda Martinez to her outside. With 250 to go, Hassan attacked, passing Sum, but she could not gain separation and midway through the final turn Sum glided effortlessly by Hassan to retake the lead. Over the final 100, Sum showed her class as she pulled away comfortably for the win in 1:58.44. Hassan held on well for second in a PR of 1:59.46, while Molly Ludlow and Lynsey Sharp battled it out for third, Sharp barely prevailing by one hundredth of a second.
Quick Thought #1: Eunice Sum is unstoppable
While there are no certainties in the 800, Sum is now a heavy, heavy favorite for gold at Worlds. She's dominated the competition this year, running a world-leading 1:56.99 and winning her last three DL races by .79 of a second. Three other women have run 1:57 this year, including Ajee Wilson, and if Wilson (who lost to Sum by just .05 of a second at Pre) can rediscover her early-season form, she could challenge Sum in Beijing.
With 2013 silver medalist Mariya Savinova MIA for the last two years (the doping accusations surrounding her may have something to do with that), there aren't a lot of women who could beat Sum the way she is running. Really, the person who has the best chance of defeating Sum won't be running the 800 at Worlds: Genzebe Dibaba. Even though Dibaba is more of a strength-oriented runner, running 3:50 for 1500 means she has to be capable of something in the 1:56-1:57 range at least over 800 meters. After all, Hassan was second here in 1:59.45 (a second behind Sum) and she lost to Dibaba by almost six seconds in the 1500 in Monaco.
QT #2: Brenda Martinez Falters in First Race Since USAs
Brenda Martinez has a bronze from Worlds two years ago and took a nearly month-long break after USAs before racing here. She was not a factor on the second lap and faded to last in 2:02.40. Hopefully this is just a case of her not being race-sharp.

QT #3: Ludlow and Price Sub-2:00 Again
Because of the depth of USA 800m running, neither Chanelle Price nor Molly Ludlow are going to Worlds, but they both went sub-2:00 here, for the second and third straight time respectively.
Men's 3,000 steeplechase: Conseslus Kipruto Takes Down Jairus Birech
Contrary to pre-race reports that Jairus Birech had withdrawn due to a bout with malaria, the 22-year-old Kenyan was on the start line in London and we're glad he was because his battle with 2013 world silver medalist Conseslus Kipruto was a terrific one. The pace was quick for the first kilometer (2:40) but it slowed during the second kilometer (2:44) and the result was that four men — Birech, then Kipruto, 7:54 man Paul Koech and Hillary Yego — were still in it with the rest of the field lagging behind.
With two laps to go (6:05), Birech still led but Kipruto and Koech were right on his shoulder. Yego, who had been trailing the top three by a few meters, joined them with 600 to go, setting the stage for an exciting final lap.
At the bell (7:09), the order remained the same. On the backstretch, Birech sensed that Kipruto (looking for an opening between Birech and Koech) and Koech were starting to push and he responded with a move of his own. He managed to put some ground on them heading into the final water jump, but coming off the barrier Kipruto quickly eliminated that deficit and the two were stride for stride at the top of the homestretch.
Both runners slowed slightly as they timed their approach to the final barrier and both hurdled it cleanly, setting up a short sprint for the win. Kipruto dug deep and managed to go by Birech with 30 to go; instantly, he knew he had the victory and eased off the gas at the end despite holding only a narrow lead over Birech. Kipruto earned his first Diamond League win since June 2013, running 8:09.47, while Birech had to settle for second in 8:09.81.
QT #1: Bad News for Evan Jager – Conseslus Kipruto Gets His First Diamond League Win Since 2013
Kipruto is a huge talent, officially only 20 years old and the world junior champion in 2012. In 2013, he started the season with three straight Diamond League wins and got the silver at the World Champs. He hadn't won a Diamond League race since 2013, but looked great here the final 50m even though the time wasn't fast. If Kipruto starts firing on all cylinders a (gold) medal will be even harder for Jager.
QT #2: Andy Bayer is progressing nicely in the steeple
Bayer only took up the steeple last year, but he's made a lot of progress in a short time and improved on his 8:21 PR from USAs by running 8:18.08 today. It certainly helps that he gets to train with two of the country's finest steeplechasers in Evan Jager and Dan Huling, both of whom have been running very well this year.
If he follows his current trajectory, Bayer will be a serious threat to make the Olympic team next year. He was 20 seconds behind third place in his first steeple at USAs in 2014 but cut that deficit to seven seconds this year.
Men's 800: David Rudisha Tries A New Tactic, But Still Can't Beat Nijel Amos
The last time we saw David Rudisha run in the London Olympic Stadium, he put on a fabulous display of front-running domination, leading the race wire-to-write to set a new world record of 1:40.91 ahead of Botswana's Nijel Amos, who settled for silver in the fastest losing time in history (1:41.73). Three years later, a rematch between the gold and silver medalist looked much different.
Rather than getting out like a bullet and going straight to the lead, Rudisha took his time, gradually moving up through the first 200 into second place. Filling Rudisha's normal role was the US's Boris Berian, fresh off his 1:43.34 PR from Monaco last week. Berian looked full of confidence as he was out right on the heels of the rabbit and had a five-meter gap to the rest of the field as he went through 400m in 50.09 seconds.
On the backstretch it was simply a process of Rudisha leading the chase pack as they slowly reeled Berian in. Amos sat right on Rudisha's right shoulder, stalking him and waiting. Berian still had the lead as they went through 600m in about 1:17.99, but the pack had made up the gap. On the final turn Rudisha went by Berian and Amos swung around to try and pass Rudisha as Poland's Adam Kszczot came from way back to try to challenge from the outside of lane two.
Down the final straight it was Rudisha and Amos neck-and-neck with Kszczot trailing, but Amos was able to pull away in the final meters as he won it in 1:44.57, beating Rudisha by .10 of a second. Kszczot was a close third in 1:44.85, Ireland's Mark English was the best of the rest taking fourth in 1:45.49, and the front-running Berian faded to 9th (1:46.13). The other Americans, Erik Sowkinski and Cas Loxsom, didn't fare any better. They sat in fourth and fifth for most of the race behind Berian, Rudisha and Amos, but weren't able to challenge for the top places at the finish. Sowkinski finished eighth (1:45.82) and Loxsom faded to dead last in his slowest time of 2015, 1:48.04.
Quick Thought #1: Amos Is Just A Little Better Than Rudisha Right Now
Pre-race Rudisha talked about using different tactics to beat Amos and here he gave it a try, but the result was the same as Amos came out on top. Rudisha tried beating him with his normal front-running tactics in Lausanne and lost and here he raced much more cautiously and tried to run in second until the final straight, but still lost. Another tactic left to try would be to come from behind Amos, but with Amos' great kick, we don't think starting behind him with 200 to go would work out for him. Rudisha's best bet is to simply get faster.
Quick Thought #2: Rudisha Is Improving
The good news for Rudisha fans is he is improving relative to Amos and that's saying a lot considering they are already so close. In Lausanne Rudisha finished almost a half-second behind Amos (.49), but here the margin of defeat was only .10. Rudisha admitted from the start of the season that he wasn't at full fitness and he is gradually trying to make his way back to his 2012 self. If he can shrink the gap on Amos by .39 in just two weeks, what will he be able to do with another four weeks until Worlds? Either way, it will be interesting. Throw in Bosnia's recent world leader Amel Tuka, and this will be one of the match-ups we're most excited to watch in Beijing.
Quick Thought #3: Boris Berian Went For It And Paid The Price
While the rest of the field sat in the wake of David Rudisha, Berian was the one man to go with the rabbit and consequently had a small lead at the bell. This was Berian's second major overseas race of his career and his confidence had to be sky high after running 1:43.34 last week to become the 5th-fastest American in history. However, it is one thing to get pulled to a fast time by a fast field and another to lead it yourself. When the rabbit stepped off after the first lap, Berian was left out front and alone for the next 250 meters. Even though he was even with Rudisha and Amos at the top of the home straight, he finished more than a second and a half back.
Quick Thought #4: Does Running Form Really Matter?
Of course form is an important part of efficient distance running, but you wouldn't know it when you watch Nijel Amos. Look at the photo on the right of a side profile of Amos, Rudisha and Kszczot. Amos is flailing his arms all over and tying up while the other two look perfectly smooth. Yet Amos was the one who came out on top.
Quick Thought #5: Why Was This Race So Slow?
When you consider the last three Diamond League men's 800 races have been won in 1:43.58, 1:43.27, and 1:42.51 and that this race had two of the top men in the world, the winning time of 1:44.57 seems a little slow. It's more than two seconds slower than Monaco last week and even a second slower than Rudisha's winning time in the windy/hot conditions in New York City over a month ago. Our thought on this is that Rudisha still sets the tone for the race. In London 2012 when he went for the WR, everyone followed him and it was the fastest 800m race in history. Today, Rudisha ran cautiously and again everyone (except the bold Berian) stayed tucked in behind him. Consequently the finishing time was slower.
Men's 400
23-year-old Wayde van Niekerk blew the field away over the final 100 meters to notch his seventh consecutive victory in 44.63. Isaac Makwala, who ran 43.72 in Switzerland 20 days ago, led for 300 meters but faded badly in the home stretch to fourth place. U.S. champ David Verburg was second in 45.01.
Men's pole vault
Renaud Lavillenie cleared 6.03 meters, his best height since the Pre Classic on May 30, to get the win in an event that was postponed from Friday due to rain. Canada/the University of Akron's Shawn Barber broke his own national record by clearing 5.93 meters; not bad considering he won the Pan Am title on Tuesday in Toronto.
Men's 400 hurdles
Michael Tinsley, who took Olympic silver on this track three years ago, pulled out the win in 49.02 in this non-DL event. 2011 world champ Dai Greene of Great Britain ran 49.85 for fifth, well off his 47.84 PB but still his fastest time in almost two years.
Women's shot put
Though she took six, one throw was all Michelle Carter needed to record the first-ever Diamond League victory by an American woman in this event. Carter's 19.74-meter opening-round heave was over a meter further than runner-up Valerie Adams' best effort of 18.59. Carter's series was extremely impressive as she went over 19 meters five times; the shortest of her six throws (18.90) still would have won the competition.
Women's 200
23-year-old Jamaican Elaine Thompson grabbed her first career Diamond League victory, shaving .27 of a second off her PR (despite a slight headwind) to win the 200 in 22.10. Only three women in the world have run faster this season. U.S. champ Tori Bowie was second in 22.32.
Men's 4×100
Great Britain got the win on home soil as the team of Richard Kilty, Harry Aikines-Aryeetey, James Ellington and Chijindu Ujah just edged out France, 38.32 to 38.34. The performance of the USA men (5th in 39.46) was unremarkable, but we were glad to see that the uniform issues that saw adidas prevent its athletes from running in the Nike-sponsored Team USA kit in Monaco last week were ironed out. Today's team (Trell Kimmons, Harry Adams, Logan Taylor and Mike Rodgers) contained both Nike and non-Nike athletes and each runner simply competed in his own kit as opposed to everyone wearing the USA uniform. This was a simple fix to a silly problem.
Pl.
Athlete / Team
Cnt.
Result
Score
1.
Great Britain & NI A
GBR
38.32
1201
2.
France
FRA
38.34
1200
3.
Europe
INT
39.23
1132
4.
Poland
POL
39.46
1115
5.
United States
USA
39.46
1115
6.
Switzerland
SUI
40.41
1045
–
Great Britain & NI B
GBR
DQ
Women's javelin
Latvia's Madara Palameika grabbed her first career DL win by a single centimeter as her 65.01 third-round toss was just enough to hold off world record holder Barbora Spotakova.
Men's long jump
USA champ Marquis Dendy picked up his first DL win with a clutch final jump of 8.38 meters, just a centimeter off the PR he set to win USAs a month ago.
Women's pole vault
Greece's Nikoleta Kiriakopoulou and Russia's Anzhelika Sidorova both cleared 4.79 meters, and when neither could clear 4.86, Kiriakopoulou got the win due to fewer misses.
Women's 100
The Netherlands' Dafne Schippers set a Dutch national record of 10.92 to take the win by .06 over Nigeria's Blessing Okagbare-Ighoteguonor. Great Britain's Dina Asher-Smith was only fourth in the final but set a British national record in the prelims, becoming the first British female to break 11 seconds at 10.99.
Women's long jump
Shara Proctor got the win in this non-Diamond League event, breaking her three-year-old national record in the process with a leap of 6.98 meters on her final attempt.