One More Look At Timothy Cheruiyot Vs. Ben Blankenship, Who Ran Well At Stanford, Who Just Missed, Poolside In The Bahamas, And A New Prep Star?
by LetsRun.com
May 7, 2015
Sorry for the delay and the relative brevity of the Week That Was. Instead of producing a tome of more than 4000 words for your enjoyment at the modest price of zero, we're barely over 2700 words this week. Hey we lost a lot of time travelling back from the Bahamas and even more in our weird fascination with exposing a 3:11 marathoner as a fraud.
Questions or comments? Please email us or post them in our running fan forum.
Article continues below player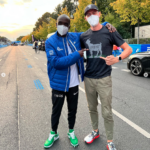 Kipchoge loves the 1:59:40 Shirt Get Yours Today
What a legend!
*****
The 2015 IAAF World Relays Deliver
We have to start with a few more thoughts on the 2015 IAAF Relays. What a meet. The atmosphere in the Bahamas was once again raucous as the fans were really enjoying the action (even though few of the battles for gold were close at all) as were the athletes. The Americans certainly had a great time all across the board as they won 7 of 10 gold medals including a sweep of both 4 x 800s and both DMRs.
Ben Blankenkship on his WR anchor
The most exciting race of the championships from our perspective had to be the men's DMR (sorry US women, you were just way too good as you blew out the competition in both the DMR and 4 x 800). Three teams got the baton together at the final exchange but in the end, the US team of Kyle Merber, Brycen Spratling, Brandon Johnson and Ben Blankenship not only won gold, they also broke the world record of 9:15.56 by running 9:15.50. Hopefully by now you've seen the anchor leg which was truly exciting. Ben Blankenship ran incredibly well – 3:51.24 – and smart as ran his own race as Kenya's inexperienced anchor shot himself in the foot by going out in 51.96 his first lap.
If you haven't seen the leg, you can get official race highlights here or an unofficial full race replay here which shows the entire anchor leg. It was definitely thrilling to watch. Or just read about it here.
In the end, all four men were richly rewarded with $25,000 (well a little less as the alternates get something). We wonder if US stars like Leo Manzano and/or Matthew Centrowitz regret not showing up now as that was a substantial payday.
A few thoughts about the race.
1) We wonder if Timothy Cheruiyot had ever run a relay race before in his life.
On Tuesday, we were talking to author Chris Lear about the race and he said, "It was like the Kenyan anchor had never run a relay race in his life." Our reply, "We bet he hadn't ever run one."
In Kenya, there is no Penn or Drake Relays. We don't think there is much organized high school competition. When would a distance runner run a relay race?
2) Despite the blowup, it seems to us that Timothy Cheruiyot is a big-time talent.
He somehow managed to try and stay with Blankenship when Blankenship passed him. Lesser talents would have totally cratered the final 200m.
3) When Cheruiyot tried to respond to Blankenship going by him at the end, we wondered if we were going to see a finish similar to this – one of the best races we've seen since David Rudisha's world record at the 2012 Olympics (2013 World Youth 800 final):
16-year-old Kenyan goes out in 48.32 for 800, holds on and (barely) wins World Youth Gold
*Is this the most entertaining 800 race run in the last year (possibly ever)?
****
World Relays Return to the Bahamas in 2017
The World relays have been a great addition to the calendar. The atmosphere in the Bahamas has been AMAZING the last two years. The Bahamas organizers do so many things right.
1) The team intros are amazing.
Where else do you see something like above? Never at a track and field meet. Track and field needs to do a lot more to entertain fans between all the dead time. In the Bahamas, they had cool intros, fireworks at the finish, and a junkanoo band playing during the distance races. In person, the meet is absolutely amazing and the favorite meet in the world of LRC's Weldon Johnson. He's not alone. A USATF media person also told Weldon, "This is my favorite meet in the world."
(Meet organizers, one thing about intros if you are reading this. For individual events at USAs, Pre, etc, please stop announcing the whole fields. At World Indoors, we loved how the organizers only introduced the expected key players. It kills the momentum of a track meet to have 16 people introduced before a race. When we watch an NFL game, they only introduce the starters. The same is true in the NBA. Not everyone in the game needs an intro. Intro the key players and that way you can give casual fans and idea of who to focus on).
2) The fireworks at the finish line are awesome as well.
3) It's in the Bahamas people. The IAAF was smart to hype that fact up. Hell, they even made a video of the ladies relaxing at the pool:
And good news for fans of the World Relays, it will be back in the Bahamas in 2017. Not sure what will happen after that, but skipping the Olympic year might be a good thing. If you want to see a cool track meet and enjoy the Bahamas, mark 2017 on your calendar (although the picture above is a bit misleading. Most of the week, believe it or not, it rained). Although LRC's Wejo did bump into Australia's Ryan Gregson by the pool on Sunday, BEFORE he led off the DMR with the fastest 1200 split of the day. The Aussies clearly like their swimming (or maybe lady watching).
More: 2015 IAAF World Relays Full Coverage
*MB: badda$$ of the month – Ben MF Blankenship BECKONS KENYAN ANCHOR into suicidal pace
****
Payton Jordan – Oh So Close
Domestically, a few NCAA teams had their conference meets last week but the big news was the 2015 Payton Jordan meet was held. In 2015, the IAAF only has one standard — there are no 'A' and 'B' times this year — but in events below 5000, it's a rolling standard (meaning the fields will be filled so Americans likely have little to worry about). But in the distance events, if you don't hit the standard, you don't get to go to Worlds.
As a result we feel bad for the following guy the most.
David McNeill – The men's 10,000 standard is 27:45.00. The Aussie ran 27:45.01. Yes he missed it by .01 or .0006%. Ridiculous.
And the only reason he missed it was because the rabbiting was awful. How in the world so many studs could show up at Stanford without a good rabbit (the first 5k was hit in 14:08) is beyond us. Stanford, if you want to put us in charge of securing the rabbit, we'll be happy to do it. We'll charge everyone in the 'A' section of the 10,000 $200 instead of $25 and use that to pay someone of quality.
This is what .01 looks like:
David McNeill @RunDMC_Neill @MelbTrackClub 4th 27:45.01 10K @AthsAust @NAUTrackFieldXC #IAAF #PaytonJordan 02May2015 pic.twitter.com/ZhPEFX22ay

— T&F Photo #Tokyo2021 #Tokyo2020 #東京2020 (@TaFphoto) May 4, 2015
McNeill seemed to have a good enough attitude about it as he tweeted out in reply to that photo, ".01."
.01

— David McNeill (@RunDMC_Neill) May 3, 2015
Of course, looking at that photo, McNeill may only have himself to blame. It drives us nuts how runners finish in lane #2. Don't ever leave lane 1 when finishing unless someone ahead of you is blocking your way!!
McNeill wasn't the only to come up agonizingly short of the 13:23/27:45 standards for the men and 15:20/32:00 standards for the women.
These other people just missed it as well:
Women's 5k
Yuika Mori Yamada Denki 15:20.21
Women's 10k
Liz Costello New Balance 32:01.79
Alexi Pappas Oregon Track Club 32:02.22
Obare Doricah Hitachi 32:03.18
Men's 5k
Henrik Ingebrigtsen          Norway (NOR)          13:27.10 PB
Men's 10k
Mo Ahmed                     NikeBTC (CAN)         27:46.90
Bashir Abdi                  Nike (BEL)            27:47.55
Hassan Mead                  Nike Otc              27:49.43 PB
Of course, given the rabbiting, maybe anyone under 28:00 might be wondering if they could have hit the standard if they'd gone out faster, but since most of the other sub-28:00 guys set a new personal best, we imagine they aren't too upset:
Kassa Mekashaw               Yachiyo Kogyo (ETH)   27:52.86
Jason Witt                   Byu                   27:54.25 PB
Parker Stinson               Saucony               27:54.98 PB
Christo Landry               Mizuno                27:55.19 PB
Bobby Curtis                 Hansons-Brooks Odp    27:56.59
Yuki Sato                    Nissin Foods (JPN)    27:57.13
Jake Riley                   Hansons-Brooks Odp    27:59.37 PB
Jonathan Grey                Team Usa MN           27:59.88 PB
Rather than just miss, it might be easier to have just bombed at Stanford. There were a number of runners way off their PRs at Stanford — German Fernandez DNF, Nick Symmonds 3:44.22, Andy Bayer 3:47.36, Dorian Ulrey 3:44.89, David Torrence 13:39.48, Trevor Dunbar 13:57.92, Cory McGee 4:16.03, Elise Cranny 4:16.22, Kate Van Buskirk 4:20.99, Abbey D'Agostino 15:42.79, Lisa Uhl 16:31.38 to name a few — but running is weird in that sometimes it's easier to totally bomb than just miss your goal.
****
Big PRs
While some runners either barely missed or way missed their goals, many others hit their goals and even overachieved. In her track 5000 debut, Nicole Tully, who had a 16:06 5000 road pb, ran 15:05.58 to place third behind Sally Kipyego and Betsy Saina. Tully turned heads this year by nearly beating Brenda Martinez in the world record DMR at the New Balance Indoor Grand Prix. She's been on fire all year. A 1:01 PR in the 5k has to be one of the PRs of the meet. Tully has gone from being a total outsider to someone with a good shot at Worlds.
Canada's Natasha Wodak broke Courtney Babcock's Canadian record of 31:44.74 in the 10,000 by running 31:41.59 and admitted afterwards, "I never thought this was possible."
But the pro PB of the week in terms of time belongs to Peru's Ines Melchor. She was in the second heat of the 10,000 at Stanford and yet Melchor came through with the IAAF standard, running 31:56.62. That was a massive PR and new national record for the 28-year-old Melchor as her previous national record and PB was just 33:07.75. 71-second PRs are rare but Melchor clearly was ready for a big one as she's a 2:28:18 marathoner (just run on April 12 in Chile).
On the men's side, we've got to give it to 22-year-old American Boris Berian of the Big Bear Track Club. He came into the year with a 1:48.89 pb. Now he's run a 1:45.30 as he got the win at Stanford. David Monti reports that Berian is coached by Brenda Martinez's husband, Carlos Handler.
The runner-up in the 800 at Stanford was Penn State's Brannon Kidder who ran an NCAA leader of 1:45.58.
###
In terms of collegiate PBs, the best one in our book goes to Arkansas's Kemoy Campbell who went from #8 to #2 all-time at Arkansas by lowering his PB and Jamaican national record from 13:32.82 to 13:20.39.
###
The most significant HS pb at Stanford went to Christina Aragon — a high school junior from Montana. She had a 4:44 mile pb coming in but left with a 4:16.36 1500 pb (roughly 4:36 mile) – making her the fifth-fastest performer in US HS history and she's only a junior.
If the name Aragon rings a bell, then you are a true student of the sport (or over the age of 50) as her father is indeed Chuck Aragon, a 3:35 guy, who just missed out on the 1984 Olympics in the men's 1500 in a race that former steeplechase American record holder George "Malmo" Malley called "one of the most exciting Olympic Trials races ever" on the messageboard. When we saw that high praise, and a link to the race, we had to watch it. It did indeed live up to the hype. Watch it for yourself:
Four guys battling for the win and three Olympic spots in the last 50. In the end, Aragon dove across the line but ended up losing a spot to South African-born Sydnee Maree, who had set a world record in the 1500 in 1983.
More: *MB: HS girl Christina Aragon HUGE PR 4:16; #5 AT!
*2015 and 2016 IAAF Qualifying Standards
*2016 Payton Jordan Results
*2016 Payton Jordan Full Coverage
****
A Few Random NCAA tidbits
Not everyone needed to spend hundreds of dollars flying to California to run fast. Reigning NCAA mile and steeple champ Leah O'Connor ran a collegiate lead and pb of 4:11.04 at Ohio State.
##
Sometimes a change of scenery does wonders for an athlete. In two years at NC State, Craig Engels, who ran 1:49.89 (800), 4:03.96 (mile) and 8:55.51 (3,200) as a prep, only managed to run 1:51.03 and 3:45.51. He transferred to Ole Miss this winter and is now on fire under coach Ryan Vanhoy as Engels has run 3:40.28 and 1:46.13 this spring.
##
The transformation from heptathlete to 800 runner for Mississippi freshman Brooke Feldmeier continues to go well as she broke 2:04 last week for the first time in her career, putting up a 2:03.86 world junior leader at LSU.
##
Congrats to Elon. They women's team won its first-ever conference track title, in its first-ever year competing in the Colonial Athletic Association (CAA – they used to be in the Southern Conference).
Elon Claims Title at CAA Outdoor Championships *CAA Results
****
5 Quotes of the Week (that weren't quote of the day)
#1 When you are one of the best in the world at the shot put, it's time to quit your day job.
"I'm try[ing] to stay like a normal Kiwi bloke, which people say I'm not. Travelling the world and throwing the shot isn't normal, I suppose, but hopefully I'm grounded."
– New Zealand shot putter Tom Walsh, the 2014 World Indoor bronze and 2014 Commonwealth Games silver medallist, talking in a New Zealand Herald article on him where he reveals he's quit his construction job to focus on the shot.
#2 We could only laugh/cry when we read this
"He is an athlete who is extremely disciplined. He doesn't say anything when running on a 20-kilometer dusty road at an altitude of 2,000 meters [6,562 feet]. He has a sincere attitude like Koreans."
– Oh Chang-suk, a Baekseok University professor of sports science and a director in the Korea Association of Athletics Federation (KAAF), talking about EPO cheat and 2:05:37 marathoner Wilson Loyanae Erupe who is trying to switch his allegiance from Kenya to Korea. The quote comes from a Korea Joongang Daily article. 
How anyone can call an EPO cheat as disciplined and sincere is beyond us.
#3 Eliud Kipchoge already has won Olympic silver (2008 5000) and bronze (2004 5000), but wants gold
"It's important for me to go back and sit down with my coaches and management. Rio is ideal for me in 2016. I have Olympic silver and bronzes already, and I want to get gold to complete the set," 
– 2015 London marathon winner Eliud Kipchoge talking about his future plans in an article on supersport.com.
#4 Who says you have to dream big?
"I'm very competitive and always want to put myself in a position to win whatever I'm competing in. Coming into college I wanted to find a way to be the best. I would say things like winning an NCAA title kind of quietly when I was writing down my long-term goals, but coming into college I just honestly wanted to break 5:00 in the mile—that was my goal as a freshman (laughs)."
– NCAA superstar Leah O'Connor, who ran 5:03 for 1600 in HS, talking about her modest goals when she started at Michigan State in an article on Runnersworld.com.
#5 Some people think runners are annoying
"I'm not sure when it happened exactly, but runners have recently cemented their place as the fourth most nauseating people on the planet, right behind ISIS, The Money Team and any person who ever attended the University of Maryland. It wasn't always this way. Running used to be called 'jogging'….
"Everything about running is stupid. The running. The running part. The running! And then there's the whole part with the running. I don't even like having to do that slow fake jog when someone's holding the door for me. Just let the door close! It's not that nice of a gesture anyway. And marathons. Geez Louize, what is the point of that? To accomplish some sort of goal? Shut up. There's way too much emphasis on goals these days. That's the problem with humans. We have too much ambition. Just be happy that you have feet. 
"There is literally nothing impressive about running a marathon. It's just running. There's no skill. You're not dribbling a ball. Or playing an oboe. You're just slamming your feet against the hard pavement for five straight hours."
– excerpt from a piece on CSNphilly.com entitled, "A message to runners everywhere: shutttttt uppppppp."
More: Did Runner's World Plagairize the article or satirical mock it?
****

Recommended Read
Kyle Merber, the opening leg of the US men's DMR world record team, wrote an EXCELLENT piece on what it was like to compete for the first time as a pro for the US: Kyle Merber writes about what it's like to represent the US of A and set a World Record "My goal is simple: represent this country whenever I can, as best as I can."
****
Quotes Of The Day And Last Week's Home Pages
To see the actual quotes of the day from last week or last week's home page or any home page, go to our archive page.
Questions, comments, please email us or post them in our running fan forum.