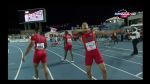 Bailey's extra celebration lead to some Twitter drama between the two sprinters.
*MB: Should Ryan Bailey apoligize for decapitation sign aimed at Usain Bolt?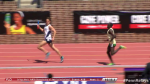 The US has a shot for gold but so does Australia, Germany and Poland.
The US is the most dominant 800 nation in the world. Want proof? We've got it.
Can Team USA upset Team Kenya, which nearly coughed up a huge lead last year? If you were the Team USA coach, who would you anchor? Robby Andrews or Duane Solomon?
The DMRs will be Andrew Wheating, Kyle Merber, Ben Blankenship, Brandon Johnson and Treniere Moser, Shannon Rowbury, Ajee Wilson, Gabe Grunewald.
Outside Letsrun