8 Thoughts On The Women's NCAA XC Championships: Michigan State And Walt Drenth Get It Done
By LetsRun.com
November 22, 2014
TERRE HAUTE, Ind. — As expected, the Michigan State Spartans comfortably claimed the first women's title in program history at Saturday's NCAA Division I Cross-Country Championships at Indiana State's LaVern Gibson Championship Cross-Country Course. Led by Rachele Schulist's fourth-place finish, the Spartans scored 85 points (the fewest since Washington in 2008) to easily dispatch runner-up Iowa State (147). We've got several thoughts on the race below. Race recap here.
1) The day belonged to Michigan State.
Article continues below player.
Michigan State came in as a heavy favorite and left in jubilation as a dominant winner – the first in program history and the first in the nearly 30-year coaching career of Walt Drenth (he began coaching in 1985), who has always had good teams but never a great one.
Andrea Grove-McDonough's Iowa State team tried to pull off the upset and deserve a lot of credit for getting second after starting the season ranked just 9th.
But Iowa State raced Michigan State three times this year and Michigan State won handily three times – 66 to 102 at Roy Griak, 87 to 212 at Wisconsin and 85 to 147 today. There was no stopping the Spartans. Even though NCAA steeple champ Leah O'Connor wasn't her best individually today (just 17th), MSU won comfortably.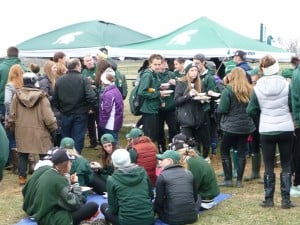 Michigan State certainly deserved it. Not only were they undefeated all season long but they also had by far the most amount of supporters on the course. As we were leaving the course more than an hour after the final race, we estimated there had to be close to 200 people at the Michigan State post-race tailgate.
Leah O'Connor said yesterday at the pre-race press conference that everyone supported each other at Michigan State (other sports support each other and the track team supports the XC team) and she wasn't kidding. A big Thumbs Up to the scores of people who made the 5-hour trip from East Lansing to Terre Haute.
Watch the Michigan State fans celebrate.

Post-race talk with Leah O'Connor:

Walt Drenth post-race:
Andrea Grove-McDonough post-race, where she speaks about how she now has to get a tattoo because the women ran so well:
2) Kate Avery is on a different level than the rest of the NCAA.
Many of the top women expected Avery to take it out hard, and when she did, most realized that they were racing for second. Avery's 19:31 was just three seconds off Olympic silver medalist Sally Kipyego's 19:28 course record, and the Iona junior has a chance to repeat and break the record next fall. Avery led from the 1k mark and by 4k, her lead was eight seconds and would only grow from there to the finish line. In our preview, we wrote that Avery was the only one who could turn this race into a blowout and that's exactly what happened today. She's looked absolutely dominant in all three of her races this fall (won MAACs by 1:41 in 19:15, won the Northeast Regional by 23 seconds) and will be a heavy favorite to retain her crown in 2015. Avery was only 9th in the indoor 3k in March and 8th in the outdoor 5k in June – has she reached a different level of fitness or is she simply built for 10k/cross-country? In reality, it's probably a bit of both. We can't wait for Avery to battle Bates (who says she's going for the NCAA 10k record of 31:18 this spring) in the 10k at outdoor NCAAs.
3) Sarah Disanza picked the right time for a breakthrough race.
Disanza was a good runner in high school (New Jersey state champ and 10th at NXN as a senior) but her freshman year wasn't anything to write home about as she was just 104th at NCAAs and ran PRs of 4:20 and 16:24. Now she's the second-best cross-country runner in the NCAA.
Disanza has run well this fall, getting better every time out (she won the Greater Louisville Classic on October 4, took 12th at Wisconsin on October 17, and was 2nd at Big 10s on November 2), but this was by far her most impressive performance of the season. She said that the biggest difference between this year and last year is that she ran far fewer hills during summer training in New Jersey because she realized that hill training wasn't that important on courses like Madison or Terre Haute. Her mileage was about the same (80 per week this fall versus 75 last year), but running faster on flatter runs seemed to make a big difference in her fitness.
4) Emma Bates was hoping for a bit more.
Like Disanza, Bates has improved every race this year and finished the season with her best performance. Unfortunately for Bates, her best wasn't quite good enough today, and though she knew she wasn't getting Avery once she pulled away, she was disappointed not to get second. Last year, Bates was just 3.6 seconds behind Abbey D'Agostino, so she said it was discouraging to be so far behind Avery (12.9 seconds).
Still, the Boise State senior is excited for 2015, (she doesn't have indoor eligibility but plans to race U.S. Cross) where she will have a chance to defend her NCAA 10k title and take a crack at the NCAA record (that would require a big improvement from last year as her PR is 32:20 and the record is 31:18).
5) First last year, 13th this year, but Providence's Ray Treacy was pretty happy.
We caught up off camera with Treacy after the women's race was over and just before the men's race started. We asked Treacy, whose Friars looked like they'd miss out on the meet before Regionals, what he thought of his team's 13th-place showing.
Treacy was very happy with 13th as coming into the year he red-shirted two-time XC All-American Sarah Collins in the hopes of having a really good team down the road as he knew Providence was very young this year – they had three freshman, a sophomore and a junior in their top five today.
Treacy told us before the season he thought 25th would be good for the team. Before Regionals, it looked like Providence wouldn't even be at the meet but they ran great and qualified automatically. Heading into this one, he was worried Regionals would be their best race of the year, but Providence stepped up and ran well once again.
The Friars were almost in the top 10. In the last 2k, freshman Brianna Ilarda dropped 64 places to finish 153rd (51 places in the team scoring). The Friars were just 24 points out of 9th.
6) After the top teams, the quality of the women's teams was down this year.
Before the meet started, a coach who wishes to remain anonymous told us he thought that after the top 8 to 12 women's teams, that the quality of the teams was down in recent years. "All but very best teams have huge weaknesses, which was the case the last few years."
We asked Treacy whether he thought that was true and he pretty much agreed with the assessment. In the end, there was a huge drop-off after #8 in the results. Above, we told you that Providence was 24 points out of 9th, but they were 124 points out of 8th as there was a huge 100-point drop-off after #8 Wisconsin (277) to #9 Iona (377).
Last year, 19 teams scored fewer than 400 points. This year, just 12 did.
7) It was a rough last month for Michigan.
Halfway through the XC season this year, pundits weren't even sure who was the best team in Michigan – Michigan State or Michigan. Now that it's all said and done, the Spartans are the national champs and the Wolverines are going home with an 18th-place finish.
The Wolverines suffered two devastating losses as they lost their top two runners – Erin Finn and Shannon Osika to injuries. No one can recover from that. If you took away the top two from Michigan State today, they would have fallen to 5th.
8) This college coach prediction was right on the money, but he still wants to remain anonymous.
Back in August, when we were working on our preview of the top individuals for the 2014 NCAA cross season, a college coach warned us not to get to carried away with the incoming freshman class, led by Sarah Baxter and Elise Cranny. He said, "Those freshmen sure are awfully good but I think they are both over-ranked here.  I'll be surprised if more than one freshman is in the top 10 and wouldn't be surprised if neither is."

Well, he clearly was right as Stanford's Cranny was the top frosh today and she was 12th. Too bad this coach still wishes to remain anonymous instead of sharing his brilliance with the world.