Mark Wetmore Celebrates, Becky Wade And Alexa Efraimson Win, Nelson Mandela Exits, And A Runner Gets Hit By A Deer
The Week That Was – December 2 – 8, 2013
by LetsRun.com
December 10, 2013
Previous versions of The Week That Was can be found here. Questions? Comments? Email us.
We review the Week in Running below.
Article continues below player
****
A Few Quick Random Thoughts
###
We read a piece last week which called for English lessons for African runners to help boost the sport's popularity. Having watched more than our fair share of painful interviews, we certainly think that media training would help the sport (and how about just having a translator so runners can talk in their native tongue), but aren't people sort of grasping for an easy solution? It struck us that there are many stars in other sports that don't speak English. Yu Darvish, the Japanese pitcher for the Texas Rangers, doesn't speak English, more accurately we should say the team doesn't make him address the press in his broken English, and he's one of the most popular players for the Texas Rangers. Raphael Nadal is known for not speaking English very well, yet the sport of tennis does not suffer. The sporting event itself, not talking about it afterwards, is supposed to provide the entertainment. One thing the sport of running should not do is try and interview a guy in English on live TV if his English is not very good.
###
Does anyone besides us find it kind of funny that three of the six individual champions at the 2013 European Cross Country Championships were born in Africa. Weren't the championships started in 1994 basically because Europe was admitting they could no longer compete with African runners at the World Level? We guess not that much has changed.
###
Have you ever had a bad day at work/school and then thought about bagging your run but then gone out as you realize it will make you feel better and clear your head?
Sure you have. Good thing this never happened to you. As told in the Washington Post:
Krystine Rivera had a bad day at work Thursday and was waffling over whether to head out for a seven-mile run. She decided to go for it. And then her day, as she says, "got astronomically worse." She was hit by an airborne deer. Rivera, 27, was jogging on a path adjoining Claiborne Parkway in Ashburn near the Dulles Greenway about 6 p.m. A 71-year-old woman from South Riding was driving a Toyota SUV on the road. And the deer — a buck — came from somewhere.The SUV struck the deer, which sent the animal flying into Rivera….
****
Underappreciated Performance Of The Week – Becky Wade Debuts in 2:30:41
24-year-old American and former Rice runner Becky Wade made her marathon debut at the 2013 Cal International race last weekend and it went very well. Wade won in 2:30:41 – the 5th fastest time by an American this year.

Top 5 US Women's Marathon Times For 2013
1. 2:27:08 Shalane Flanagan – Boston
2. 2:28:01 Serena Burla – Amsterdam
3. 2:28:11 Kara Goucher – Boston
4. 2:29:15 Desiree Davila – Berlin
5. 2:30:41 Becky Wade – CIM

Who is Wade you ask (this messageboard poster said he'd never heard of her)? Shame on him for not reading every page on LetsRun. Wade was eighth in the 10,000 at NCAAs last year for Rice where she ran 15:57/32:40 and then was our 'sleeper pick' in the women's steeplechase final (9:48 pb) at the 2012 US Olympic Trials.

She then did a year fellowship where she travelled the globe and looked at various running cultures but didn't really compete, just ran base. With nine 100+ mile weeks under her belt, she nailed her debut.

Well-done Becky. Speaking of well-done, Weldon Kirui won the men's race at CIM in 2:14:34.

In case you are wondering, with the major marathons done for 2014, this is how the 2013 US Men's top 5 looks.

Top 5 US Men's Marathon Times For 2013
1. 2:09:45 Dathan Ritzenhein – Chicago
2. 2:12:13 Jason Hartmann – Boston
3. 2:12:28 Matt Tegenkamp – Chicago
4. 2:13:11 Nick Arciniaga – Twin Cities
5. 2:13:23 Ryan Vail – New York

More: Sacramento Bee: Becky Wade wins 2013 CIM in marathon debut!!
MB: Becky Wade Crushes it for the win at Cal Int'l Marathon
LRC Vault: Preview of The Steeplechase at The 2012 US Olympic Track & Field Trials
LRC Becky Wade Page

****
Stat of the Week I

6:22 – amount of time that the top US men's marathoner for 2013, Dathan Ritzenhein (2:09:45), is away from Wilson Kipsang's 2:03:23 men's world record.
5:40 – amount of time that the top US men's marathoner for 2013, Dathan Ritzenhein (2:09:45), is away from Paula Radcliffe's 2:15:25 women's world record.

****
Stat of the Week II

147 – number of seconds that this year's winning time in the NXN girls race (girls high school team national championships for our foreign visitors) (16:50) was faster than last year's (19:17).

The girls race lived up to its pre-race billing as the three stars: two time defending champ Sarah Baxter, who was trying to end her high school cross country career undefeated, world 1500m youth bronze medalist, Alexa Efraimson, and 4:15 1500m runner, Elise Cranny, (coached by US marathon star Jason Hartmann), all battled until the final 400m.

At that point Baxter appeared to be pulling away until Efraimson dug really deep and put on a ferocious kick to go from third to first. (We've got more on Efraimson further below in the Quotes of the Week).

Sarah Baxter is far from a 1500 meter runner. The longer the race, the better for her. If the conditions had been like last year, she very well could have ended her high school career undefeated as Efraimson was almost dropped by Baxter's relentless push up front.

Because Nike added drainage to the course and it was very cold and not raining in the days before the race, the course ran much faster than in years past (Coming into this year's race, in the 9 editions of NXN, the winning girls time was only under 19:00 three times) and Baxter lost out in a kick to a 4:16 1500 runner.

And not that you asked, but given this year's conditions, we do think that if Mary Cain had run and been on top of her game she would have won.

More: How much would Mary Cain have won by today?

###
What You Can Learn from Kai Wilmot


A quick note on the boys race. Kai Wilmot was the surprise winner as he put on a tremendous surge to win by a convincing nine seconds. Kai's story is a good one. Wilmot may be the NXN champion, but for much of the year he was the #2 boy on his own high school team. Kai's teammate, Tanner Anderson, is very good (Tanner was 3rd overall at NXN). Kai's win shows three things: 1) talent doesn't go away 2) the importance of perseverance and 3) the importance of having fun.

Two years ago as a sophomore. Kai ran a tremendous 8:57.66 for 3200, so clearly he is very talented. The injury bug then hit Kai and he struggled to get healthy. One of the maxims of LetsRun.com is talent doesn't go away and Kai's win shows that, but another maxim should be, injuries suck. Kai never gave up and last fall was determined to try and help his team. Kai finally got healthy this fall and picked the perfect time to put it together. Before Saturday, Kai had raced 12 times during the 2013 XC season, finishing first in only two of those races. Win number three was a big one.

One thing Kai never forgot was to have fun. There is pure joy on the Kai's face when he crossed the finish line 2nd in the first race of the year (click here to see the great image, ht to Dyestat). We've always said, long term it's hard to be good at running if you don't love it, and clearly Kai loves it.

###
Thumbs Up to Pro Runners as High School Coaches

Gig Harbor, the boys team NXN champion, is coached by 1:45.36 800m runner Mark Wieczorek and an assistant coach is world class 800m rabbit Matt Scherer. As noted above, the coach of girls runner-up Elise Cranny is US marathon star Jason Hartmann. A thumbs up to Wieczorek, Scherer and Hartmann for giving back to the next generation of runners.

****
Stat of the Week III

84 – the age of Joe Vigil, Brenda Martinez's coach.

We had no idea Vigil was that old. The Wall Street Journal had an article last week about the surprising success of the Arizona Cardinals – The Cardinals' Secret: Elderly Coaches – which detailed how they have a 75 and 78-year old coach. We were impressed by that until we realized Vigil was 84. Wow.

More: Brenda Martinez's Solo Act

****
Stat of the Week IV

The Americans aren't the only ones suffering depth problems at the sub-elite level.

"Scary stats in Athletics Weekly recently showed that 229 Brits broke 2:25 for the marathon in 1983 compared to just 26 in 2013. Similarly alarming was the fact 140 Brits broke 31:00 for 10,000m in 1971 but only 29 this year."

More: http://www.athleticsweekly.com/blog/coes-cross-talks-crucial/#fmCPTGblpORRMuty.99

*****
Email Of The Week/Mark Wetmore Sighting

Last week, we pointed out how Colorado coach Mark Wetmore didn't show up on the podium with his 2013 NCAA Cross-Country Championship men's team. Wetmore was the only coach of the top 4 men's and women's teams not to go up on the podium. A LetsRun.com visitor emailed us to tell us what Wetmore was doing during the awards ceremony:

Your Week that Was today is brilliant. One of your best.

One addition to your notes on Wetmore: During the awards, **** noted that Wetmore was one "strange" … or just "cool" …. cat. While everyone was on the podium, he was 50 meters away, up the hill and surveying the entire scene, standing by himself with a bemused expression. He was in between two vehicles so as to be blocked from the wind, leaning non-chalantly, just watching his team get the team trophy as if it happened every day.

****
7 Quotes of the Week (that weren't quote of the day)
###
I
"Sport has the power to change the world. It has the power to inspire. It has the power to unite people in a way that little else does. It speaks to youth in a language they understand. Sport can create hope where once there was only despair."
– Nelson Mandela talking about the power of sport. Alan Abrahamson included the quote in his story on Mandela- Remembering Nelson Mandela – last week where he reminds track and field fans that South Africa's first Olympic medal since the 1960 Olympics came in a distance event at the 1992 Games:
At the 1992 Barcelona Summer Games, Derartu Tulu of Ethiopia would win the women's 10,000-meter run, the first black African female gold medalist in Olympic history. After Tulu crossed the finish line, it took Elana Meyer, a white South African, almost six seconds more to get there. A few more steps past the finish line, Mayer found Tulu. They kissed. Then, hand-in-hand, they ran together, black and white, first and second, yes, but equals in sport and spirit, symbols of hope and possibility for South Africa, for all of Africa, indeed the world.
###
II
"Just here thinking that Mr.Mandela in prison for 27 years is how long I'v been alive..Words are inadequate to describe this man #RIPMandela"
and: "One of the greatest human beings ever..May your soul rest in peace..The worlds greatest fighter."
– powerful tweets from Usain Bolt about Nelson Mandela last week.
More: Alan Abrahamson: Remembering Nelson Mandela
###
III
"I closed my eyes with 300 (meters) to go. And I thought 'Oh Lord. OK, that's the best she's got.' … But then I opened my eyes and said I was going to cheer as hard as I can for her. Then all of a sudden she started to move."
– Alef Efraimson's coach Mike Hickey, talking to Tim Martinez of the Columbian about the end of the NXN girls race where it looked like Alex Efraimson was going to get third as she'd let a gap open up on her with less than 400 meters remaining. Then Efraimson started to kick and Sarah Baxter's 42-0 career high school cross country record was a thing of the past as Efraimson was your champion.
More: Camas' Efraimson wins Nike Cross Nationals race *MB: Sarah Baxter will eventually break 2:20 in the marathon *MB: How much would Mary Cain have won by today? *MB: NXN – Alexa 1st, Cranny 2nd, Baxter 3rd
###
IV
"I just said to myself 'You know that kick that you have? Yeah, you should probably start to use that because they were starting to gap me on that little downhill. So I saw them and started pumping my arms as hard as I could."
– Efraimson explaining how she dug deep to get the win.
More: Camas' Efraimson wins Nike Cross Nationals race *MB: Sarah Baxter will eventually break 2:20 in the marathon *MB: How much would Mary Cain have won by today? *MB: NXN – Alexa 1st, Cranny 2nd, Baxter 3rd
###
V
"I'm a good judge of character. I saw this passion she had for running. I believed she'd do anything–legally–to improve to the next level."
–Joe Vigil explaining Erin Strout of Running Times why he agreed to coach Brenda Martinez back in 2011 after she'd already been turned down by two other post-collegiate groups.
###
VI
3:34 British Olympian Ross Murray, who would have gone to Villanova if he hadn't made the 2012 Olympics, talking about the "Ham Sandwich"
(Q) What do you think about the American College Opportunity?
(A) Its fantastic. You can go out there and basically become a professional athlete for 2-4 years. The standard of competition is high and to top it off, apparently the American girls LOVE british guys out there so i'd like to think I would of got plenty ham sandwich.
The excerpt comes from a Q&A with Murray on Runners Tribe in Australia. The 23-year old Murray comes across as quite the character.
Known as a guy who isn't afraid to have a good time, Murray says he is partial to partying it up in Ibiza and that a daily component of his training regime each day after dinner is to "watch a movie or tv shows and do some core with the gf in the bedroom."
Moreover, he said if he wins a gold medal in 2016 in Brazil, if it wasn't considered blasphemous, he'd contemplate getting a tattoo of Christ The Redeemer with a tattoo around his neck.
Maybe we're getting too old or it's a cultural thing, but Brits we need your help, tell us what a "ham sandwich'. We're assuming it's definition #3 on urbandictionary.com which makes that quote a lot more offensive than if he'd just said "a lot of action".
More: MB: Brits, we need your help: Is this quote offensive?
###
VII
"Is it possible to request that you ask one of our oligarchs – we have many of them in Russia – to build a separate stadium for us, athletes?"
– Russian pole-vault sensation Yelena Isinbayeva asking Vladimir Putin to see if he can't get a rich oligarch to build athletes a top track and field stadium. Knowing a little bit about the way stuff works in Russia, trust us, that question wasn't done by Isinbayeva spontaneously.
****
Men's Top 10 Marathon Rankings For 2013
LetsRun.com super-visitor David Graham produced a great read – Ten Thoughts About The Marathon For 2013 – which we hope you have read as it went up earlier today. In that piece, he included his top 10 men's rankings for 2013.
We must admit we think they are very good. Some of you may have a heart attack seeing world record holder Wilson Kipsang ranked #4, but the top two spots in our mind without too much thought belong to Desisa/Kimetto. The problem with ranking the marathon nowadays is it's basically impossible to rank it when some guys are running three in a year and others only two.
1. Lelisa Desisa – ETH – win in super competitive Dubai 2:04:45, win at Boston 2:10:22, Silver medal world champs 2:10:12
2. Dennis Kimetto – KEN – win in Tokyo in 2:06:50, win in Chicago in 3rd fastest marathon in history 2:03:45
3. Tsegay Kebede – ETH – win at London in 2:06:04, 4th place World Champs in 2:10:47, 2nd place New York 2:09:16
4. Wilson Kipsang – KEN – 5th at London in 2:07:47, win at Berlin in a world record 2:03:23
5. Emmanuel Mutai – KEN – 2nd London 2:06:50, 2nd in Chicago in a super fast 2:03:52
6. Eliud Kipchoge – KEN – win at Hamburg in 2:05:30, 2nd Berlin in really fast 2:04:05
7. Tadesse Tola – ETH – 3rd in a fast 2:04:49 at Dubai, Bronze Medal at World Champs in 2:10:23, win in Beijing 2:07:16
8. Stephen Kiprotich – UGA – 6th London in 2:08:05, gold medal at World Champs, 2:09:51, 12th New York 2:13:05
9. Bernard Kiprop Koech – KEN – 5th Dubai in fast 2:04:53, 3rd Amsterdam 2:06:29
10. Sammy Kitwara – KEN – 3rd Rotterdam 2:07:22, 3rd Chicago 2:05:16
Honorable Mention:
Geoffrey Mutai – DNF at London but a win in New York in 2:08:24
Negari Terfa – win in Xiamen in 2:07:32, win in Rome in 2:07:56
Vincent Kipruto – win in Otsu 2:08:34, win in Frankfurt 2:06:15
(Desisa, Kimetto, Terfa, and Kipruto were the only double marathon winners at sub 2:09 races in 2013)
More: LRC Ten Thoughts About The Marathon For 2013
****
Photo of The Week
Whether this is true or not, we have no idea. Having a mother who says women regularly wore wigs to class when she was a student at UT in the 1960s, we bet it's probably legitimate.
UT women's track practice, March 1964. pic.twitter.com/7uFNyUJLWM

— History In Pictures (@HistoryInPics) December 2, 2013
****
Weekly Free Coaching Advice – Coaches Let Your Runner's Think On Their Own
This week's free coaching advice is for coaches. We've realized that a lot of coaches make it about them. Athletes, in our minds, often give coaches too much credit. Having never had a career before, they falsely think that so much of their success comes from the coach and not them. The reality is the star runners run well – no matter who the coach is. We loved how Joe Vigil isn't afraid to let his runners like Brenda Martinez go. As Vigil said to Running Times:
In today's post-collegiate system, athletes are too coach-centered, or coaches will not let the athletes develop individuality and independence. I think this is wrong….I've been an international coach 17 times, and some of these coaches won't let their athletes alone. You have teach people how to think.
****
Other Events of Note:
Ehitu Kiros, Gilbert Chepkwony Win Steamy Honolulu Marathon Kiros won in 2:36:02 and Chepkwony 2:18:47 in the very humid conditions. Martin Lel made it to 30K with the lead pack, but then struggled, finishing in 2:21,and said, "There is something wrong" while rubbing his lower back and hip on his left side.
2013 European XC Champs *Full Results *Photo Gallery
Spain's Alemayehu Bezabeh And France's Sophie Duarte Claim European Cross-Country Titles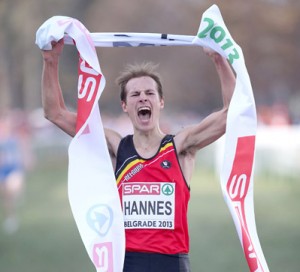 MB: Providence's Emily Sisson, Sarah Collins, Laura Nagel book tickets to 2014 NCAAs in 5000 The leading Friar women apparently haven't been going too crazy after winning NCAA cross as they already are back at it on the track.
****
Recommended Reads
Alan Abrahamson: Remembering Nelson Mandela
Meet NXN NY Champion Mikey Brannigan – Autism Hasn't Kept Him From Being ne Of The Nation's Best Brannigan was also runner-up at the NY state meet. Wow. MB: *Autistic High Schooler Qualifies For NXN
Questions? Comments? Email us.
****
Quotes Of The Day & Last Week's Homepages:
Note: To see a particular day's homepage, click on the hyperlink of the date. The hyperlink below the date on the quotes will take you to that particular article – not that day's homepage.
---
– 7 -year old Japanese girl Haruka Masuda after finishing the very hot and humid Honolulu Marathon in 7:41:45.
---
"I could barely stand up at the end of the race so I know I did all I could."
– Sarah Baxter talking about losing the first race of her high school career at the 2013 Nike Cross Nationals yesterday in Portland, where Alexa Efraimson won with a big kick in the last 400m.
---
"All I want to say is that our presence here is of great significance to our country, a significance which goes beyond the boundaries of sport. Our country has been isolated for many years, not only in sports but in other fields as well. We are saying now, 'Let's forget the past. Let bygones be bygones.' I want to tell you that we respect you, we are proud of all of you and, above all, we love you."
– Nelson Mandela, talking to the South African Olympic team prior to the opening ceremony in 1992, South Africa's first Olympics since 1960. The great Mandela, who amazingly had no bitterness about his incarceration for 27 years, will be missed.
---
"It never crossed my mind. Having signed up for the marathon, I just wanted to cross the finishing line. … I never thought about going home midway. It would have been like giving up."
– Tam Chua Puh of Singapore, who ran 6km of this year's marathon before taking a rest at a bus stop and cutting over to the finish, where he caused a big stir as he won a big prize as the first local finisher. He said he meant no harm – he just wanted his finisher's medal and T-shirt. Stupid us – we thought finisher's medals were meant for people who did the whole race.
---
"The sport of running is ideal for people with autism. [Kids with autism] have trouble socializing, they can't look you in the eye. The last time I looked, you don't have to give a speech when you cross the finish line. Just get there first. Just run, baby. Just go."
– Steven Cuomo, the head coach, president and founder of Rolling Thunder, a running, walking, and wheelchair racing team serving challenged individuals, talking in a great piece by sub-4 miler Liam Boylan-Pett on Mikey Brannigan, the 2013 NXN New York individual champion who has autism. More: MB: Autistic High Schooler Qualifies for NXN.
---
"When the final came, I wasn't stressed, actually. I was very happy. I was smiling on my warm-up, thinking about my dogs, thinking about [my husband]. I don't remember any of the race at all except for the last 100 meters when everyone was around me. I didn't want to panic because I was on the rail. Lane 1 opened up and I took it. I didn't know what place I got so I almost walked off the track – I didn't want to look like an idiot celebrating something I maybe didn't get."
– Brenda Martinez talking about her race in the 2013 Moscow World Championships 800m, where she became the first American woman to medal in the event, getting 3rd by .04 seconds.
---
"You may notice that I have placed running the Beer Mile* World Record as my second most important goal [in 2014]. Why? It's simple: That is what people care about. Remember, this is the Oval Office. It is where I conduct my business, and business is only good if people are watching."
"Check out these two YouTube clips … The first is the most-viewed video of my win at the 2012 Olympic Trials. 81,000 views. The second is a video of me setting the Beer Mile American Record. 87,000 views. This means that the general public would rather watch me drunkenly stumble around a track than compete for a spot on our U.S. Olympic Team. And if that's what the people want, you better believe that's what I'm going to give them."
"… To this end, I will be making an attempt on the beer mile world record at some point in 2014. My aim is not simply to break the world record of 5:04.9, but to shatter it and run under the elusive 5-minute mark. The training will be grueling, both on the track and in the bar, but I truly feel this is a record that should be held by an American."
– Nick Symmonds talking about one of his biggest goals for 2014, which is to break the Beer Mile World Record. Symmonds also wants to break the American record in the indoor and outdoor 800, indoor and outdoor 1,000 and the WR in the 4 x 800 relay.
Questions? Comments? Email us.