LetsRun.com's Preview of The Steeplechases at The 2012 US Olympic Track & Field Trials
It Will Be A Battle For The Final Olympic Spots As After The Favorites There Is Very Little Separating Those With The "A" In Both The Men's & Women's Fields
LetsRun.com
June 24, 2012
Women's Steeple
The women's steeple gets under way on Monday and only five women have the 'A' standard of 9:43.00 but another four have run within 6 seconds of it this year.
In our minds, 2011 NCAA and US champ Emma Coburn is a lock for the team. The question: Who gets spots #2 and #3? Here are the leading entrants.
The Nine Sub 9:50s From 2012
9:25.28 Emma Coburn
9:39.77 Bridget Franek
9:42.96 Sara Hall
9:43.09 Shalaya Kipp
9:43.28 Delilah Dicrescenzo
9:46.83 Ashley Higginson
9:47.76 Stephanie Garcia
9:48.04 Becky Wade
9:48.67 Mason Cathey
Bold = Has 'A' Standard of 9:43.00
2011 US runner-up Bridget Franek, the 2010 NCAA champ in Eugene, would be the logical choice as she's also #2 in the US this year. In her first two steeples of the year, she won and ran under the Olympic 'A' of 9:43.00. But at Pre, she was dead last in 9:52.56. Was that just a bad race where she bit off more than she could chew trying to run with the world's best? Or is something wrong? We'll find out soon.
After Franek, we've got to admit that we think that 2012 NCAA champ Shalaya Kipp, who trains with Coburn, is someone we think can be counted on. She's a perfect five for five in the steeple this year. Yes, she needs the "A" but she's way more consistent than the others with the "A".
Of the people that have the "A', they all seemingly have their questions surrounding them.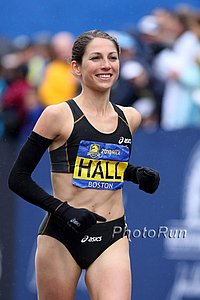 Ryan Hall's wife, Sara, hasn't finished higher than seventh in any steeple she's run this year. That's the bad news. The good news is she's gotten faster in each race.
10:04.13 14 Jordan Stanford CA 29 Apr
9:57.60 7 High Perf Eagle Rock CA 18 May
9:42.96 SB 12 Pre Eugene OR 2 Jun
Delilah Dicrescenzo of "Hey there" fame finished top three last year. But in her two steeples, she lost to Kipp in one and Franek and Ashley Higginson in the other. She'll have to run better to make the team. Stephanie Garcia, who was fourth at USAs last year but got to compete at Worlds, hasn't run faster than 9:47 this year.
If you are looking for a real wild-card, then we have a pick for you. Rice's Becky Wade. Because of injuries, she hadn't run the steeple in years but after getting 8th in the 10,000 at USAs she ran 9:48.04 last week in Houston to qualify.
LRC Prediction: 1) Coburn 2) Franek 3) Kipp
Men's Steeple
The men's steeple features six guys with the 'A' standard. A lot of arguments can be made for each of them.
The 9 Sub 8:30s From 2012
8:19.14 Donn Cabral -
8:20.81 Dan Huling
8:20.86 Kyle Alcorn
8:20.90 Evan Jager|
8:21.42 Bill Nelson
8:26.08 Ben Bruce
8:26.51 Donnie Cowart
8:27.77 David Adams
8:28.90 Craig Forys
Bold - Has 'A' of 8:23.10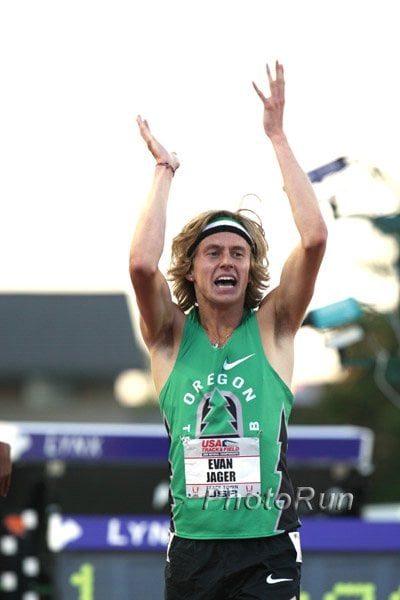 In our minds, the man to beat is 23 year-old Evan Jager. But given the first round will only be his third steeple ever, and he fell in steeple #2, he is by no means a lock. But the talent level of a guy who ran 13:22 at age 20 is just a step above of most, if not all of the other guys in contention.
For example, last year's US Champ, Billy Nelson, has a 5000 pb of 13:46. Back from two years of injuries, Jager will be super motivated to make his first Olympic team.
Nelson shouldn't be ignored as he made the Olympics last time wearing a Colorado singlet and won the US champs last year. Last year, Nelson finally broke his 2008 pb when he ran 8:17.27 in Monaco.
The man who leads the US list for 2012 is NCAA champ Donn Cabral We like his chances a great deal as he's got great wheels at the end as shown by his two Penn Relays anchor victories this year, and he's lost one steeple total since 2010. Cabral also beat basically all of the leading contenders in a sort of test run of the Olympic Trials at Occidental last month as he beat the #2-5 guys on the US list this year in that race. Now we're not sure if he would have beat Jager in that race had Jager not fallen as Jager had a lead, but that's not really that important as three will go to London.
US #2 for 2012 Dan Huling also is hard to discount. The 2010 US champ has the fastest pb in the field at 8:13.29 (#5 all time in US history), has made the last two US teams, and has been in the top three at USAs the last three years. Without the emergence of Cabral and the addition of Jager to the steeple, he'd be a near lock for the team.
2009 world championship team member Kyle Alcorn PRd in the Occidental race and also has a big finish if he can stay with the pack, but he may need an even better performance to make the team.
Ben Bruce is the only guy with the "A" who wasn't at Occidental. He's been staying away from the rest of the competition but don't be fooled by his 8:26 seasonal best as he's finished first or second in every steeple this year and has been purposely laying low. Bruce, who has a lifetime pb of 8:19.10, has improved his PB for 7 straight years. Thus by that measure, he's due for a PB effort which is what may be required for the 2011 team member (he went to world's last year even though he finished 5th at USAs as he had the "A") to make his first Olympic team.
LRC Prediction: 1) Jager 2) Cabral 3) Huling
In reality, the 5 after Jager are all very hard to separate.
Parting Thought: Since the announcers love to get the fans excited for the Oregon Ducks, we'll give a tidbit to anti-Duck fans. If you don't like the U of O, Alcorn may be the guy you want to root for as he transferred away from Oregon when Vin Lananna came in.