Tessa Barrett's Amazing Story, Praise For Mary Keitany, Desi Davila And Craig Masback, RIP To A Legend, Ryan Hall Versus Khalid Khannouchi, And Ethiopian Training Secrets Revealed?
The Week That Was – December 16 – 22, 2013
by Letsun.com
December 24, 2013
We review the week in running below.
Previous versions of The Week That Was can be found here.
****
Yes, The Girls Foot Locker Champ, Tessa Barrett, Is On Drugs
Article continues below player.
Tessa Barrett's Incredible Story
In last week's weekly recap, we spent a lot of time talking about the Boys Foot Locker championships and Grant Fisher.
We didn't talk a whole lot about the girls race and Tessa Barrett's win because the "Big 3" of girls high school running this year Sarah Baxter, Elise Cranny and Alexa Efraimson, all ran the NXN ran this year.
We wanted to tell you a little bit more about Barrett's story as we find it to be incredible.
Barrett didn't even make the state meet in XC last year but this year's she's the national champion. How is that possible? Well, in the year 2013, we know there are some skeptics who think it's too good to be true. We actually had a high school coach and former PA star contact us out of the blue last week asking us if we actually thought Barrett was on drugs.
Since we don't follow the high school scene that closely, we replied, "Why would you think that? What's so suspicious about her?"
"She's improved so much and she's jacked" was the basic response we got and then one person included a link directing us to a LetsRun.com thread (which we've since deleted) entitled: Footlocker Winner Tessa Barrett does 200 push-ups & 90 chin-ups EVERY DAY.
Drug talk in the high school ranks is a very touchy subject and very different than drug talk amongst the pros. However, since this was the national champion, we decided to research it.
We came across two great profile on Barrett that made us really inspired by Barrett: One was written by by the Times-Tribune's Scott Walsh in 2011. PIAA CROSS COUNTRY: Prep's Barrett runs through difficult times and the other by Don Rich on the pa.milesplit.com site in February of this year: Tessa Barrett of Abington Heights doesn't run from a challenge. She conquers it.
The opening lines of Scott Walsh's story tell you pretty much all you need to know:
Running has proven to be Tessa Barrett's salvation.
Three years ago, at age 12, the Scranton Prep sophomore was diagnosed with a seizure disorder with atypical migraine syndrome.
Besides agonizing headaches, she can also experience numbness and paralysis in one arm, nausea and vertigo. Her face might tingle and she sometimes is not able to see out of one eye.
What the heck is seizure disorder with atypical migraine syndrome?
Well, horrible, horrible headaches and small seizures and lots of illness that is triggered by the flicker of fluorescent lights. Flourescent lights? Yes, fluroescent lights. But fluorescent lights are everywhere, you say? Yes they are – malls, schools movie theaters.
As a result of the syndrome, Barrett had to drop out of a top prep school and become home-schooled to get away from the lighting as the doctors tried 25-30 different medications for migraines/seizures to try to help Barrett according to Rich.
Part of the treatment also is for Barrett to do lots and lots of exercise. According to Rich, the doctors recommend 3-4 hours a day.
So not only is Barrett running, she's also do the other activities – 30 minutes of core plus the pushups/chin-ups described above – as she works at a gym. When a normal high school girl works out that much, she gets reported to someone at school for possible anorexia/body issues. Barrett, on the other hand, is prescribed that much activity.
So she works out a lot – and she's talented. Her not making the state meet last year was not par for the course. Barrett fell in the mud and suffered a fracture in her leg. As a freshman, Walsh says Barrett "won seven meets during the Lackawanna League regular season and set six course records" and was named "Times-Tribune Girls Runner of the Year."
As a sophomore, she was 34th at the Foot Locker regional race. And that's despite not being able to train properly as described by Walsh:
Another side effect causes her not to sweat, which is a problem for a runner, especially during the summer.
"I'd go out for a run and it would get so hot and brutal," Barrett said. "At times, my core body temperature would go up to 103.
Even if I went out at 6 in the morning, it still would be unbearable. Every mile or second mile, I'd have to stop and pour water on myself. It made it difficult to get in a quality workout."
Last year in track, Barrett started to show her true potential as she ran 9:40 for 3000 at Penn Relays, placing fourth.
And oh yeah, there is one more thing. Unlike most young girls, she loves long distance. When asked after her Foot Locker win, what event she'd do in college, we just about fell out of our chair when when Barrett got visibly excited about the opportunity to run the 10,000:
"I really love distance. 10k, definitely. I love distance, I love distance."
To sum it all up – Barrett is talented, she's really into it and works extremely hard, and she's definitely on drugs – just not the ones some of you thought she was on.
More: PIAA CROSS COUNTRY: Prep's Barrett runs through difficult times
*Tessa Barrett of Abington Heights doesn't run from a challenge. She conquers it
*Dyestat Video Interview where Barrett talks about coming back from her fracture last year.
****
Belated Praise For Craig Masback
A big Thumbs Up nine years after the fact to former USATF head Craig Masback.
We learned last week from Brooks Johnson's blog SpikesandFlats.com that in 2004 Masback tried to stop the coaches from putting Marion Jones on the 2004 US Olympic 4 x 100 US relay team because of drug rumors surrounding her:
In 2004 Craig Masback, then CEO of U.S. Track and Field, was very concerned because I had Marion Jones running second leg on the women's 4 x 100 at the Olympics in Athens, Greece. He felt we were taking a risk by having her on the relay team due to the drug suspicions and rumors swirling around her. I advised him that she had never tested positive for drugs, had adamantly denied ever taking drugs, and I was willing to take her word for it. He pressed even harder,….
We've always wondered why those in power have not used the common sense instead of willful ignorance to guide their decision-making process when it comes to doping. Apparently some of them are trying to do things behind the scenes – we just don't hear about it.
In this case, Masback lost out as it was decided the coaches would ask Jones about her alleged doping, she denied it and was put on the relay team (karma ensued though and she was involved in a botched handoff and the team didn't medal).
Johnson's blog post on the affair is a great read as it's really about why talented people cheat and specifically is about Tyson Gay, whom Johnson believes was clean prior to 2013.
Let's hope Masback is secretly still trying to behind the scenes limit the opportunities for advancement for dopers in his current role as an executive at Nike. We've always felt the sport would be way, way cleaner if Nike and the big shoe companies would proactively lead the way on the anti-doping fight.
In the past, they may have been far from leading the anti-doping fight, particularly in the 1980s. Last week, former sprint star Ben Johnson claimed he'd never had been busted for doping if he hadn't switched his shoe sponsorship from adidas to Diadora as explained on a Finnish website: "Influential sponsors such as Adidas or Nike, Reinikainen continued, protect their athletes to such a degree that ending up disqualified for doping would not have been possible."
That's quite an allegation from Johnson.
A more recent example is Lance Armstrong and the actions of his sponsors. It was only a little over a year ago that Armstrong was charged with doping by USADA and then he subsequently admitted to being a cheat to Oprah.
However, allegations surrounded Armstrong for years before that and we at LRC believe most reasonable person tightly connected to the sport of cycling would have concluded Armstrong was a cheat well before last year.
If you haven't watched the new Sony Classics Documentary, The Armstrong Lie, it's a recommended watch. In it, former Oakley rep, Stephanie McIlvain, comes across very poorly: as a person who allegedly lied about Armstrong drug usage under oath, and who threatens truth teller Betsy Andreu with a voicemail  in one of the more chilling  scenes of the movie: "I hope somebody breaks a baseball bat over your head, but I also hope that one day you have adversity in your life and you have some type of tragedy that will hit your family and make you realize what life is about other than going after people that you actually hate. It's pathetic Betsy. I thought you were a better person than that. I am so saddened that you're not. You are such a shallow bitch!" (in all fairness to McIlvain: not seen on the film, McIlvain did reportedly apologize the next day for the voice mail).
Who is Stephanie McIlvain's husband? Oakley VP of Marketing (and former pro mountain biker) Pat McIlvain. If Oakley really cared about clean sport, wouldn't they ask Stephanie what really happened or look into the allegations against Lance? Instead, they stood behind Lance even initially after the USADA report initially came out.
Then there is Nike which also stood behind Lance initially after the USADA report came out.  Doping allegations were surrounding Lance well over a decade ago. What did Nike do in 2001? Release this commercial:
What instead if they had their scientists make sure Lance was actually clean?
More: Former Olympic Coach Brooks Johnson Blogs: "Why Do Good People Do Bad Things?"
*Ben Johnson Says He Wouldn't Have Been Busted For Doping If He Hadn't Changed Sponsors From adidas Before Seoul Olympics
LRC Vault: 2012: Why Was A Man With A 10-Year Doping Ban Enjoying The 2012 US Olympic Track & Field Trials From The Nike Sky Box?
****
Praise For Mary Keitany For Being Honest
A big Thumbs Up to Kenya's national record holder in the marathon Mary Keitany for being honest. When asked by Athletics Illustrated's Chris Kelsall if her ultimate goal is Paula Radcliffe's world record of 2:15:25, Keitany replied:
"Never say never, but realistically speaking my main goal is to beat Radcliffe's 2h17'42″ world record in a women's race, which is 55 seconds far from my personal best."
****
Desi Davila Almost PRs
Race-wise there is very little action at the end of December/beginning of January. There is so little action that one of the results services we pay for, Race Results Weekly, doesn't even publish for a few weeks.
But there was one race of note last week. The Sanyo Women's Half Marathon took place in Japan. It was won by Japan-based Kenyan Sally Chepyego in a new course record of 1:08:24. But the big news from a US standpoint was that 2011 Boston Marathon runner-up Desi Davila ran a strong 1:10:51 to finish 7th. That's not too far off of her 70:34 pb which she ran in January of 2011, prior to her inspiring run in Boston that year.
That's a nice early Christmas present for Davila. Desi is officially back from the injury that cost her a finish at the 2012 Olympics and prevented her from racing a spring marathon this year. Yes, we know Davila ran 2:29:15 to get 5th in Berlin in September but that was the slowest marathon she'd run since 2008.
She's now clearly healthy and in pretty good shape entering 2013.
1:10:51 @ Sanyo Ladies Road Race. Nice way to finish of 2013. pic.twitter.com/4MzkjoKlze

— des_linden (@des_davila) December 23, 2013
****
Will The Third Time Be The Third Charm?
The last two year's an Ethiopian making his debut has won the biggest first prize in men's marathoning ($250,000) at the Dubai Marathon. In 2012 Ayale Abshero won in 2:04:23 and this year Lelisa Desisa won in 2:04:45.
It looks like we may be well on our way for that happening for a third year in a row in 2014 as last week, just days after we asked in last week's Week That Was when Ethiopian half-marathon record holder Atsedu Tsegay would make his marathon debut, it came out that Tsegay would debut in Dubai on January 24th.
He's not the only fast Ethiopian debuting there. 13:00/26:52 man Abera Kuma also will debut there as well.
More: 58:47 Man Atsedu Tsegay And 13:00/26:52 Man Abera Kuma Of Ethiopia To Make Marathon Debuts In Dubai Next Month
2013 Dubai Marathon Coverage
2012: Ayale Abshero Arrives As New Marathon Star With A 2:04:23 Debut Win In Dubai
****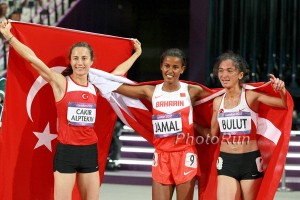 Aslı Çakır Alptekin Gets Off?
Some of you may wonder what we think of the fact that last week the 2012 Olympic women's 1500 champ Aslı Çakır Alptekin was cleared of doping by the Turkey's track federation. Now everyone is waiting to see if the IAAF/WADA appeal.
We don't have a lot to say as this is a very technical development and we've never heard the facts of the case. We don't know what Alptekin was accused of other than a violation of the Biological Passport, what the evidence was, and what the rationale is for Turkey's decision. To formally and legally suspend someone, you have to have evidence.
Clearly the IAAF/WADA wouldn't have brought the case against such a high-profile athlete unless they thought it was important/credible and thus we hope there will be an appeal. The validity of the Biological Passport standing up to challenges is critical to the anti-doping fight.
The whole women's 1500 was ruined the moment Alptekin crossed the finish line first, with or without a positive test. Actually it was ruined first when Morgan Uceny went down in a fall and then again when Alpetkin won. We said at the time "Disaster strikes twice" – maybe change that to three times if ultimately her suspension is never enforced.
More:LRC Aslı Çakır Alptekin Of Turkey – The 2012 Olympic Women's 1,500 Champ – Is Cleared Of Doping By The Turkish Federation
LRC Archives 2012:: Disaster Strikes Twice As Morgan Uceny Gets Tripped Again And A Former Doper Wins Gold
****
6 Quotes of the Week (that weren't quote of the day)
###
I
"It's not a mystery event anymore. … It's a different world, you can't compare. Kenyans and Ethiopians don't have anything to lose. They can take risks. Americans are afraid to take a risk, so they go into a race already losing."
– American marathon record-holder Khalid Khannouchi talking to Toni Reavis last week.
###
II
"I don't run for a paycheck, for fame, or to meet others' expectations. I run to test the limits of my God given ability and go after the dreams. He has put in my heart – big dreams. I make choices in training that I believe are going to be the best thing for me to meet those goals – both in the short term and long term. But I also push the envelope, I'm not afraid to take risks. I'm not trying to train conservatively to run 2:09, I'm preparing to run 2:04. That has meant unfortunately I haven't made it to the starting line of every marathon I was entered to run, just as the Kenyan guys who also train to run 2:04 experience."
– American Ryan Hall, the fastest American-born marathoner in history, blogging about how he does take risks but how that also is a reason why he doesn't always make the starting line (Hall wasn't responding to Khannouchi as his blog came out before Khannouchi's quote).
More: An Update to My Supporters
###
III
"Being born in Kenya means (it's easy to be one of) the 10 best marathon runners in the world, but not between the best 3 of your country; the risk of ending up watching the competitions on TV is higher!"
– Mary Keitany talking to Athletics Illustrated's Chris Kelsall last week about her comeback from child-birth. Keitany said she doubts she'll be ready for a major marathon in 2014 until the Fall.
More: Mary Keitany Says She Doesn't Think She'll Be Ready For A Marathon Until Fall 2014, Says Radcliffe's 2:17:42 Women's-Only WR Is Her Goal, Not The 2:15 Untouchable Mark S
###
IV
"Could we call ourselves a cross country powerhouse if we could only win when it's flat and firm?"
– Oklahoma State 13:15 man Tom Farrell responding after the 2013 NCAA Cross Country championships, when asked if he was frustrated by the fact that the sloppy conditions may have played a big role in the race's outcome.
More: 5th And Final Series On Oklahoma State's 2013 XC Season By Running Times/Noah Gallagher Shannon: Losing Sucks And "Still Feels Like A Nightmare"
###
V
"I have a few video clips of him dancing."
– American marathoner Becky Wade, who at 2:30:41 is the third fastest American ever under the age of 25, talking about Haile Gebrselassie. After graduating from Rice, Wade spent a year on a fellowship where she traveled the world (22 countries) and explored running cultures across the globe. In Ethiopia, she went to a party at Haile's house and apparently has clips of him dancing.
The quote comes from a nice Peter Gambaccini profile of Wade in Runner's World.
Becky, we want to see the goods. Email us the clip or put them on youtube. Does the king have good moves?
More: Meet Becky Wade, America's Best Young Marathoner
###
VI
"We estimate, and this isn't an estimation, that Greta Waltz is 80 seconds behind."
– one of many beloved gaffes made by legendary BBC sportscaster David Coleman, during his nearly 50 years working for the BBC. Coleman, who broadcast at 11 Olympic Games, died last week at age 87.
More:
****
Video Of The Week
We thought it would appropriate to share you some of David Coleman's incredibly commentating.
Here you will see the last lap of the 1971 men's 10,000 at the European championships where former London Marathon head Dave Bedford tries in vain to maintain the lead.
Notice how Coleman makes the race exciting even when nothing is happening. If only the modern-day commentators did that.
For the record, the winner was Finland's Juha Väätäinen. That last lap was 53 high.
****
The Ethiopian Training Secrets Revealed
Weekly Free Training Advice: Go Run On The Worse Terrain Possible and Run Three Times Farther Than You Planned
Thanks to Wade's global travels and Peter Gambaccini's journalism, the secret to the Ethiopians great success in journalism came out last week. Here it is. Warning, don't try this at home. Here's how Wade described training in Ethiopia.
"They (the Ethiopians) run in single file lines through the forest.There are walking paths for carts and horses but we'd never run on them. We'd run on undulating terrain and around trees. There are roots and rocks everywhere, and we're constantly changing pace and changing direction."
"You just have to follow the leader. They didn't run with watches. They didn't calculate miles or pace. I learned pretty quickly that however long they said we were going to be running was definitely not accurate. I would ask how long are we going to run today and they'd say '30 minutes.' An hour and a half later, we'd roll back in."
More: Meet Becky Wade, America's Best Young Marathoner
****
Recommended Reads
Phoebe Wright Blogs: "Meet my boyfriend, Track." Wright humorously explains the many difficulties of having a relationship as a professional runner. Wright: "Guy: Want to go out for drinks? Me: Yes! Except I don't really drink. And I have to get in bed by 10 or so for a workout in the morning – o maybe something else instead?"
Great Profile By Peter Gambaccini: Meet Becky Wade, America's Best Young Marathoner

5th and final series on Oklahoma State's 2013 XC Season by Running Times/Noah Gallagher Shannon: Losing Sucks and 'still feels like a nightmare' Lockhart: "We had an average day, across the board."
Former World Record Holder Marathoner Khalid Khannouchi Talks About The New Era Of Marathoning And How Quickly Things Have Gone From 2:05 To 2:03
Ryan Hall Blogs About Dealing With His Past Couple Years Of Injury Woes And About Being Self Coached
Former Olympic Coach Brooks Johnson Blogs: "Why Do Good People Do Bad Things?"
Questions? Comments? Email us.
****
Quotes Of The Day & Last Week's Homepages:
Note: To see a particular day's homepage, click on the hyperlink of the date. The hyperlink below the date on the quotes will take you to that particular article – not that day's homepage.
---
---
---
– Athletics Illustrated writer Christopher Kelsall urging the IAAF and WADA to "act with force" against Turkey after they cleared Olympic 1,500 champion Asli Ckir Alptkin of doping charges. He cites Turkey's 31 positive tests for steroids in April 2013 and accuses the Turkish Athletics Federation of "making a mockery of the process."
---
– Jon Gugala, bemoaning the state of journalism in running these days. Because the sport is so small and insular, he says the journalists rarely do their job as they are afraid to rock the boat and lose access. Gugala says he shut down his The Trailer site after a co-founder refused to publish an interview Ryan Hall didn't want published.
---
– Olympic expert Alan Abrahamson criticizing President Obama for naming a delegation to the Sochi Winter Olympics that doesn't include the First Lady, the VP or any Cabinet Members as such a move is disrespectful to the IOC and Putin and will cripple the US's 2024 bid. USA Today's Christine Brennan, on the other hand, called Obama's delegation a "genius" move because it includes the lesbian sporting icon Billie Jean King.
MB: Who is right? Brennan, Abrahamson or both?
---
– Ryan Hall blogging about dealing with his recent injury woes, having to pull out of races, and being self coached.
---
– Former US Olympic coach Brooks Johnson talking about how based on his appearance, he thinks Tyson Gay was clean before this year.