No LRC content found.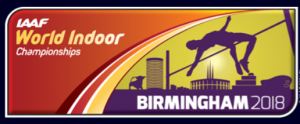 Birmingham, England
March 1, 2018 to March 4, 2018
Outside Letsrun
Pozzi ran 7.46 seconds to beat out USA's Jarret Eaton by one hundredth of a second.
It was a third straight World Indoor victory for the USA women's 4x400.
Two years ago in Portland, Spanovic was in the lead, but Reese won gold with her final jump. This time it was Spanovic who responded to Reese's lead by jumping a world leading 6.96m on her last jump.
There was only one American record, but Team USA set four championship records.
Lavillenie cleared 5.90m to Kendricks' and Lisek's 5.85m. It was a deep competition as seven athletes (including HSer Armand Duplantis who was 7th) attempted 5.90m.
The interview is in Spanish, but you can see his demeanor change dramatically at the 1:07 mark when he finds out.