Ajee Wilson Puts Up a Strong Fight, but Francine Niyonsaba Remains Perfect Indoors at 800
By LetsRun.com
March 4, 2018
BIRMINGHAM, England — It's hard to beat perfection.
Maria Mutola may be the greatest indoor 800m runner of all time (7 indoor world titles), but she definitely lost races in her indoor career.
That can't be said about Francine Niyonsaba of Burundi, who pulled away from Ajee Wilson the final 100m to successfully defend her 800m world indoor title at the 2018 World Indoor Championships, and remain undefeated indoors in her career.
Wilson ran a tremendous, tactically-sound race, taking the lead the first 200m and attempting to control the race from the front.  Niyonsaba tried to seize the lead at 300m, but Wilson increased the pace holding her her off. Niyonsaba tried again on the next straightaway and before 500m, but each time was held off by Wilson as Wilson recorded splits of 28.99, 59.02 and 1:28.81.
Finally, on the backstretch of the bell lap, Niyonsaba got by Wilson. Would Niyonsaba be spent from the repeated surging she had put in trying to around Wilson? No. She pulled further away down the homestretch to win in a world-leading 1:58.31, the fastest time in the world since 2011, as Wilson was second in a technical indoor pb of 1:58.99 (she ran faster last year, but the time was voided when she tested positive for zeranol) and Brit Shelayna Oskan-Clarke was a clear third in a pb of 1:59.81. American Raevyn Rogers was never a factor in her first world final, finishing fifth in 2:01.44.
Analysis and video from Birmingham below.
Article continues below player.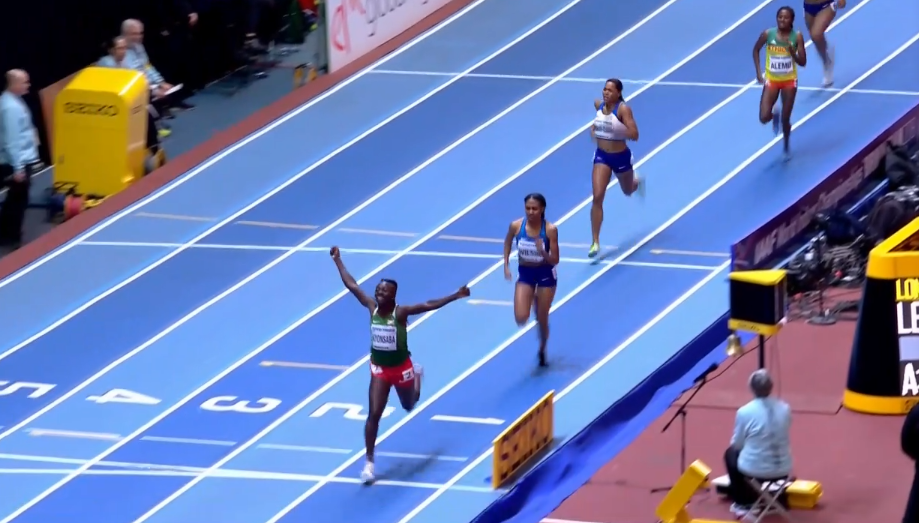 Quick Take: Wilson's a much better runner than in 2016, but Niyonsaba is too
Ajee Wilson ran faster here than she did at the 2016 Worlds (2:00.27 in final), but the result was the same as in 2016: Niyonsaba gold, Wilson silver. No shame in Wilson running like a champion today, but being beaten by a better athlete.
Niyonsaba has shown when she's at her best, there is only one woman in the world who can beat her, Caster Semenya. That's still true today. It's still pretty amazing Niyonsaba could come in with no races in 2018 and turn back such a strong effort by Wilson.
Quick Take: Wilson still believes she can improve her strength, but she knew she did all that she could today
After winning USAs, Wilson said that anything less than gold would be a disappointment, but after the race today, she admitted that it was hard to feel disappointed.
"When I finished, I felt like I gave it all that I had," Wilson said. "I was pretty spent afterwards. So feeling like that after a race, there's not much more I could have done. That was what I had today, so I have no choice but to be proud of how I competed and happy with the result."
1:58.99 — what Wilson ran today — is really fast indoors, but she still feels that she can improve, and that begins with working on her strength. Wilson said that last year, she would struggle to hang with Charlene Lipsey in longer sessions and she plans to race a few 1500s early this year to help with that.
Quick Take: Wilson and Alysia Montano are the only American women to win three global 800 medals
Wilson, the American record holder outdoors, has to be one of the first names mentioned in any discussion of the U.S.'s greatest-ever female 800 runners, and today she earned her third global medal — tying Alysia Montano for the most ever.
Previously, Wilson, who also medalled at 2016 World Indoors and 2017 World Outdoors, had been tied with Kim Gallagher (1984 Olympic silver, 1988 Olympic bronze) behind Montano (2010 World Indoor bronze, 2011 World Outdoor bronze, 2013 World Outdoor bronze)*.
If Wilson can add an outdoor gold somewhere down the line, that will affirm her as the U.S.'s best ever at 800 meters.
*Montano hasn't received all of those medals yet, but she should be upgraded eventually. She also crossed the line 5th behind two Russian dopers in the 2012 Olympic final, but so far only one of them (Mariya Savinova) has been stripped of her Olympic medal as the Ekterina Poistogova did not have her London result annulled.
Quick Take: Like Wilson, Great Britain's Shelayna Oskan-Clarke ran as well as she could, and that was good enough for bronze today
The three medalists were clearly the three best runners today, and the order was also well-defined as Niyonsaba was clearly better than Wilson, who was clearly better than Oskan-Clarke, who was clearly better than everyone else (she was 1.29 seconds ahead of fourth).
Oskan-Clarke ran an indoor pb of 1:59.81 today, and even on her best day, it would have been tough to catch Wilson, who basically ran Oskan-Clarke's outdoor pb today (Wilson ran 1:58.99, Oskan-Clarke's outdoor pb from 2015 is 1:58.86).
Quick Take: After years of dominating at the NCAA level, Rogers got a taste of the big time today
Rogers destroyed all comers as a star at the University of Oregon the last three years, but this weekend she faced the best in the world at her first global championship and came away humbled. The good news: this shouldn't be her only Worlds team. She's 21 years old and is in good hands with one of the U.S.'s best 800 coaches in Derek Thompson.
"This is definitely a reality check," Rogers said. "Not that I haven't had reality checks before, but this is how it's going to be the rest of my career. But I'm ready for it. That's something I need to work towards. I'm ready to fix it because I know I can do better."