Men's 1500 Semis: Americans Craig Engels and Ben Blankenship Both Advance As Tefera and Iguider Stamp Themselves as Favorites For Gold
By LetsRun.com
March 3, 2018
BIRMINGHAM, England — As the men's 1500 got underway this morning at the 2018 IAAF World Indoors this morning with three first-round heats, we were looking for a few favorites to emerge as the 1500 was viewed as one of the most-wide open events due the recent loss of 2014 World Indoor champ and 2018 world leader Ayanleh Souleiman of Djibouti from the starting line due to visa issues coupled with the fact that the best 1500 runners from the last few years outdoors all skipped World Indoors this year for various reasons.
Now that the heats are in the book and the final is set, if you asked us to pick a winner for Sunday's final, we'd have to go with one of the three heat winners from today. Morocco's Abdalaati Iguider, the 2012 World Indoor champ who came in with the fastest time in of all the entrants in 2018, got the win in heat #1 in the fastest time of the day in 3:40.13. Ethiopia's Samuel Tefera, the 18-year-old world junior record holder at 3:36.05 and second-fastest man on the year in the field, looked great in winning heat #2 in 3:44.00 over Kenya's lone entrant, Vincent Kibet (3:44.26). And British champ Jake Wightman, who came into Worlds after running an indoor 800 pb last week (1:47.69), got the win in heat #3 in 3:47.23.
After the third heat was over, six of the seven fastest runners in 2018 all had made the final, as had both Americans. Ben Blankenship got the first time qualifier after finishing just .10 behind Iguider in heat #1 (3:40.23). Craig Engels nabbed the second and last qualifying spot out of heat 3 behind Wightman in 3:47.55, just ahead of the Morocco's Brahim Kaazouzi, the fourth seed (3:36.95 sb) who ended up being the biggest casualty of the heats. Kaazouzi's elimination wasn't a total shock as while he had run the 4th fastest time of anyone on the year he hadn't finished higher than third in any race he'd run.
Article continues below player.
We briefly recap the heats before giving you our quick take analysis.
Heat 1
With only the top 2 auto advancing (and next 3 fastest on time), the runners in heat 1 were at a big-time disadvantage, as in addition to being the first heat it was also the most loaded. The pace started modestly as Iguider led at 200 (30.83) and then it really got slow as 400 was hit in 63.06. Aman Wote, the 33-year-old Ethiopian who three times previously had been a World Indoor 1500 finalist (silver in 2014), took the lead at 300 as the pace lagged and then decided to tighten the screws all the way home, hitting 600 in 1:32.88, 800 in 2:01.58 and 1k in 2:29.95. At 1k, the top 5 in the field were Wote, Iguider, Wanamaker Mile champ Chris O'Hare, Blankenship and Marcin Lewandowski of Poland. 1200 was reached in 2:58.23.
On the last lap, O'Hare went out the back as the top 3 of Iguider, Wote and Blankenship turned it into a 3-man battle coming off the final turn. Iguider moved up and got the narrow win over Wote but looked to be in total control as he did so. As Iguider was moving up, Blankenship, who had to run the final turn in lane 2, was following closely behind but he couldn't quite get to Wote. The top 2 certainly deserved the two auto spots as they were 1-2 in some order the entire race. In the end, all of the time spots would come from this heat. It'll be interesting to see if O'Hare runs the final as he said on the BBC broadcast that 7 or 800 meters into the race he felt the outside of his foot give him some real pain. O'Hare has missed some training in recent weeks due to injury.
Heat 2
The second heat also started slow but unlike the first heat it didn't get going until late, meaning no time qualifiers would come from this heat as 400 was reached in 62.83 and 800 in 2:05.50. Around the 900-meter mark, the world junior record holder Tefera went to the lead and he never gave it up as he hit 1k in 2:34.99 and 1200 in 3:03.30. That 28.42 6th lap really strung things out. On the last lap, as the runners hit the backstretch it was clear only four people had a shot to move on as Tefera, Kibet of Kenya, Ryan Gregson and Australia and Jakub Holusa of the Czech Republic, the surprise silver medallist in 2016, separated themselves from the rest of the back. On the final turn, Holusa faded and it was a three-person battle for two spots. However, the whole way home Tefera had a 1-2 meter lead on Kibet. The real battle was for second and while Gregson came up on Kibet's shoulder, he never could get by and Gregson wouldn't advance on time in third.
Heat 3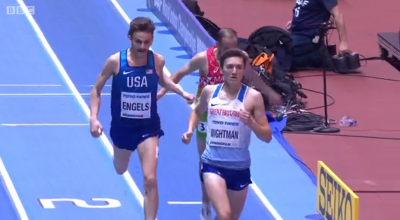 The runners in heat 3 had every advantage in the book. In addition to being in the last heat and knowing what time qualifiers would make it, they also were in by far the weakest heat as the IAAF didn't redraw the heats even though everyone in Birmingham knew the favorite for the 1500, Ayanleh Souleiman, wasn't going to be starting. Plus Bahrain's Sadik Mikhou (3:38.48 sb) didn't start which mean that the third heat only had three runners in it who had ever broken 4:00 for 1500 in it. Cambodia's Oddom Sat has a 2:09.24 800 pb and Kyrgyzstan's Mikhail Soloshenko has a 4:04.83 pb.
So all the top 3 had to do was run faster than O'Hare's 3:42.46 in heat #1 and they'd be into the final on time. So did they make the heat fast? Nope, as is often the case, the 1500 guys decided to let it come down to a kick as the heat went out in 63.20 and 2:06.49 and 3:09.22. Engels took the lead with 400 to go but Wightman took over with 300 left and closed in 38.01 to get a comfortable heat win. The question was who would get 2nd and Engels just got by Kaazouzi right before the line to make his first global final.
Quick Take: Ben Blankenship was happy with how he executed — he just faced a tough heat
Blankenship was happy with how he ran and was actually closing in on two sub-3:30 men in Wote and Iguider at the end of the race. He didn't wind up getting them, but he was rewarded for his efforts with a time qualifier.
The fact is, with only two auto qualifiers in each heat and only nine spots total, it was always going to be tough to make this final. And Blankenship didn't do himself any favors by spotting the top two ground when the kicking began.
I thought I ran the race I wanted to run, truly. Sit in a good position and be the last person to move. Straightaways here are super short, and I knew that coming in. And I thought okay, if I just rally back, maybe I'll catch one or two guys, come up with a big Q.
Quick Take: Chris O'Hare snuck into the final, but a foot injury will limit his chances of medalling
O'Hare had looked very strong early this indoor season, posting a dominant win at Millrose and following that up with a victory at the New Balance Indoor Grand Prix. Two weeks ago, he looked like a definite medal threat in Birmingham.
But a strained peroneal tendon has made it hard for him to run, particularly on the banked indoor track (he had to scratch from the British champs), and he really felt it when the pace accelerated in the final 700 meters today. The men's 1500 field isn't nearly as strong as it could be, but you still need to be able to kick to get a medal, and O'Hare doesn't seem able to do that at his usual level right now.
Quick Take: Ryan Gregson gave it a go and competed well but now it's on to Commonwealths
Gregson won the Australian title two weeks ago, and though the big focus for many Australians is the Commonwealth Games on home soil in April, he was also hoping for a big performance at World Indoors.
"This was a big focus as well," Gregson said. "I did really want to do well here."
The problem is that he was up against two strong runners in Tefera and Kibet, and since Gregson doesn't like to run from the front, he wasn't going to try to chase the time qualifiers.
"It's really cutthroat," Gregson said. "Usually if you get third in a heat or a semi, you get through to the final, but it's pretty hard qualification. I didn't run that bad. I wasn't far away."
Quick Take: Craig Engels ran like a rookie tonight
This was Engels' first race in a World Championships and it showed. He caught a huge break before the race with an easy heat, and since this was also the last heat, Engels had the luxury of knowing exactly how fast he had to run.
So Engels had two ways to make the final: he could either try to run 3:42.46 or faster, which would guarantee him a time qualifier, or he could take his chances and trust himself to beat either Wightman — a Diamond League winner last year — or Kaazouzi, who ran 3:34 last year.
Door A — chasing the time — seemed like the easier route, but Engels chose Door B. Still, he was in the lead with 400 to go, he was in good position to make it. But then at 1200, Engels gave up the lead too easily as both Wightman and Kaazouzi moved by him. Engels did eventually run Kaazouzi down and said afterwards that he knew he'd be able to get Kaazouzi but that may be a bit of revisionist history as it wasn't clear until very late that Engels would grab the second qualifying spot.
"I think they just made too hard of a — well obviously Wightman didn't — but [Kaazouzi] made too hard of a move and I'm like, oh he's done himself in," Engels said. "I was just patient and I waited until the last 50."
Engels said he was okay with giving up the lead at 1200, saying, it's "better to race someone than being scared that someone's behind you," which perhaps explains why he didn't chase the time qualifiers.
Engels hasn't made it easy for himself this year — he probably should have chased qualifying times at the Dr. Sander Invite and tonight — but he has done what he needed to and made it to the World Championship final, where only place, not time, matters. Asked for his goals in the final, Engels replied: "Win it, right? I'm not going to go into this championship not hoping to medal."
Quick Take: Jake Wightman's focus is on the Commonwealth Games, but he couldn't turn down the opportunity to run a World Champs on home soil
Wightman knew this was the easiest heat on paper, but he had to work harder than he thought to make the final and really kick it in, closing his final 300 meters in 38.01 to secure an auto qualifier.
Wightman said that he thinks he's still on an upward trajectory toward the Commonwealth Games, but decided he would run World Indoors if he made the team. Now he's got a one in three chance at a medal, and a shot at redemption after missing out on the World Championship final outdoors in London last year.
Quick Take: These heats should have been redrawn
It's possible that the IAAF didn't know about Mikhou withdrawing until late, but Souleiman was the world leader and it had been reported in the media on Friday that he was not going to be competing today. The IAAF redrew the 800 heats once Emmanuel Korir scratched and that should have happened in the 1500 today as the heats were comically unbalanced. Heat 1 featured two sub-3:30 guys, plus an Olympic finalist in Blankenship, and O'Hare, who won Millrose and made the World Championship final last year. Heat 3 featured Wightman, Engels, and Kaazouzi plus three men from Kyrgyzstan, Equatorial Guinea, and Cambodia. Ridiculous.