Hello From Birmingham & The 4 Things We're Most Excited About At 2018 World Indoors
By Jonathan Gault
February 28, 2018
BIRMINGHAM, England — The 2018 IAAF World Indoor Championships begin tomorrow, and I have good news for LRC Nation.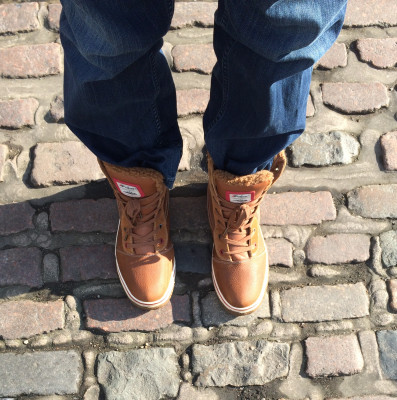 Article continues below player
Yes, we officially have boots on the ground in the UK's second city.
The LetsRun.com team has been hard at work pumping out previews for the distance events this week (you can view all of them here) but my bosses figured that since I'm actually in England, the country of my birth, I should give you a sense of what it's like. So I'll give you a little bit on the scene here before hitting the stuff I'm most excited for at World Indoors toward the bottom.
I arrived this afternoon, which is probably a good thing. That's because of the "Beast from the East." No, I'm not talking about Chinese sprinter Su Bingtian. I'm talking about the storm that has resulted in unseasonably cold weather and snow across the United Kingdom. Here was the local weather on my phone this afternoon (temps in Fahrenheit):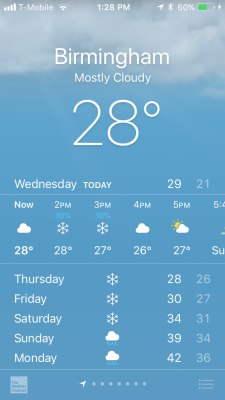 In Boston, where I live, this is called "Wednesday." But in areas that don't receive as much snow, the roads can close, trains can run late or not at all, and flights can get delayed or cancelled. Cathal Dennehy has already reported that it's put a dent in the Irish team's travel plans, but I'm guessing it won't affect the Americans as most would want to get here a day or two early to adjust to the time change anyway. It really wasn't that bad outside, but it was quite windy:
It's snowing! Here's the view from the media center at Arena Birmingham. pic.twitter.com/28QlfPHh4P

— Jonathan Gault (@jgault13) February 28, 2018
I've got some more insight into the local scene at the bottom of the article, but first I'm going to talk about what I'm most looking forward to at Worlds outside of the distance action which we're previewing extensively.
The Four (Non-Distance) Things I'm Most Excited About At 2018 World Indoors
1) Want to win a world title in the men's 60? You may need to break the world record
The best flat sprint event at Worlds is the men's 60. As you likely know, American Christian Coleman has already broken the world record twice this season — once unofficially at Clemson on January 19 (he ran 6.37 but the record won't count since there were no electronic starting blocks) and once for real at USAs in Albuquerque two weeks ago, where he ran 6.34. Coleman is the heavy favorite at Worlds — when he broke the world record, he actually began celebrating before the line Usain Bolt-style — but he's not the only man running historically fast in 2018. Ronnie Baker ran 6.40 to finish second at USAs. That puts him #3 all-time, and if not for Coleman, it would have been the fastest time in the world in 17 years. China's Su Bingtian has also been brilliant this year — he's undefeated in four races and has twice broken the Asian record, getting down to 6.43 (#6 all-time) in Dusseldorf on February 6.
Coleman is a threat to break the WR every time he steps on the track, and though conditions were better for sprinting in Albuquerque, which sits at 4,958 feet of elevation, he should still run very fast in Birmingham. With Baker and Bingtian on his heels, could we see the first race in history with multiple sub-6.40s?
2) Can the U.S. women earn an unprecedented 1-2-3 sweep in the 60 hurdles?
Just as in the men's 60, it may be necessary to run a world record in order to win gold in the women's 60 hurdles in Birmingham. Susanna Kallur's 7.68 world record recently celebrated its 10th birthday, but there's a good chance it doesn't reach 11. At USAs, three women came within .05 of Kallur's mark. Sharika Nelvis won the race in an American record of 7.70, with Keni Harrison second in 7.72 and Christina Manning third in 7.73. All three will be in Birmingham, and as a result, the U.S. has the chance to become the first country ever to sweep the medals in an event at World Indoors (usually countries are limited to two entries per event, but the U.S. gets an extra entry since Manning won the World Indoor Tour). It's definitely possible since the U.S. did the same thing at the Olympics two years ago in the 100 hurdles. And to show you how dominant the U.S. is in the high hurdles, they did it with an entirely different squad (Brianna Rollins, Nia Ali, Kristi Castlin).
Another storyline in this event is whether Harrison can overcome her championship demons and win a global title. Over the past two years, Harrison has lost just two 100m hurdle finals — the 2016 Olympic Trials (when she failed to make the team despite setting the world record two weeks later) and the 2017 World Championship final. She hasn't been as dominant in the 60 hurdles, but if she can win in Birmingham — or even come away with a medal — that could quiet her critics.
3) Greatness in the field events
Russia's Maria Lasitskene (high jump), Greece's Katerina Stefanidi (pole vault), Qatar's Mutaz Essa Barshim (high jump), the U.S.'s Sam Kendricks (pole vault), and South Africa's Luvo Manyonga (long jump) all went undefeated last year outdoors in their specialty events and all will be at World Indoors. Ranking them from least to most likely to be beaten in Birmingham:
5. Maria Lasitskene
Lasitskene has cleared 2.00 meters at six different meets this year, with a season's best of 2.04. No one else has cleared 2.00 even once. She's not losing.
4. Luvo Manyonga
Manyonga was jumping some insane distances last year, at one point jumping 8.60 meters (28-2.5) or further in four straight meets. This year, he's set indoor national records in both of his competitions, going 8.32 in Paris and 8.40 in Metz. World Championship silver medalist Jarrion Lawson is his greatest challenger as he leaped 8.38m in Albuquerque to win USAs.
3. Mutaz Essa Barshim
No one has cleared a higher height than Barshim since 2016, but he was beaten earlier this season in Slovakia when China's Wang Yu also cleared 2.31m.
2. Katerina Stefanidi
Stefanidi may be the reigning world and Olympic champion, but her PR is "only" 4.91 meters. That's a great mark, but Americans Katie Nageotte and Sandi Morris have also shown that they can clear that height. Nageotte did it two weeks ago to win USAs in a huge upset (one of three PRs in her series) while Morris cleared 4.90 at the Pole Vault Summit in January and has a PR of 5.00 meters outdoors. First-attempt clearances will be key in what figures to be a close competition.
1. Sam Kendricks
Kendricks went from winning every meet in 2017 to going winless through his first four meets of 2018, including USAs, where he lost to unheralded Scott Houston. Kendricks looks to be coming around at the perfect time, however. He earned his first win in Athlone last week, and on Sunday he won one of the deepest competitions ever in Clermont-Ferrand, clearing a world-leading 5.93 meters, an indoor PR. But with such a deep field at Worlds (seven men cleared 5.88 in Clermont-Ferrand, and six of them will be in Birmingham), it's hard to call him an ovewhelming favorite.
4) A thrilling opening night
Two years ago in Portland, World Indoors opened with a special pole vault-only session on Thursday night. Though it dragged a little at the end, overall it was fun and gave us at LetsRun.com a chance to really dial in on an event that we sometimes overlook — when you're running back and forth between the mixed zone to film interviews and the track to watch races, it can be hard to keep track of the field events as well. But on Thursday, the high jumpers will have the spotlight (mostly) to themselves as the men's and women's high jump competitions will kick off World Indoors at 6:45 p.m. local time.
The only other event on Thursday is the women's 3000 final, and that should be incredible. The field is loaded with big names, including two-time defending champ Genzebe Dibaba (who hasn't lost indoors in over eight years), Sifan Hassan, Hellen Obiri, Konstanze Klosterhalfen, American Shelby Houlihan and British hope Laura Muir.
The Scene in Birmingham
The first person I met in Birmingham was my Uber driver, Mohammed, who hailed from Kenya. Naturally, I asked him if he was a fan of running. I was hoping he'd be able to explain why Kenya, one of the great powers in world athletics, is sending just seven athletes to World Indoors. He said he doesn't follow track, but he is a big soccer fan. In fact, he told me he used to play for the Kenyan U-23 national team and said that one of the players he played with growing up was quite good now. I have only heard of one Kenyan soccer player — Victor Wanyama of the Premier League's Tottenham Hotspur — and sure enough, that was the guy Mohammed knew. He said that when they were growing up, Wanyama was teased for being fat and that Mohammed was never actually teammates with Wanyama because Mohammed was always on the first team while Wanyama was in the second team (reserves). He then told me that the reason why Wanyama was able to make it as a pro is because his family was rich enough to send him to Portugal for professional training and that there are many other athletes in Kenya who could make a similar rise if they had the finances to do so.
I don't know how much (if any) of this is actually true — Wanyama made his Kenyan national team debut at age 15 and there's no record of him playing in Portugal — but nonetheless, it was fun to hear Mohammed's stories en route to my apartment. He was also a big fan of America. He believes it truly is the land of opportunity and spoke very highly of it.
Next, I went to the Arena Birmingham to check out the setup. I'd love to show you some shots of the track, which looked great, but I was told by a volunteer that if I posted any pictures of the track before tomorrow night, my credential could be stripped. While this is clearly a ridiculous policy, I didn't fly 3,000 miles to watch this meet on TV, so you'll just have to wait.
Instead, I took some shots of the exterior. The arena is in a nice spot as it's right next to a canal. My hotel is also in a nice spot as it's right to the canal as well as I'm literally sleeping right across the street from the arena. Even better, there are some neat bridges, one of which connects to a pub that I'm definitely going to check out.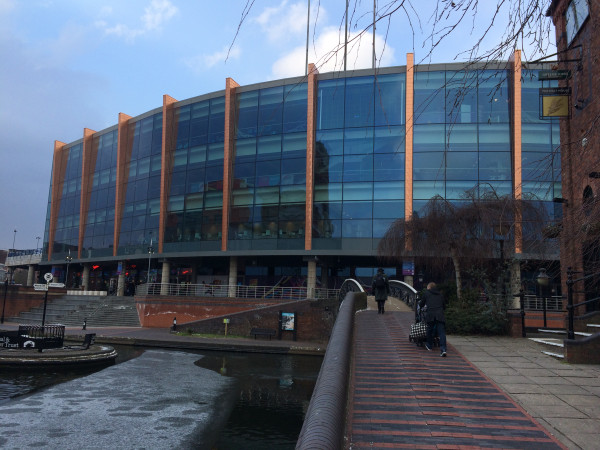 The media center was also quite nice — I noticed a fully-stocked bar at the back of the room. My guess is all of this alcohol isn't for the media…but a guy can dream, right?
The best thing that happened, though, was meeting Ray. I was walking around the arena when someone called out "Go Pats!" motioning toward the woolly Patriots hat I was wearing. The Patriots are one of the NFL's more prominent franchises, so it didn't come as a huge surprise that someone had recognized the logo. But then this bearded guy in his 20s comes up to me and says, "I have that hat. That was from the year they won the Super Bowl, 2014."
I knew that. But I didn't expect anyone in England to know that.
This was Ray, and he has to be one of the biggest NFL fans in this country. He has season tickets to all the NFL games in London, but he's a die-hard Patriots fan. He told me he hasn't missed a game on TV in four years and that he'll watch every game live — even if the Patriots are playing a night game, which means a 1:30 a.m. start time in England. On a weeknight. We had a great conversation talking about the future of the NFL in London. He told me that even if London gets a team, he'll never give up rooting for the Pats. (And please don't think he's a glory hunter — he began rooting for the Pats after they lost Super Bowl XLVI to the Giants in 2012).
Finally, I made a stop at the convenience store for some essentials. When LRC co-founder Weldon Johnson and I were in England for World Outdoors last year, he had never tried crumpets before (think English muffins, but better) and I turned him onto them. I had to get some more for my stay.
---
More: Take 5 minutes and enter our free prediction contest: Running Warehouse $200,018 World Indoor Prediction Contest. Then take one minute and spread the word to your friends as you can play in a group.
Then read our preview: Full 2018 World Indoor Coverage
LRC 2018 World Indoors M 800 Preview: Brazier! Korir! Kszczot! Oh Baby, This Is Going to Be Good We can't wait for the men's 800 as it features two of the sports brightest mid-d talents in Donavan Brazier and Emmanuel Korir.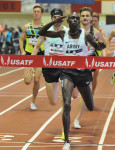 LRC 2018 World Indoors M 3K Preview: Paul Chelimo Goes For His First Global Gold Against A Trio Of Ethiopian Studs Chelimo has he hands full as Ethiopia has three entrants and they are all very good. Could 18-year-old Selemon Barega be the successor to Haile G and Kenenisa B?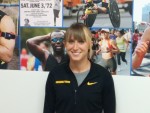 LRC 2018 World Indoors Will Start With An INCREDIBLE Race As The Women's 3,000 Is LOADED Get out of work early or take a late lunch break on Thursday (3:15 pm ET) as the 2018 World Indoors will start with a bang as Genzebe Dibaba will put her 8-year indoor winning streak on the line against a loaded field that includes Brit Laura Muir, American Shelby Houlihan, Kenyan Hellen Obiri and German Konstanze Klosterhalfen.