Danil Lysenko & Maria Lasitskene Claim High Jump Titles on Opening Night at World Indoors
By Jonathan Gault
March 1, 2018
BIRMINGHAM, England — Last year, two of the most dominant athletes in the world were high jumpers. Maria Lasitskene, a Russian competing as an Authorized Neutral Athlete won all 24 of her competitions, including gold at the outdoor World Championships in London, while Qatar's Mutaz Essa Barshim was a perfect 11-for-11, including Worlds, en route to claiming the men's IAAF World Athlete of the Year award.
Article continues below player
Like our coverage from Albuquerque?
But only one of them could add this year's world indoor title to their resume on the opening night of the 2018 IAAF World Indoor Championships. While Lasitskene was her characteristically brilliant self, clinching gold without missing a single attempt, Barshim was upset by 20-year-old 2017 World Outdoor silver medalist Danil Lysenko, like Lasitskene a Russian competing as an Authorized Neutral Athlete. Lasitskene removed all tension by clearing her winning height of 1.96 meters on her first attempt, but Lysenko won in incredibly dramatic fashion. He and Barshim were the only men to clear 2.33 meters, but both missed their first two attempts at 2.36. Lysenko called on the crowd to be quiet, and they responded with absolute silence before attacking the bar. That silence was broken a split-second later as made it over cleanly, eliciting a huge roar from the crowd.
It was the high jump equivalent of a walk-off home run, as Lysenko chose not to make any attempts at the next height. He did jump once more, however, striding to the mat and performing a celebratory backflip after clinching gold. 
American Erik Kynard just missed a medal in the men's competition, as he and bronze medalist Mateusz Przybylko of Germany both cleared 2.29 meters, but Kynard required three attempts to Przybylko's two. In the women's event, American Vashti Cunningham earned a silver to go with the gold she claimed on home soil two years ago. Cunningham, bronze medalist Alessia Trost of Italy, and fourth placer Morgan Lake of Great Britain all made 1.93 on their second attempt, but Cunningham had no misses at prior heights compared to one for Trost.
Lake had a very interesting night. She was almost eliminated at the opening height of 1.84 meters after missing her first two attempts, only to clear it on the third try despite brushing the bar. And though she went on to clear 1.89 and 1.93, those two early misses cost her a medal.
Quick Take: It was cool seeing the high jumpers have the spotlight to themselves, but it would have been nice to have more fans in the house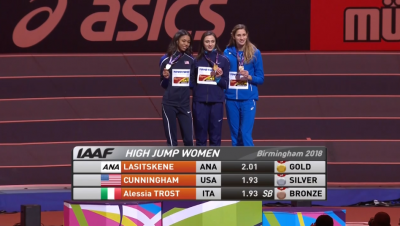 There were only three events tonight — the two high jump finals, which began at 6:45 p.m. local time, and the women's 3000, which followed immediately afterwards. This was something that worked to great effect two years ago in Portland with the pole vault, but it wasn't quite the same tonight as there were a significant amount of empty seats — the stands were probably a quarter or a third full.
There are several factors that likely contributed. There were only three events, it was a weeknight, and the snow outside meant that travel was going to be very difficult for a lot of folks, especially those coming from a great distance. The UK did a great job supporting the World Championships in London last year, so I'd expect bigger crowds for the remaining sessions as long as the weather improves.
Men's results
POS
BIB
ATHLETE
COUNTRY
MARK
DETAIL
2.20
2.25
2.29
2.33
2.36
2.38
1
102
Danil 

LYSENKO

ANA

2.36

O
O
O
O
XXO
2
355
Mutaz Essa 

BARSHIM

QAT

2.33

O
O
O
O
XXX
3
252
Mateusz 

PRZYBYLKO

GER

2.29

XO
XXO
XO
XXX
4
423
Erik 

KYNARD

USA

2.29

O
O
XXO
XXX
5
335
Sylwester 

BEDNAREK

POL

2.25

XO
O
XXX
6
129
Maksim 

NEDASEKAU

BLR

2.20

O
XXX
6
115
Donald 

THOMAS

BAH

2.20

O
XXX
6
155
Yu 

WANG

CHN

2.20

O
XXX
9
227
Robbie 

GRABARZ

GBR

2.20

XXO
XXX
9
141
Tihomir 

IVANOV

BUL

2.20

XXO
XXX
9
116
Jamal 

WILSON

BAH

2.20

XXO
XXX
Women's results
POS
BIB
ATHLETE
COUNTRY
MARK
DETAIL
1.84
1.89
1.93
1.96
2.01
2.07
1
602
Mariya 

LASITSKENE

ANA

2.01

O
O
O
O
XO
XXX
2
865
Vashti 

CUNNINGHAM

USA

1.93

O
O
XO
XXX
3
742
Alessia 

TROST

ITA

1.93

SB

XO
O
XO
XXX
4
694
Morgan 

LAKE

GBR

1.93

SB

XXO
O
XO
XXX
5
851
Yuliya 

LEVCHENKO

UKR

1.89

O
XO
XXX
6
626
Mirela 

DEMIREVA

BUL

1.89

O
XXO
XXX
7
850
Iryna 

GERASHCHENKO

UKR

1.84

O
XXX
7
839
Erika 

KINSEY

SWE

1.84

O
XXX
7
875
Inika 

MCPHERSON

USA

1.84

O
XXX
10
662
Michaela 

HRUBÁ

CZE

1.84

XO
XXX
10
843
Sofie 

SKOOG

SWE

1.84

XO
XXX
10
771
Levern 

SPENCER

LCA

1.84

XO
XXX
13
654
Yorgelis 

RODRÍGUEZ

CUB

1.84

XXO
XXX
Interview with silver medalist Vashti Cunningham
Interview with silver medalist Mutaz Essa Barshim of Qatar