Share With A Less Informed Friend Who Didn't Watch Live: Watch Zurich Races Without Knowing the Results


LRC W 5k: Defar Outkicks Dibaba For $50,000; Simpson PRs Meseret Defar threw down a 58-second last lap to outkick Tirunesh Dibaba and take home $50,000 in 14:32. The side race between Molly Huddle and Jenny Simpson was a bit of a let-down, although Simpson walked away with a PR as both Americans went sub-15:00. Chelsea Reilly also came away with a PR and Jordan Hasay struggled and got lapped. *Video Highlights
MB: DEFAR last lap 58 sec --> 14'06" potential !!!
MB: Zurich women's 5000m thread: Jenny, Huddle, Hasay on now
MB: Why the heck is Jordan Hasay still racing?
MB: Jenny MF Simpson 14:56


LRC M 1,500: Silas Kiplagat Reminds Us He's Very Good As Kiprop, Centrowitz, Manzano Struggle When races are rabbitted on the circuit, normally Asbel Kiprop or Silas Kiplagat get the win and that certainly was the case tonight, which wasn't a good one for Leo, Centro or World Champ Asbel Kiprop. *Race Video
MB: Centro- Did he follow Kip @ Zurich, to better learn his Gold rival?
MB: Ingebrigtsen the Great Nordic Hope
MB: Centro- Did he follow Kip @ Zurich, to better learn his Gold rival?
MB: Centro? Legend in his own mind?

2013 Weltklasse Live Discussion On The Boards:
MB: Official 2013 Weltklasse Zürich Discussion Thread
MB: Zurich 5,000m - Defar or Dibaba, who wins?
MB: Universal Sports is now LIVE on TWC (HD)!

Valerie Adams' World-Leading Indoor PR (20.98) Wins 2013 DL Title For Her The shot put was held a day early in the train station.
*Adams' Victory Was Her 41st Straight Win
*Shot Put Results

Running Science
Pre-Zurich:

LRC Jenny Simpson's Coach Mark Wetmore: "It's not a record attempt by any means. Just get in the race and respond to what's presented to her." LRC talked to coach Wetmore about the Zürich 5,000m, the Brussels 1,500m, 2014, Jenny's future in the steeplechase and whether Wetmore is actually surprised Simpson is a 1,500m runner.
Depressing (Mostly Doping) News
2013 Worlds Special Section


Marathon / Road News: US 20k Champs Are Monday
US News
Random, But Potentially Interesting
Do As I Say, Not As I Do: Ben Johnson Starts Anti-Doping Campaign
Random But Cool: LRC Video Of Olympic Champ Felix Sanchez Racing A Bike In The 400 Hurdles At Monday's Gugl Games

MB: Awesome video: Félix Sánchez races 400 hurdles against a guy hurdling on his bike - how come now DQ?
Kenyan News
LRC Jenny's Medal Shines The Brightest, Ajee Surprises, Dejen And Genzebe Flop, The US Is Better Than Ever - 15 Thoughts Looking Back At The 2013 IAAF World Champs Now that we've had some time to recover and think about it, we take a look at the back and hand out awards for the 14th World Championships in Athletics. Read to find out who is our Best US Performer, our Biggest Flop (male and female), Biggest Surprise (US and international), our Comeback Athlete, Classiest Post-Race Interview, Biggest Bonehead, and a whole lot more. Along the way, we wonder why Ezekiel Kemboi wasn't disciplined, praise the US for its best performance ever and even praise Molly Huddle and Shannon Rowbury for allegedly packing it in early in the 5,000.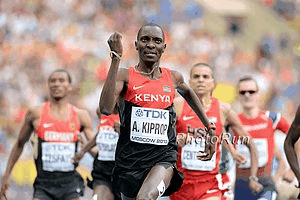 Assorted International News