The Week In Review May 10 - 16, 2011: Dorian Ulrey And The Demise Of Millrose
To read last week's LRC Week That Was, click Here.
To read any 2010 LRC Week That Was, click Here.
By LetsRun.com
May 19, 2011
Sammy Wanjiru's death pushed back our weekly recap this week but we've got some high praise for Dorian Ulrey and some thoughts on Millrose from Eamonn Coghlan below.
****
7 Quotes Of The Week That Weren't Quote Of The Day
#1 On Daniel Komen Not Loving Running
"Moses Kiptanui really loved to run, loved to compete. He wanted to be a great athlete. And he had a long career because of that. But I don't know if Daniel (Komen) ever had that. He enjoyed winning, he enjoyed the fame, and he enjoyed the financial success, but he didn't love what he was doing."
- Agent Tom Ratcliffe talking about 3,000-meter world record holder Daniel Komen in a fantastic piece by Matt Fitzgerald entitled, What Ever Happened To Daniel Komen? The piece really is a must read and includes about 10 quotes that could be highlighted.
****
#2 Tyson Gay Talking About His Biggest Rival
"I am my own biggest rival. Deep down, do I feel if I'm 100% I can beat Usain Bolt? Yeah, I do. But I haven't ever been fully fit yet [since Bolt's first world record in 2008]. Not since 2006 I haven't had one year when I've been totally fit."
-Tyson Gay talking in a Guardian article on him before he started his 2011 season in fine form by going through 100m in 9.91 en route to a 14.51 150-meter dash in Manchester. More impressive is the fact that he supposedly covered his last 100 meters in 8.88 seconds.
More: Tyson Gay Wins 150, Allyson Felix Cruises In 200 On Streets Of Manchester *MB Thread
****
#3 Teddy Tamgho Talks About Putting On A Show On The Runway
The Frenchman's bold proclamations ahead of competitions and his high-energy style of jumping - complete with grandiose gesticulations, almost incessant chatter and near perpetual motion in between jumps - had all lead me to expect a larger than life character in the flesh.
However, he explained that all of those antics are the preserve of Teddy Tamgho the performer. Teddy Tamgho the man is a different proposition altogether.
"I like to put on a show," he explained earnestly (in perfect English, incidentally, although he at times slipped into fluent Spanish when searching for a word, rather than his native French).
"It gives me the power to jump. When I talk, it creates pressure and I like the pressure.
"Without the pressure, I can't jump. Off the track, I am more tranquil, more quiet."
- Excerpt from a nice BBC piece by Ronald McIntosh on France's triple jump phenom Teddy Tamgho, who apparently puts on an act on the runway.
****
#4 Ricky Simms Explaining Why Usain Bolt & Tyson Gay Almost Never Race Each Other
"You don't want Federer-Nadal the week before Wimbledon. You don't really want to play Manchester United-Barcelona this week if they also play the Champions League final."
- Usain Bolt's agent Ricky Simms explaining to the AP why it's unlikely that Bolt and Tyson Gay will meet before the World Championships. We agree with the sentiment that buildup for events is one of the best things about track and field, but one early season head-to-head performance certainly wouldn't kill the drama for the World Championships.
****
#5 Molly Huddle Talking About What The American 5,000-Meter Record Means To Her
"That .04 changed my life. It basically changed how I'll think about 2011, how I think about myself. Granted if it had been .04 over it still would have been a great time, but to be able to say you're the American record-holder, even if it only lasts for a few months, is still a great achievement."
- American Molly Huddle talking in a Running Times piece about the .04 that gave her the American record in the 5,000 over Shalane Flanagan in 2010.
****
#6 A Lawyer Trying To Justify Some Of The Most Disgraceful Acts In Track & Field's History
"It is simply unbelievable to refuse any mitigating circumstances to Olympic champions. That is granted to drug dealers and felons. And now we have this decision for two athletes as if they had not offered anything to the country. It is disgraceful and I am ashamed for my country."
- Michalis Dimitrakopoulos, Olympic champion Kostas Kenteris's lawyer, speaking after Kenteris and Katerina Thanou were found guilty of perjury for lying about a motorcycle accident so they could avoid a drug test at the 2004 Olympic games (Independent article is here). We don't know why Dimitrakopoulos thinks the pair did anything for Greece except disgrace it, as the missed test in question was "the 3rd drug test the pair had missed in 17 days" and "on the day they left hospital police raided the premises of their coach and discovered 30 boxes of anabolic steroids and 1,400 boxes of supplements containing the banned stimulant ephedrine." Moreover, their coach had already been banned for two years and Kenteris came out of nowhere to win Olympic gold in 2000. More: *Greek Sprint Pair Found Guilty Of Perjury As Judge Says, "The crash never happened." *Simon Turnbull: At Last, Justice Catches Up With Greek Sprint Cheats *Reuters: Sprinters' verdicts offer Greece a chance to move on *AP Recap Of Greek Trial *Reuters Recap *Archive: Earlier In Trial, Drug Cheats Defied Court Order And Didn't Show Up At Court
****
#7 LRC Visitor Talking About Sammy Wanjiru
"In light of recent events I certainly hope we have not seen the last of Sammy Wanjiru."
- LetsRun.com vistior Mark Ince writing on his "Midpack slacker" blog back in February about Olympic champion Sammy Wanjiru after he was arrested following a domestic dispute with his wife. At the time, Ince was afraid Wanjiru would disappear into running oblivion, not pass away, but his quote now in hindsight seems eerily prescient. Ince's post, The Day The Marathon Changed, is a great tribute to Wanjiru's Olympic gold medal run.
Wanjiru's shocking death was the dominant story of last week and deserves its own extensive analysis, which we won't cram into our weekly recap. To read about the latest developments on Wanjiru's death, click here and you'll go to Thursday's web page, which had a ton of articles on it.
****
Healthy Kidney 10k - Leonard Patrick Komon Destroys The Field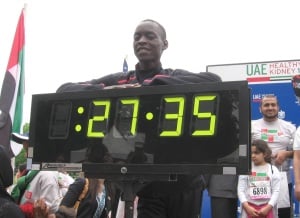 Leonard Patrick Komon broke the course record and picked up $45,000 by running 27:35 to win the Healthy Kidney 10k in Central Park last weekend. After looking at the results,we were simply in awe by his dominance.
Consider this:
American Bobby Curtis has run 27:24.67 for 10,000 this year and he was beaten by 94 seconds.
Australian Ben St. Lawrence, who has beaten Chris Solinsky once and Matt Tegenkamp twice this year in running 13:10.08 and 27:24.95, was beaten by 101 seconds.
When people sees those stats, they probably think, "How is that possible?"
The answer is simple. Komon is simply that good.
Let's imagine that St. Lawrence and Curtis were a little bit tired from running the 10,000 at Stanford and got a little discouraged after getting dropped early and didn't go all out at the end and backed off and ran the equivalent of say even 28:00. Could Komon possibly beat them by 90 seconds? Yes. He's run 26:44 on the road, so we certainly think he's capable of running in the 26:30s on the track.
That's not to say his 27:35 is equivalent to 26:30-something, but the hilly (and concrete) nature of the course in Central Park certainly makes it substantially slower than a track 10k. Komon took advantage of the hills and went out hard, burying the rest of the contenders.
Also it was nice to see Komon to pick up some significant cash for his efforts.
More: *Healthy Kidney Photos *World Record Holder Leonard Komon Trounces Field To Pick Up $45,000 At Healthy Kidney 10k In Central Park *Results
****
Three Thoughts On The End Of The Millrose Games
Last week, shocking news came out of New York as the Armory Foundation announced that they owned the Millrose Games and they would be moving the event to ... surprise, surprise - the Armory.
This, like Wanjiru's passing, probably deserves it's own article, but we'll try to quickly make a few points.
1) Holding the Millrose Games anywhere but Madison Square Garden is a ridiculous idea and is something that simply can't happen. Let someone else have the name.
To think that one can have the Millrose Games at the Armory is akin to one thinking they could hold a golf tournament at a random club in Georgia not named Augusta National and call the tournament The Masters. The venue, MSG, and the event, the Millrose Games, are one in the same. (Note of interest: The Wanamaker Wikipedia entry says as of 5/20 "The Wanamaker Mile is an event held annually at the Millrose Games in New York City's Madison Square Garden.")
If the economics of Millrose no longer make sense, then simply announce, "We've decided to fold the Millrose Games and are going to hold another track meet that weekend at the Armory to make up for it."
But in our book, if the Armory no longer wants to financially try to put on a track meet at the Garden, then they need to let someone who wants to try to keep the event at the Garden - like USATF - have the name. If the Armory Foundation wants to have its own track meet at the Armory, then go ahead and have it, but don't call it the Millrose Games.
If the Millrose Games does take place at the Armory in 2012, we will refuse to refer to it by that name. Maybe we'll make up a new name or maybe we'll refer to it as "The track meet formerly known as the Millrose Games."
2) The Armory Foundation has done wonderful things for the sport of track and field, but it's not an organization that really cares about professional track and field.
The Armory Foundation is primarily interested in serving youth and promoting a love of sport. The professional side of the sport is not something in its mission statement:
(The Armory Foundation) is committed to serving youth by promoting fitness, a love of sport and the pursuit of individual excellence by hosting over 100 track meets each year, maintaining the US National Track and Field Hall of Fame, operating the largest after school activities center in New York, providing college prep and academic counseling services to hundreds of underserved, New York City public high school students, and offering a variety of community support programs, all in its world class facility.
3) We're a bit shocked this announcement isn't generating more of an outcry.
Yes, we know in the age of youtube and twitter, professional track and field isn't as mainstream as it once was, but that doesn't mean it shouldn't at least try to be something more than a niche sport. Yes, we know Millrose isn't what it once was and we even agree with letsrun.com message board poster "hanssen" when he wrote that as a fan at Millrose, "you sort of feel like you're forcing yourself to be excited about the races just because its Millrose and you're supposed to be rather than because they're exciting." It's worth noting that LetsRun.com co-founder Robert Johnson and Running With The Buffaloes author Chris Lear complained about Millrose's presentation back in the basically pre-Internet era on the old track and field email list-serv back in 1996 and were ripped by Track & Field News editor Garry Hill for not having the attention span to appreciate the sport.
But that doesn't mean that Millrose should be allowed to die without a fight. If track and field can't pack the house once a year in the city that never sleeps, then we might as well fold up the whole sport.
When we heard the news of Millrose's demise we contacted the "Chairman of the Boards", seven time Wanamaker mile champion and World 5000m champion, Eamonn Coghlan who by chance was in New York for some charity work he does for The Children's Medical and Research Foundation. His main response was one of sadness. He said, "It's a very sad day when the curtain came down on Broadway." Eamonn felt the move of Millrose is "a reflection on how track and field has evolved.".Eamonn talked about how the influence of agents and the commercial side of the sport had changed things, but not for the better (We don't want to give the impression that Eamonn in anyway was not for athletes making as much money as possible). When Coghlan was running, meet directors often had a personal relationship with athletes and that helped create an emotional bond between athletes and meets and there was more continuity as athletes tended to go back each year. Now the athlete-meet dynamic has changed as agents are in the middle and the relationship is more impersonal.
Eammon would not criticize Millrose and said of the move, "It's a new generation moving on." The Irishman even gave an American football analogy, "It's like taking the Super Bowl and putting it in division 3. That is what happened today."
The demise of Millrose upsets us at LetsRun.com because of what it says about our sport- it is very minor league and wants to stay that way. When people on TV see a track meet at Madison Square Garden they think "This is important".
Dog shows aren't a huge spectator sport, but they at least have Westminister once year in NYC and are on national tv.
More: It's Official - Millrose Games RIP ... "Millrose" To The Armory Wejo: "The Millrose Games at the Armory is not the Millrose Games. It's like having the New York City Marathon in Long Island or Iowa for that matter." *NY Daily News: Millrose On The Move *AP Article: Millrose Games moving uptown to Armory We disagree. A random track meet will take place at the Armory. *Millrose Games Likely To Move To The Armory & USATF Will Stop Supporting It To Tune Of $1 Million *MB: Famed Millrose Games May Leave MSG *Millrose Games Likely To Move To The Armory & USATF Will Stop Supporting It To Tune Of $1 Million *MB: Famed Millrose Games May Leave MSG
****
Dorian Ulrey & Arkansas Men Impress At SEC
One thing that is enjoyable about Millrose is that the meet is all about competition, not times. We will repeat it a thousand times, but the focus on times by people involved in the sport is one reason why track and field doesn't have the mainstream popularity it once had.
In terms of pure competition, little is better than the NCAA D1 conference meets, which for most athletes are the biggest meets of their season. Last week, the power conferences had their meets and there were a ton of great performances. The SEC is arguably the #1 conference in the land, and that conference meet brings us to the week's Best And Worst Insights By LRC Visitors.
The Best Insight comes from US military member Russ Stewart, who emailed us the following:
Anyway wanted to share that I went to the SEC meet today at UGA and even had to wait in line to get in; then had to hunt for a seat - great atmosphere. Then happened to run into Dorian Ulray (sic) at the port'o'john; great guy and he ran awesome ... won the 800 and 1,500 one hour apart and then placed 4th in the 5,000.
Russ, a guy with no natural allegiance to the SEC, understands that the conference meets are always great to watch, as the competition and not the times are on display. He also understands the SEC meet is worth checking out.
Lastly, he also understands how good Dorian Ulrey was on the weekend. Ulrey, a 2009 World Championships member for the US at 1,500, was spectacular, as the Hogs upset #1 Florida and got the win. Arkansas, which basically embarrassed themselves last spring when they finished 7th while redshirting Ulrey to gear up for this year, looked like the Arkansas of the John McDonnell era thanks in large part to Ulrey, who was TRULY sensational.
First, Ulrey won the 1,500 in unbelievably impressive fashion.
He embarrassed a number of very good guys in the 1,500, winning by 2.3 seconds. Yes, 2.3 seconds over a field that included guys who have run 3:39 and 3:43 this year. That's an impressive slaughter.
Then he came back and won the 800, defeating two of the top 7 guys in the country including 2011 NCAA indoor champ 800 meter champ Fred Samoei, who has run 1:45.52 this year, and Sharif Webb, who has run 1:47.19.
If that wasn't ridiculous enough, he came back and then got 4th in the 5,000 to ice the Arkansas victory.
A truly incredible weekend for Ulrey, which brings us to the Worst Insight By A LetsRun.com Visitor.
After message board poster "reg" did write that Ulrey "did perform quite well today," he then seemingly took a swipe at Ulrey by adding:
The races were slow, tactical affairs and Ulrey's times were 3:46.7, 1:50.13 and 14:18.88. So about what he ran in high school.
Two responses:
1) We don't care what the times were. To embarrass everyone in the 1,500 and then defeat two of the nation's best 800 runners is simply a special accomplishment even if the time in the 1,500 had been over 6 minutes and the time in the 800 over 2 minutes.
2) Ulrey didn't run 1:50 and 3:46 in HS. He ran 1:52 for 800 and 4:09 for 1,600 from what we can tell. 3:46 is like 4:04 for the full mile.
More conference action below:
SEC Champs: *Championship Central *Final Results
*Dorian Ulrey's 800/1500 Double (And 4th In 5,000m) Helps Arkansas Upset Florida Sounds like the Razorbacks we all remember.
*LSU Women, Arkansas Men Win SEC Titles Dorian Ulrey, who redshirted last year, pulled off the 800/1,500 double as Arkansas upset indoor champs Florida to win the title.
*University Of Arkansas's Slovenian Pole Vaulter Tina Sutej Sets World Lead, NCAA Record, And NR At 4.61 (15' 1.5")
*Arkansas Men Remember Last Year's Embarrassing 7th-Place Finish Their star Ulrey was redshirted so they could be a force this year. D-day arrived and the Hogs came through big time.

PAC-10 Champs: *Championship Central/Live Results
*Oregon Sweeps PAC-10 The men won comfortably despite an off meet by AJ Acosta. The women, despite a dropped baton in the 4 x 100, won narrowly thanks to Jordan Hasay's 1,500m-5,000m double. And guess what? Oregon's sprinters turned heads. English Gardner ran a US junior record 11.03 100m, and Michael Berry ran 44.91 to break a 50-yeat-old school record. The other big conference meets finish Sunday (see more in the right hand column).On The Boards: Ducks SWEEP Pac Tens in 'Zona
*WSU's Jeshua Anderson Is A Four-Time PAC-10 Champ In The 400m Hurdles Matt Centrowitz got his third straight 1,500m title
*Oregon State Scores First Points At The PAC-10 Championships Since 2006
*Oregon Stepped Up To Win PAC-10 Titles And Now Look Ahead To Regionals And Nationals "We've tried to create an atmosphere, a culture of winning," Lananna said. "In that culture, it doesn't matter what the form charts say."

Big 10 Champs: *Championship Central *Final Results
*Iowa Men Edge Minnesota To Win 2011 Big 10 Title Host Iowa - who was a big underdog - pulled off a shocker and won.
*Ohio State Women Win Their First Big 10 Outdoor Title
*Iowa Coach Says Big 10 Win Was "A Dream Come True" "In my life, this is the crowning glory for me personally," said Larry Wieczorek.

BIG 12 Champs: *Championship Central *Final Results
*Texas A&M Sweeps Big 12 Titles Two-time defending national champs Texas A&M men won their first conference crown since 2001 as two-time defending cross-country champion Oklahoma State was last with 14.5 total points, as German Fernandez was a DNF in the 5k.
More: *Men Final IC4A Results *Women Final ECAC Results *MB 1:45.4-800 good for 2nd in Big West! Ryan Martin and Charles Jock are two you should look out for.
Former NFL Star Willie Gault Impresses At Age 50
Former NFL Star Willie Gault was named USATF's Athlete of the week on May 11th for setting two 50-year-old world records. The guy ran 10.88 for 100 meters and 22.44 for 200 - at age 50. That is ridiculous.
Ivy League coaches take notice and recruit him, as he'd score in your conference meet in the 100 meters.
Kudos to Gault for running so fast, but also kudos to him for the following great quote:
"I cherish what I do. I am very fortunate to be in this sport, and I don't take it for granted. I just love the sport; track and field is the greatest sport in the world."
More: Gault Named Athlete Of The Week
****
Other Happenings Of Note From Last Week
*2010 Hosts, Bydgoszcz, Poland, Will Host World XC Again In 2013
2011 USA Road 1 Mile Champs *Results *Video Race Replays Here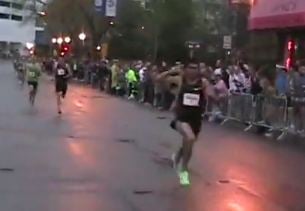 After Ryan Hall Leads Early, David Torrence 3-Peats As Sara Hall Wins Women's Marathoner Ryan Hall went straight to lead for the first 400m but faded to a 4:17 DFL finish as David Torrence put on a show over the final 300 meters and obliterated the field and won handily as he got to enjoy (see the photo on the left) his 3rd straight title. Ryan's wife, Sara Hall, was patient early as Amy Mortimer got a big early lead, and her patience resulted in the women's title and $14,000 thanks to her 4:30.8, as Mortimer faded to 5th over the final few meters. MB: David Torrence Said He "Cemented Himself In History"
World Leaders Set In Men's Steeple, Women's 200 And Men's 110H As Daegu WChampionships Track Gets Test Run The meet had a lot of big names but a new name stole the show, as 19-year-old Hillary Yego won a 3-way sprint for the title, setting a new world leader of 8:12.08 in the steeple, with the top 3 all running 8:12. David Oliver now has won 18 in a row; Walter Dix ran 10.00; Duane Solomon ran 1:46.16; Steve Slattery 8:43; Johnny Dutch beat Angelo Taylor and Bershawn Jackson. *AP Recap Of Daegu Meet
*Kaila McKnight Gets "A" Qualifier With New 4:05.65 PR In Daegu She's now #4 all-time in Australia thanks to her 3-second PR.
US 25k Championships @ Fifth Third River Bank Run: Fernando Cabada, Molly Pritz Get US Titles Cabada got a convincing win over the field, while Brooks-Hansons' Molly Pritz made a mockery of it, winning by 3 minutes to get her first national title. *Results *More Coverage On Meet Website
****
Recommended Reads/Watches
*Whatever Happened To Daniel Komen? Komen had the arguably the greatest 2-year stretch in distance running history and his 7:20 3k record is still untouched. Was it as simple as that he came from the backwoods and made more than he ever imagined?
*3rd-Placer & Former Minnesota Star Gabriele Anderson Coming Back From 2nd Cancer Diagnosis
*Feature On Somali Runners Training Each Day On "Road Of Death" For London 2012 (Video) The video shows how some Somali athletes avoid gunfire each day to realize their dream of competing and winning at the 2012 Games. *LRC MB: Top Video on MSNBC Is Feature on Somali Runners Training Each Day on 'Road of Death' For London 2012
*Oregon's David Klech, Who Was Once Confined To A Wheelchair As A Result Of Guillain-Barre Syndrome, Gets 2nd In 2nd-Ever Decathlon
****
Quotes Of The Day From Last Week
Monday: RIP Sammy Wanjiru - 1986-2011
---
Sunday: "This boy is amazing, amazing, he's really super. In the future he'll be the one. I tested him, I listened to his breathing when he was behind me."
- the great one Haile Gebrselassie talking about .... the UK's Chris Thompson after defeating him at Sunday's BUPA Great Manchester run. Hopefully, the words will inspire Chris to get under 27 minutes for 10,000m. Before the race, Haile G talked about how training used to be easy for him, but is now hard.
---
Saturday: "The Millrose Games at the Armory is not the Millrose Games. It's like having the New York City Marathon in Long Island or Iowa for that matter."
- LetsRun.com co-founder Weldon Johnson writing after the shock news came out that the Armory Foundation owns the Millrose Games and will "move" Millrose to the Armory next year. This would be akin to someone thinking the Masters golf tournament could be held anywhere but Augusta.
---
Friday: "The Millrose Games and Madison Square Garden are inextricably linked. If Millrose goes to the Armory, it will go without USA Track and Field."
- USATF spokeswoman Jill Geer speaking the truth in a New York Times article that states the Armory Foundation is likely to move the Millrose Games to the Armory next year.
---
Thursday: "Of course, we can argue all day long about what does and does not constitute a sport, whether tennis is a sport or a game, whether it's a sport if you can have a pint and a fag while playing it, whether gymnastics is just child abuse with points, and so on. But as far as Olympic sports go, that ship has sailed. The masts of said ship are bedecked in rhythmic gymnastics ribbons, and it is crewed by beach volleyballers and the 1996 French synchronised swimming team, who had planned a routine based on the Final Solution."
- Marina Hyde, writer for The Guardian, talking about pole dancing's recent petition to be included in the Olympics, thereby joining that long list of Olympic sports that aren't really sports.
---
Wednesday: "(The distance fields at the 2011 Pre Classic will be) the best fields ever on American soil, including the Olympic Games. I'll make that bold statement and let anybody dispute it who wants to, but they just can't."
- Pre Classic meet director Tom Jordan talking about the totally stacked women's 5,000, men's 10,000 and men's 25k/30k races that will be given their own night in Eugene this year in an event that will be 100% FREE TO ATTEND!!! The fields are the greatest ever on American soil, as they won't be limited to 3 per country, as Kenya will have 12 in the men's 10k and Ethiopia will have 7 in a race that is scheduled to go out in 13:18. In the 25k, marathoner Asbel Kirui will be going for the world record, and in the 30k, 2:03:06 man Moses Mosop will go for that record, as both races will be run simultaneously. The women's 5k will feature Dibaba, Cheruiyot, Masai and Flanagan. More details on the incredible Distance Night in Eugene here and discussion here.
---
Tuesday: "We we need to bring in some East African horses."
- Message board poster "coach" in a thread discussing "Why Aren't Horses Getting Faster?" The sport of track and field could learn a thing from horse racing because one thing you never see mentioned in a Triple Crown broadcast is the world record for the event. Time is largely irrelevant; competition reigns supreme.
---
Last Week's Homepages
*Mon (May 16) *Sun (May 15) *Sat (May 14) *Fri (May 13) *Thu (May 12) *Wed (May 11) *Tue (May 10)
---
Runner's World &
Running Times



Combined Only $22
a Year
Save $87

---

Running & Track and Field Posters
---

Great Offer: Nike Lunar Glide Sale Multiple colors of this shoe available.

*Nike Air Max Moto 7 Get 2 Pairs for a Crazy $112
---