Vin Lananna On Oregon AD Position Lananna says he hasn't talked to anyone about it. Lananna's quote: "... I think the athletic department is a wonderful and special place. We'll see how it plays out."
Recommended Read: Irish Times Article On Colm O'Connell And Kenyan Success It's simply amazing to read about what Irish-born Brother Colm O'Connell has done with Kenyan runners.
Marathon Winner Disqualified Over Technicality - What Do You Think? He signed up for the half marathon but made a wrong turn and ended up on the marathon course.
Dibaba To Run In Poland
Kenyan Women Head To Poland Knowing Tirunesh Dibaba Is Waiting With Kenenisa Bekele and Zersenay Tadese sitting out the event, the Kenyan men will have a good shot to win in Poland. The Kenyan women and Linet Masai will have to contend with Tirunesh Dibaba.
*Polish National Women Take Nearly Half An Hour To Run Muddy, Snowy 8km World XC Course The best women's XC runners in Poland could barely cover the course that will be used for Worlds in under 6:00/mile.
New Road World Record (Actually, 2!)
Zersenay Tadese 58:23 WR

Eritrean Zersenay Tadese followed through with his promise to chase Sammy Wanjiru's world half marathon record, shaving 10 seconds off the Kenyan's time on the record-legal course in Lisbon - winning by almost 2 minutes.

*Zersenay Tadese Nabs 2 World Records From Wanjiru And Gebrselassie Not only did Gebrselassie have a bad day in New York, he also lost his world 20km road record by almost 30 seconds to Eritrea's Tadese, who covered 20km in 55:21.
Sunday Road Results
2005 World 10,000m Medalist Moses Mosop Debuts At 59:20 For Half Marathon That's quite the debut time. Article in Italian.

Seoul Marathon: Sylvester Teimet Wins In Close 2:06 Battle Sylvester Teimet won in 2:06:49 as Gilbert Kipruto Kirwa was 10 seconds back. Amane Gobena won in 2:24:13 on the women's side.

Wesley Korir Repeats In L.A. But Edna Kiplagat Steals $100,000 Gender Battle Prize Kiplagat, 30, is a very talented runner, but her marathon PB was only 2:50 coming into this race. Her win in this non-drug-tested race ends an 11-year streak by Russian women. Korir's run was again inspiring as he overcame an East-African pack to remain the King of L.A. while on his honeymoon, no less.

John Kemboi And Tera Moody Win BoA Shamrock Shuffle 8k In Chicago
Collegiate Meet Highlights - Oregon Preview And USF Bulls Invite
Oregon Preview Quotes From Ducks We're wondering if Oregon would have won indoors with Matt Centrowitz, Jr.?

*Oregon Preview Results The outdoor season is here.
*Boards: Mathew Centrowitz Victorious in outdoor return @ Oregon Preview 3:48 win for Centro, Jr.

Oregon's Zoe Buckman 4:12 OTC's Sally Kipyego opened in 4:10 for 1,500.

McNamara 7:53.63 Jordan McNamara keeps getting better.

*Results: Walter Dix Runs Open 400 In 46.88 To Win By 1 Second In Florida
LRC Can't Miss: Training Talk #6 With Craig Virgin Two-time World Cross-Country champion and two-time American record holder Craig Virgin joined us for Training Talk #6 and talked about a wide range of subjects, including his high school and college training, his time with Nike and Athletics West, racing 3 times in 4 days during a "front-loaded" career, and Jimmy Carter and the 1980 US Olympic Boycott that cost Virgin his best shot at an Olympic medal. Virgin is a true ambassador of US distance running and one of the greatest-ever US distance runners - whether you're looking for training advice, inspiration or entertainment, his stories and opinions are a must-hear.
A Brief Chat With Mo Trafeh - The American Runner Everyone Is Wondering About Trafeh, the US's newest sub-61 minute half marathoner, talks about turning down coaching from Hicham El Guerrouj's coach, why he trains alone, and what he plans to do after his recent road breakthroughs.
Bitter Welsh Marathoning Prospect Quits The Sport Teenager cites criticism of his 180 mile/week training as a reason he is switching to soccer.
British Bosses - A Funny Bunch
Caster Semenya - Her Future Still Undecided Interesting quote from her father.
Nigerian-Born Portuguese Francis Obikwelu Returning To Sport
Noteworthy Weekend Performances
NYC Half Marathon - Haile STOPS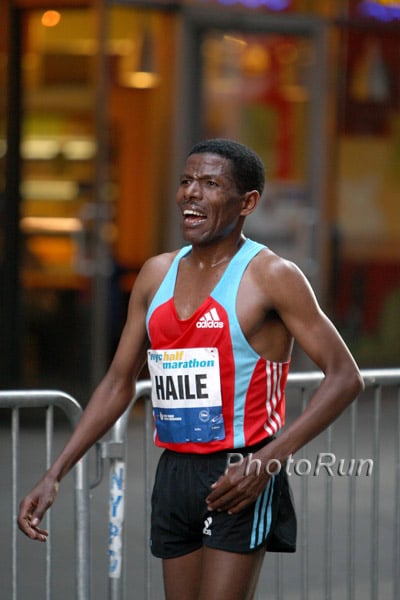 Haile Gebrselassie Says Asthma Ended His Day Early He slept wrong in Dubai. The air was bad in New York. Can Geb still run with the best in the sport?
*LRC Photos See Gebrselassie on the side of the road - plus shots of all the action in the race full of interesting characters.

*Deena Kastor Says She's Happy With Her Effort ... Despite getting passed at the end. She flew through 10km in 32:30 and will face Mara Yamauchi again at Virgin London.

LRC Favorites Fall In Dramatic Fashion In New York The Haile Gebrselassie coronation did not go as planned, as he inexplicably pulled off the course while running with eventual race winner Peter Kamais in mile 8. Deena Kastor built a huge lead in the women's race, running on course record pace, before being reeled in by a determined Mara Yamauchi.
The Rage - Barefoot Running Discussion
The Science Of Sport - Q&A On Barefoot Running Part 1 *Part 2 *Part 3 *Part 4 Almost every day, we answer questions from friends and acquaintances about the barefoot running push. Our friends at Science of Sport are hosting a lengthy discussion of the topic.
UNREAL TRIBUTE IN ROME!! (Well ... Maybe Not)
Runner Takes Off His Shoes, Sprints Across Rome Marathon Finish Line In Tribute 50 years after pioneering Ethiopian Abebe Bikila won the 1960 Olympic Marathon in Rome, Ethiopian Siraj Gena removed his shoes 500m from the line and sprinted across in 1st place barefoot in 2:08:39. According to the AP article, Gena outsprinted 2 Kenyans to the line.
*Boards: Rome offers 5000 euro bonus for barefoot finish We were much more excited about the tribute before we saw this.
*Photo Of Siraj Gena Barefoot
*More Photos
Weekend Track And Field Wire
Athletics Kenya Track Meet Can't Host Steeple, Pole Vault, Hammer And Other Events Because Of Vandalism And Lack Of Water We complain about a lack of money in the sport, but look what Kenyan runners do without having the funds to host a track meet on a decent track. Londoners are fighting over the Olympic track stadium, which apparently costs about $750,000,000 (see below).


Recommended Read: Interview With Triple Jump World Champ And World Record Holder Teddy Tamgho We like 20-year-old Tamgho.

Seb Coe Stands Up To Soccer Manager And Says Olympic Track Stadium Will Retain The Track Post-Games We're wondering how and why the stadium, which will be used basically for one event and then they'll tear about 60,000 seats out of it, cost $750,000,000. The money involved in the Olympics is outrageous.

For Now Usain Bolt Has No Plans For 400m Racing Until After London 2012
Boston Marathon Chatter
Brief Chat With Jason Lehmkuhle Team USA Minnesotan Jason Lehmkuhle says he can run 2:11 in Boston. Headlining American entrants Ryan Hall and Meb Keflezighi are really flying under the radar as Boston is now 1 month away.