The Week That Was July 20 - July 26, 2009
July 27, 2009

By LetsRun.com
To read last week's LRC Week That Was, click Here.
To read any 2009 LRC Week That Was, click Here.
This week we have a lot to cover. We start with the Kenyan Trials and try to figure out what it all means and how they might impact Galen Rupp's and Matt Tegenkamp's medal chances, then we get sentimental and celebrate anniversaries for Alan Webb and Usain Bolt before telling Carey Pinkowski and Mary Wittenberg how to do their jobs. Along the way, we belatedly give props to Erin Donohue and Sarah Bowman before declaring that the Kenyans are officially crazy (for thinking they can "easily" beat Bekele).
(Note: In The Week That Was, we try to put the previous week in perspective, not necessarily recap every single thing that happened. To get a full recap of the Kenyan Trials, please click here. To get a full recap of the Aviva London meet, click here for Friday's recap and here for Saturday's recap.)
Thoughts On The Kenyan Trials
Favorites Come Through
The story from the Kenyan Trials is often how a huge upset occurred and how the "best" Kenyan failed to make the team. That doesn't appear to be the case this year at all. For example, look at the men's 1,500. The top 3 in the men's 1,500 on the world list are all Kenyan and all three made the team, as the results went largely according to form. The top 5 Kenyans on the 2009 world list all finished in the top 5 at the Kenyan Trials.
The only place where fans are sort of scratching their heads is in the men's 5k, which was won by largely unknown Vincent Chepkok, who just turned 21 on July 5th. However, if you are going to have an unknown, it's best that he be a young and up-and-comer. The guy was 3rd in Oslo on July 5th in a PR of 13:06.
If you are one of the many hoping that American Matt Tegenkamp, who was 4th at the last World Champs, can somehow sneak a medal (we say sneak as there is no chance he's one of the best 3 in the world at 5k if you had a giant time trial, but he might be at the World Champs) in Berlin, then you might be pleased that Joseph Ebuya made the team as the runner-up. The former world junior medallist didn't prove two years ago that he was good at peaking when it counted most, as he was eliminated in the heats of the 2007 Worlds but then ran 12:51.00 two weeks later. Tegenkamp fans are also probably pretty pleased that Edwin Soi was 4th at the Kenyan Trials and left off the team, as Soi got the Olympic bronze last year and is a great kicker. However, the 3rd member of the Kenyan team is a proven stud. Eliud Kipchoge has medalled in the 5k at four of the last 5 global championships (gold in 2003, bronze in 2004, silver in 2007 and 2008) and is number 4 all-time at 12:46.53. Plus, Kipchoge has already run 12:56 this year.
On the women's side, it was good to see Sylvia Kibet, who was featured on LetsRun.com as "Kenya's Forgotten Lady," make the team. She nearly got the upset win (in the video below)
Pamela Jelimo's Comeback Continues
The resurgent form of Pamela Jelimo at the Trials might have been the story of the day on the women's side (well, her form for about 770m. She made a power move for home only to fade the last 30 meters). Great to see her running pretty well again. Her struggles have made her easier to see the human side of Jelimo this year as her dominance last year was so complete, she seemed to be viewed as a machine by some.
Speaking of Jelimo's human side, our LetsRun.com Recommended #1 Read of the week is The Guardian's Steve Bloomfield's profile of Pamela Jelimo. In the day and age of the Internet, twitter and SMS, some fear that true journalism is going by the wayside. Not totally. Bloomfield traveled to Kenya and went to Jelimo's house to see what her life is like. The piece gives great insight not only into Jelimo but also into Kenya, the nation itself.
Despite winning Olympic Gold and the entire $1 million Golden League jackpot last year, Jelimo still lives in a one-bedroom bungalow. She has no servants and hasn't spent a dollar of the jackpot, which sits in a bank in Monaco. As Jelimo says, "My career comes first. Why do I need to invest? Some people here do not understand. For now, I want to focus on my training and my running, but nothing else at the moment."
Jelimo certainly doesn't come across as an immature 19-year-old. She has decided to spend some of her money now on one thing - "a very nice school that will motivate people." "Investing in education is not expensive."
Unbelievable. Can you imagine a guy going straight from HS to the NBA and then saying he wasn't going to spend any of his money except he was going to build a school? Not a chance. Pamela Jelimo, the LetsRun.com hero of the week.
So take five minutes and read Bloomfield's piece. Our favorite line was the one that follows: "Kenya has produced athletics greats from Kip Keino to Paul Tergat, but few have captured the country's imagination like Jelimo. An Olympic gold in the 800m last year in Beijing brought her fame; a month later she won her fortune."
Men's 10,000 - It's Official; The Top 2 Are Left Off The Team
And after much controversy, the 10,000-meter Kenyan men's team has officially been named. And it's official; the two finishers from the Kenyan Trials were left off. We're sure that some Galen Rupp fans are hoping that Kenya keeping Sammy Kitwara and Gideon Ngatuny off the team would somehow make it possible for Galen Rupp to medal in Berlin. Our response: don't count on it.
The guys that Kenya named to the team, Moses Masai and Micah Kogo, are proven medal condenters. Kenya most likely wanted them on the team as they are likely to be in the hunt for medals, and they tried to come up with an excuse to put them on the squad. Kogo got the Olympic 10k bronze last year, sits at #6 all-time in the 10k at 26:35.63 and has already run 13:02 and 13:01 this year. Masai was 4th in the Olympics last year and has PRs of 12:50 and 26:49. Some will point out that he was only 7th in the Pre Classic 3k. We'd respond by saying that was his first track race of the year and he was a much-improved 4th in the Trials. So he's headed in the right direction. The only way Americans are going to possibly medal at 5k or 10k is if they beat some Kenyans that peaked for the Trials and are dead come World Champs time. Clearly, that's not the case with Masai as might have been the case with Kitwara. If anything, Kenya's decision makes it harder for Rupp to medal in our minds. But it is absolutely ridiculous that Kitwara, undefeated on the roads and track in 2009, with over $100,000 in winnings (and the winner of the Kenyan Trials), isn't on the team. We apologize for jinxing Kitwara from the team.
The guy who earned his way on the team? Bernard Kipyego was 3rd at World Cross in 2007.
Women's 10,000 - Makeup For Momanyi/Update On NCAA Star Sally Kipyego
No one seems to have noticed, except us, that NCAA wonder woman Sally Kipyego was 7th in the 5,000 at the Kenyan Trials after finishing 6th in the 10,000-meter trials a few weeks ago. Speaking of the women's 10,000, 2nd placer Lineth Chepkurui was left off the team as she raced both in Britain (she needed the A standard) and Peachtree after the Trials. Nice to see that one of the people put on the team instead of Chepkurui was Grace Momanyi - the Kenyan flag bearer whom Athletics Kenya screwed over last year by pulling her from the Olympic 10k just days before her race. Momanyi was 4th in the Kenyan 5k Trials. The other 10 runners for Kenya are Florence Kiplagat, who set Kenya's national record of 30:11.53 in June and Kenyan 10k trials champ Linet Masai, the 2009 cross-country silver medallist.
Thoughts From The Aviva Grand Prix
No need to give you an extensive recap of the one big meet of the week - the Aviva London meet as we already covered every event for you, but we will give you a few thoughts.
You can read our Day 1 recap from London here.
You can read our Day 2 recap form London here.
A few thoughts on the meet:
If you are a sentimentalist, pining for the glory days of when Americans used to dominate the world scene, London was a good meet for you.

The Americans went 1-2-3 in the men's mile and 1-2-5 in the women's 1.500.

How is that possible? Easy. Get rid of the African competition. What a big difference it makes to have basically no Kenyans in the meet due to the fact that the Kenyan trials were this weekend.
Double Olympic champ Tirunesh Dibaba seems to be rounding into form at just the right time as her 14:33.65 5k win shows she will be in the hunt in Berlin.
Anna Willard continued to shine as she was the winner in the 1,500 over Shannon Rowbury. At USAs, while Willard did make both the 1,500 and steeple teams, her performances certainly didn't instill confidence that she would be a player at Worlds. But her win in Paris in the 800 and now London in the 1,500 makes us hope she might do some damage.

Her win over Rowbury also gives her a 2-1 edge over Rowbury at 1,500 for the year. At Pre, Willard won by 2+ seconds. At USAs, Rowbury beat a tired Willard by 2+ seconds. And in London, Willard won in a much closer affair, 4:07.95 to 4:08.21.
Interesting to see 2003 world indoor champion David Krummenacker rabbitting both the 800 and mile in London. Because he is a former world champ, we've never openly criticized David, but over the last 2 or so years we've been amazed that somehow this guy continues to get lanes in elite race after elite race, as he hasn't broken 3:40 in 4 years or 1:47.25 1:46.75 in 4 years. We've also been amazed that he's stuck with it, as he's 34 and hasn't run well since 2004.

Krummenacker's career may continue for some time now, though, as he was an EXCELLENT rabbit in both the 800 and 1,500. Good rabbits are hard to come by and he did a superb job of it. In the mile, far too many rabbits run a blistering first lap before a 59+ second lap, which ruins the race. Krummenacker was very even.

Not sure what to make of US champion Nick Symmonds' 3rd place run in the men's 800. He got a bit boxed, as is often the case when you try to come from behind, but his showing was certainly better than when he ran 1:46.60 for 4th in Lucerne. We think at this point, we'll have to agree with message board poster Mrr82, who wrote the following of the race, which was won by Canada's Gary Reed: "Reed is just a better runner than him right now. Losing by .26 to Reed is a good sign for him honestly from what we've seen of Nick so far this year. Not saying Nick couldn't have done better...just saying i think Reed has his number right now no matter what Nick does. (that could obviously change)."
On the boards: What do you think of Symmonds' 3rd?

Everything Mrr82 wrote is correct. Reed is better than Symmonds right now. Losing to Reed by a small margin isn't anything Symmonds should be ashamed of. Reed has run 1:43 each of the last two years and was 4th in the Olympics last year. Symmonds' best is 1:44.10 and he didn't make the Olympic final. When they haved raced each other, Symmonds has never lost to Reed at the Pre Classic but never beat him anywhere else, as Reed is 5-3 lifetime against him.
Tyson Gay Injured Or Not?
Not sure what to make of the Tyson Gay injury situation. One day he after winning the 200 in London in 20.00, the AP quotes him as saying. "I'm just taking it one day at a time, it's just frustrating. Any time a sprinter feels any type of nagging injury pain they get frustrated and the mind has to get strong again. I haven't been training for a couple of weeks."
Two days later, Reuters quotes a totally upbeat Gay saying that he is looking forward to the "most exciting race ever" at Worlds and that he believes he can "shock the world."
In the end, we think the following sentence in the Reuters story is probably closest to the truth: "I do not really think (the injury) will affect my performances. As long I can train before then, I will be fine and I will not be affected at all."
Only one person on the earth has a chance to beat Bolt, and that's Tyson Gay. To be able to do it, he needs to be able to train. The good news is he compares his current situation with his groin to being similar to a knee problem he had prior to the 2007 Worlds.
Correction From Last Week Regarding Athletics Canada
Last week, we gave a big Thumbs Down to Athletics Canada for their bizarre qualifying standards for Worlds and for not allowing mile conversions, which seemingly was going to prevent Nate Brannen from going to Worlds. Well, we have to change course this week and correct our error. A Canadian Olympian wrote to us to inform us that Athletics Canada does indeed take mile conversions, so we'll now
give a small Thumbs Down to Nate Brannen for not knowing how the qualification system works. The following message board thread sums up our thoughts perfectly: How Did Nate Brannen Not Know He Had The Canadian Standard?
The thread is definitely a good read as it leads to a good debate as to what standards are fair for a Worlds team selection. We actually think that for a country like Canada with limited A qualifiers and limited financial resources, it makes some sense to make athletes show some current fitness as Canada does because you wouldn't want someone going to Worlds solely based on a strong performance that was a year old. That being said, we still think the process is a bit too harsh in our minds. Should a guy who runs 27:50 really be kept from going to Worlds just because he's 1 second off?
But to us, this whole episode shows you one reason why track struggles to be a mainstream sport. Due to A and B standards and various differences of miles and 1,500s and various rules for various countries, it's not a surprise to us that the athletes themselves at times don't even know what is going on. And if the athletes don't understand the whole system, then how in god's name can the fans be expected to understand it?
Rupp & Ritz Respect Their Predecessors

Last week, Doug Binder of The Oregonian wrote a nice piece on the Dathan Ritzenhein-Galen Rupp pairing. The article was full of interesting tidbits on the pair as they make the transition from two guys who lived in Eugene together but "barely spoke" to training partners thrilled to be matched up together.
The article is definitely worth reading but we enjoyed both Ritz and Rupp paying homage to those that came before them in terms of American distance running greats. Always good to see the young guys knowing their sport and its history even if it's only recent history.
Quote of The Week #1 - Galen Rupp
Rupp on the guys that laid the groundwork for his success: "(Ritzenhein), Alan Webb and Ryan Hall started the distance revolution in this country. It's always good having guys like that around. He's a guy you can look up to and share the same goals."
Quote of The Week #2 - Dathan Ritzenhein
Ritz on the guys that laid the groundwork for his success: "It's an interesting dynamic. From my point of view, it's only going to be a good outcome. We both have big goals and big dreams. We're two homegrown American kids and that's something different for sure, kind of like Bob Kennedy and Todd Williams (back in the 1990s). Hopefully it sets an example."
Two great quotes. If you are Meb Keflezighi or Abdi Abidrahman, it's a bit hard to read that 2nd quote and avoid feeling someone taking a little dig at you.
It's Official - The Kenyans Are Crazy
Last week (and above), we spent a lot of time trying to figure out the logic behind some of Athletics Kenya's moves in regards to the World Championships. Maybe the answer is that there is no logic. That's certainly seems to be the case based on the following quote from Kenyan coach Julius Kirwa prior to the Kenyan Trials last weekend.
Most ridiculous quote of the week/ Quote of The Week #3 Kenyan Coach Julius Kirwa
Kirwa talking to The Standard: "One of my main targets in Berlin is to get the menís 5,000m and 10,000m gold medals, which I believe we can easily win. Bekele and Ethiopians are tough but we can do it." (bold added by LetsRun.com for emphasis)
Easily win? Is the guy insane? Ignoring the fact that Kenya last week kicked the top finishers from the Trials 10k off the team, beating Bekele is basically almost impossible. And yet he thinks it will be "easy." No way.
Kenenisa Bekele, from what we can tell, is undefeated in competitive 10,000-meter races for his life. The results service http://www.tilastopaja.org has Bekele being a perfect 11 for 11 in 10,000m finals in his career, dating back to his first 10,000 in 2003 in Hengelo, which was a very memorable one indeed. Anyone remember that race? Bekele ran 26:53.70 and conquered the great Haile Gebrselassie, who ran 26:54.58. If you are good enough to beat Geb in your first 10k ever and you've never lost one in the six years since, you certainly aren't going to be easily beaten.
And in the 5k? The guy has won 14 straight finals dating to his loss to Bernard Lagat in London in 2006.
And We Don't Want To Forget: Abubaker Kaki Back In Action - Erin Donohue & Sarah Bowman PRs
Last year, we became huge fans of teen phenoms Abubaker Kaki of Sudan and David Rudisha of Kenya. We fully expect the future of the men's 800 to belong to them (and maybe Asbel Kiprop if he moves down). It certainly didn't happen last year, as Rudisha got injured and missed the Olympics and Kaki inexplicably flamed out in the rain in Beijing.
This year, Kaki had an injury scare but last week he ran and won a low-key 1,000 meter race in 2:20.18. Good to see him back.
Donohue & Bowman PR (And We Notice It A Week Late)

As a fan of the sport, it's hard not to root for Erin Donohue, who was dumped by coach John Cook for not being talented enough to compete for Olympic medals according to Cook. Thus it certainly was good to realize that she PRed the week before last in Athens in 4:05.21.
So Thumbs Up to Erin Donohue. Of course, would probably point out that the reason we didn't realize she PRed until a week later is because she finished 8th in the race. Fair enough.
Finishing 9th was none other than 2009 NCAA indoor mile champ Sarah Bowman, who ran a big PR of 4:05.67. A surprising and huge breakthrough for Bowman, whose outdoor season since Penn had largely been disappointing.
We must admit the reaction to the PRs on the LRC board has been disappointing as well. Hardly any posts. And people wonder why female athletes make way less than men athletes.
Maybe someone should measure the track, as the 3rd, 5th, 6th, 7th, 8th, 9th, and 11th finishers all set personal bests and the 4th and 12th placers set seasonal bests.
On the boards: Sarah Bowman 4:05.67!
Anniversary #1 - 1 Year And Counting Since Usain Bolt Lost A Race
Last week, we had two interesting anniversaries. We had the one year anniversary of Usain Bolt being beaten in a race, as he lost a 100m in Stockholm to Asafa Powell. Kind of hard to believe that the guy was beatable just a year ago. 1 Year Ago Usain Bolt Lost His Last Race (In Stockholm At 100m To Powell).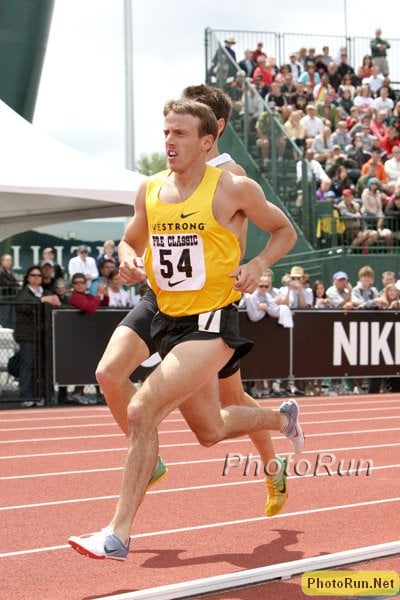 Anniversary #2 - 2 Years And Counting Since Alan Webb's AR
It's probably even harder to believe that just two years ago, Alan Webb was on top of the middle distance world, as on July 21, 2007, he broke Steve Scott's American record in the mile when he ran 3:46.91. Last year, Webb only managed the equivalent of a 3:53.13. This year? Things were even worse, way worse really, although few realized as the spotlight wasn't on Webb like it was in 2008.
Webb's 2009 outdoor campaign consisted of wins at the Kansas and Drake Relays in April in the mile, 3:58.90 and 4:00.61 respectively, a disastrous 3:42.58 10th-place showing at the Reebok Grand Prix, a 3:55.99 mile at Pre and a 3:42.35 showing at USAs.
Last week, we learned that Webb's 2009 campaign is over before it really even began. His agent Ray Flynn told LetsRun.com that Alan Webb likely won't race again this summer. Injuries certainly can make it impossible to compete, but one has to wonder if motivation isn't also a problem as well, as Webb only ran one European race last year and zero this year. If we were running almost 9+ seconds slower than we were two years ago, we'd certainly find it hard to be motivated.
While we will remind you that we officially called Webb's season as being over for all practical purposes way back on June 1st, we admit that Webb's struggles are painful for us to watch. One of our favorite phrases about track and field came to us from Nick Willis, who said, "Talent doesn't go away." That's certainly true, and Webb is still only 26, so there is time for him to re-find the magic.

From December 2008: What do you see for Alan Webb in 2009?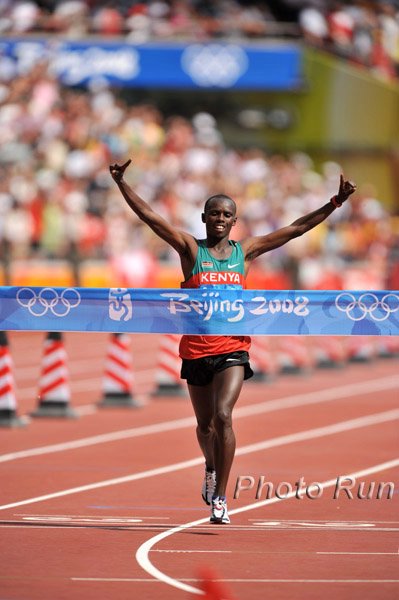 The Fall Marathons Start To Take Shape And They're Going To Be Great
The major marathons in the fall are going to be great as one would expect. The big news last week was that the greatest marathoner on the planet (sorry Haile), Sammy Wanjiru, will be running in the Bank of America Chicago Marathon. This development pleases LRC a great deal. It's going to be amazing to get see Wanjiru race on US soil and it's great that Chicago landed Wanjiru. At the beginning of the decade, Chicago was unquestionably the top marathon in the US. But recently there have been rumors of budget cuts (not a surprise considering they had a bank as their chief sponsor) and NYC had really stepped up its game. Awesome to see them land such a big name as Wanjiru, as for marathoning to survive, all of the majors need to be in great health.
In Berlin, the #1 and #2 fastest marathoners in history will square off in Duncan Kibet and Haile Gebreselassie. While we're thrilled to see that Geb will actually have a formidable opponent for once and not an almost-assured victory, it is a bit disappointing that we didn't get the Wanjiru vs. Geb clash. Geb always runs Berlin and Wanjiru wanted to go there and it's not happening. Oh well. Chicago's big gain and Berlin's loss in our minds. Geb's loss as well.
But since incessant world record attempts honestly bore us, we are thrilled to also learn that Ryan Hall will be running the ING New York City marathon. We think the obsession with time is bad for the sport and think marathoners should switch it up. Run for time in London or Chicago and then run a difficult course in Boston or New York. Don't specialize in one or the other. Given his XC background in college and his great success at the 2008 Olympic Trials, we think Ryan will really enjoy running in New York.
Ryan seems to think so himself and the early signs are that his training is going well. As Ryan Hall told LetsRun.com this week, "I'm starting to get into pretty good shape right now. I'm back in the mountains at elevation, a place I love, a place where everything clicks for me and I really feel like my body is just absorbing all the training like a sponge. I'm seeing improvement from week to week and am feeling better and better with more and more snap in my legs and just really building a nice momentum right now."
Free Advice For Race Directors
We actually think the races should switch it up as well. Honestly, if wasn't necessary for the marathons to compete against each other for athletes in terms of appearances, we'd like to see the following. How cool would it be if the world of marathoning was as follows.
1) Designate one fall race as the big race of the season for men and a different race for women. 2) Switch it up each season according to the type of course.
So say Chicago (fast course) is where all the men go in 2009 and New York (challenging course) is where all the women go. In the spring, you do the reverse. The men would go to Boston (challenging course) and the women would go to London (fast course). You would get amazing matchups, as the big names couldn't dodge each other and you would have variety and you wouldn't have the finish of one sex's race interfering with another sex's finish. It would also make it easier for the media to hype the race as there would be one awesome race to hype instead of two mediocre ones.
However, we know that it's never going to happen in a day and age where appearance fees rule. So how about a more modest proposal?
Why don't the fast marathons like Berlin, London and Chicago agree to get rid of rabbits every other year and alternate it by sex. So say in 2009 in Chicago, the men know they'll be running for time and have rabbits, whereas the women will be left to battle on their own. Then reverse it the next year. Watching two time trials at once is boring. More: *Message Board Thread On 2009 Fall Marathons
Drug News
Huge drug news last week with 5 Jamaicans testing positive and 7 Russians seeing their bans upheld. We don't feel like going into it at length right now, as we'll likely write a separate piece on this later in the week. But rest assured, the media has it all wrong.
The Russian thing is a big, big deal. Actions like that could not only save track and field but really all professional sports.
"This decision also supports the actions of the IAAF in pro-actively targeting, investigating, and prosecuting doping cases with non traditional methods Ė in this case the storage of samples and the comparison of DNA. It should provide a strong warning to any athletes who are considering doping that their samples will be stored and may be later re-analysed meaning they are never safe from the detection of their cheating against their fellow athletes."
*CAS confirms increased suspension for 7 Russian athletes
As for the Jamaican story, we think it's going to be a non-story. It just doesn't make any sense. Either there is crazy Russian-like doping going on in Jamaica (not likely) or it's some minor problem like marijuana or a supplement in some energy drink.
As it was said in the Guardian:
"But all five tested positive for the same drug, although the five trained almost under different circumstances. I can tell you that none of the world stars are involved. The drug itself is not an anabolic steroid and is considered a minor drug. With a good explanation at a hearing, the athlete could get off with a reprimand."
We're really big against doping at LetsRun.com, but it is sad when an innocent athlete has their career ruined due to a false doping allegation. S. African marathon star Gert Thys had his name formally cleared this week 2.5 years after his doping positive. The problem for Thys is he's not approaching 40 and he lost 2.5 crucial years in his career. 2.5 Years Later South African Gert Thys Cleared By CAS For Doping Violation
Recommended Reads From Last Week
1) Taller Athletes Are Going To Dominate Speed Events This study from Duke University basically says we'll see more and more tall athletes winning in track and swimming. We think it makes sense. As training methods improve and are spread all over the world, it was just a matter of time before 6'5" 100m "freaks of nature" came to be.
2) The Calorie Delusion: Why Food Labels Are Wrong Food scientists have been giving us terrible advice for a long time. According to new studies, just counting calories leads to big problems. The difference between crunchy and mushy food or cooked and uncooked may be just as important.
3) Extensive Update On The Rupp-Ritz Pairing In Portland
4) LetsRun.com Exclusive From Kenya - Sylvia Kibet: Kenya's Forgotten Lady 4th in the world and we bet most of you haven't heard of her.
Remembering The Last Week With The Quotes of the Day - Day By Day:
Monday: "Pamela, Marry Me!"
- signs held up by men for Pamela Jelimo after her triumphant return to Kenya last year after winning the $1,000,000 Golden League jackpot. The quote is from an excellent profile by Steve Bloomfield in the Guardian on Jelimo. It talks about Jelimo's training, her charity, her religious beliefs, and much more. Jelimo on Saturday at the Kenyan Champs looked great for 770m but then faded and was beaten at the line by 2007 World champ Janeth Jepkosgei (you can see the end of the race here).
Saturday/Sunday: "I'm starting to get into pretty good shape right now. I'm back in the mountains at elevation, a place I love, a place where everything clicks for me and I really feel like my body is just absorbing all the training like a sponge. I'm seeing improvement from week to week and am feeling better and better with more and more snap in my legs and just really building a nice momentum right now."
- Ryan Hall in his teleconference discussing his preparations for his fall marathon, the ING NYC Marathon. LetsRun.com's co-founder Robert Johnson gives his take on Hall's preparations at the link above.

Friday: "You come from the bush, or you come from the forest. Then you train, and you become a champion."
- Sylvia Kibet, Kenya's Forgotten Lady, in a LetsRun.com exclusive article from our latest correspondent in Africa.

Thursday: "We will seek quality not quantity. We would rather take 20 runners capable of winning 20 medals than 50 who will win only one. We are confident we will select a winning team."
- Athletics Kenya (AK) chairperson Isaiah Kiplagat revealing the secret strategy of the AK officials as we head in to the Kenyan world championship track and field trials this weekend.

Wednesday: "Alan has had a lingering Achilles tendon problem he was controlling during the season. He injured his hamstring during final warmup for his heat during US Nationals. He strained it further during this race. His hamstring injury likely was connected to his Achilles problem. He treated the hamstring injury aggressively in Eugene but in the end decided he would damage it further if running in the final. Since that race, he has been getting treatment in Washington DC. Although he hoped to be back racing this Summer, It is now unlikely that he will race in Europe this year."
- Agent Ray Flynn exclusively telling LetsRun.com that his client Alan Webb will not have a 2009 European season. The announcement came two years to the day that Webb broke the American record in the mile.

Tuesday (after breaking news): "My plan for the fall is to lower my personal record, and the Chicago Marathon course is the best opportunity for me to achieve that." - Olympic champion Sammy Wanjiru stating that he will make his US marathon debut this fall at the Bank of American Chicago Marathon. In a trip down memory lane, the story was broken by the NY Times (remember them?) and they also are stating that Ryan Hall is likely to run ING New York this fall.

Tuesday (up until 9:22 am): "The trends revealed by our analysis suggest that speed records will continue to be dominated by heavier and taller athletes."
- Engineering student Jordan Charles of Duke University, co-author of a recently-published study on the world's top athletes from the last 110 years. The students suggest track and swimming might have to institute weight classes to give the vertically challenged a chance.