*Kenya Goes 1-4 Led By Mercy Cherono 4 runners make up a team at World Cross and Kenya scored a perfect 10 to start the day.
*Americans Take 6th Team Slot With Emily Sisson In 18th
*Individual Results
Another Kenyan Sweep! 10 points for Caleb Mwangangi Ndiku and Kenyans.
*Top American Trevor Dunbar In 29th
*Japanese Team Outperforms Americans
*Trevor Dunbar On Africans: "We'll catch up with them eventually. But it won't be tomorrow."
ESPN Guest Column: The Second Coming Of Marion Jones
Lisa Koll Runs 31:18.07 To Crush Kipyego's Collegiate Record Koll's remarkable return from a disappointing 2009 continues as her 10,000m pace would have won the top heat of the 5,000. *Koll's World Leader
*Brief Article With Quotes
More Stanford Talk On The Boards:
*D2 Jessica Pixler runs fastest 5k in the COUNTRY *Women's 5k Results
*Freshman Jordan Hasay wins Stanford 1,500 Results and discussion as Hasay runs 4:14.
*David McNeill!!! Aussie David McNeill crushed the field in a mostly solo effort, running 13:25 and closing in 2:32 for the last km. In other news, former U. Arizona star Robert Cheseret is now running for the US Army.
Props: Army's John Mickowski Wins 1,500 Over Post-Collegiates
Spring "Marathon Major" Updates
European Road Races This Weekend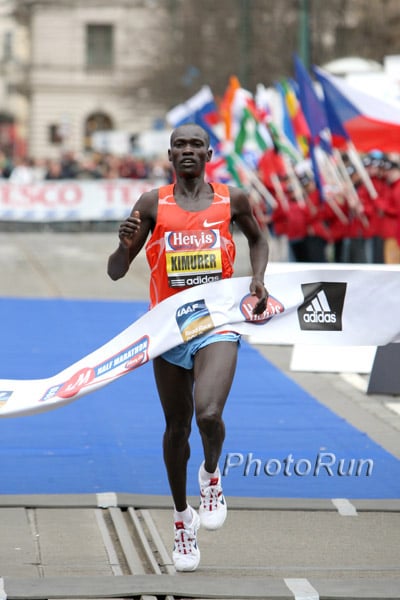 Prague HM Results: Joel Kemboi (Left) Wins By Over 1 Minute Marathoner Yemane Tsegay finished 3rd.

Holland's Lornah Kiplagat Will Return For Test Run In Domestic Race World half marathon record-holder Lornah Kiplagat will run a test run at Zandvoort while Micah Kogo returns to the Parelloop in The Netherlands, where he has run 27:01 (WR) and 27:07 for the road 10km course. Kogo ran under 27:30 for a road 10k last week. *Parelloop Website

Look Out For Eshetu Wondimu In This Weekend's Berlin Half Marathon Wondimu ran 59:53 for a half marathon several days ago despite falling halfway through the race.
Help Elect Angela Bizzarri As Sullivan Award Winner - Vote Here Sanya Richards and amputee ultramarathoner Amy Palmiero-Winters are also up for the award for the top "amateur" athlete in America. Considering Richards makes hundreds of thousands a year, she shouldn't get it.
Ridiculous: Australian Hurdler Not Allowed To Qualify For Commonwealth Games Because She Didn't Check In On Time
Maybe Communism Isn't So Bad After All
Chinese Official Wants To Jail Coaches That Dope Athletes
Drug News - Cheaters vs. Testers
News That May Interest You
Surprising US Performers - World Record & World Medal
UK Athletics And Dan Pfaff Lay Down Exact Replica Of 2012 Olympic Track For Technical Event Athletes To Train On Coaching genius Dan Pfaff was hired away from the US by Charles van Commenee.
Upcoming Races
World Women Tune Up For London - Update Will Chicago '09 champion and former track star Liliya Shobukhova again triumph over distinguished marathoners Irina Mikitenko and Deena Kastor? Will a new African star finally emerge?

Haile G To Run In First Madrid 10k In April

Britain's TV Giants Bid To Show Bolt Diamond League Races Bolt does for track what Tiger Woods does (and will continue to do?) for golf television ratings.
*Tiger's Masters Return Will Shatter Ratings Records Business Week
Thursday Track News
LRC The Week That Was We take a brief break from celebrating Cornell's ride to the Sweet 16 to give you an abbreviated "Spring Break Version" of our weekly recap. Along the way, we talk about Zersenay Tadese's world record, Mo Trafeh's sudden surge, Deena Kastor's fade, and wonder whether Jeff Risely owns Nick Willis. We cover all of last week except we purposely ignore the LA Marathon.
Men's Senior Race - Kenya's Wait Is Over *Team *Individual
Ebuya! Kenyans Complete Perfect Day! All 8 gold medals are going home to Nairobi as new national hero Joseph Ebuya put the exclamation point on a day of total domination for team Kenya by winning their first senior men's individual title in over a decade.
*Team Results Kenya 1, Eritrea 2, Ethiopia 3, Morocco 4, Uganda, Spain, Tanzania, Bahrain, USA 9th.
*Canada's Simon Bairu 13th Individual Top American Patrick Smyth is 36th.
*Full Resuts
Flanagan's 12th Leads Americans To Team Bronze Molly Huddle and Magdalena Lewy-Boulet came in 40 seconds after Flanagan to secure USA's only medal on the day.
*Chebet And Masai Trump Melkamu And Dibaba Top names - Linet Masai and Tirunesh Dibaba - end up 2nd and 4th as Ethiopia's best chance to stop the Kenyan surge fails.
Pre-Worlds Coverage
LRC Profile - Moses Kipsiro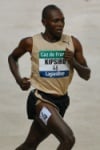 LRC Moses Kipsiro And The Legacy Of John Akii-Bua Kipsiro is Uganda's top runner and was the runner-up at last year's World XC Champs. Thanks to PJ Browne, we go behind the scenes to try to put a story and a face to Kipsiro so he is not just another nameless "African runner."

IAAF Men's Preview: Wide Open Affair Last year's champ Gebre Gebremariam is back, but he'll face a slew of challengers, including Kenya's new phenom Paul Tanui (click here to see Tanui dominate the Kenyan nationals by 30 seconds), Uganda's great hope and last year's silver medallist Moses Kipsirio and others (Leonard Komen and Joseph Ebuya). Plus a Spanish dude even thinks he can win.

IAAF Women's Preview: Can 3-Time Champ Tirunesh Dibaba Hold Off Kenya's Rising Star Linet Masai? Masai came up just short last year but will be hard to beat this year. In the junior race, Dibaba's little sis will go for her third title.

Downpour And Sudden Warm Weather Make Mudfest Possible In Poland

Polish-Born Magdalena Lewy Boulet And Worlds Veteran Ryan Vail Named US Senior Captains NCAA team XC champion Ryan Vail just ran out of college eligibility but this is already his 3rd World XC Team.
More World XC News:
Unrelated But Important/Interesting News
Random News From Australia
*Australia Picks Team For July's World Juniors
*With World Title In Hand, Steve Hooker Eyeing Famous 120-Meter Race In Australia As Next Goal
A Brief Chat With Mo Trafeh - The American Runner Everyone Is Wondering About Trafeh, the US's newest sub-61 minute half marathoner, talks about turning down coaching from Hicham El Guerrouj's coach, why he trains alone, and what he plans to do after his recent road breakthroughs.
Bitter Welsh Marathoning Prospect Quits The Sport Teenager cites criticism of his 180 mile/week training as a reason he is switching to soccer.
British Bosses - A Funny Bunch
The Rage - Barefoot Running Discussion
The Science Of Sport - Q&A On Barefoot Running Part 1 *Part 2 *Part 3 *Part 4 Almost every day, we answer questions from friends and acquaintances about the barefoot running push. Our friends at Science of Sport are hosting a lengthy discussion of the topic.
LRC Can't Miss: Training Talk #6 With Craig Virgin Two-time World Cross-Country champion and two-time American record holder Craig Virgin joined us for Training Talk #6 and talked about a wide range of subjects, including his high school and college training, his time with Nike and Athletics West, racing 3 times in 4 days during a "front-loaded" career, and Jimmy Carter and the 1980 US Olympic Boycott that cost Virgin his best shot at an Olympic medal. Virgin is a true ambassador of US distance running and one of the greatest-ever US distance runners - whether you're looking for training advice, inspiration or entertainment, his stories and opinions are a must-hear.