LetsRun.com: The Week That Was In Running: March 15 - March 21, 2010
By LetsRun.com
March 22, 2010
To read last week's LRC Week That Was, click Here.
To read any 2009 LRC Week That Was, click Here.
We'll call this the Spring Break Version of the Week That Was as after last week's epic, we feel we deserve a little bit of a breather and truth be told, we've been too busy the last few days enjoying Cornell's ride to the Sweet 16 to think too much about track. Sorry, but it's true. We don't care what some LRC visitor said to his co-workers.
It's Not Bragging If You Back It Up
The big story last week was obviously that 4-time world half marathon champion Zersenay Tadese proved that he indeed is truly the king of the half marathon as he broke Sammy Wanjiru's half marathon world record of 58:33 by running 58:23 at the EDP Lisbon Half Marathon. We loved this development for a number of reasons.
1) It's only fitting that the world record belongs to the 4-time half marathon world champion.
2) Tadese said before the race that he wanted the world record and he actually went out and got it. The #1 thing we hate in the sport is when athletes talk about going after a record and then don't go get it - or even go after it. Tadese did both - he went for it and got it.
3) Despite bonking in his marathon debut last year in London, Tadese said he wants the world record in London next month in his 2nd attempt at the distance. We are already getting excited, as Tadese has proven that he is a man of his word.
Tadese wasn't the only man to run a blazing fast half over the weekend, as 2005 World Championships 10,000 medallist Moses Mosop ran a ridiculous 59:20 debut in Italy as well (article in Italian).
The run by Mosop makes him one of 4 runners in a very exclusive club: the sub 13 minute 5k, sub 27 minute 10k, sub 1 hour half-marathon club.
More: *Zersenay Tadese 58:23 WR *Zersenay Tadese Nabs 2 World Records From Wanjiru And Gebrselassie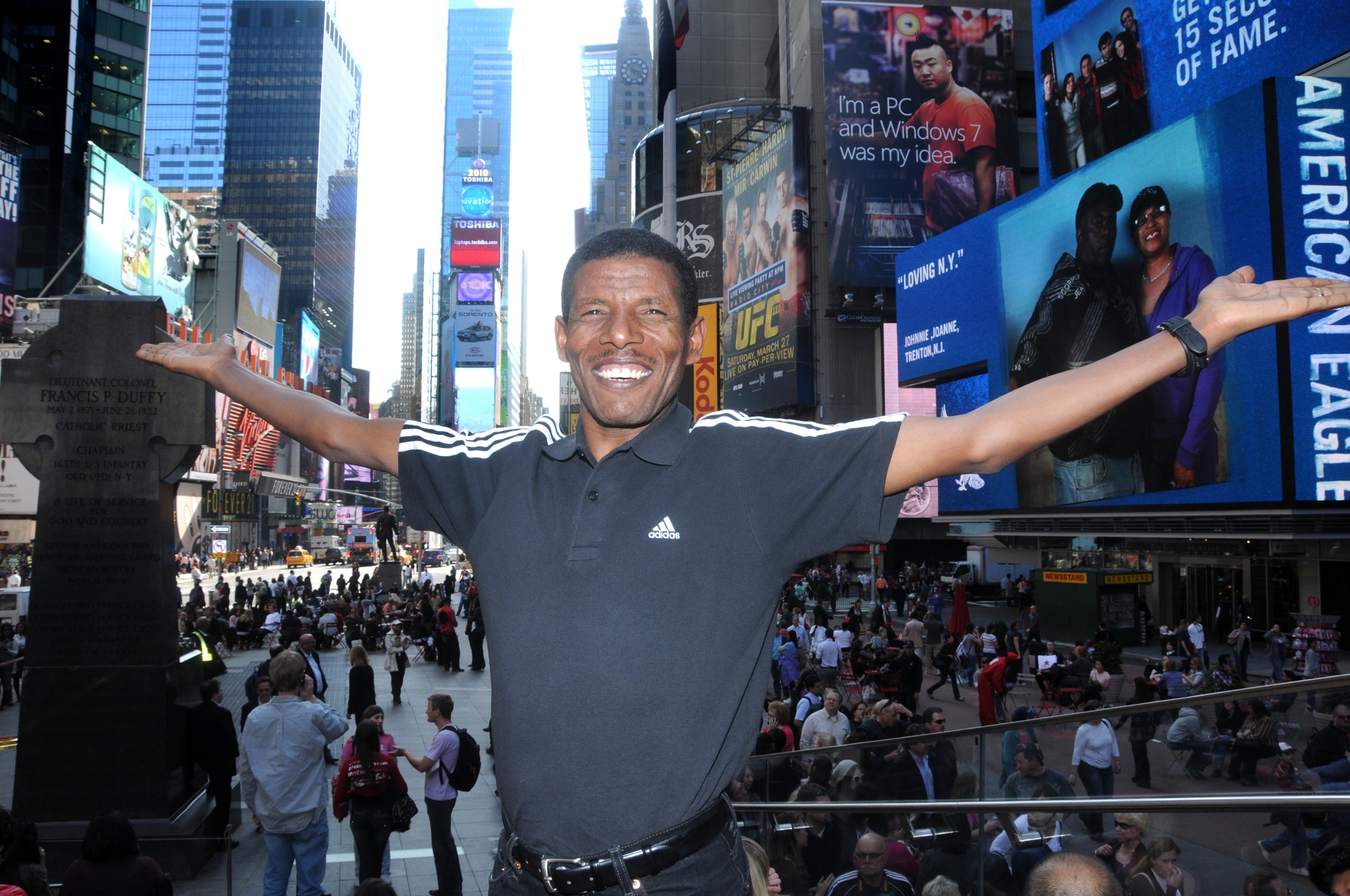 Haile Happy Pre-Race
New York Half - Haile Falters As Deena Runs Well And Is Beaten
At the New York Half Marathon, the story of the day was Haile Gebrselassie's DNF on the men's side and Deena Kastor's fade on the women's. We'll start with the women's race, as it was more significant from an American perspective. Deena Kastor said she wanted to run aggressively and she certainly accomplished that goal, as she blitzed the first 10k in hilly Central Park in 32:30, which is 68:34 pace. However, she kind of hit the wall at the end as the 2nd half of the race is basically totally flat and yet Kastor ended up 2nd in 1:09:43. The beneficiary of Kastor's early aggressiveness was Britain's Mara Yamauchi, who got the win in 1:09:25. The two will get a rematch next month in London. Kastor's 69:43 is actually the same time she ran in Arizona early this year.
After Haile dropped out on the men's side, the winner ended up being Kenya's Peter Kamais, who ran a big PR of 59:53. But from an American perspective, few people seem to realize that Mo Trafeh ran a 60:40 for third place. Admittedly, the time came on a course that is ineligible for record purposes, but the NYC half course isn't easy (it just doesn't start and end at the same point) and therefore Trafeh's performance shouldn't be considered to be "aided." And it's very impressive as it is the 4th fastest ever run by an American.
This comes a week after taking down the US 15km title in Florida after a 4:22 opening mile. Trafeh's sudden huge leap in form has already led to illegal PED gossip on the message boards. Those who think that such talk is sad or bad for the sport are mistaken in our minds. We think questions like that have to be asked in this day and age and think that it is good that it is being asked in this case as Trafeh is an American and so often people who raise the drug suspicions are accused of being racist. Of course, given the fact that Trafeh is of Morroccan descent, we guess the racist/xenophobe label won't be totally wiped out. We just think it's good questions are asked of all runners - whether American, Kenyan, Ethiopian, black, white or brown - and we think it's great to have another American under 61:00.
It's worth noting that Anthony Famiglietti ran 63:18 in his half marathon debut.
More: LRC MBoard on Trafeh *Favorites Gebrselassie, Kastor Fall In Dramatic Fashion In NYC Half
*LRC Boards: Official NYC Half Marathon Thread
*LRC's NYC Half Marathon Photo Gallery
*RRW Recap And Quotes From Gebrselassie, Kamais, Kastor, Yamauchi And Trafeh
Yet Again, The Mainstream Media Blows It
We hope you don't get your running news from mainstream media outlets like ESPN.com or the wire services (as usually they blow it). If you do use the sources, you likely read over the weekend a seemingly touching story about how the Rome Marathon winner Siraj Gena of Ethiopia paid tribute to Ethiopian Abebe Bikila, who won the 1960 Olympic marathon in Rome marathon in his bare feet, by taking off his shoes 500 meters from the finish and outsprinting two Kenyans to the finish.
ESPN even quoted Gena as saying, "I felt I had to do something to honor Bikila. For me he will always be an enormous inspiration and today I wanted to see what it would be like to cross the line in Rome barefooted like he once did."
All of that is true and great and all that, but it's all dwarfed by the fact that the race offered a $5,000 Euro bonus to anyone who won the race barefoot.
An accurate quote would have been, "I knew I had the race in the bag and I really wanted the 5,000 euros."

More: Runner Takes Off His Shoes, Sprints Across Rome Marathon Finish Line In Tribute *Boards: Rome offers 5000 euro bonus for barefoot finish We were much more excited about the tribute before we saw this. *Photo Of Siraj Gena Barefoot *More Photos

Jeff Riseley Beats Nick Willis Again
In New Zealand, Aussie Jeff Riseley beat Olympic silver medallist Nick Willis for the 2nd time in two weeks. This week it was at 800 (1:47.74 to 1:48.12) and on Willis' home turf. The two are developing a nice rivalry which should play out nicely at this summer's Commonwealth Games. Apparently, the Aussies and Kiwis don't exactly love each other, as we got an email from a reader who said the following about our mention last week about how old most countries national records are in the 800:
"You forgot to add in the bit about the NZ record 1:44.3 being 46 years old (older than the Aussie rec). Just need to make it clear that that the Aussies are not as bad as the Kiwis!"
More: *Jeff Riseley Beats Nick Willis Again
Quote of the Week #1
"The injury is still reacting. I dared not take off. I feel I am full of energy everywhere but in the foot."
- Liu Xiang talking after his 7th-place showing at World Indoors in the men's 60 meter hurdles.
Email Of The Week/Proof Yet Again That LRC Has The Smartest Visitors On The Planet
Last week in The Week That Was, we talked about how the Belgium 4 x 400 team was using cryotherapy to their advantage. Well, a LRC visitor told us that despite it's futurustic look, cryotheraphy is by no means considered a new technology. The following email came from Daryn Lamboov:
Thanks for the great site.

Just wanted to point out that the Belgium team using cryotherapy in Doha, although not standard everyday stuff, is not new.
Vladimir Kotov (4th in Olympics, multiple Comrades winner) was using this in his training back in 2003/2004. Kotov would get in the main chamber in temps ranging from -166F - -238F for several minutes especially in times of pretty high mileage.
Just an interesting tidbit I thought you might find, well interesting.
Odds & Ends
Looking ahead to next week, World Cross-Country will be taking place and the US roster is officially set.
Lots of road racing action to talk about from last week, but one race that we won't talk about is the LA marathon until they start drug testing.
In marathons that do drug test, Sylvester Teimet won a close 2:06 battle over Gilbert Kipruto Kirwa in Seoul, as Amane Gobena won in 2:24:13 on the women's side.
Recommended Reads/Listens/Watches From Last Week
*LetsRun.com Training Talk #6 - US Distance Legend Craig Virgin
*Pat Butcher Remembers Runner Miguel Sánchez
*Interview With Mo Trafeh
*Irish Times Article On Colm O'Connell And Kenyan Success
Remembering The Last Week With The Quotes Of The Day - Day-By-Day:

Monday: Dear Sammy,
58:23.
See you in London?
- Zersenay Tadese.
Sunday: "Sport is something that doesn't know your age."
- Haile Gebrselassie.

Saturday: "If I had been born 4-8 years later, I would have had to make some terrible decisions in the late '80s and early '90s about whether I could go to a World Championships or Olympic Games and be competitive and not take either EPO to get my oxygen-carrying capacity up ... or to take Human Growth Hormone or some sort of steroid ... and be able to be competitive."
- Two-time World Cross-Country champion and two-time American record holder Craig Virgin talking with LetsRun.com co-founder Robert Johnson in our 6th edition of Training Talk.
Friday: "To our readers or listeners out there, I think we have a great sport. I have hopes that America can do better in the near future in national and international competitions and I think we've got some exciting times ahead of us. Let's all stay behind the sport and make it better."
- Two-time World Cross-Country champion and two-time American record holder Craig Virgin talking with LetsRun.com co-founder Robert Johnson in our 6th edition of Training Talk. LetsRun.com was honored to have Virgin - the only American male to win a senior World XC title - on the program to answer questions on a wide range of topics based on American distance running.
Thursday: "After the race, Kenenisa refused even to offer me greetings. This is a sport, not war."
- Joseph Ebuya talking about Edinburgh XC back in January where he beat Kenenisa Bekele. To read more about the Kenyans hoping to finally win the men's senior X-C title, read this article.
Wednesday: "[My father] believed I was wasting my time," Gebrselassie recalled. "For him, sport was fun and nothing else - you could not make a living from it."
- Even Haile Gebrselassie had to convince his parents to let him follow his dreams of becoming a runner. Haile will be in New York City this weekend to star in the NYC Half Marathon.
Tuesday: Andrews 1:48.39 ...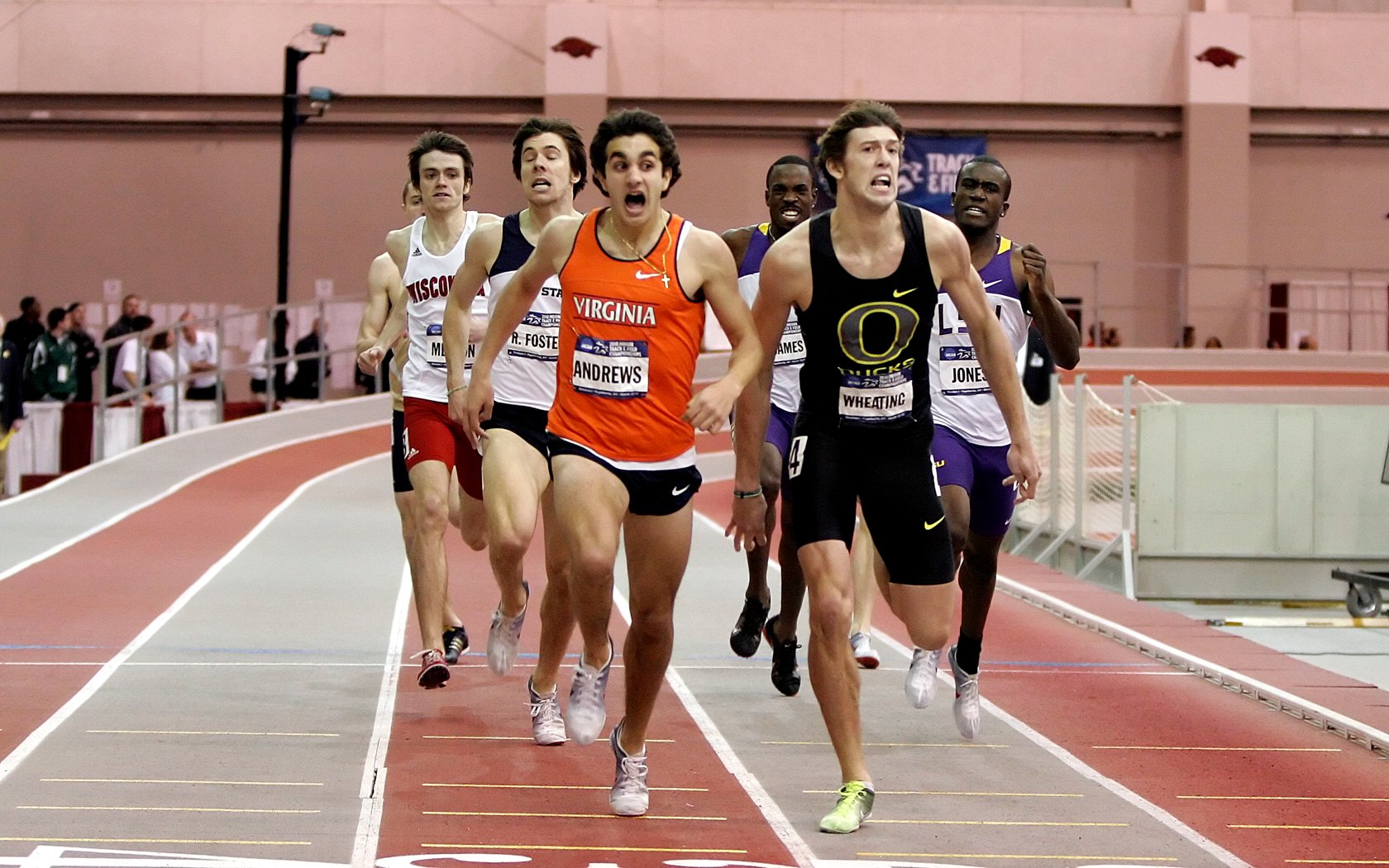 ... Wheating 1:48.40
Last Week's Homepages
*Mon (March 22) *Sun (March 21) *Sat (March 20) *Fri (March 19) *Thu (March 18) *Wed (March 17) *Tue (March 16)