LetsRun.com: The Week That Was In Running: February 8 - February 14, 2010
By LetsRun.com
February 15, 2010
To read last week's LRC Week That Was, click Here.
To read any previous LRC Week That Was, click Here.
This week, we praise and rip oversized 300-meter tracks, we praise and rip the Penn State men's 4 x 800 chances and we praise and rip those associated with Oregon State competing in men's track and field for the first time in 22 years. Along the way, we say forget Jordan Hasay and Steph Twell and urge you to remember the name Kalkedan Gezahegn, we take a look at the deepest 3k in indoor history and we give praise to our hero of the week, Riley Masters, the guy who last week fulfilled every miler's dream by going from 4:06 to 3:59 in the mile only to wake up on Monday morning and realize that probably won't send him to NCAAs.
Note: The 2010 USA XC meet was held last week and we were thrilled to see big name stars Dathan Ritzenhein and Shalane Flanagan both compete and dominate (along with Trevor Dunbar, who crushed the junior boys race). But we figure most LRC fans know all about that race, so we won't recap it here. If you want info on it, please read it above. We'll devote our Weekly Recap to stuff of importance in the world of track that you may have missed.

****
Collegiate/Oversized Track News
Oregon Track Club Medley Relay
Oregon Track Club Runs 9:21
Last week, the fastest indoor DMR in history was run and you think we'd be full of praise and you'd be wrong. We're so angry, we dole out a big Thumbs Down to The Oregon Track Club, Washington State, Oversized Tracks and everyone in track and field (particularly the NCAA for allowing oversized track times to count as NCAA qualifiers) who is so obsessed about times that they are about to kill the spectator value of track and field once and for all (or maybe it's officially dead and we have nothing to complain about). We're so pissed off about that, we almost want to give a Thumbs Down to the members of the team who ran brilliantly - Nick Symmonds (2:51.0), Matt Sherer (46.7), Tyler Mulder (1:46.7) and Will Leer (3:56.0).
The record will count for nothing but an asterisk, as unless it was run on a 200m oval, it's illegal. Has anyone ever been to a meet a 300m+ track like Washington or Notre Dame? The venues offer zero spectator appeal and terrible views.
Don't believe us? Well then try to watch the video of the race. There is nowhere to even film a race at such a terrible venue. And if you do watch the video, please email us and explain why they start at some random spot on the track where there is no discernible line.
If the OTC wanted to run a world record, why not get with the organizers of the Reebok Grand Prix and do it there? The crowd would love to see a gimmicky world record, it would cost the organizers next to nothing (as we're sure the runners got paid zero to do it in Washington) and everyone (except maybe Reebok and Nike) would benefit, as we're sure the runners would get paid to do it in Boston.
Other top marks from Washington included the four fastest men's 800 times in the NCAA, including two from Oregon Duck runners - a 1:46.36 from Olympian Andrew Wheating and a 1:47.33 from freshman Elijah Greer. But Penn State is still half-mile U early in 2010, as they now have three sub-1:48 guys indoors, with Owen Dawson joining Ryan Foster and Casimir Loxsom in the 1:47 club.
But the message board chatter about Penn State being the best 4 x 800 team in NCAA history, Penn State 4 x 800m best ever in NCAA?, is ludicrous. Our Message Board Post Of The Week comes from toro, who wrote:

George Mason in 1996 had 4 guys run these times in the same race (outdoors):
Achon - 1:44.55 (NCAA in season record)
Morgan - 1:45.58
Aden - 1:46.44
Arpasi - 1:46.85

That adds up to 7:03.42
I believe they ran 7:14 at Penn
PSU is very good, but it's mighty early in 2010. If someone would assure us that all the big dogs would show up at Penn (namely Oregon, UVA and all of the redshirted UConn guys), we'd put the odds that PSU even wins Penn Relays outdoors at below 50%. We're not even sure if PSU would beat Oregon right now, as the Ducks would have Wheating on the anchor and leadoff legs are often tactical.
Regardless, it's going to be fun few years in the 800, with three of the top five in the country currently being freshmen, as last week, HS record holder Robby Andrews of Virginia ran a 1:48.02 with a 26.1 final 200 on a real 200-meter track (at the Armory).
Also in Washington, eight collegians broke 4:00 in the mile, including Mac Fleet's new Oregon school record of 3:57.70 (or is it not a legitimate record since it was on a 300-meter track?). We figure he'd have to be worth at least 1:49.0 in a 4 x 800 and hence our earlier comment on the 4 x 800.
Speaking of Fleet, he told trackfocus.com the following about his training: "I had a terrible winter. They've (the coaches) been doing lower mileage than I used to."
Shows you that stubborn mileage isn't always the answer and sometimes a coach knows way more than the athlete.
One last thing about Fleet and Oregon - message board poster "Mile Powerhouse" interestingly pointed out that the Ducks now have 5 sub-4 milers on campus: "OREGON Loses Rupp and is already back to 5 current sub - 4 milers!!!" Certainly impressive, but D2 Adams State has a ton of sub-14 guys and another message board poster, ponderingsquirrel, wondered if that was more impressive: Adams 4-5 guys under 14min 5k or Oregons 4:00 milers- whats more impressive?.
And it looks like 2010 maybe the first year that a guy goes sub-4:00 in college and doesn't make NCAAs, as 18 runners have already done it. Considering the NCAA has taken 14, 16 and 16 milers in each of the last three years, it looks like we may have a winner - or maybe that should be a loser.
Actually, we may have two, as Oklahoma junior Eric Harasyn and Maine sophomore Riley Masters are currently tied at #17 on the NCAA list at 3:59.97. We feel like the two should be national heroes if they become the first in history to not make NCAAs despite being sub-4.
We actually feel Riley Masters should be an inspiration whether he makes it or not. He is our NCAA RUNNER OF THE WEEK. The guy is a sophomore from Maine and coming into the weekend, his mile PR was 4:06.34. Now he's gone 3:59.97. The week before his sub-4, he got ready by running a leg on a 8:17.67 4 x 880 relay (yes, 8:17 for an NCAA D1 college) and running 1:54.60 in the 800.
It just shows that you don't have to go to a big-time school or be part of a big-time program to run fast. Listen to his strong post-race interview on the left from flotrack and as quoted on mainecampus.com, when he described what the final 409m was like:

"When I saw (the time at 1,200), I just knew that if I was that close I might as well go for it. I just tried to close hard and … the last hundred meters was awful, but I just tried to struggle through it."
" I felt like I was on top of the world for a while. I thought I could do anything after that."
16 collegiate sub-8s, including the top-7 men's NCAA times in the 3k, also came from Washington, including a 7:51 from German Fernandez (more on Fernandez's run here: German 7:51 ... he's back). There also were 7 collegiate sub-14:00s in the 5,000 at UW.
The insanity on the women's side at UW came in the 5k, where there were 8 autos in the 5k, but Iowa State's Lisa Koll stole the spotlight from UW by running the 2nd fastest indoor collegiate 5k in history (15:29.65) in a race she won by almost 68 seconds.
The mile at UW was good as well as four of the five fastest times in the country were recorded led by Charlotte Browning's 4:31 for the University of Florida.
More: UW Full Results *Indoor tracks need legal curbing for NCAA qualification - I hope! *Rupp's3k race in Washington invalid!
****
Jordan Bishop - Our Hero Of The Week Or One Last Piece Of News From Washington
The most heart-warming story of the week may have come from Oregon State where thanks to Jordan Bishop, a male OSU athlete competed for the first time in track and field in 22 years. Officially, the OSU Beavers don't have men's track but Bishop loves track. Thankfully, the women's track coach at the school, Kelly Sullivan, is pretty cool as is football coach Mike Riley, and after a few years of pestering, Bishop and four other football players competed at the Washington meet.
The result? Bishop is a provisional NCAA qualifier in the high jump. Who needs practice? We'll take talent all the time.

And we are only waiting for some PAC-10 rival to somehow claim that Oregon State and Bishop are violating NCAA rules. If that happens, we will officially go beserk and start a massive email campaign against that school. But let us first direct our anger at the NCAA. We'll give them a Thumbs Down for not putting Bishop on the NCAA descending order list. Bishop belongs on the list - period. We don't care whether indoor track is or isn't an official sport at the school. He jumped 2.15m (7'0.5") and needs to be on there.
More: *Football Players Represent OSU In Men's Track *OSU's Jordan Bishop: Football Player Resumes Track Career - And How
****
Proof Yet Again That LRC Visitors Are The Best Track Fans In The World
Fan Of The Week - Stephen MacDonald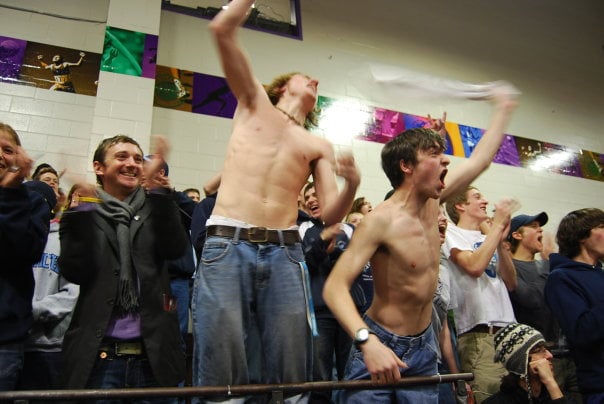 Last week, we praised the fans at the Reebok Boston Indoor Games for going nuts during the men's 5k and providing a great atmosphere. We gave out special praise to "particularly the kid without his shirt on." Well, that kid apparently is an LRC fan as he wrote us and in return we promised to give him some love. Check out an excerpt from his email to us below:
My name is Stephen MacDonald; I run for Sandwich High School and am a senior captain for all three seasons. My mile pr is 4:44.18, 1000 is 2:48, 5k 17:17, and HJ 5'11". We run for a school with a condemned track and have almost nowhere to train. We do the best with what we have, and love to point that out to people. In the picture I am the one on the far right, who had his shirt off(mine was off for most of the meet), to my right is former senior captain Jason Lefavor (picture was taken during the 3k, he had his shirt on for the rest of the meet), and to Jason's right is our coach, Stephen Infascelli.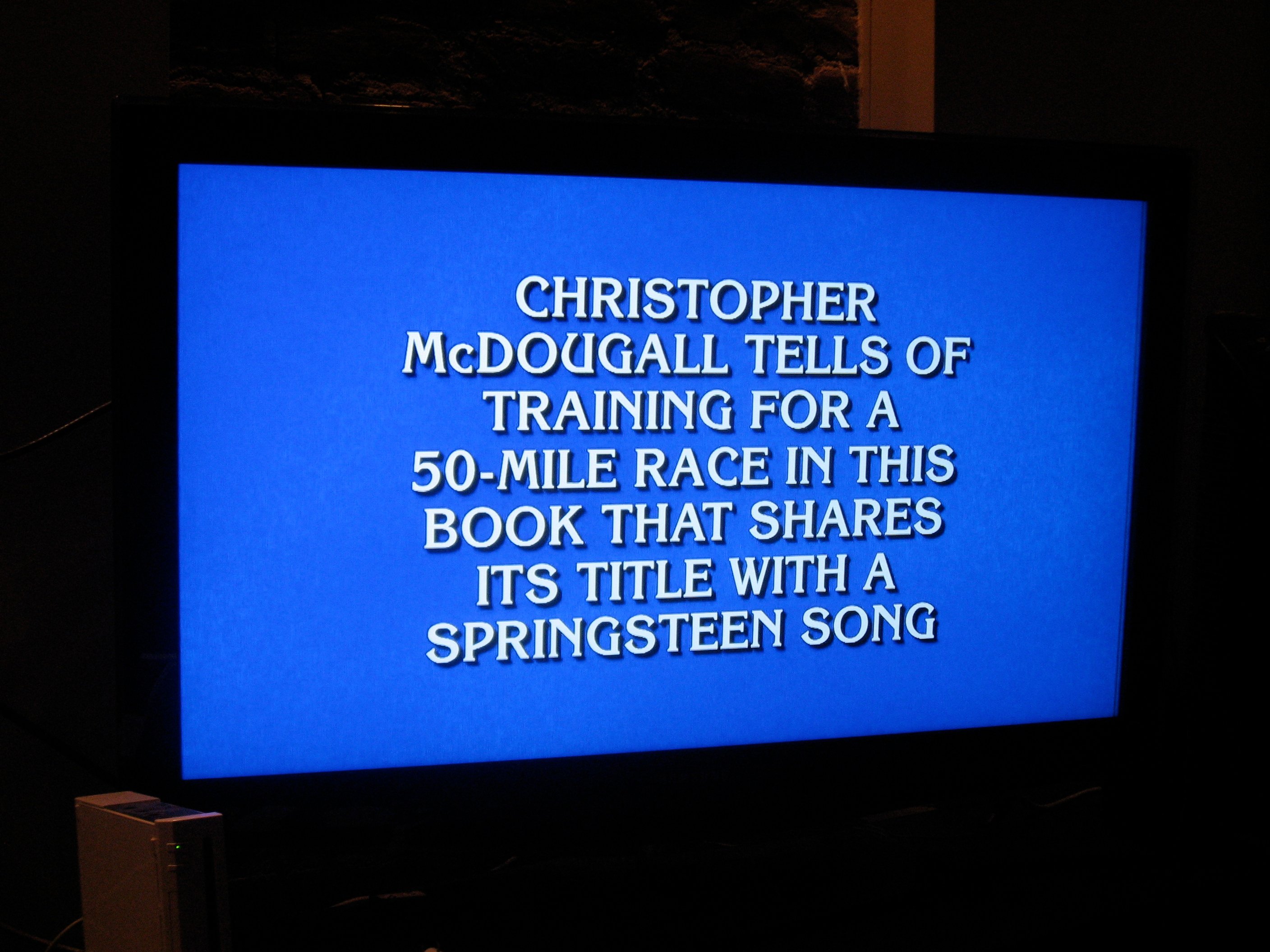 ****
Born To Run Appears On Jeopardy
Have you read Born To Run yet? Well, you had better get around to reading it, as the book is officially mainstream - it appeared as the answer to a clue on Jeopardy in the last week or two. We definitely recommend the book and urge you to read it before your grandmother does and asks you about it.
****
Ritz's Big Goals
Prior to USA XC, Dathan Ritzenhein announced his goals for 2010 in a Brief Chat on Runnersworld.com and an article by David Monti. His top 3 goals are all pretty good with us: 1. Return strong to the marathon, 2. Break 27:00 for 10,000m, 3. Win a medal at World Cross-Country.
****
Former Maryland Track Coach Passes
One thing we haven't mentioned here is that longtime Maryland AD and track coach Jim Kehoe passed away in January at the age of 91. Kehoe, simply put, was an amazing track coach (two national titles) and great AD, as described in his Washington Post obituary. But there are lots of great coaches out there in terms of wins and losses and they don't get necessarily get praise here. We mention Kehoe because he seems to have been a great person, as described in the following excerpt from a letter written to the Baltimore Sun by one of his ex-athletes, Dr. Stephen Hameroff:
Jim was much more than our coach, he was our mentor. He always displayed the highest level of honesty, integrity and morality. He taught us that in competition, you cannot always win but losing should never affect your future endeavors and that handling it in the proper manner can make you a better person. Jim's interest in his athletes went far beyond track and field. He wanted us to get a great college education and did everything he could to help us attain that goal. He was very caring about his athletes in all aspects. He maintained his relationship with many of us after we graduated. He also maintained a relationship with our families. We all have used the values that he instilled in us in our future careers.
Mr. Kehoe certainly will be missed. More: *Jim Kehoe Washington Post Obituary *Jim Kehoe Was More Than A Track Coach
****
Big Pro Distance Action In Stockholm
The big news in Stockholm was that for the 2nd week in a row, Meseret Defar just missed breaking her own world record. Last week, she just missed in the 3k (she missed by .72). This week, she came even closer to her record, as she missed by just .42 thanks to her 14:24.79 clocking. The crazy thing is, going into the last lap, Defar was ahead of her split from the year before by .6 and she closed in a fast 31.2 but still missed the record, as last year she was really booking and closed in 30.2.
Other news of note from Stockholm was that the reigning World Indoor champ at 800 Abubaker Kaki dispatched 2004 Olympic champ and 2010 world leader Yuriy Borzakovskiy in the 800.
Remember This Name - Kalkedan Gezahegn
The other big news from Stockholm (although few seemed to have noticed) is that we may have a new star in the women's middle distances. In the women's 1,500, 18-year-old Ethiopian Kalkedan Gezahegn set a new world junior record by clocking 4:03.28. A fine early-season showing for the teen, who ran 4:02.98 last year outdoors and made the World Championships final at age 18.
Westerners can talk all they want about the great white hopes in Steph Twell of Britain and Jordan Hasay of the USA, but Gezahegn is already an established international on the senior level. In 2008, Twell won World Juniors over Gezahegn, as Hasay was 4th. But if track and field were the NFL and you were about to have a draft, there is no doubt who would be the number one pick between the 3, as shown by the following stats:

4:02.98: PR of 18-year-old Kalkedan Gezahegn (2nd at World Juniors in 2008, 10th at Worlds in 2009)
4:03.48: PR of 20-year-old Stephanie Twell (1st at World Juniors in 2008, eliminated in heats at Worlds in 2009)
4:14.50: PR of 18-year-old Jordan Hasay (4th at World Juniors in 2008)
It's worth noting that the 2009 Worlds 5,000 silver medallist, Sylvia Kibet of Kenya, dropped down in distance and was third in the 1,500 in Stockholm in a new Kenyan national record of 4:05.33 (old PR and NR was 4:07:46).
The 3,000 in Stockholm was really good; in fact, it was the deepest men's 3,000m race of all time. Prior to this year, only eight men in history had broken 7:33 in the indoor 3k and nearly all of them are big household names (Haile Gebrselassie, Daniel Komen, Kenenisa and Tariku Bekele and Bernard Lagat are five of the names). Well, four guys did it in one meet in Spain, as six also broke 7:35.
The race was won by Augustine Choge, who ran 7:31.75 to Tariku Bekele's 7:31.78.
More: *IAAF Recap of Stockholm *Stockholm Results
****
Weekly Free Training Advice: Relaxed = Fast
On Sunday, February 7th, Australian Jeff Hunt had a great marathon debut (pulled a Brett Gotcher), as he set a new Australian marathon debut record of 2:11:00 to finish third in a sprint finish, finishing behind only 2:07:31 man Jonathan Kipkorir (who won in 2:10:50) and 2:06:16 man Daniel Njenga (who was 2nd in 2:10:55). Brett Larner of Japan Running News produced a great interview of Hunt which really describes the exciting race in great detail and is a recommended read for sure.
In the interview, Hunt gives out some great free training advice.
There has been nothing spectacular about my training. I ran consistent 160-170km weeks for 8-9 months, with a few 180km+ weeks over the 5 weeks I spent at altitude. I learnt to run relaxed at pace, and that I think is the key to running fast, it feels effortless.
We here at LRC have always said, you can't be great without mileage and 170 km is just over 100 miles per week and we've always said the key to running fast is to learn to relax. A 2:11 guy agrees with us.
More: *Jeff Hunt Interview
****
In Praise Of A 300-Meter Track
Well, we may have ripped 300 meter tracks earlier, but now we'll praise the unveiling of one. We do so because in this day and age of budget cut-backs, it's great to see an indoor track being built. And this one was built with private money and isn't part of any university and this facility may be 300 meters, but it's spectator-friendly (unlike the other oversized track we know of) and one of the best in the world.
Ever heard of Geneva, Ohio? We doubt it, as it has less than 10,000 people, but private donors have built a world-class sports complex there called the GaREAT Sports Complex (www.gareat.org) - GaREAT stands for Geneva area Recreational, Educational, Athletic Trust.
The indoor track portion of the complex sounds amazing. Let us describe it to you as we received the following info on the facility:
"The track is a 300 meter Benyon 8 lane FAST track. The turns are similar to an out door track. Twin 150 meter straights with 10 and 8 lanes. Two long jump, high jump, pole vault and shot areas. One weight circle. Full locker rooms and concessions. Dual finishlynx timing systems. 5,000 person seating and a 30,000 sq. foot banquet hall and terrace club with closed circuit TVs."
If that doesn't do it for you, click here to read an article about the facility that includes a video tour.
Even better news is that the people who built the track are now going to build a cross-country course which they hope will be even better than the one in Terre Haute. We'd like to see NCAA XC rotate among a few sites, so that would be great if they can pull it off.
And oh yeah, please don't call us hypocrites. We just hate 300-meter tracks that don't have seating for 5,000. We also hate how single meets are dominating NCAA qualifying and think the NCAA should investigate whether 300m tracks are faster than 200m tracks (if so, they should then add a conversion). At the very least, the NCAA should require actual curbing on the inside of lane 1 so we can stop people questioning every time that is run at UW or Notre Dame.
More info here: *Track's New Apex: Indoor Facility Is Already Considered One Of The Best In The World (With Video)
Sergio Sanchez Impresses On & Off The Track
And a Thumbs Up to Spain's Sergio Sanchez for not shying away from the fact that when someone makes big
improvements at age 27 in the year 2010, many are going to ponder if that athlete is on drugs (unless of course the athlete is a white American - that's a joke, people). Considering that as of 2007, Sanchez had very modest PRs of 3:39, 7:54, and 13:32 and now he is the European record holder at 2,000 (4:52.90) and splitting 3:39 for 1,500 in 2k races, people are very suspicious. Butwe love how he isn't hiding or getting angry like Marion Jones used to when people ask him drug-related questions. Check out what he said in an interview on the European-Athletics.org site:
"There have been no miracles and there has been no cheating, I've just worked very, very hard ... I've become like an African runner. In September and October I was doing 205 kilometres a week. I train three times a day: firstly, at 7am in the morning, again at noon and then another training session at 6pm."

Sanchez said all of that before he broke the European 3k record at the IAAF meet in Seville on Saturday by running 7:32.41 in a race where he had to do a ton of work himself, as the rabbits only lasted halfway and only hit it in 3:49. Sanchez brokeAlberto Garcia's previous record of 7:32.98. Garcia also lost his European 5k record of 13:11.39 by the slimmest of margins last week as France's Bouabdellah Tahri ran 13:11.13.
Also in Seville, world junior mile record holder William Biwott, who ran 3:49.29 in the mile last summer at age 19, won the 1,500 in 3:35.6.
More: *Sergio Sanchez Sets European Indoor 3,000m Record With 7:32.41 *LRC Boards: Is 7:32 3,000m man Sergio Sanchez (ESP) the Real Deal? *Spain's Sanchez ready for another record *LRC MB: "I've become like an African runner" - Sergio Sanchez *LRC MB: NEW 2,000 Meters EUROPEAN RECORD!!!!!!!

****
Sad News
LetsRun.com received an email about a week ago from a LRC visitor telling us that 1988 Olympic 10k bronze medallist Kipkemboi Kimeli of Kenya had died of pneumonia. We couldn't confirm the news last week, but have found out since then that unfortunately that it is indeed correct, as he passed away on February 6, 2010. The Albuquerque Journal wrote a short piece on his passing, which you might want to read if you want to help transport his body back for burial in Kenya. Kimeli seemed like a very gentle soul.
More: *R.I.P. Kipkemboi Kimeli
****
RIP Tyson Invite (Or Maybe Not)

The Tyson Invite was held at the University of Arkansas last week. The only problem was it wasn't a part of USATF's Visa Championships series, which now consists of just three meets - Millrose, Reebok, and USAs. Funny that so little was made of the passing of the pro meet. USATF will send out a million press releases talking about how their ratings were .1 or .2 higher than the year before, but we've seen or read nothing about the demise of Tyson as a USATF pro meet.
And maybe that's because despite not being on TV or being part of the VISA championship series, the meet went on as usual, and there were some big time performances and a few big time names. Wallace Spearmon was there but unfortunately got injured. Georgia sophomore Torrin Lawrence stole the show, as he became the 5th-fastest indoor 400 performer in history thanks to his 45.03. And there was a fantastic men's mile where Arkansas' Dorien Ulrey clashed with Russell Brown. Brown won in a fantastic 3:55.79 as Ulrey went for broke and totally tied up and was overtaken in the last 50 before ending up 4th in 3:57.80. Many thanks to LRC visitor Russ Stewart for the photo on the left.
So a final Thumbs Up to Lawrence and Brown for running so fast. Remember - Lawrence is the guy who ran a ridiculous 32.32 for 300 a few weeks ago without blocks. More: *Tyson Meeet Results *Lawrence Q&A
****
Recommended Reads/Listens/Watches From Last Week
*Dathan Ritzenhein Talks About His Transformation Under Coach Alberto Salazar As XC Nationals Approach
*Spain's Sergio Sanchez Going For Sub-7:30 Euro Record 3k - Great Quotes
*Extensive Interview With Jeffrey Hunt From JapanRunningNews
*Oregon State Football Players Ask School If They Can Do Track
*Training Talk Episode #4: Wejo Was The Featured Guest LetsRun.com co-founder Weldon Johnson shared insight on how he made the incredible transformation from a college walk-on to a World Championships team member and near-Olympian as someone who twice was 4th in the US in the 10,000 meters. How do you go from a 9:35 guy to 28:06 for 10k? How do you chop more than 2 minutes off your 10k time after college? Listen and find out.
Remembering The Last Week With The Quotes Of The Day - Day-By-Day:
Monday: "Making this world team was extremely high on my priorities for this fall/winter. This is my first World Championships team of any kind and getting the chance to represent one's country is, in my opinion, the greatest privilege in sports. I'm extremely honored to have qualified, but know qualifying is only half the battle. Dennis and I now need to make all the preparations necessary to post a top finish in Poland. I think I can be a top-20 contender."
- Patrick Smyth, who led the charge in the senior men's field before Dathan Ritzenhein threw off his sunglasses and opened up a 100m gap in the final 2.5km of Saturday's USA XC Championships. Smyth held on for 2nd and talked about being confident during the race that he could handle anything Ritzenhein threw at him.
Sunday: "I visualized that last lap being in a lot of pain in Poland and having to dig deep, running against the best in the world. I'm always trying to mentally prepare myself for the next step. I believe that I can mix it up with the best in the world."
- Shalane Flanagan after her dominant 51-second win in the 8km USA XC championships.
Saturday: "One day I want to be the best in the world. This is a good start."
- Aussie teenager Ryan Gregson after opening his season with a 3:37 1,500m win in Australia.

Friday: "For me, there are three main goals for the year, in this specific order. It's to really make my return back to the marathon. That's my number one priority. Number two is to try and run under 27:00 (in the 10,000). And number three is to win a medal at the World Cross-Country Championships ..."
- Dathan Ritzenhein on Wednesday.
Thursday: "There have been no miracles and there has been no cheating, I've just worked very, very hard ... I've become like an African runner. In September and October I was doing 205 kilometres a week. I train three times a day: firstly, at 7am in the morning, again at noon and then another training session at 6pm."
- Spain's Sergio Sanchez. He's going for the European 3,000m indoor record and a sub-7:30 this weekend after running 4:52.90 for 2,000m in January. We love the quote, as he goes straight to the question many would ask: "Is he cheating?"

Wednesday: "It's my view talent, in athletes, manifests itself in many different ways. Jeff's talent is his belief in his training and in his ability to be competitive. He never gives up no matter how things are going."
- Coach Ken Green talks about his charge Jeffrey Hunt, who ran Australia's fastest-ever debut marathon when he ran 2:11:00 in Japan. Brett Larner does the interview for his website JapanRunningNews. It's a LetsRun.com Recommended Read, as Green says more athletes should do cross-country (Hunt will run Worlds in a month) and talks about how Hunt hasn't missed his weekly long run in over 2 years.

Tuesday: "Our men's track and field program is learning a very painful lesson ... We understand and accept the NCAA's penalty, but want to point out that without any gained eligibility we gained no unfair advantage over our opponents. We would have won that Title with or without that on-line course. I'm very proud of our academic history of our Track & Field teams. In the past five years we've had the most Academic All-Americans in Track & Field of any school in the country."
- Florida State University head coach Bob Braman on the NCAA's decision to force the Seminoles to vacate wins, including the 2007 NCAA Outdoor Track and Field championship.
---
Runner's World &
Running Times



Combined Only $22
a Year
Save $87

---

Running & Track and Field Posters
---

Great Offer: Nike Lunar Glide Sale Multiple colors of this shoe available.

*Nike Air Max Moto 7 Get 2 Pairs for a Crazy $112
---