Favorites Flanagan and Ritzenhein Run Away From USATF XC Championship Fields
By Stephanie Lowe for LetsRun.com
February 13, 2010
While most of the country is covered in snow, Spokane surprisingly had ideal running weather Saturday for the 2010 USA Cross Country Championships. Despite some rain the day before, the sun came out for a beautiful day of racing.
LRC Photo Gallery of 2010 USATF Cross Country Championships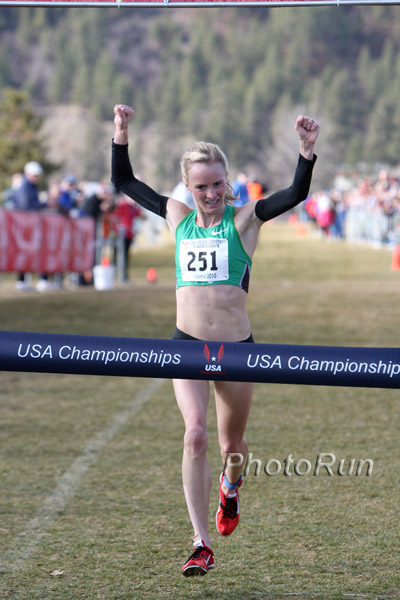 Shalane Flanagan
's 51-second win in the senior women's 8k was the performance of the day as she would have finished 14th in the junior boys race.
Senior Women

The women's race had a strong field, but no one could contend with Shalane Flanagan. She took over from the gun, gradually separating herself from the rest of the women by a large margin.

The top six women were determined early in the race.

"It seemed like a race of attrition. There weren't a lot of parts where it picked up a lot. It was about staying even. In the middle people just kind of died off," Amy Hastings described.

"I planned to run conservative for the first lap, within myself, then run a hard 6K and whoever was with me was with me. I was just going to run my own race," Shalane Flanagan said.

Molly Huddle tried to stick with her, but was dropped quickly. Huddle still ran a great race as she held off Hastings and 2008 Oympic marathoner Magdalena Lewy-Boulet the entire time. She finished 51 seconds behind Flanagan and 5 seconds ahead of Hastings. Sara Hall was 6th and 2009 US Cross Country champion Emily Brown was 18 seconds back in 7th.

Flanagan may have won this race easily, but she knows what she is in for when she leads the US women in Poland.

"I visualized that last lap being in a lot of pain in Poland and having to dig deep, running against the best in the world. I'm always trying to mentally prepare myself for the next step. I believe that I can mix it up with the best in the world and I don't know where that will put me," she said.

Senior Women's Top-10 (Women's Results)
1 251 FLANAGAN, Shalane 28 NIKE Open Female 25:10 0:00 5:03.7
2 260 HUDDLE, Molly 25 SAUCONY Open Female 26:01 0:52 5:14.1
3 257 HASTINGS, Amy 26 FLAGSTAFF AZ USA Open Female 26:06 0:56 5:15.0
4 269 LEWY BOULET, Magdalena 36 SAUCONY Open Female 26:09 1:00 5:15.7
5 280 METIVIER BAILLIE, Renee 28 BOULDER CO USA Open Female 26:26 1:16 5:19.0
6 255 HALL, Sara 26 ASICS Open Female 26:37 1:27 5:21.3
7 234 BROWN, Emily 25 TEAM USA MINNESOTA Open Female 26:55 1:45 5:24.8
8 297 RUSSELL, Blake 34 REEBOK Open Female 27:07 1:58 5:27.4
9 275 MCGREGOR, Katie 32 TEAM USA MINNESOTA Open Female 27:08 1:59 5:27.6
10 285 NEWBERRY, Katherine 31 NEW YORK ATHLETIC CLUB (NYAC) Open Female 27:19 2:10 5:29.8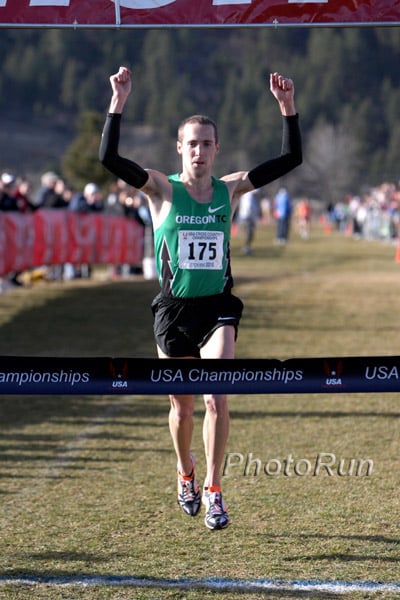 Dathan Ritzenhein waited until the final 2.5km before blasting away to win by 18 seconds in the men's senior race.
*********
Senior Men

Dathan Ritzenhein continued his track of success with his third US Cross Country title. Entering as the heavy favorite, he ran conservatively until he made a move during the last lap to break away.

From the start, the lead pack consisted of Ritzenhein, Patrick Smyth of Team USA Minnesota, Scott Bauhs and Ben Bruce of the Oregon Track Club. After Bruce fell back, Smyth and Bauhs swapped the lead for most of the race, with Ritzenhein on their shoulders, ready to make his move.

"Pat set a great pace. I tried to tuck in behind him," Ritzenhein said. "Alberto [Salazar] wanted me to wait until about a K to go, but it felt like the pace was comfortable and separation happened so I decided to make the most of it and then go."

Once Ritzenhein took the lead, he cruised to the finish, 18 seconds ahead of Smyth. Bauhs held on for 3rd.

After the top-3 guys broke away, Bruce was by himself in 4th with a large gap ahead of Bobby Curtis. Bruce said it was tough to maintain his pace without anyone around him, but he continued to key off the leaders to stay focused.

Curtis and Ryan Vail ran close together and finished within 3 seconds of each other to round out the top six to go to the World Cross Country Championships.

If anyone has the chance to do some damage in Poland, it is Ritzenhein. He has proven he can run with the best in the world already on the track this last year, which he said gives him confidence.

"I want to continue the momentum I've been building over the last year or so and try to take it all the way through there and hopefully get a medal," Ritzenhein said.

Men's Top Results (Full Results)
1 175 RITZENHEIN, Dathan 27 NIKE Open Male 34:34 0:00 4:38.0
2 181 SMYTH, Patrick 23 TEAM USA MINNESOTA Open Male 34:52 0:18 4:40.4
3 105 BAUHS, Scott 23 ADIDAS Open Male 35:01 0:28 4:41.7
4 111 BRUCE, Benjamin 27 OREGON TC ELITE Open Male 35:16 0:42 4:43.6
5 197 CURTIS, Robert 25 LOUISVILLE KY USA Open Male 35:22 0:49 4:44.5
6 185 VAIL, Ryan 23 BROOKS Open Male 35:25 0:51 4:44.9
7 152 MACK, Bobby 25 THE ATHLETES FOOT RACING Open Male 35:34 1:00 4:46.0
8 186 VEGA, Antonio 26 TEAM USA MINNESOTA Open Male 35:41 1:07 4:47.0
9 130 FURST, Stephen 24 RALEIGH NC USA Open Male 35:45 1:11 4:47.5
10 131 GABRIELSON, Matthew 31 TEAM USA MINNESOTA Open Male 35:47 1:13 4:47.8
11 (1) 144 KING, Max 29 BOWERMAN ATHLETIC CLUB Open Male 35:58 1:24 4:49.2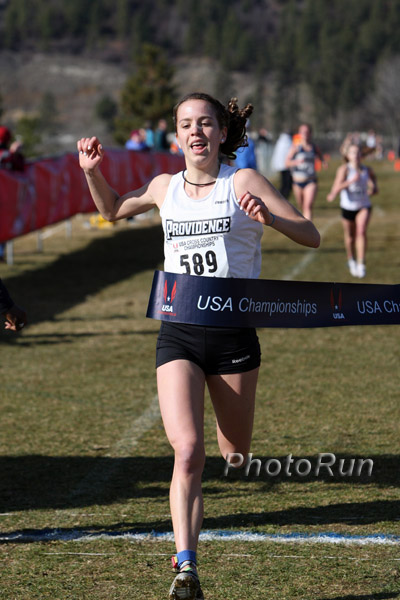 Providence College's Shelby Greany won a close junior girls race over Emily Sisson.
*********
Junior Girls

The junior girl's race was a close one. The top-4 girls - Shelby Greany, Emily Sisson, Duke's Juliet Bottorff and Georgetown's Emily Jones - finished within 6 seconds of each other.

Greany of Providence College out kicked the field in the end, 5 seconds ahead of runner-up Sisson.

"There was a whole bunch of us bunched together, so about half way through I decided to make a move to break things up a bit. Then Shelby took over and second through fourth [place] kicked together," Sisson said.

The tight pack played to the advantage of some of the leaders as the wind blew across the course this morning. Greany was strong enough to hold her pace and also realized where she needed to pick it up.

"I got stuck out in the front a little bit sooner than I would have liked with the wind, but on the last lap I took advantage of the only part where the wind was at your back. I just figured I could go then and try to hold on the best I could," Shelby Greany said.

About 12 seconds behind Jones was Laura Tremblay in 5th and Sophia Ziemian of Duke University. In addition to Bottorff and Ziemian, Kayla Hale (7th) and Madeline Morgan (8th) also run for Duke.

Girls Junior Top-10 (Full Results)
1 589 GREANY, Shelby 18 PROVIDENCE COLLEGE Junior Female 20:27 0:00 5:28.9
2 618 SISSON, Emily 18 CHESTERFIELD MO USA Junior Female 20:32 0:05 5:30.2
3 580 BOTTORFF, Juliet 19 DUKE UNIVERSITY Junior Female 20:32 0:06 5:30.4
4 600 JONES, Emily 19 GEORGETOWN UNIVERSITY Junior Female 20:33 0:06 5:30.6
5 623 TREMBLAY, Laura 18 LOVELAND CO USA Junior Female 20:46 0:20 5:34.1
6 626 ZIEMIAN, Sophia 18 DUKE UNIVERSITY Junior Female 20:49 0:23 5:34.9
7 591 HALE, Kayla 18 DUKE UNIVERSITY Junior Female 20:57 0:30 5:37.0
8 608 MORGAN, Madeline 18 DUKE UNIVERSITY Junior Female 20:58 0:32 5:37.3
9 586 FLANAGAN, Lindsay 19 UNIVERSITY OF WASHINGTON Junior Female 21:05 0:38 5:39.0
10 596 HUTH, Audrey 18 NORTHWESTERN UNIVERSITY Junior Female 21:25 0:58 5:44.4

*********
Junior Boys
One of the top NCAA freshmen to watch this year is the University of Portand's Trevor Dunbar. The US junior cross country title seemed to come easily for Dunbar, and it is only the beginning of his upcoming goals for this year, which includes a sub-14 5K this outdoor season.

Dunbar started fast, but was soon hindered by the wind. It was not enough to deter him, however, as he threw in a strong surge during the first 2K loop of the course to separate himself from the field.

"I probably took off a little too hard now that I think about it, just because it was windy, but I was able to hold it together," Dunbar said.

He said that other than the wind in some parts, the pace felt comfortable.

"I'm used to running the longer distances. I've got some consistent mileage under me so I was able to hold on and not die. I still felt I had a gear left," he described.

Andrew Colley of North Carolina State started strong as well, but hesitated to react to Dunbar's surge.

"At first I almost went with him, but then I thought I probably wouldn't be able to make two or three moves during the race. I probably would have had to had I gone with him, so I just decided to stick back, relax and try to make a move later on in the race and see if I could get anywhere closer to him," Colley said.

Colley led the rest of the field for much of the race.

"About half way through the third lap, I decided to make a move and I took off to try and create some space and then just try to hold on for the rest," Colley said.

He could not hold off runner-up Walter Schafer at the end, however, as he ultimately finished 3rd. Schafer out kicked Colley by taking the opposite approach as he held back at the start and picked off runners.

"I tried to go out conservatively because I have a problem with [usually] going out too fast, so I was pretty far back through the first lap. I felt great and just started to move up and got into second with a lap to go," Schafer said.

Schafer said his goal was to make the team, but he did not expect to do as well as he did. His plan to move up gradually worked out as he was only 6 seconds behind Dunbar.

Andrew Kimpel of Washington State, Michael Lynch and 16-year-old Ammar Moussa round out the top six boys to qualify for the world team.

Junior Boys Top-10 (Full boys results)
1 512 DUNBAR, Trevor 18 UNIVERSITY OF PORTLAND Junior Male 24:04 0:00 4:50.5
2 548 SCHAFER, Walter 18 CENTENNIAL CO USA Junior Male 24:10 0:06 4:51.7
3 509 COLLEY, Andrew 18 NORTH CAROLINA STATE UNIVER... Junior Male 24:16 0:12 4:53.0
4 523 KIMPEL, Andrew 18 WASHINGTON STATE UNIVERSITY Junior Male 24:19 0:15 4:53.5
5 526 LYNCH, Michael 18 COLUMBIA MD USA Junior Male 24:24 0:20 4:54.6
6 536 MOUSSA, Ammar 16 ARCADIA CA USA Junior Male 24:28 0:24 4:55.4
7 539 OLSON, Erik 17 NOVATO CA USA Junior Male 24:33 0:29 4:56.5
8 538 NELSON, Jonathan 18 BYU Junior Male 24:45 0:41 4:58.7
9 532 MONAGHAN, Taylor 19 TULSA OK USA Junior Male 24:52 0:48 5:00.2
10 502 ARNIER, Jeffery 18 DALLAS METROPLEX STRIDERS TR... Junior Male 25:05 1:01 5:02.8
---
Runner's World &
Running Times



Combined Only $22
a Year
Save $87

---

Running & Track and Field Posters
---

Offers of interest: Nike Lunar Glide Discount Discounting on this shoe not allowed until recently.
---