USATF XC Championships From Spokane, WA *Meet Home
Results: *Men *Women *Jr B *Jr G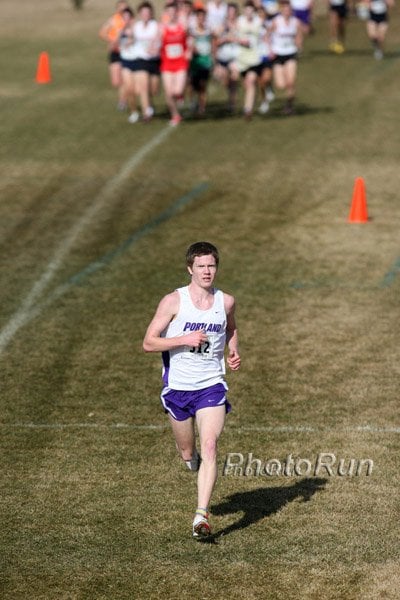 LRC USA XC Photos

LRC Favorites Flanagan and Ritzenhein Earn Big Wins At USA XC Champs Shalane Flanagan won by a massive margin leading from the gun, while Dathan Ritzenhein pulled away smoothly to get an expected win. See who else qualified to run the World Cross-Country Championships in Poland in March.

Alaskan Trevor Dunbar Cruises To National Junior Title Kodiak Daily Mirror

Reigning World XC Champ Florence Kiplagat Will Not Defend Title Flanagan's quest for a World XC medal will be tough, but she won't have to face the 2009 champion.

LRC Early Report: Ritz, Shalane Crush Fields
Flanagan really crushed the field, while Ritz just blew them away the final 2.5k. They both showed why they were the heavy favorites on Saturday. Trevor Dunbar and Shelby Greany won the junior races.
Training Talk Episode #4: Wejo Was The Featured Guest LetsRun.com co-founder Weldon Johnson shared insight on how he made the incredible transformation from a college walk-on to a World Championships team member and near-Olympian as someone who twice was 4th in the US in the 10,000 meters. How do you go from a 9:35 guy to 28:06 for 10k? How do you chop more than 2 minutes off your 10k time after college? Listen and find out.
Off-The-Track News - Further Evidence Bolt Is The Man
More People Watched Usain Bolt In Berlin Than Watched The World Series Researchers have combed the TV numbers to find that Bolt's 100m in Berlin was only eclipsed in total TV audience in 2009 by the Super Bowl, a Champions League game and a Formula 1 Race. However, the article doesn't point out the ratings weren't great in America. We think less than 1.5 million people saw it here if these Nielsen ratings are right.
*<------ Bolt's 2-Ton Chunk Of Berlin Wall Unveiled In Jamaica
*Video Bolt was given the chunk of wall as a gift for his unbelievable exploits at the 2009 World Champs in Berlin when he smashed the 100 and 200m world records down to 9.58 and 19.19. LRC Brain Teaser: How is Bolt's 200m WR almost exactly twice his 100m WR?

London Marathon Runners Have Now Raised Over A Half A Billion Pounds For Charity In 30 Years An unbelievable amount of money.

WADA Tells IOC 30+ Athletes Have Tested Positive Pre-Winter Olympics Winter athletes must be a lot dumber than summer Olympics athletes for that many of them to test positive. Or their countries are more willing to turn in a cross-country skier than a swimmer.
Sad News: 1988 Kenyan 10,000m Olympic Medallist Kip Kimeli Dies In Albequerque, Leaves Family Behind
GE Galan In Stockholm - Great Meet
LRC Defar 1/2 Second Away From World 5,000m Record 14:24 Meseret Defar was the star of the show as she almost broke the world indoor 5,000m record with a stellar 14:24. But that wasn't all ... Abubaker Kaki made a strong debut in defeating Borzakovskiy, Ismail and Kiprop at 800, a new-name Ethiopian ran 4:03 for the 1,500 win (she also won the Boston 3,000), Little Bekele ran 7:31 but lost to Augustine Choge in a deep, deep 3,000m and Blanka Vlašić won again over 2m in the HJ.

*GE Galan Recap From IAAF
*Full Results
Lots Of Good Reads Today
Recommended Read: Spain's Sergio Sanchez Going For Sub-7:30 Euro Record 3k - Great Quotes Spain's Sergio Sanchez looks to follow his stellar 4:52 2,000m with a big 3,000m time. He gives some great quotes about how he has achieved his highest fitness. He says he's not cheating, but training like an African and eating totally naturally. An inspiring read.
Recommended Read: Extensive Interview With Jeffrey Hunt From JapanRunningNews Following the interview with Hunt's coach Ken Green, JRN published this extensive interview with the Aussie who ran 2:11:00 for his debut marathon to shock his country and the people in Japan who watched the race and watched him come from behind to almost win Beppu-Oita.
Video Of Paul Koech 13:02 Where Komen Stops Lap Early & Still Runs 13:05 As we reported in The Week That Was In Running, steeplechaser Paul Koech ran 13:02 indoors while passing a runner who thought the race was over a lap early when the clock read 12:32. Well, a LetsRun reader found the video on a German site and you can watch it at the link above.
LetsRun.com The Week That Was In Running This week we praise Bernard Lagat, Galen Rupp and Nick Willis but give out a Thumbs Down to Jenny Barringer. Along the way, we introduce you to Adam Kszczot, give you a math lesson, tell WADA who they need to drug test, share some depressing news for Curtis Beach fans and reveal that LetsRun.com has been banned by the US military.
Inspiring Runners And Coaches

LRC Bernard Lagat 13:11.50 AR, Rupp 4th 13:14 US 5,000m running is at an all-time high as Lagat won and smashed Galen Rupp's former American record of 13:18 and Rupp was well under it as well in fouth. In other action, Nick Willis returned to pro-racing with a win in the mile, Tirunesh Dibaba ran 14:44.53 to win the women's 5,000m exhibition race, Terrence Trammell ran a 7.49 meet record in the hurdles and Kenia Sinclair upset Anna Willard Pierce in the women's 1,000.
Friday Night Top 3 4
Adams State 5 Guys 14:03 Or Faster At UW
*LRC Boards Debate: Adams State 4-5 guys sub-14:00 or Oregon's 4:00 milers - what's more impressive?

Georgia Sophomore Torrin Lawrence Runs 45.03 At Tyson 5th-fastest indoor performer of all-time.

OTC Runs 9:21 DMR Behind 2:51 Symmonds Split And 3:55 For Leer It can't count as a record, as it was run on a 307m indoor track.

19-Year-Old Gregson Opens Season With 3:37 1,500m Down Under US rival German Fernandez ran 7:51 for 3000m in Washington.
RAK Half Marathon Fields Announced - Coming This Friday
New Race Promoters Talking Women's WR With Dire Tune Leading The Lineup Our first take: no Mary Keitany, no Tiru Dibaba, no Meseret Defar, no Linet Masai means no record. But wait! A debut half marathon for... Ethio-born Turk Elvan Abeylegesse... all bets are off as she is dynamite when fit.

Deriba Merga And Tilahun Regassa Headline 10 8 Men Under 60mins For Next Weekend's RAK Half Tilahun Regassa and Deriba Merga headline the men's field in what was rated the deepest, fastest road race in the world in 2009. It's not the richest, as the prize purse for open competitors is approximately 1/20th of Zayed!
*LRC 2009 RAK Half Marathon Photos
Boston Marathon - John Hancock Not Making It Easy For Americans Meb And Ryan Hall
Link Fixed Defending Champions Merga And Salina Kosgei To Return To Boston Marathon - Elite Fields Announced On the men's side, it's not just Merga to watch out for. NYC Marathon 2nd-placer and marathoning great Robert Cheruiyot will be back as well. Look for a rematch on the women's side between Kenya's Kosgei and Dire Tune.

New: Meb K, Fam, Abdi, Rohatinsky To Join Haile G In 2010 NYC Half Marathon
More Distance News
Oregon TC Elite Going For US Indoor DMR Record In Seattle Nick Symmonds and Will Leer will lead the squad with NCAA champ Tyler Mulder on the 800. Texas set the record of 9:25 in '08 with Leo Manzano. 9:25 won't be an easy task even with Olympic-caliber pros.
LSU No One Wins 2007 NCAA Track Title 3 Years Later
Florida State Coch Bob Braman's Statement On Loss Of The Title The academic fraud "ring" involved students cheating on an online music course. Braman points out the track and field athlete did not need the class to stay eligible but understands that students need to understand actions can come with serious consequences.

FSU's "Tomahawk Nation" Reports Track Stripped Of 2007 NCAA Track Title As we recap in our Week That Was, we believe no one replaces Florida State as the champs. They just lose their title.
FSU Damage: FROM MEN'S OUTDOOR TRACK AND FIELD:
- 2007 ACC Championship - Maintain Championship
- 2007 NCAA Regional - Maintain 1st Place
- 2007 NCAA Championship - 1ST Place To 2nd Place
LRC Vote:


Who Were The American Distance Athletes Of The Year In 2009?
What Was The LetsRun.com Quote Of The Year In 2009?
We ask the most knowledgeable distance fans in the world to pick from Jenny Barringer, Shannon Rowbury, Anna Willard and Kara Goucher on the women's side and Dathan Ritzenhein, Meb Keflezighi and Bernard Lagat on the men's side. The quote of the year nominations come from the highest vote-getting quote from each month. No registration required, we want to see what you think!
Sam Bair III Finally Joins Dad In Sub-4:00 Club After Several Near Misses