800 Meter Royalty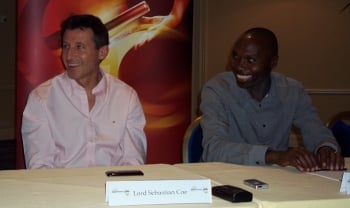 LRC Jauntorena, Coe, Kipketer, and Rudisha All Together in One Room For the First Time Ever There may never be a night like it for the 800m. The last four world record holders, Alberto Juantorena, Seb Coe, Wilson Kipketer, and David Rudisha all gathered together to reminisce about their record runs, to pay their respects to one another, and to discuss the uniqueness of the 800m. It was a truly special occasion and these greats were almost giddy about it. They mesmerized the room for 40 minutes. Juantorena and Kipketer wanted their own photos, Coe said the photo would be his Christmas card, and Juantorena also wanted a video of the occasion. We then were notified we have the only vide of it in the world. Recap and video.
LRC Bernard Lagat Says The 5k is His Focus, Watch Out for His Brother Robert Cheseret The American 3k and 5k record holder talks about his 2010 season, what took him so long to get the American record, raising the bar for Americans, and the bar being raised by Dathan Ritzenhein. Plus he says watch out for his brother, Robert Cheseret.
LRC Dayron Robles and David Oliver Agree on One Thing Allen Johnson is the Best Hurdler of All-Time Robles and Oliver were really entertaining. Oliver is now one of our favorite US runners.
Big Names In The News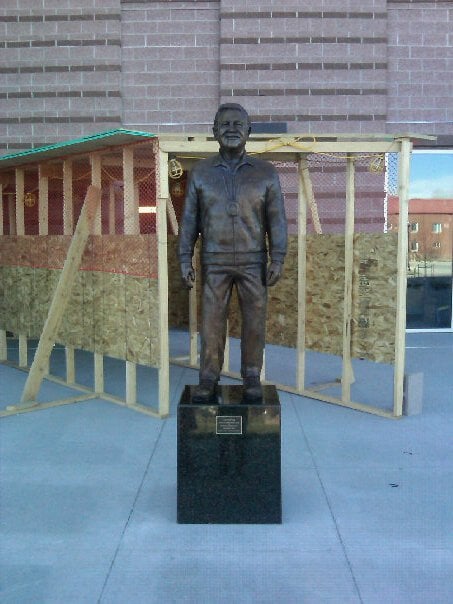 Joe Vigil Honored With Statue At Adams State He may be most known for coaching Deena Kastor, but having his team go 1,2,3,4,5 at the DII NCAA XC champs is simply amazing (and lucky).

Vin Lananna Talks About NCAA Meet For Men & Women (Video Interview) "With cross country, it's almost impossible to pick (the individual winner)."

Forget About NCAAs - The Nationals Milk Mile Is Sunday This event is for runners and spectators. More info at the link above and here. We're sure some of you wish this was a beer mile. If you like beer miles, you'll certainly like this race: 7-Beer, 6-Mile Race in Canada is featured in Edmonton Journal. Anyone remember when Princeton had its 6-pack, 5-miler?
Believe It Or Not, There Are Races Besides NCAAs This Weekend
Upcoming
LRC The Week That Was We keep things brief as we talk about lowering expectatons for Haile's comeback and give props to Tulsa, Toledo and Richmond and Megan Venables and the great state of NJ.
US Stars Of Present And Future? In The News
Lance - It's Officially Time To Get Nervous
US Feds Meet With French Feds On Tuesday To Talk About Armstrong If he's guilty, we hope jail is where he ends up.
Despite Protests, Olympic Marathon Almost Certainly To End In London Mall Meanwhile, we wonder if anyone thought about trying to recreate the marathon course that gave us the 26.2 mile distance from 1908.
Recommended Read Former Kansas Great And World 1,500 Record Holder Wes Santee Dies The NY Times Frank Litsky recaps Santee's career and life in great detail. He was America's best hope to be the first sub-4 guy in history. Want to know more about Santee? He was featured in The Perfect Mile.
*KU Release On Santee *2nd Article On Santee With Pic Of Him In Prime *3rd Article On Santee With Recent Picture
Italian Wins Turin Marathon In 2:10:58
HS Fan?
Lots Of HS State Meet Recaps Here Highlights included the F-M girls putting 15 on NY state once again and Megan Venables breaking the Holmdel course record.
News From Europe & Kenya
Top Young Women In The News
More Haile News
Double Jeopardy?
The NY Times Looks At The New IOC Doping Rule That Bans Anyone From The Next Olympics Who Suffered A Major Doping Suspension
News From Europe
Post-Commonwealths/NYC Marathon News
King Carl Seemingly Just Wants To Remind Us He's The Only 100m Champ To Repeat
Carl Lewis Says Usain Bolt Faces "Big Challenge" In Bid To Repeat As Olympic Champ
Preview Of 2nd IAAF XC Meet World XC silver medallist Teklemariam Medhin headlines. Last week he beat Ebuya in Spain.
Jos Hermens, Haile's Agent, Says Gebrselassie Reconsidering Retirement Hopefully the Great One realizes his fans would love nothing more to see him compete again - New York 2011 and the Olympics in 2012. We didn't realize how much worse the sport will be without Geb until he said he was leaving.

LRC Haile Gebrselassie Retirement Update The greatest of all time may be reconsidering. He at least is leaving open the door to coming back. We give you an update on all that we've learned since our last update on Sunday night.

More NYC : WSJ Looks At Changing The NYC Marathon Course The current course seems great to us and has a better finish than the proposed course (and pros generally choose marathons for the money, not the type of course).
*Sarah Shay Has Appendectomy Right Before NYC Marathon
*Katie McGregor Reflects On Winning USA Running Circuit Title, Her Run In NY
Post-NYC News
Non-NYC News
2010 NYC Marathon Is In The Books
LRC Men: In Debut, Gebremariam Makes Marathon Look Easy On a day that Father Time caught up to Haile G, another Geb, Gebre Gebremariam blitzed a 26th mile in 4:37 and took us back to an era when debutantes won and road racers won Falmouth and NYC in the same year, as a new marathon star may have emerged on the streets of NY. Meb Keflezighi finished 6th and Dathan Ritzenhein 8th.

LRC Women: Edna Kiplagat Completes Magical Year, Shalane Impresses
The women's race was perhaps the craziest one ever in New York, as it was a 20-mile jog and a 10k race. LA Marathon champ Edna Kiplagat, American star Shalane Flanagan and half marathon ace Mary Keitany battled over the final miles, with Kiplagat winning and Flanagan battling back for second in her debut. The top 10 were separated by an amazingly small 1:35.

*Nice Wall Street Journal Recap Of Sunday's Action
*Flanagan Impresses In Marathon Debut

More NYC News: Ritz Disappointed With Another Mediocre Marathon Finish
*American 10k Record Holder Chris Solinsky Gets Wined & Dined In Elite Truck & Says "Maybe In 3 Years"
Alberto - Read This: Scientists Say They Have No Idea How Form Really Works & How Fast People Can Truly Run This article seems to be written for people who believe Alberto Salazar's obsession with form is all wrong.
HS News: CBA's Mike Mazzaccaro Claims Title As Greatest CBA Runner In History As His 15:20 Leads Team To Fastest Avg. Time In NJ History
*Weekly HS Recap NJ MOC, MA state meet and a lot more.
Facility/Championship News
Swedish Steeple Star Mustafa Mohamed Will Run Marthon At 2012 Olympics
IAAF Meetings In Monaco (Wejo On Site)
LRC IAAF Rights Its Financial Ship While much of the running world is getting ready to travel to wonderful Terre Haute, LetsRun.com's beloved Wejo is living the life of luxury, attending the IAAF meetings in Monaco. Fortunately, after running into Bernard Lagat in front of the beautiful casino, he took the time to give you a few insights from Day 1 of the IAAF meetings, where it was announced the IAAF will balance its book through 2015 by cutting back on expenditures. Plus he looks at the sports popularity in Europe.
Haile Gebrselassie News
Gebrselassie Says Public Appeal Of Fans In Ethiopia Changed His Mind On Retirement
LRC Update Former Imprisoned Ethiopian Journalist Says Hermens'/Gebrselassie's Leak And Then Denial Of NY Times Report Is Part Of Attempt To Raise Awareness Of Geb's Plight In Ethiopia, Where He's Had A Lease To Land Worth At Least $7.2 Million Taken By The Government The story talks about the land being worth between 120,000,000 and 150,000,000 birr, which converts to $7.2 and $9.1 million US dollars.

Gebrselassie Says He's Still Planning To Run Tokyo Marathon In February Geb's team is now smartly trying to change the topic of conversation. We'll hopefully have an update tomorrow on some of the emails we've received on the news below.

LRC Update The NY Times Stands Firm: "The New York Times stands by its story." Plus we have commentary from an Ethiopian political expert who says making Geb and Hermens deny the story is typical of the government.

LRC Jos Hermens And Haile Gebrselassie Take To National TV To Deny NY Times Story - Were They Forced To Do It? Hermens has denied telling the New York Times Haile's phones were tapped and Haile also ripped the paper. *Coverage On Ethiosports.com

Geb's Knee Pain Is Gone & He'll Run In Tokyo In February
Marion Jones Continues To Lie - Thankfully, We Aren't The Only Ones Who Are Outraged
Fukuoka Field Announced Jaouad Gharib & Kebede Tekeste will headline in December. Fasil Bizuneh and Andrew Lemoncello will race as well.
Swimming Reminds Us Of USATF
Swimming National Coach Fired Even Though He Was Promised He Could Continue For Six To 10 Years
LRC Tributes Pour In For The Great Haile Gebrselassie Last week, the world was shocked as the great Haile Gebrselassie retired. The retirement was short-lived but our inbox was flooded with tributes to the great Haile. We share some of them with you, including one from a man who calls Haile an inspiration for millions, another who admits he cried when he watched Haile retire and painted a picture of Haile in victory in Berlin, and lastly a note from a college sophomore in the US who found it easy to be inspired by Haile but hard to be inspired by US stars like Prefontaine, whom he calls an "alcoholic frat boy who refused to listen to anyone" or drug cheats like Alex Rodriguez and Marion Jones or others who have "sexually harassed women (Brett Favre, Kobe Bryant, Ben Roethlisberger)" or "abandoned his family or fans (Tiger Woods, LeBron James)."
Kenyan News
Paul Tergat Tells Daily Nation He's Happy To See Old Rival Geb Unretire Three Great Tergat Quotes:
1. "Legends of any sport do not retire; instead, they fade off the stage graciously and continue working in the disciplines they know best."
2. "Gebrselassie has done everything in the sport except win a marathon with stiff competition."
3. "Deep down, when he is all alone sitting by the fire, Haile must realise he dropped one of the biggest clangers of his running career."
Walk Back In Time - A Brief Chat From Wes Santee In 2005
Allyson Felix And David Oliver Win Jesse Owens Award The award goes to the top US track and field athlete each year.
*Jesse Owens Gets Street Named After Him In Cleveland
*European 100H Silver Medallist Derval O'Rourke Named Ireland's Athelete Of The Year
Off-Season News
Haile G's Back!!! Everyone can relax, as the retirement lasted all of one week. Additionally, more good news was revealed as his coach thinks he can compete until he's 45. Can anyone say 2016 Rio? Video story in Armharic here (updated with translation from an LRC visitor).
*Reuters Story By Sabrina Yohannes Here
Book On 93-Year-Old WWII Hero And Former Running Star Louis Zamperini Gets Front Page Weekend Coverage In WSJ
*Full Book Review Here *Purchase Here
Bizarre: Jim Thorpe's Son Suing Jim Thorpe, PA To Get His Body Back They changed the name of their town for him and should keep it.
Update From Ireland On Former NCAA 3rd-Placer Andrew Ledwith He's scraping by on little sponsorship and focusing on track, not XC, this year.
Ryan Hall Is Confident He'll Never Regret Deciding To Leave Mammoth TC Apparently his wife Sara wanted to stay with Terrence Mahon but she ended up having to go as well.
A Look At The Notable Names For Nov. 23 Chiba Ekiden Bobby Curtis, Craig Mottram, Ed Moran and African 10k champ Wilson Kiprop are included.
Preview Of Sunday's Turin Marathon
#1 Oregon Football Team Is Inspired By Steve Prefontaine Last year, Coach Kelly took the team to Pre's rock and this year, locals are wearing shirts that say "Stop Pre."
Drug News
News We Didn't Cover Because Of NYC
Veronica Campbell-Brown, Jessica Ennis, Milcah Chemos Cheywa, Allyson Felix And Blanka Vlašić Are IAAF Athletes Of Year Finalists
Week In Review
LRC Week That Was: New York, New York Our week in review is the only must-read in the industry and this week it exceeds our normal high standards. We analyze the 2010 NYC Marathon, give Ritz some encouragement, look at Shalane Flanagan's career as a marathoner, give some major props to Gebre Gebre, have some book and movie reviews, and even have a funny story on Japanese-English translations.
Non-Marathon News
IAAF Male Athlete Of Year List Narrowed Down To 5 Tyson Gay, David Oliver, David Rudisha, Zersenay Tadese and Andreas Thorkildsen.

European Athletics Bosses Say Stars Will Compete In Euros 2012 Of course they're going to say that. Moving the Euros to the same year as the Olympics is a mistake. The stars without much of a chance in London will show up and take it seriously.

21-Year-Old Pamela Jelimo Hopes To Get Back On Track The 2008 800m Olympic champ is only 21 and has been forgotten by many since the emergence of Caster Semenya.
They Both Crossed The Line First At Worlds
LetsRun.com's Message Boarders Rejoice
Despite Being European 400m Champ, Kevin Borlée's Dad Wants Him To Move Up To The 800 He is the "slow" Borlée twin yet was the European champ this year. He's not ready to move up.
NYC Champ Edna Kiplagat Getting Props In Boulder
Random News
Save Some Cash

2010 ING NYC Photos
Geb's Emotional Retirement Speach
Fred Lebow Documentary Trailer - More Info Here
LRC Poll
Powered By