The New York City Marathon That Was
The Week That Was In Running - November 1 - November 7, 2010
To read last week's LRC Week That Was, click Here.
To read any 2010 LRC Week That Was, click Here.
By LetsRun.com
November 11, 2010
This week in our weekly recap we provide a few points of insight about the 2010 ING New York City marathon. Note, we do not discuss Haile Gebrselassie's shocking retirement announcement. We covered that here and here.
Thought #1 - Gebremariam Ran An Amazing Race And Would Have Destroyed Beaten Meb In 2009
Lots of thoughts about New York. Let's start with the men's winner, Gebre Gebremariam. Our biggest thought is he absolutely destroyed a supreme men's field. How did he do it? By simply running fantastically.
The pacing early on at this year's race was very similar to last year's race. At halfway last year, eventual winner Meb Keflezighi was 65:11 to this year's 65:20 for Gebremarian. At 25k (15.53 miles), Meb was 67:32 and Gebremarian 67:34, so basically at 16 miles they had exactly the same time.
But over the final 10.2 miles, the finishing times of last year's winner and this year's winner ended up 61 seconds apart.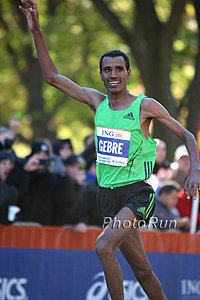 Where did the difference come from? As we pointed out in our post-race recap, Gebremariam was simply unbelievable in miles 17-19 as well as in mile 26. Mile 17 was run in a ridiculous 4:28. The flatter 18th and 19th miles weren't much slower, as they were covered in 4:32 and 4:33, meaning that the leaders probably ran a 5k between miles 16 and 19.1 in just over 14:00. 14:02 most likely. When Gebremariam finished off Emmanuel Mutai at the end, he did so by running a 4:37 26th mile. Unbelievable.
This year, Meb's 17-19 miles were run in 4:37 (5 seconds faster than last year), 4:47 (8 seconds slower) and 4:55 (8 seconds slower) so overall it was a net of just 11 seconds slower and yet Gebremariam was some 35 seconds faster than that. Plus, Gebremariam still had a lot left in the tank for the finish, as he ran a 4:37 26th mile.
Japan's 2:08:40 marathoner Arata Fujiwara had a tough day in New York as he had to drop out. However, there was a funny story associated with his dropout, as revealed on Japanrunningnews.blogspot.com.
Fujiwara was with the leaders at halfway, but as he approached Manhattan, he was hit with intense abdominal pain - that felt as if someone stabbed him in the abdomen. When he reached 1st Avenue, the pain was too much to bear and Fujiwara slowed to walk as he contemplated a DNF.
However, the DNF didn't come until the 35k mark, as Fujiwara said the crowd kept him going.
"I thought about dropping out there but the cheering on 1st Avenue was too loud and I couldn't stop. Every time I slowed to a walk people shouted, 'Come on! Come on!' It sounded like, 'Gaman! Gaman!"
Don't know Japanese? Well, gaman is a word that has special meaning in Japanese culture that basically means - put up with it - according to the following excerpt from thejapanfaq.com:
If ever one falters, or feels he can't take it, he is told to put up with it (gaman). Gaman means to take it or be patient, and again, is a double-edged sword. For Japanese it's a source of great strength. No matter how hard things get, they just keep fighting (ganbaru). This has allowed Japanese to overcome enormously difficult times, including natural disasters as well as a bad economy. But on the negative side, there is also a time to cut your losses and reform -- and Japanese sometimes get blinded to this and fail to see when more fundamental structural changes need to be made.
More: Arata Fujiwara - ING New York City Marathon DNF *Gaman Defined
Props To The NYRR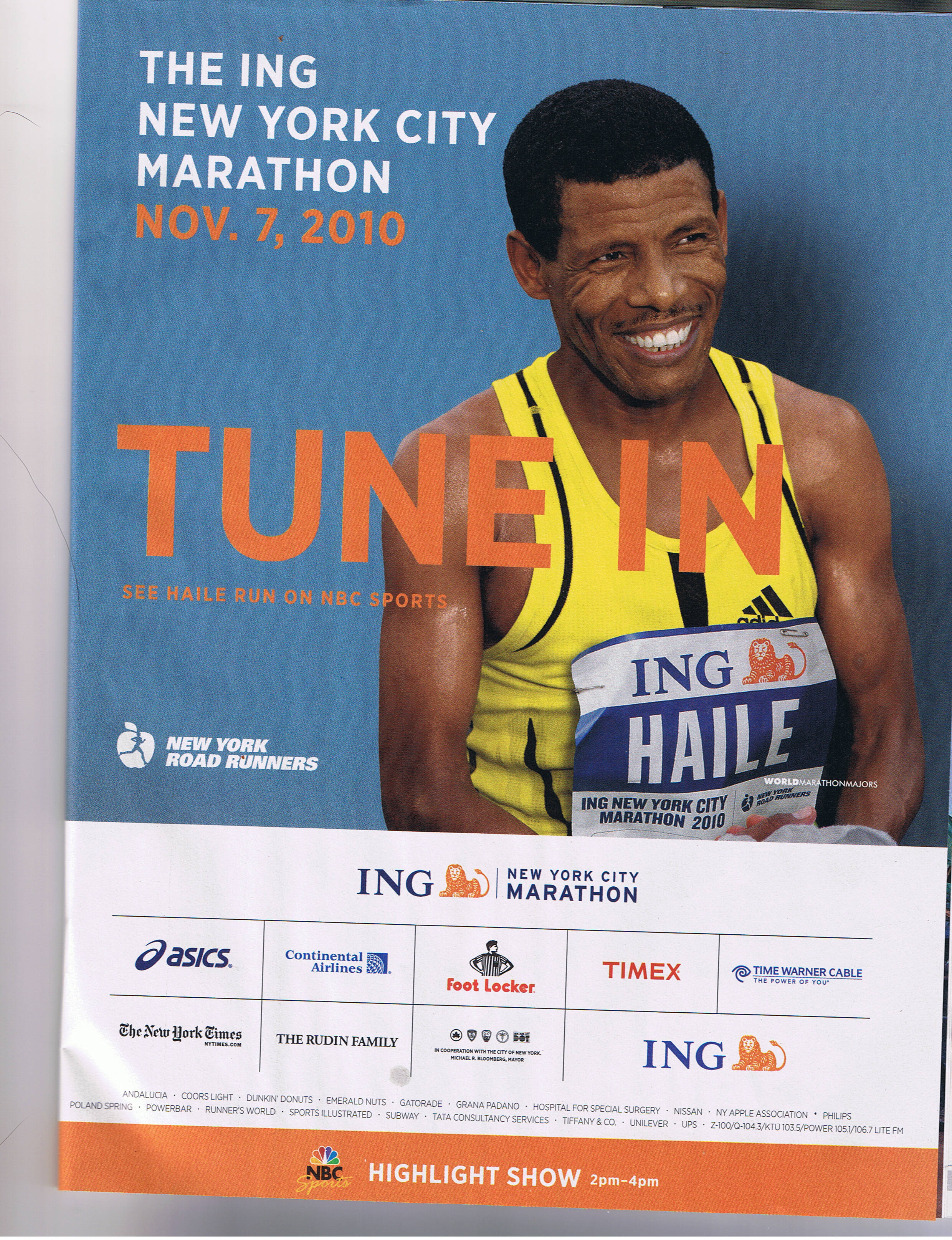 Does anyone besides us still subscribe to magazines? We love reading magazines and are devout readers of Sports Illustrated. We gotta admit it was refreshing to see an advertisement in SI encouraging people to watch the ING New York City marathon on national television. If organizers don't treat marathons as big time sporting events, the public won't either. Thankfully the New York Road Runners (NYRR) understand this.
Don't get SI? Well you can see the add on the left.
Shalane Flanagan Gets 2nd
What to make of Shalane Flanagan's 2nd-place showing? Well, second in a World Marathon Major is very impressive. Period. The fact that she was able to outlast Mary Keitany at the end also was impressive.
That being said, most of the race was so slow that it doesn't necessarily tell us a whole lot about her marathoning future. In some ways, the race was tailor made for someone with great track credentials.
2:28:20 for a winning time is unbelievably slow. Yes, we know 2009 was won in 2:28:56, but before that one had to go back to 1997 to find another winning time in the 2:28s.
Basically, this year's race was a 21-mile tempo run followed by a 5-mile race, which is something that would ideally suit Flanagan.
The first 21 miles were covered in 2:00:33. That's 5:44 pace per mile, which equates to 2:30:30 for the marathon.
The last five miles were much faster. Flanagan covered miles 21-26 in 5:20, 5:13, 5:32, 5:16 and 5:30, which adds up to 26:51 for 5 miles.
And that's not even factoring in the that the last five miles of Central Park are up-and-down hilly, with a net elevation gain of about 90 feet. LetsRun.com coaching guru John Kellogg estimates that the hills in the last 5 miles of the marathon are worth around 25 seconds (every 10 feet of elevation gain slows a runner down by 1.84 seconds in his book, giving roughly a 17-second slowdown due to the 90-ish feet elevation increase, plus he's estimating an additional, but less quantifiable, slowdown for the effects of going up and down in the park at that stage of a long race). If the last 5 miles are indeed 25 seconds slower than a flat 5 miles, that means Flanagan could run the last five miles at 5:17.2 pace on a flat course, which is sub-2:19 pace for a marathon.
Is that any good? Well, 5:17.2 per mile for an entire marathon would result in a 2:18:37. So yes, it's very encouraging to think that Flanagan can run miles 21 to 26 of a marathon - no matter how painfully slow the first 21 miles were - at 2:18+ pace (2:20:47 pace if you aren't buying our hill analysis - or maybe faster than 2:18 pace if the hills at that stage of the race cost even more time than we think).
That being said, we want to see her excel at another marathon before we are totally sold.
Women's marathoning certainly isn't known for it's great depth, but the crazy thing about the 2010 ING New York City ladies race is that the top 10 were only separated by a scant 1:35. That is heretofore unheard of in women's marathoning. Now, New York deserves some credit for attracting a deeper women's field than normal, but please don't tell us that women's marathoning suddenly became incredibly deep. The field basically ran a group tempo for 21 miles and then raced for 5 and thus everyone finished close to each other.
Compare the top 10 spread form this year to the last five years and you'll see what we mean.
Time Difference Between 1st And 10th At The ING New York City Marathon
2010 - 1:35
2009 - 10:38
2008 - 7:18
2007 - 19:27
2006 - 7:40
2005 - 4:07
Recommended Book To Read

The author of Seabiscuit, Laura Hillenbrand, has come out with a new book that might interest running aficionados. The book is entitled: Unbroken: A World War II Story of Survival, Resilience, and Redemption. What does that have to do with running, you ask?
Well, the book is about tells the story of Louie Zamperini, a guy who - according to Vanity Fair - was a "former Olympic track star for the U.S. who at 23 came close to breaking the four-minute mile. He made a heroic but losing effort in the 5,000 meters at the Berlin Games, in 1936, and would have been a gold-medal contender at the planned 1940 Tokyo Olympics had they not been canceled because of the war." His life story is amazing because during the war, he survived a plane crash, a record 47 days on a life raft in the Pacific, Japanese notorious POW camps and more. The book is getting RAVE REVEWS all over the place. You can see many of those reviews and purchase the book at amazon.com using the link on the left. As Vanity Fair says, "Zamperini's story is certainly one of the most remarkable survival tales ever recorded. What happened after that is equally remarkable. Do yourself and the publishing industry a favor and buy the book." An excerpt from the book apparently is in the Dec. issue of Vanity Fair.'
---
Looking For A Movie To Watch

Let's face it, great running movies are often hard to come by, as if it is about a famous person, everyone knows the outcome of the big race in advance. Thus, one might very well agree with writer Hugh Eakin, who wrote a piece entitled Marathon Men for nybooks.com, when he writes that "far more interesting are movies that in some way explore the psychology of running, even if they are mostly about other matters." If you agree with that sentence, then you might want to watch "Benjamin Heisenberg's remarkable new film Der Räuber (The Robber, 2010), about a serial bank robber" as it "may be the most eloquent, and disturbing, portrait of the running mind ever made."
The story is about the supposed former Austrian national record holder in the marathon, who also loved to rob banks. You can read a nice review of it as well as many other movies that are tangentially related to running here: Marathon Men. The movie was screened at the NY Film Festival and will hopefully be coming out in the US in 2011. We'll let you know if we learn of its release. Trailer on the left.
More: Marathon Men *2nd Article On NY Film Festival's Screening Of The Robber *3rd Review Of The Robber
---
Other Happenings Of Note
*Craig Virgin Is Still The Best - But Barely Lukas Verzbicas misses his hallowed record by 3 seconds.
Chicago Tribune: Verzbicas Says Divine Headwind Cost Him Record Apparently a gust of wind came up in the last 200 meters, as he was on pace to do it at 2 miles. *Mboard Talk
*Radcliffe's Baby Boy Nearly Died While She Gave Birth
*Sammy Wanjiru Of Kenya And Liliya Shobukhova Pick Up $500,000 And World Marathon Major Titles
*Michael Wardian Wins Bronze At The 100Km World Championship (2010)
---
Recommended Reads
*LRC Women: Edna Kiplagat Completes Magical Year, Shalane Impresses
*LRC Men: In Debut, Gebremariam Makes Marathon Look Easy
*LRC Haile G's Retirement: Analysis Hearsay: Is He Really Done?
*LRC Haile G Shocks The World And Retires After Dropping Out
*LRC Meb, Shalane, Gebremariam And Mary Wittenberg React To Haile's Retirement
*LRC Two Worthy Video Series To Get You Pumped For Sunday's ING NYC Marathon
*Sports Illustrated: Gebrselassie Ends Storied Career In Stunning Style How about this writing!!! "Like Babe Ruth, who invented the homerun, Gebrselassie invented the modern distance world record."
*NY Times: At Mile 16, Gebrselassie Ends His Race, And Career The article is full of great info, including the fact that Gebremariam says Geb must change his mind.
*Alberto Salazar's Obsession With Form Garners 5,000+ Words In The New Yorker
*Meet The World's Newest 2:04 Guy In William Kipsang
*Alicia Shay Back Training Again, Hopes To Race Again Soon
*Sportsmanship At Its Finest - HS Team In Oregon Forfeits Its Qualification To State As It Refuses To Side With An Official Who DQed A Rival Team's Runner
*Alberto Salazar Talks To Sports Illustrated About Ritz Pre-Race
---
Quotes Of The Day From Last Week
Monday:
Surprising:
GEB WINS!!!!!
(but not the one you are thinking of)
Shocking:
GEB RETIRES!!!!!
---
Sunday:
---
Saturday: "Strength-wise, I believe he's stronger than I ever was. He's running the same mileage: I did 130 [per week], he did 120, very similar. His strength in terms of his tempo runs has been remarkable. Three weeks ago he did a 20-mile run at like 4:51.8 pace, which is about 2:07 marathon pace. He was going hard, but not a race effort by any means, and he wasn't tapered. He did 10 x 1 mile at ... (a pace that would have) been around 4:22 at sea level ... So he's stronger than I've ever been, his speed is better than I ever was. His biomechanics are better than mine, by far. He's got the altitude down ...We've figured out his nutrition, his drinking stuff."
- Alberto Salazar telling SI's David Epstein why he thinks Dathan Ritzenhein is in better shape than he ever was when he won in New York.
---
Friday: :"This argument that Geb routinely ducks top competition garnered a huge piece in the New York Times last week but like a lot of things in the New York Times it might not be necessarily true ... Looking at things as a whole, Geb has raced and defeated three of the fastest nine men in history in Kirui, Kwambai and Korir and four of the 16 fastest if you add in Gharib. Those stats have got us pumped up. Earlier, we were going to say that if you gave us the field or Geb, Ritz and Meb, we'd take the field (meaning we think there is less than a 50% chance that Geb, Ritz or Meb combined win). Now we are not so sure."
- Excerpt from LetsRun.com's preview of the men's race at the 2010 ING New York City Marathon. Read what we have to say about the top contenders, including Geb, Ritz and Meb.
---
Thursday: "Maybe I ran because I was anxious, maybe to find a way out. Running is a way of releasing tensions, clearing the head, freeing yourself from chaotic thoughts."
- Chilean miner Edison Pena, who is running Sunday's ING NYC Marathon.
---
Wednesday: "When you start changing an athlete's form, there's always a risk. Dathan knows that. And he's willing to take that risk, because he doesn't want to be the guy that's just trying to get a bronze medal. Not this time. This time, he wants to be the winner."
- Nike coach Alberto Salazar, talking in a 5,000-plus word feature on him and his obsession with form in a New Yorker magazine piece that focuses mainly on Salazar's work with Dathan Ritzenhein. The article is entitled: The Perfect Stride: Can Alberto Salazar straighten out American distance running?
---
Tuesday: "Why should I say I will retire in three or four years? You retire the very moment you utter those words ... I still think about doing more."
- Haile Gebrselassie talking in Ethiopia before he departed for this weekend's ING NYC Marathon, where he'll be the favorite.
---
Last Week's Homepages
*Mon (Nov. 8) *Sun (Nov. 7) *Sat (Nov. 6) *Fri (Nov. 5) *Thu (Nov. 4) *Wed (Nov. 3) *Tue (Nov. 2)
Editor's Note: This article was updated after first being published to add the section appreciating Meb Keflezighi.
---
Runner's World &
Running Times



Combined Only $22
a Year
Save $87

---

Running & Track and Field Posters
---


More Nice Offers: Nike Lunar Glide Savings Super popular shoe from Nike featuring Flywire and Lunar Foam

*Nike Air Max Moto Sale $69.99 for this shoe from our partner.
---