HS Fan?
Lots Of HS State Meet Recaps Here Highlights included the F-M girls putting 15 on NY state once again and Megan Venables breaking the Holmdel course record.
News From Europe & Kenya
Top Young Women In The News
More Haile News
Double Jeopardy?
The NY Times Looks At The New IOC Doping Rule That Bans Anyone From The Next Olympics Who Suffered A Major Doping Suspension
News From Europe
Post-Commonwealths/NYC Marathon News
King Carl Seemingly Just Wants To Reminds Us He's The Only 100m Champ To Repeat
Carl Lewis Says Usain Bolt Faces "Big Challenge" In Bid To Repeat As Olympic Champ
Preview Of 2nd IAAF XC Meet World XC silver medallist Teklemariam Medhin headlines. Last week he beat Ebuya in Spain.
Jos Hermens, Haile's Agent, Says Gebrselassie Reconsidering Retirement Hopefully the Great One realizes his fans would love nothing more to see him compete again - New York 2011 and the Olympics in 2012. We didn't realize how much worse the sport will be without Geb until he said he was leaving.

LRC Haile Gebrselassie Retirement Update The greatest of all time may be reconsidering. He at least is leaving open the door to coming back. We give you an update on all that we've learned since our last update on Sunday night.

More NYC : WSJ Looks At Changing The NYC Marathon Course The current course seems great to us and has a better finish than the proposed course (and pros generally choose marathons for the money, not the type of course).
*Sarah Shay Has Appendectomy Right Before NYC Marathon
*Katie McGregor Reflects On Winning USA Running Circuit Title, Her Run In NY
Post-NYC News
Non-NYC News
2010 NYC Marathon Is In The Books
LRC Men: In Debut, Gebremariam Makes Marathon Look Easy On a day that Father Time caught up to Haile G, another Geb, Gebre Gebremariam blitzed a 26th mile in 4:37 and took us back to an era when debutantes won and road racers won Falmouth and NYC in the same year, as a new marathon star may have emerged on the streets of NY. Meb Keflezighi finished 6th and Dathan Ritzenhein 8th.

LRC Women: Edna Kiplagat Completes Magical Year, Shalane Impresses
The women's race was perhaps the craziest one ever in New York, as it was a 20-mile jog and a 10k race. LA Marathon champ Edna Kiplagat, American star Shalane Flanagan and half marathon ace Mary Keitany battled over the final miles, with Kiplagat winning and Flanagan battling back for second in her debut. The top 10 were separated by an amazingly small 1:35.

*Nice Wall Street Journal Recap Of Sunday's Action
*Flanagan Impresses In Marathon Debut

More NYC News: Ritz Disappointed With Another Mediocre Marathon Finish
*American 10k Record Holder Chris Solinsky Gets Wined & Dined In Elite Truck & Says "Maybe In 3 Years"
LRC Gebrselassie And Tergat Share The Stage 10 Years After Sydney The NYRR has taken traditionally boring press conferences to a new level this year giving them Sports Center-like coverage. Friday was the best of the week, as Paul Tergat was on hand to introduce his good friend Haile Gebrselassie and they talked about their careers and Geb's chances on Sunday.

Recommended Read: Geoge Hirsch Remembers Fred Lebow - The Man Who Helped Make The New York City Marathon Great Thankfully, Mary Wittenberg is now in charge to carry on his legacy and make it even greater, as the race fell off in the late 1990s.
*Mara Yamauchi Not Intimidated By Mary Keitany *Brit Yamauchi Hoping For Podium
*Update On Justin Gimelstob - Andy Roddick $10,000 Bet For 4:45 Finish We find it embarrassing the the NY Times calls the Cornell grad helping Gimelstob a world record holder.
*Larry Rawson's Final Pre-Race Thoughts Rawson reveals that Haile G for the first time turned over all business dealings for the final two months to associates so he could focus on training.
*Edison Pena Checks Out The Course
Celebs: People Magazine Profiles Ethan Zohn's Marathon Attempt *Amani Toomer Is Ready For NYC
*IAAF Preview Of Race
*Recommended Read: Alberto Salazar Talks To Sports Illustrated Salazar talks a lot about the professional environment he provides his athletes, whom he wants to treat running like a full-time job.
*Behind The Scenes, The NYC Marathon Is A Miracle Of Logistics 1,694 portable toilets make the show run.
*For Elite Women Having A Bad Day, It Can Be A Very Lonely Race The rest of the field starts 30 minutes behind them. They really should have them start an hour later.
*Quiet Mary Keitany Ready To Speak With Her Feet In NY
*Interview With Ritz On His Chances In NYC
*Road Star Gebre Gebremariam Ready For Marathon Debut
*Emmanuel Mutai Ready To Vary The Pace To Beat Geb
*London Runner-Up Inga Abitova Ready For NY
*Six Years After Winning In NY, Hendrick Ramaala Thinks He Can Win Again
*Kim Smith Likes Her Speed And Chances If It Rains
*Running New York A Priority For Geb
Previous NYC News
*Chilean Miner Edison Pena Meets The Media And Haile G Pena may end up being the biggest star of the weekend. Hard to believe but he seems a natural with the media just like Geb, who was waiting at the airport for Pena. Catch Pena on Letterman late Thursday night. *USA Today Article On Pena
*Japan's Arata Fujiwara Is A Pariah To Some - A Stud To Us The guy who forsook the Japanese corporate system has big goals and may end up as the first non-African in New York. He wants to improve on his 2:08:40 PR and if he does, he might win. *NY Times On Fujiwara *Brett Larner Rides On Plane With Fujiwara & Says He Wants To Win New York - He's Broken 2:10 3 Times
*London Runner-Up Emmanuel Mutai Says, "I Am Prepared For Sunday." It seems like he is as he comes into the race after a 5-month buildup, whereas he only had a 3-month leadup to London.
*Ritz's Training Intensity Has Gone Up Since Getting Crushed By Geb In Half Marathon - Ritz Did 10 X Mile In 4:32 With 2 Minutes Rest
*Canada's Simon Bairu Likes Challenge Of New York Being His Marathon Debut The bigger the pressure, the better Bairu feels he performs. He says he's been training to run 2:10-11 but isn't preoccupied with time.

Non-Athlete NYC News:
*Professor Warns The NYRR Iphone App May Kill Spontaneous Enjoyment Of Watching Race
*Rojo Gets Quoted In Wall Street Journal Talking About A 2nd New York Marathon He had no idea that Competitor - a for-profit company - was behind the 2nd race. If he had known the article was really about a private company trying to get $1 million in public subsidies, he would have been less supportive. A monkey could make money on a race in New York with 7-figure public subsidies. They should either let the NYRR do the race or bid it out.
*Down The Backstretch Reviews Meb's New Autobiography Written By Dick Patrick
*Universal Sport's 10 Things To Look For At NYC MARATHON
Happy Bday!! The Marathon Turns 2,500
Frankfurt: The Marathon Welcomes Another Guy To The 2:04 Club / Fast Times Across The Board (2:04:57/2:23:25) In ideal weather, Wilson Kipsang defeated Tadese Tola with a superb 2:04:57 (#8 all-time) and Caroline Kilel (2:23:25) took home the women's title over several notables in an event where the top 8 women and 8 of the top 9 men set PRs (two 2:09 debuts). For Kipsang, it was just his 2nd marathon after a 2:07:10 debut in Paris. *LRC MB: FRANKFURT MARATHON 2:04:57 !!!!!!!!!!!

Kenya: Unknown David Barmasai Runs 2:10 At 5,500 Feet To Win Standard Chartered Marathon In Kenya

Athens: Kenyan/Lithuanian Win Athens Marathon On 2,500th Anniversary Of Battle Of Marathon *Reuters Recap Of Athens Marathon

Marine Corps: Women: Janet Cherobon Wins In 2:42
Men: Jacob Bradosky Wins In 2:23
Oregon HS XC Coach Charged With Sexual Assault
Big Names, Big News
Eddy Hellebuyck Comes Clean!!! The former American road star wants to clear his conscience and has admitted he used EPO back in 2004. An absolute must read as he talks about a pervasive drug culture and has specific doping allegations against Leonid Shvetsov (which aren't a surprise to the knowledgeable LetsRun.com viewer).
*LRC MBoard: Eddie Hellebuyck "'Yeah,' he says, 'I did it.'"

Silas Kiplagat Wants The World Record "I want to run a sub-3:28 in the next season."

*Dathan Ritzenhein Q&A Part 1 (His 12:56 5k, What's Different With Alberto And More)
*Dathan Ritzenhein Q&A Part 2 (What Went Wrong In NY In 2006) He says he learned about not running out of fuel. Cynics might also argue he learned that in the marathon, you get paid for hype, not performance (at the time he got one of the largest appearance fees in US history).
Tokyo A Major-To-Be?
Gebrselassie To Run Tokyo Marathon In February A lot of stars lock up their next marathon prior to running their current one so a bad performance cannot knock their appearance fee.
*AIMS President And Tokyo Marathon President Hiraoki Chosa Gets IAAF Order Of Merit The big news is buried in the article and is that the Tokyo Marathon had 335,000 applicants for its lottery for the marathon. The Japanese are mad about the marathon.
*Paco Borao Of Valencia Marathon Selected New AIMS President
News From Africa
Update From Ireland On Former NCAA 3rd-Placer Andrew Ledwith He's scraping by on little sponsorship and focusing on track, not XC, this year.
Men: #1 Ok. State And #2 Stanford Lose
That's the headline, but the name of the game is qualifying and it looks like the only ranked teams to miss the show are #18 UNC (who totally bombed, as their top runner was only 37th and they only finished 9th in their region) and #26 Tulsa. The non-ranked teams making the show are Gtown, Texas and newcomer Richmond.
*West Region Recap Pre-Race
Talk: *OU DEMOLISHES OSU WITH EASE *German Talks Afterwards *SE Regional
Women: Unranked Kansas St. & Rice Make It, As #29 San Francisco Is Left At Home

Pre-Race
Recomended Read: A New Beginning For Luke Puskedra It's revealed that an iron deficiency hurt him badly last year.
Jordan Hasay Enjoying Being Back On Top In Year 2 Of College This almost was our QOD for Saturday: "It was good last year not to win everything. That could have brought on a lot of pressure this season. It wasn't like I fell back last year. I still was considered a contender in all the meets I ran. I just didn't win everything I was in. So that still gives me things to shoot for and that's exciting. It keeps me motivated."
LRC Stanford Men, Villanova Women #1 Heading Into Regionals Three things have been constant all year. Stanford #1, OSU #2 (with roughly half the 1st place votes of Stanford) and Villanova #1 on the women's side. None of that changed despite OSU going 1-2-3-4 at the Big 12 meet.
Stanford's Top 3 Say They Are Ready The guys seem confident and say a key difference is there are clearly defined roles this year - the top 3 and then everyone else - and thus 4-5-6-7 aren't burning themselves out in practice.
A Brief Chat With OSU Coach Dave Smith: "We've got some real question marks at five." The quote is a bit misleading, as he seems very confident in the rest of the article.
Ryan Hall Is Confident He'll Never Regret Deciding To Leave Mammoth TC Apparently his wife Sara wanted to stay with Terrence Mahon but she ended up having to go as well.
A Look At The Notable Names For Nov. 23 Chiba Ekiden Bobby Curtis, Craig Mottram, Ed Moran and African 10k champ Wilson Kiprop are included.
Preview Of Sunday's Turin Marathon
#1 Oregon Football Team Is Inspired By Steve Prefontaine Last year, Coach Kelly took the team to Pre's rock and this year, locals are wearing shirts that say "Stop Pre."
Drug News
News We Didn't Cover Because Of NYC
Veronica Campbell-Brown, Jessica Ennis, Milcah Chemos Cheywa, Allyson Felix And Blanka Vlašić Are IAAF Athletes Of Year Finalists
Week In Review
LRC Week That Was: New York, New York Our week in review is the only must-read in the industry and this week it exceeds our normal high standards. We analyze the 2010 NYC Marathon, give Ritz some encouragement, look at Shalane Flanagan's career as a marathoner, give some major props to Gebre Gebre, have some book and movie reviews, and even have a funny story on Japanese-English translations.
Non-Marathon News
IAAF Male Athlete Of Year List Narrowed Down To 5 Tyson Gay, David Oliver, David Rudisha, Zersenay Tadese and Andreas Thorkildsen.

European Athletics Bosses Say Stars Will Compete In Euros 2012 Of course they're going to say that. Moving the Euros to the same year as the Olympics is a mistake. The stars without much of a chance in London will show up and take it seriously.

21-Year-Old Pamela Jelimo Hopes To Get Back On Track The 2008 800m Olympic champ is only 21 and has been forgotten by many since the emergence of Caster Semenya.
Previous Geb's Retirement News
Brendan Foster Among Those Hoping For Haile U-Turn "I was sad really because there's always been Haile Gebrselassie, he's been winning world championships since 1993."
Steve Cram Surprised By Haile's Retirement He was full of enthusiasm for London 2012 when they talked in September.
Coe Calls Geb "The Greatest" "The greatest athlete of the last 50 years and arguably the best of all time."
LRC

Haile G's Retirement: Analysis Hearsay: Is He Really Done?

We look at what led to Haile's retirement announcement, his prepartions for NYC and whether the Emperor could change his mind. Either way, just one week ago Haile was saying if you even talk about retiring in 3-4 years, you are done. Now he's saying he's done.
LRC

Haile G Shocks The World And Retires After Dropping Out

Haile G stunned the running world with his announcement. Immediate recap, reaction, video and transcript.
LRC

Meb, Shalane, Gebremariam And Mary Wittenberg React To Haile's Retirement

Gebremariam: "I think in Ethiopia he has to change his plans. He has to continue to race." While many are holding out hope this really isn't it for Geb, his fellow runners shared how important he was to them. Mary Wittenberg doesn't want him to be 100% done.

Recommended Reads On Geb
Sports Illustrated: Gebrselassie Ends Storied Career In Stunning Style How about this writing!!! "Like Babe Ruth, who invented the homerun, Gebrselassie invented the modern distance world record."
NY Times: At Mile 16, Gebrselassie Ends His Race, And Career The article is full of great info, including the fact that Gebremariam says Geb must change his mind.
More NYC
Charity/Amateur Roundup: LRC Edison Peña Steals Show The Chilean miner may have lost to Jared of Subway, but not in the hearts and minds of us or America. Plus, learn how Amani Toomer and Justin Gimelstob did.
HS Action: Illinois: Craig Virgin Is Still The Best - But Barely Lukas Verzbicas misses his hallowed record by 3 seconds.
Chicago Tribune: Verzbicas Says Divine Headwind Cost Him Record Apparently a gust of wind came up in the last 200 meters, as he was on pace to do it at 2 miles. *Mboard Talk
Oregon: Oregon Signee Flashes The "O" After Winning State
Caster Semenya's Agent Says She's Far From Broke - Apparently She's Well Taken Care Of By Nike The last stories were all wrong.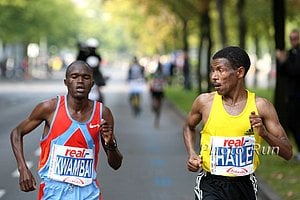 LRC Men's Preview: Will Geb Win It? The one knock on Haile Gebrselassie is he has not defeated a top-notch marathon field or won one of the top 5 marathons (London, Chicago, Boston, WC/Olympics) in the world. He gets his chance Sunday in New York as he faces a star-studded field that features, among others, World Champ Abel Kirui and defending champ American Meb Keflezighi, who could be challenged by the resurgent Dathan Ritzenhein. We break down the field and give your our picks.


LRC 2010 ING NYC Marathon Women's Preview: Can A Debutante Beat This Crowded Field? The women's field is wide open and hard to predict. The defending champ Derartu Tulu is back and we give props to her amazing career and then guarantee she won't win. Picking the winner, however, is very hard. Boston champ Teyba Erkesso is going for her third marathon win of 2010. And then there are the debutantes - Mary Keitany, the half marathon ace who hasn't lost a half in 3 years, and American Olympic bronze medallist at 10k, Shalane Flanagan.
Kenyan XC Season Gets Underway And Silas Kiplagat's Training Partner Wins
Recommended Reads Sportsmanship At Its Finest - HS Team In Oregon Forfeits Its Qualification To State As It Refuses To Side With An Official Who DQed A Rival Team's Runner A must read for everyone.
*Ryan Shay's Sister Sara To Run New York To Raise Money For Charity
NYC Interwebs
LRC Recommend Watch Two Worthy Video Series To Get You Pumped For Sunday's ING NYC Marathon There are two well-done video series dealing with Sunday's ING NYC Marathon. Adidas and Flotrack went to Ethiopia and have produced a series on the Emperor, Haile Gebrselassie. The NYRR and Kimbia Athletics have their own series: "Rookies vs. the World" that is chronicling the marathon debuts of Olympic bronze medallist Shalane Flanagan, Canadian 10k record holder Simon Bairu, and American hopeful Tim Nelson and has cameos from Chris Solinsky. We've now watched them ourselves and urge you to as well, but give our synopsis of each and advice on what to watch if you have limited time.
Week In Review (Formatting Problem Fixed)
LRC The Week That Was We take a detailed look at Wilson Kipsang's 2:04 marathon from last week and do some in-depth analysis of the 2:04 marathon club and sub-59 half marathon club. Plus we praise a drug cheat and more.
Letsrun.com NCAA Polls
LRC NCAA XC National And Regional Polls Now Open The Oklahoma State and Stanford men made a mockery of their conference meets. One coach has switched his vote and now OSU is #1 in the country in the coaches' polls. Should they be? Vote now. Regional voting for the first time this year as well.

Latest NCAA Coaches Polls: 1 Coach Switches His Vote And Oklahoma State Is Now #1, Villanova Unanimous #1 On Women's Side Hard to believe, but only six different schools have been ranked #1 on the men's side since 1998.
Interesting News/Reads
Ben Johnson Says He Actually Failed A Drug Test In 1986 Apparently it was covered up before he was possibly sabotaged by a friend of Carl Lewis at the 1988 Olympic Games.
Recommended Read Meet The World's Newest 2:04 Guy In William Kipsang After HS, he was a traveling salesman for three years. Then he was inspired by reading of Paul Tergat's exploits and picked up running in 2003 at age 21. Now he's run 2:04. Ridiculous.
Sara Hall Finds A New/Old Coach Apparently Ryan's wife was a casualty of his decision to leave the Mammoth TC. As a result, Sara has gone back to her coach when she was at Stanford - Dena Evans. Sara: "I felt that I would still benefit from a traditional coaching relationship."
Monday's Action: They're Back ... Arkansas Men Dominate SEC *SEC Men's Results

Florida Women Win SEC XC *SEC Women's Results
ESPN 30 For 30 Documentary Lets Marion Jones Off Easy Thankfully the television critic knows what most of us know - that Jones is still not telling the truth about doping.

Recommended Read: Marion Jones Is A Liar "They didn't put Marion Jones in prison because of what she looks like. They put Marion Jones in prison because of what she did. Marion Jones is a liar."
Previous NCAA XC
Sunday: Big 10: Men: Wisconsin Men Absolutely Crush Indiana And Everyone Else 28 points get the Badgers a 12th straight title.
Women: Mich. State Edges Michigan And Minnesota
Pre-Race: Big 10 Men's Preview (Wisco Vs. Indiana (Going For First Title In 30 Years))
Saturday: PAC-10: Women: Meet Of The Weekend: Stanford Edges Arizona, Washington And Oregon 4 teams all separated by 6 points. #2 Oregon is still looking for its first conference title in 15 years.
*Jordan Hasay Pumped To Get Individual Crown But 2nd Ranked Ducks Only Tie For 3rd As A Team *Oregonian Recap Of Meet
*UW's Kailey Campbell Comes Up Big For Washington

Men: Stanford Goes 1-2-3 To Destroy Rest Of Conference The #1 Cardinal will have a tough battle with OSU at NCAAs.
*PAC-10 Video

Big 12s: Men: "Unbelievable" Oklahoma State Goes 1-2-3-4 At Big 12 Meet Colorado defeated Oklahoma for 2nd.

Women: Rose Tanui Leads Tech To Win Over Colorado
*Mark Wetmore Pleased With Buffs' Runner-Ups At Big 12s

Big East: Men: Chris Fox's Syracuse Men Edge Ron Mann's Brice Allen's Louisville Men This really can't be the first Big East men's team to repeat, can it? Perhaps since the league expanded. Wejo beat Fox in a road race in 1997 and unfortunately for the rest of the coaches in the league, he decided to retire from racing and take up coaching.
Women: #1 Villanova Defeats GTown 26-42
On The Boards: Big East Results?????

ACC Recap: Florida State Sweeps Team Titles
Results: Women Men
On The Boards: ACC Results!!!

A10: Richmond Sweeps It's the first title ever for the men.

America East: Boston U. Men, Stony Brook Women Win *Binghamton's #1 van Ingen Drops Out And Binghamton Fails To Repeat As A Result

Friday: Heps: *Princeton Women Win 5th Straight Title
*Princeton Men Complete Perfect Weekend for Tigers The Princeton teams won both team and individual races as Donn Cabral outdueled defending champ Dan Chenoweth.

Monday: SEC (The SEC website doesn't even have the meet on its calendar).
*A Look At Ole Miss's Kirui Brothers (Barnabas And Martin)
Random News
Save Some Cash

2010 ING NYC Photos
Geb's Emotional Retirement Speach
Fred Lebow Documentary Trailer - More Info Here
LRC Poll
Powered By