2010 ING NYC Marathon Men's Preview: Can Haile Gebrselassie Cap His Career In Style?
Plus An American Attempts To Repeat
By LetsRun.com
November 5, 2010
Ever since world record holder Haile Gebrselassie was announced as a participant in the 2010 ING New York City marathon, it seems as if many casual fans have just assumed he was automatically going to win.
For example, a few weeks ago, we received an email from a LRC visitor who was asking us what we thought Haile was going to do after he won in New York. We we told him we weren't so sure he'd win he wrote back, "Who is going to beat him? The only way I see him losing is if drops out. He is the Champion of running. He will win."
So instead of writing a straight preview, we thought we'd do it in a slightly different fashion. We'll start with:
Three Reasons Why Haile Gebrselassie Will Not Win The ING New York City Marathon
1. Father Time may be catching up to him.
Yes, Haile G is the greatest distance runner ever, but he was setting world records back when we were sophomores in college and now we're approaching 40.
B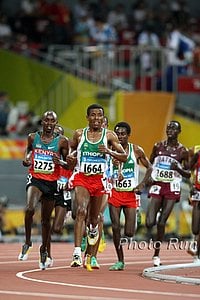 ecause Geb really never faces stacked fields in the marathon, it may be hard to realize, but it's possible time has started to creep up on him. Consider Geb's winning times in Dubai the last three years:
#10 Peter Kamais - 33 Years Old - Kenya - Marathon Debut
Pros: Ran a 59:53 to capture the New York Half Marathon earlier this year. Ran a 27:43 to finish 2nd in New York as well at Healthy Kidney. His 34th birthday is race day.
Cons: If he's so good at the marathon, why hasn't he run one before his 34th birthday? No prep races to judge his fitness.
Our Take: Don't hold his age against him, as this guy only started running professionally in 2004, so the fact that he hasn't run a marathon until now isn't a huge shock. Has run well in New York twice already this year. The third time might be a charm. If you are looking for a debut guy to win it, this is your pick.
So there you have it. Ten accomplished guys who all theoretically could win. Just cutting down that list to five guys to pay attention to is incredibly hard. If we had to cut that list of ten down to five, we'd rank them in the following order:
1) Kirui (he's run very fast and proven himself in a championship style race as well), 2) Kirwa (not a big name but he's young and we know he's in good shape) 3) Goumri, (4) Kamais (been great in New York so far this year), 5) dos Santos (proven winner in NY)
So there you have it; we leave out the third-fastest guy in history in Kwambai from our list of five most likely guys to win it. Are we crazy? Perhaps. But we want this preview to have a common theme - expect the unexpected.
But wait a minute - some of you who are paying attention are probably saying you have forgotten some guys in your preview. And you are correct. The following men are all running New York and none of them is a slouch:
"The Others"
Simon Bairu - 27 Years Old - Canada - Marathon Debut (2-time NCAA XC champ)
Hendrick Ramaala - 38 Years Old - South Africa - 2:06:55 - (former NYC champ)
Viktor Rothlin - 36 Years Old - Switzerland - 2:07:23 (2010 European champ)
Deressa Chimsa - 33 Years Old - Ethiopia - 2:07:54
Moses Kigen - 27 Years Old - Kenya - 2:10:18 (60:38 runner-up in New York half this year)
"But wait," you say, "what about the Americans?"
Oh yeah, them. Isn't it refreshing to have fans begging us to analyze the American runners' chances for a New York City marathon title? Yes it is. So enjoy.
Since we don't want to be accused of being xenophobic, we'll present you the American guys just as we did everyone else. Only we'll list them in the order of most likely to win.
The Americans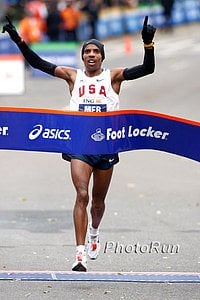 1) Meb Keflezighi - 35 Years Old - 2:09:15 PR
Pros: Defending champ. 61:45 half marathon prep race on October 4th.
Cons: Hard to believe a 2:09 guy can win New York. His 61:45 was 45 seconds slower than what he ran leading up to New York last year.
Our Take: A 2:09 guy can win New York, as Meb did it last year. His 2:09 PR is misleading as he has rarely run a marathon on a fast course.

2) Dathan Ritzenhein - 27 Years Old - 2:10:00 PR
Pros: 12:56 5,000 and 60:00 bronze medal at the World Half Marathon Championships in 2009 reminded everyone that Ritz once was the prodigal son of American distance running and absolutely dominated Alan Webb in HS. Excellent cross-country runner so he should enjoy the NYC course.
Cons: He raced Geb at the Great South Run and lost to him by 3:02 as he ran just a 62:35 on September 19th. Ritz is unproven at the marathon distance. He's raced four marathons (admittedly two were in New York and one was the Olympics) and never broken 2:10.00
Our Take: Talk is cheap. Logically people might think the marathon is his best event but he's never proven that.

3) Tim Nelson - 26 Years Old - USA - Marathon Debut (27:31/62:11 PRs)
Pros: 10th-fastest American at 10,000. Faster PR at 10k than Ritz when Ritz made his NYC debut a few years ago. Has PRd at both 5,000 and 10,000 this year. Coach Jerry Schumacher has said he is made for the marathon.
Cons: Never won a big race in college.
Our Take: We like to point out that Tim is faster than Ritz was when Ritz made his debut (and got a reported $200,000) just to rile people up. And let's be honest, probably all of you see him never winning in New York. In college, his best finish in the 10,000 was only 5th.

4) Jorge Torres - 30 Years Old - USA - 2:13:00
Pros: Former NCAA XC champ
Cons: 2:13:00 PR
Our Take: We love Jorge but let's be honest, the talk of Americans contending should start and stop with Meb and Ritz. Torres had a tough 2009 running-wise as after his wedding, his high school coach died in a car wreck and his mom was injured. He's on his way back in 2010 but this is his first major race.
Since the whole theme of this preview is to try to convince everyone that the odds that the greatest runner in the history of the world, Haile Gebrselassie, wins in New York are less than 50%, it shouldn't be too hard for us to convince you that both Meb and Ritz face very long odds. The fact of the matter it's almost inconceivably that people with PRs of just 2:09:15 and 2:10:00 could win a major in this day and age (Nelson and Torres basically have odds of zero).
Now, Meb clearly did it last year. But he overcame huge odds then and lightning isn't likely to strike twice. Meb's in good form and likely will stay with the leaders for a long while but his half marathon prep race was a bit slower than last year and we just don't think he'll win. Meb, however, has shown he is a very, very good marathoner when he toes the line and is very consistent. He always puts up a good effort.
As for Ritz, we're just not convinced he's suddenly going to be an amazing marathoner. Yes, we know he suddenly did become an amazing 5,000 man and half marathoner after switching to coach Alberto Salazar last year. Yes, he did finish 9th in the Olympics in 2008. Yes, success at the half normally means great things at the marathon.
But where else other than LetsRun.com are you going to read a preview that says that Ritz, Meb and Geb (editor's note: "Oh no, I didn't realize we were really saying Geb wasn't going to win") aren't going to win? Nowhere.
Now, please understand we'd love nothing more than to see a three-way battle at the end between Haile G, Ritz and Meb. While we are supposed to be journalists, we'll be the first to admit we are huge fans of all three.
LetsRun.com was on record way back in 2004 saying that Ritz would be the first white man to ever break 27:00 for 10,000 (and if there had been a European 10,000 last all after Worlds, we would have been proven correct). As for Haile, let's just say that all of the passwords for the servers at LetsRun.com used to be haileg. As for Meb, how can anyone forget that last year we were the only ones who hyped Meb up prior to running New York, we felt it was sad he was being ignored when he was having a fantastic year.
So now that we've proven we have no journalistic integrity at all and are fans, let us end our preview with some positive things to consider for fans of Ritz, Meb and Geb.
Ritz fans, if you are wondering if there are examples of guys that took a number of races to figure out the marathon, we can tell you that there most definitely are. One need to look no farther than 2004 New York City Marathon champ Hendrick Ramaala. Ramaala was a guy who didn't break 2:09 until his 7th marathon. In his 11th attempt, he won in New York. His PR is now 2:06:55.
Meb fans, remember Meb won last year.
Haile fans, since we started out with three reasons as to why Gebrselassie will not win in New York this year, we thought it was only appropriate to tell you three reasons why he will win. In fact, we'll use the same three arguments we started the piece with - we'll just turn them on their head.
Three Reasons Why Haile Gebrselassie Will Not Win The ING New York City Marathon
1) Age: Yes, he may be 37, but he's still damn good.
He's won his last six marathons (and 9 of 12 lifetime) and he just ran a 59:33 half marathon in a race where Dathan Ritzenhein ran 62:35.
2) Course: Yes, the course is hilly and it's thought to favor cross-country specialists, but Geb was no slouch at XC.
Geb may never have won World XC but he was third in the 1994 Worlds. He was the silver medallist as a junior. The guy is tiny - why would a few hills bother him? At the adidas press event, he was not afraid of the course.
3) Tough Field: He IS proven against a quality field in the marathon.
This argument that Geb routinely ducks top competition garnered a huge piece in the New York Times last week, but like a lot of things in the New York Times, it might not be necessarily true.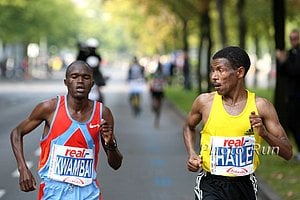 Yes, it's true that when Geb has been winning and running super-fast, he hasn't faced a field of great depth like he will face in New York. But a little research by LetsRun.com has revealed that Geb has faced some total studs and destroyed them.
2006 - Geb won Fukuoka in 2:06:52. Finishing third was none other than 2008 Olympic silver medallist Jaouad Gharib, who now sports a 2:05:27 PR.
2007 - Geb set his first marathon world record in Berlin with his 2:04:26. Finishing 2nd in that race in 2:06:51 was none other than top New York City contender Abel Kirui, who of course is a 2:05:04 guy and the 2009 world champion.
2008 - Geb won in Dubai in 2:04:53. The third placer in the race was 2:04:56 man Sammy Korir.
2008 - Geb set his 2nd world record of 2:03:59. Finishing 2nd in 2:05:36 was top New York City contender James Kwambai, who is now the third-fastest man in history. Finishing third was 2001 world 10,000-meter champ Charles Kamathi.
So looking at things as a whole, Geb has raced and defeated three of the fastest nine men in history in Kirui, Kwambai and Korir and four of the 16 fastest if you add in Gharib.
Those stats have got us pumped up. Earlier, we were going to say that if you gave us the field or Geb, Ritz and Meb, we'd take the field (meaning we think there is less than a 50% chance that Geb, Ritz or Meb combined win). Now we are not so sure.
We had grown so tired of seeing Geb run time trial after time trial that we had lost our love for our former idol. But the thought of him winning in New York at age 37 and getting some mainstream love in the US has got us pumped. Go Geb!!!!
LRC Predictions:
If Geb finishes in the top 5, he wins. We can only think of one marathon ever that he has finished and not won. (Editor's note: Twice Geb has actually finished London but not won).
1) Geb 2) Kirui 3) Meb (We almost put Ritz here, but Meb's marathon career does not get the respect it deserves. Meb is incredibly good. And yes we know we said earlier that Geb wouldn't win but really the whole point of that was to point out that the odds are against him but it would be epic if he does and he might just do it).

---
Runner's World &
Running Times



Combined Only $22
a Year
Save $87

---

Running & Track and Field Posters
---


More Nice Offers: Nike Lunar Glide Savings Super popular shoe from Nike featuring Flywire and Lunar Foam

*Nike Air Max Moto Sale $69.99 for this shoe from our partner.
---