2010 ING NYC Marathon Women's Preview: Can A Debutante Beat This Crowded Field?
By LetsRun.com
November 5, 2010
Praise For Derartu Tulu
Before we get underway, let's stop to pay homage to last year's champ, Derartu Tulu of Ethiopia. The African champions often do not get the praise they deserve. And the women champions often do not get the praise they deserve. Tulu's career is simply amazing. She won the Olympic gold at 10,000m in Barcelona in 1992. Yes, 18 years ago in 1992. Then she won 10k gold again in 2000. Once turning to the roads, she struggled a bit in the marathon but then in 2001 found her form, winning London and Tokyo. Then her career suffered a tremendous drought, with no major wins, until last year in New York. In New York, she unbelievably beat, among others, Paula Radcliffe to win at the age of 37, 9 years after her last major victory. What an amazing career. She also has been a world champion on the track and won 2 World XC titles.
Now after showering Tulu with platitudes, let us tell you one thing: she will not win in New York in 2010. Granted, we would have said the same thing last year, but lightning will not strike twice. Last year was the slowest winning time in New York in 20 years (2:28:52). Tulu hasn't run under 2:28 in five years. Most recently, a month and a half ago, she ran 1:13 for a half marathon in Philadelphia. Age is not on her side. We're so confident she will not win, we'll pay one person $500 if she does (send us what you think her winning time will be and if she wins, we'll give the closest person $500 - if there is a tie, you'll split the money).
After dismissing Tulu as the winner, let us turn to picking the winner. Women's marathoning has been down of late and the field is full of people who have had moderate success, but finding the one or two who really stand out is tough.
We'll quickly run down the field, talking about the veterans in the field before talking about the exciting crop of women making their marathon debuts.
Instead of picking the winner, it's probably easier to pick who isn't going to win. Another past New York champ in the field who is even older than Tulu is 42-year-old Ludmila Petrova, who won New York a decade ago and has the fastest PR in the field (2:21:29) and was runner-up last year. We don't see her winning either. She dropped out of London in her only race this year and ran only 2:27:42 on the flat London course last year. That type of performance should not win in NYC.
Those With Marathon Experience Who Have A Shot
Last year's third place finisher, Frenchwoman Christelle Daunay, comes into New York in the best shape of her life. Last month she set a PR for the half marathon (1:08:34) and this spring set a PR of 2:24:22 in the marathon in Paris. Of any of last year's podium finishers, she is the one most likely to win.
Salina Kosgei won Boston in 2009 (2:32) and has run well in New York in the past (2:25:30 in 2005). Her training is unorthodox to say the least, as this is her third marathon in a month if the all-athletics.com database is correct (2:55 and 2:42 were her times in Italy 2 weeks apart).
Teyba Erkesso of Ethiopia is running her third marathon of the year and has won both of the other ones she's run this year - Boston 2:26:11 and her 2:23:53 PR in Houston. Thus, she's on a tear and can run well on a difficult course. How will she hold up in her third marathon of the year?
With Paula Radcliffe out with baby #2, Mara Yamauchi carries the British hopes. Mara ran 2:23:12 to be the runner-up in London last year, so she has the credentials to contend. She ran a 1:10 half marathon at the end of September, which isn't tremendous, but she ran a similar time about five weeks before her PR last year.
Inga Abitova ran a very impressive 2:22:19 for second in London this spring and then was runner-up in the European 10k this summer, so she appears to have the marathon figured out (she won Yokohama last fall) and is in good form in 2010. Perhaps the biggest question for her is how does she handle the hills of NY?
Edna Kiplagat made her name on the roads at shorter distances and this spring won the LA Marathon in 2:25:38 in her second marathon. This summer she has been running well on the roads (Boilermaker winner, 3rd at Peachtree and Falmouth). If LA means she now knows how to run the marathon, she could be one to watch.
The former NCAA star Kim Smith could be a factor. The former Providence Friar is the Kiwi record holder at 5k (14:39) to the marathon (2:25:21 for only 8th in London) and is a huge talent. Is she finally at the level where she can contend for a win?
Tatyana Pushkareva probably isn't being mentioned in a lot of previews, but she was three seconds from being the 2010 Boston Marathon champ (2:26:14). Before that she was making a name for herself in the "C" marathon ranks with her previous best time coming in the San Antonio marathon.
Even though she only ran a 2:36 this year in Boston, Madai Perez of Mexico can not be overlooked, as she ran 2:22:59 in Chicago in 2006. This year marks the comeback from the birth of her second child. She is coached by German Silva, who had some great success of his own in NYC with two wins in 1994 and 1995.
If you think picking a favorite from the women above is tough, wait until we throw in the women making their marathon debuts. If we had to pick just from the women above we'd go with Erkesso, Abitova and Yamauchi.
The Debutantes
Mary Keitany of Kenya (1:06:36), Werknesh Kidane of Ethiopia (1:08:09), Shalane Flanagan of the US (1:08:36), and Anna Dulce Felix of Portugal (1:09:02) are all accomplished in the half marathon and are making their marathon debuts in New York.
Keitany, the World Half Marathon Champion in 2009, is also the world 25k record holder. On Sunday we'll find out how she handles the extra 10 miles in the marathon. She has been unbeatable in the half marathon since 2007 and even if things don't go her way, 2010 has been a great year, as she won $300,000 for winning the Zayed Half Marathon earlier this year.
Werknesh Kidane is most well known for winning World XC in 2003. She was running half marathons as early as 2005 but then from 2006-2008 was largely away from the sport. She's back now and running well again. How will she handle the marathon? Her husband Gebre Gebremariam, also a World XC champ, is also making his marathon debut in NY. Jeremy Mosher, one of the people behind the excellent video serie,s "Rookies vs the World" that chronicles Shlane Flanagan's debut, has informed us that Kidane is out of the race.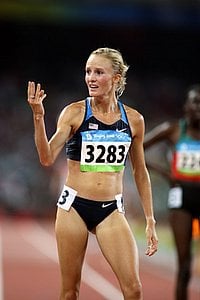 That turns us to Shalane Flanagan of the US. Flanagan was the bronze medallist at the 10k in Beijing in the Olympics. She then dumped her coach John Cook before joining up with the Jerry Schumacher group in Portland (she's the only woman in his group, which includes American 10k record holder Chris Solinsky). Flanagan did not have the track results in 2009 under Schumacher that she had in 2008 but that will all be forgotten if she performs well in the marathon.
How will she handle the marathon distance? That is the big question (and is chronicled in the excellent web video series "Rookies vs. the World.") Flanagan has run well in two half marathons, the most recent her 1:08:36 PR in Philly. Much is made that Flanagan's mother Cheryl Treworgy is a former world record holder in the marathon. However, Treworgy ran the marathon when not many women ran it and "only" ran 2:49:40. Her daughter needs to run 30 minutes faster to get the American record. Flanagan blew up big time at NCAA cross-country one year, so her ability to pace herself is a question. Originally we were really excited about Flanagan's chances, but now realize she will have to overcome a lot to reach the podium. She is one of the most credentialed women in the field, but has not shown that under Jerry Schumacher she is better than she was under John Cook. Then you throw in the unknown of the marathon distance and there are quite a few question marks.
Overall Predictions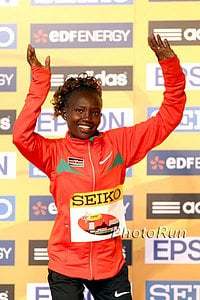 Mary Keitany is the class of the field. The great unknown of the marathon confronts her as does the difficult course but if anyone can overcome it on her first try it is her.
Predictions: 1) Keitany 2) Erkesso 3) Abitova
The race is also the US women's marathon championships, where the first American will take home $40,000. In addition to Flanagan, there is former NCAA record holder Katie McGregor. Two other women with great personal stories are Serena Burla, who is making her marathon debut and had a malignant tumor removed from her leg THIS YEAR, and 49-year-old Linda Somers Smith, who should contend for a top 5 finish in the US ranks.
An entry list we were sent last week is here. If anyone can show us where the pro athletes are on the ING NYC Marathon website, we'd appreciate it. The NYC Marathon probably does more than anyone promoting their pros but looking for 5 minutes tonight we surprisingly couldn't find a list of the pros running. (Just as we thought it is on their site here. Located near the bottom on the left hand side under "News")
---
Runner's World &
Running Times



Combined Only $22
a Year
Save $87

---

Running & Track and Field Posters
---


More Nice Offers: Nike Lunar Glide Savings Super popular shoe from Nike featuring Flywire and Lunar Foam

*Nike Air Max Moto Sale $69.99 for this shoe from our partner.
---