African Champs Underway *Results

via ActionPixsWilson Kiprop Wins 10,000m To Give Kenya Its First Gold At African Champs Sileshi Sihine was no match for Kiprop on the opening day of the African Champs in Kenya. Kiprop, a marathoner doing marathon training, is coached by LetsRun.com message board poster Renato Canova, who has posted about Kiprop's win. He did his last long run 7 days ago.
*Famed Coach Renato Canova Posts About The Win And Training Of His Marathoner Wilson Kiprop In The 10k He also has some info on Mo Farah's training.
*Video Highlights Of Men's 10,000m At 2010 African Champs
*World 5k Champ Vivian Cheruiyot Going For First Women's Gold Today For Kenya

More: Kaki Drops Out Of Showdown With Rudisha In 800m At African Champs Kaki a week ago had said he may not run. So it looks like he was just ducking Rudisha.
Andrew Wheating Signs With ... Nike Wheating says he is excited to stay in Eugene. And his recent performances likely got him a ton more money. The only question we have is couldn't he have stayed in Eugene if he signed with someone else? Seems like a good result for Wheating and Nike.
Discuss: Wheating Signs With ... Nike

More $$$ News: South Carolina Hurlder Johnny Dutch Gives Up A Year Of Eligibility To Turn Pro
It's Official August 6th
Bolt vs. Gay vs. Powell @ 100m The matchup we've all been waiting for is a little over a week away. Also, Meseret Defar will be going for a World 5k record.
Central American And Caribbean Games Underway: Churandy Martina Wins 100m, World Champ Ryan Brathwaite Wins 110 Hurdles
The Only Must-Read In The Industry
LRC The Week That Was We start our weekly recap by analyzing the magnificent men's 1,500 in Monaco. Then we talk about Alysia Johnson and Lauren Fleshman before educating our viewers on the "Myth of Prodigy and Why It Matters," which then causes us to give a warning to Jordan Hasay fans with a little help from famed author Malcolm Gladwell. We then praise Robby Andrews and Cas Loxsom and Emily Sisson. Plus we talk about the Taliban, Charles van Commenee and much more.
Thanks To LetsRun.com Community
LRC Kevin McDermott Recovering From Paralysis 1 year ago, Sean McDermott appealed to the LetsRun community for support for his paralyzed brother Kevin, a former runner at Duke. Over 250 LRC readers donated and Sean wrote to thank us and point us to a video of Kevin's recovery process.
American News
Ritzenheins have 2nd child - the next prodigy is a boy (Ritz's other child is a 3-year-old girl).
2 Years Until London - British News
Interesting Random Running Writing
Castelbuono
Tadese Overwhelms Strong Field And Wanjiru In Castelbuono Wanjiru dropped out with breathing problems. This race is definitely our type of road race. 36 runners total and the town loves it and comes out to watch. Running as a spectator sport ... amazing.

Pre-Race: Italy's Smallest Road Race Packs The Biggest Punch With Only 36 Entrants, Including Wanjiru, Cheruiyot, Kwambai And Tadese Read the details about the race - definitely the most interesting elite road race in Europe.
Australian News
An American Had To Win It: Ryan Hall First American-Born Winner Of Bix 7 Since Ken Martin In 1991 Ryan Hall, who again said he ran his own race and paid no attention to the other guys, waited until the final 2 miles to take the lead, catch front-running Antonio Vega and hold off Ed Moran by 5 seconds to win Iowa's biggest road race in the slowest time since '99. Someone had to be the first American winner since 1991, as the prize money appears to have been American only with no foreigners to speak of in the field.
*Skinny Hall Talks About "Staying On His Own Course" 3 months after Boston, he's ready to "head up into the mountains and train like a madman" for Chicago.
*Race Within The Race: Massage Therapist Kamba Runs Scared To Beat Hall, Who Says He's Glad She Got The Money Ashley Kamba didn't need all of the 2.4 mile head start, as she ran 4.6 miles in an impressive 30+ minutes to take home the $3,600 casino money jackpot.


*Women's $12,000 Winner: Lisa Koll Wins Quad City Times Bix 7 By Huge Margin Lisa Koll smashed the field in her first pro road race, winning by 41 secconds over Amy Hastings of Mammoth Lakes. Late cancellation Molly Huddle vs. Koll would have been an interesting matchup. Bix used to have lots of foreigners but now only invites American elites and gives great $$$ prizes. *Koll Video

*Sad News Illinois HS Wrestling Coach Dies Running Bix 7 John Chapman was the head coach of Galesburg wrestling and the top wrestler in the school's history. His wife coaches track at the school.
Wednesday: Christophe Lemaitre Wins European 100m The 20-year-old Frenchman is very good, as he triumphed by .07 over 4 guys who had the same time in 2nd through 5th. Getting the silver medal?: Mark Lewis Francis, who ran 9.97 in 2001 as a 19-year-old. *European Day 2 Recap From IAAF

More 100m: *Video Of Men's 100 *2010: Christophe Lemaitre set for the big time, 2001 Mark Lewis Francis Set for Big Time Telegraph
*How The Golden Boy Lemaitre Can Get Faster BBC
*Mark Lewis Francis Ecstatic Over Silver In 100m

Distance:
Women's 10k: *Elvan Abeylegesse Easily Wins 10k At Europeans
*Mo Farah And Chris Thompson Reflect On What Their 1-2 In European 10k Means For British Athletics

Tuesday:

Farah First Briton To Win Euro 10k As Eugene's Chris Thompson Nabs Silver It was a fantastic finish for Great Britain, as Mo Farah sprinted past Spaniard Ayad Landassem with 300 left and Chris Thompson (coached by Mark Rowland in Eugene) got silver by less than 0.01 on the final event of the first day from Barcelona. The British announcers and UK Athletics people were going crazy, as 4 years ago there wasn't a single British male in the European 10,000. The women's 800 produced some major fireworks as two runners broke 2:00 and didn't advance, including the 4th placer at Worlds last summer in Yuliya Krevsun.
*Men's 10,000m Results
*Recommended Read: The Long Road To Success Tom Fordyce looks at the twists and turns Farah and Thompson have had to navigate to get their 1-2 finish at Europeans.
*Boards: Renato Canova Weighs In On 10,000m Prediction Thread Canova got the top 2 right but didn't predict the surprising bronze of his own Italian countryman Daniele Meucci.
*Irish Paralympic Athlete Makes 100m Semis The dude is sight impaired.
*Men's 400: Borlee Twins, Formerly Of FSU, Favored In Euro 400
*Martyn Rooney May Have Something To Say About 400m Gold
More From "B10" European Championships In Barcelona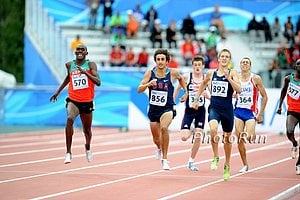 Final Day: Loxsom Silver, Andrews Bronze The touted Americans were rolling to glory in 1-2 with less than 100m to go, but Kenyan David Mutua charged ahead from 4th and got the win in a PR as Cas Loxsom beat Robbie Andrews for the second time in a month and lowered his PR to 1:46.57.
*Jordan Hasay Gets 4th In 1,500 And Barely Misses Out On The Medals Again An Irish silver is the big surprise.
*LRC Photos

*USATF Final Day Recap: McCullough And Relays Win For US As Loxsom And Andrews Go Silver, Bronze In 800 First ever medals for the US at the world junior mid-distances. Conor McCullough set a championship record in the hammer and the US 4 x 4s made it an American relay sweep 4/4.

*Vid: Loxsom And Andrews Do Lap Of Honor After 800m Medals
*Andrews And Loxsom First Americans To Medal In World Junior Middle-Distance Event UVA recap names Gabe Jennings (5th, 1998) as the previous top-placing US mid-d boy.


*IAAF Recap Of Final Day Of World Juniors Kenya swept every male distance gold and beat the US in the medal table as each had 15, but Kenya nabbed 7 golds, including Jonathan Ndiku (left), who ran 8:23 in the steeple.
*16-Year-Old Jodie Williams Says She's Okay After 152-0 Streak Ends In World Junior 200 It may have been the longest win streak in track and field history.

On The Boards: Jordan Hasay gets 4th and barely misses out on the medals again
*Andrews Silver, Loxsom Bronze World Junior 800m It's what most people might have expected, but the poster has the names backwards.
More World Juniors
*Day 6: Cas Loxsom And Robby Andrews Win Their 800 Semis As US Romps Over Jamaican 4 x 100s IAAF Recap In the penultimate day of the 2010 world junior championships, US runners Cas Loxsom and Robby Andrews are now among the 800m medal favorites, while Kenya went a fast 1-2 in the men's 5,000 (Trevor Dunbar ran in no man's land and finished 11th). In Andrews' heat there was a mad sprint for the finish that saw 2 runners DQed. Loxsom dominated by over 1 second in 1:46. The US boys beat Dexter Lee and Jamaica in the 4 x 1 while Stormy Kendrick led the girls to a new American junior record.
*Video: Confident Loxsom jokes, "Robby Andrews, come get me."

*Sunday Final Day: Boys 800 final and Jordan Hasay in the girls 1,500 final.


Photo Left: David Bett of Kenya takes the 5,000 in 13:23 to lead a Kenyan 1-2 on Saturday (Bett and John Kipkoech were out in 8:25 through 3,200).

*Day 5 - PM Recap From IAAF: Japan's Shota Iizuka Wins Historic Gold At 200m As Jodie Williams Loses For First Time In other action, Jehue Gordon, who was 4th in the senior World Champs last year, barely beat a Japanese runner in the 400h.
*Day 5 - PM: Jodie Williams Loses 1st Race Of Her Life But Claims Silver In Girls 200m
*Day 5 - AM: Andrews & Loxsom Advance In 800 As Trevor Barron Smashes US Race-Walk 10k Record But Only Finishes 7th Loxsom: "I felt a lot better today than I have in a while. I had a lot of confidence and thought I could go 1:45 if I had to."
*Thursday: Thanks To 55-Second 1st And Last Laps, World Jr XC Champ Caleb Ndiku Wins 1,500 In 3:37.39 Prep star Ajee Wilson ran a PR in the 800m (2:04.18).
*NCAA 400m Champ Kirani James Wins 400 But Isn't Happy About It
Dave Bedford To Step Down As Virgin London Marathon Director The man who has made London into the richest and most competitive marathon in the world is planning his succession and won't step down until 2013.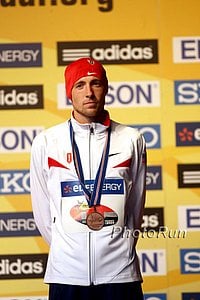 LRC Ritzenhein To Make Marathon "Re-Debut" At 2010 ING New York City Marathon After his breakthroughs of last summer, Ritz is excited to tackle the 26.2 mile distance in New York once again, while NYRR head Mary Wittenberg thinks he definitely can win it. Meanwhile, coach Alberto Salazar finally thinks to a bio-mechanical analysis done by Nike, Ritz's injury things are a thing of the past. We cover all of that and more, including Ritz's current fitness and mileage level, talk of Alan Webb and Galen Rupp working out together and learn why Ritz didn't watch his AR fall in the 5k.
Recommended Read/Unreal Stat: 146 And 0. British Junior Sprinter Jodie Williams Is Undefeated For Life She's going to have her hands full in the 100m, where she is seeded 2nd at 11.24.
Lemaitre Wins Europeans (For This Video In English, Click Here)
Highlights Of Men's 10k At African Champs
800m Finish At World Juniors: Mutua Kicks By Loxsom And Andrews
Video Of Wheating's 3:30.90! (More Monaco Race Videos Here)
Alysia Johnson's Dominating Win
Wheating High Fives Lananna, Is Super Stoked And Talks With Gregson
Alysia Johnson After Her World Leader In The 800m
Emily Sisson - New High School Record Holder At 5k
More Great Deals