The Week That Was In Running - July 19-25, 2010
By LetsRun.com
July 27, 2010
To read last week's LRC Week That Was, click Here.
To read any 2010 LRC Week That Was, click Here.
We start our weekly recap by analyzing the magnificent men's 1,500 in Monaco. Then we talk about Alysia Johnson and Lauren Fleshman before educating our viewers on the "Myth of Prodigy and Why It Matters," which then causes us to give a warning to Jordan Hasay fans with a little help from famed author Malcolm Gladwell. We then praise Robby Andrews and Cas Loxsom and Emily Sisson. Plus we talk about the Taliban, Charles van Commenee and much more.
Last week, three big things of note happened. If you missed the action, you can relive it all at the Monaco Diamond League meet, the Bix 7- miler and World Juniors by clicking on the links in blue. On these pages, we won't have time to devote much to Bix other than to say that obviously marathon star Ryan Hall deserves praise for coming through as the race favorite, as does potential future US marathon star Lisa Koll, who also won in Iowa.
Monaco Diamond League - Wheating/Kiplagat/Gregson Steal Show In Fantastic Men's 1,500
The big winners from Monaco of course included Alysia Johnson, Silas Kiplagat, Andrew Wheating and LetsRun.com.
All we'll say about Johnson this week is she's the best in the world at 800 right now - and there should be no doubt about that.

Now that that's settled, let's start with LetsRun.com. Last week on these very same pages monitors, we told you to remember the name Silas Kiplagat, as he was going to be a future star. Well, a few days later, he runs the first European 1,500 of his life and produces the fastest time in the world since 2006. All we can say is "you're welcome." And please remember this so when your significant other tells you to stop wasting your time on LetsRun.com, you can tell them, "Honey, I'm not wasting time - I'm being educated."
In that same race, of course, Andrew Wheating in the first European 1,500 of his life became the 2nd-fastest American-born metric miler in history thanks to his 3:30.90 fourth-place showing - and the LetsRun.com nation went totally berserk as everyone was thrilled by the result. The interesting thing about Wheating's great run is that his huge breakthrough in that race - he knocked 3.67 seconds off his personal best - was only the third smallest personal best set in the race. Both Kiplagat (5.01 seconds) and Australia's 20-year-old Ryan Gregson actually knocked more time off their personal bests.
Athlete Previous PR/Current PR - Improvement
Wheating - 3:34.57*/3:30.90- 3.67
Gregson - 3:35.91*/3:31.06 - 4.85
Kiplagat - 3:34.28/3:29.27 - 5.01
* converted from mile PR.
Now, to be fair, Kiplagat's previous PR of 3:34.28 did come at altitude.
After Wheating's 3:30.90, a few people have stated on the message board that if Wheating were a foreigner, everyone would say he was doped given his huge sudden improvements. And our response would be - you are simply wrong. The fact of the matter is everyone in the world knew Gregson and Wheating were two of the greatest white hopes on the planet and after the Kenyan Trials, everyone knew Kiplagat was one of the greatest young talents as well. Big improvements shouldn't raise drug accusation - unexpected or unexplained improvements late in one's career are what should raise suspicions.
Followers of collegiate track may be surprised that Wheating is so good at the metric mile, as many people have viewed him as an 800 guy primarily. But the fact of the matter is, Wheating is a guy who started track and field in 2006 with the desire to be the next Prefontaine and he ran 14:55 and 3:54 in his first year of track on thirty miles a week. That's unreal natural endurance. Combine that with his 1:44 800 speed and you have one of the greatest milers in history.
And lastly, a ton of credit has to go to Oregon boss Vin Lananna. The guy has guided Wheating perfectly all year. When Wheating lost in the 800 indoors and then again at Penn Relays, some were saying he wasn't even the best collegiate mid-d guy in the country. But Lananna had a much bigger plan for Wheating all along and it involved the mile or it's metric equivalent the whole time. After Wheating's 800 and 1,500 double at NCAAs, Lananna made the tough call and had Wheating skip USAs so he could get ready for Pre and Europe. No one is second guessing Vin now.
So major congrats to Wheating and Lananna as well. We hope the best is yet to come. The problem is from now on when Wheating runs 3:30 but finishes just 4th, people will be upset that he didn't win instead of being thrilled for a fine peformance.
To learn more about Wheating's unreal rise to the top over the last four years, see this great profile of him by Kenny Moore from last Fall in Runnersworld. If you read that profile, you'll be stunned that Wheating was ever in the 800 at all and be amazed that he could make the Olympics in that event in his third year of track.
More: *LRC: Monaco Meet Recap *OUT OF NOWHERE: Andrew Wheating Profile From 2009
Video Of The Week #1
Which brings us to our Video of the Week #1. If you haven't watched the Monaco 1,500, we urge you to do it now. If you don't have time, hey, we've cued it up for you so you only have to watch the last 75 seconds of it. But before we get to it, we need to give a major Thumbs Up to Tim Hutchings. He deserves a ton of credit for absolutely nailing it on the head when he said the following about Wheating when Wheating was 3rd-to-last in the field with 500 meters to go: "Watch Wheating right at the back there. The tall figure. I still think he's going to come through. This track is famous for producing MASSIVE personal records down the field." Contrast that to American NBC broadcast of the Pre Classic where despite the fact that the double NCAA champ Wheating was competing in front of the home town crowd in Eugene, Wheating's name was NEVER mentioned.
Wheating's last 400 proved Hutchings to be correct. His last 400 is a thing of beauty as he moved from 11th to 4th. But if you think that's impressive, be sure to watch the guy in light blue on the rail going from 5th to 1st, as his kick was even more impressive.
Did You Know?
2010 US Champions Lauren Fleshman (5,000) and Alysia Johnson (800) both attended the same high school. They attended Canyon HS in Canyon Country, CA where they were coached by Dave DeLong. The school records at the school are as follows:

400 54.41 Alysia Johnson 2004
800 2:08.97 Alysia Johnson 2004 (State Champion)
1,600 4:46.90 Lauren Fleshman 1999
3,200 10:18.21 Lauren Fleshman 1999
We have done an interview of Delong and will have it up in the near future. He may do a "Training Talk" as well.
More: *The Age of Excellence: Dave DeLong, the coach's purpose and drive
Runner A Or Runner B? (World Juniors Talk)
Imagine for a minute that you are a college coach or an agent for a shoe company. Please tell us which athlete you'd want to sign - Athlete A or Athlete B.
Athlete A is 18 years old and has had the following progression:
2008 PR - 4:14.50 (plus 2:09.92)
2009 PR - 4:16.80 (plus 2:09.64)
2010 PR - 4:13.85
Athlete B is 18 years old and has had the following progression:
2008 PR - 4:21.2 (plus 2:07.48)
2009 PR - 4:15.46 (plus 2:03.07)
2010 PR - 4:09.51
In choosing between the two athletes, we feel that 100% of coaches/agents would much prefer to have athlete B. Athlete B's rate of improvement is much greater than Athlete A and Athlete B is much faster at 800 than athlete A. Well, athlete A is in actuality Jordan Hasay and Athlete B is Ciara Mageean.
"Who is Ciara Mageean?," you ask. She is an Irish athlete who earned a silver medal at the World Junior Championships last week in Canaday while Hasay continued to run well but finished fourth for the second straight World Juniors.
Hasay is an incredible athlete, but we've long cautioned people to not expect stardom for her at the senior level. Two years ago when Hasay was the darling of the Olympic Trials and finishing 4th at World Juniors as a 16-year-old, Mageean was running with no notoriety and finishing 10th at World Juniors, more than 7 seconds back of Hasay. Now she is significantly better than Hasay.
The fact of the matter is stardom at an early age doesn't necessarily mean much. For every Tiger Woods, there is a Ty Tryon.
And if you don't believe us, then believe best-selling author Malcolm Gladwell. We here at LetsRun.com are big fans of Gladwell's books, including his book on amazing achievement, entitled "Outliers." Well, we found out last week that Gladwell himself knows better than most that early success at running may not mean much, as Gladwell was a Canadian distance prodigy at who ran 4:05 for 1,500 at age 14, but in the end the star of his generation was the awkward kid Doug Consiglio - a runner who they thought at age 14 had no talent but ended up running 3:35 and making the Olympics.
For more on this subject, we highly recommend reading the Association for Psychological Science's article on this topic, entitled "The Myth of Prodigy and Why it Matters." In that article, Gladwell states, "What a gifted child is, in many ways, is a gifted learner. And what a gifted adult is, is a gifted doer. And those are quite separate domains of achievement."
More: "The Myth of Prodigy and Why it Matters." *LRC MB: Malcolm Gladwell just got cooler *CIARA MAGEEAN---THE NEXT SONIA O SULLIVAN
Speaking of gifted prodigies, in case you were asleep last week, you probably already know that Penn State and UVA freshmen Cas Loxsom and Robby Andrews finished second and third at World Juniors and thus became the first US men to win a medal in a mid-d event at world juniors. As we just pointed out in the previous section, getting caught up in prodigious performances probably doesn't do anyone any good - particularly the athletes but both guys deserve praise for having fantastic freshmen years and we hope they are enjoying some much needed time off right now. We hope more great things are in store down the road. Our advice - ignore the expectations and pressure and just keep doing what you've been doing.
And last but not certainly least, high schooler Emily Sisson set a new US Hs record of 15:48 at World Juniors. According to the McMillan calculator, 15:48 converts to 9:03.6 for 3,000, which is 9:43.9 for 2 miles, which is way better than the HS records of 9:08.6 and 9:52.01. So clearly it's a great performance. But before you get too excited, realize the previous record of 15:52 was only set in 2004 by Caitlin Chock. Chock never improved and ran 16:17 in 2005 and a 16:49 in 2006 before fading away from the sport.
We hope that this section answers the emails we got from a number of viewes as to why we didn't highlight these showings more on our home page.
More: *Loxsom Silver, Andrews Bronze *Vid: Loxsom And Andrews Do Lap Of Honor After 800m Medals *Andrews And Loxsom First Americans To Medal In World Junior Middle-Distance Event
Quote Of The Week #1

"When you run your PB's you don't feel it. Tonight didn't feel that hard, that's what's good about the fast times."
- Ryan Gregson talking after he broke the Australian record for 1,500 by running 3:31.03 in Rome. More here: Gregson sets new Australian 1,500m record
Quote Of The Week #2

"I don't want to work at the incredibly hard pace that I do now for the rest of my life so it seems sensible to plan your own demise."
- Virgin London marathon director Dave Bedford talking exlusively to insidethegames.biz about his plans to step down after the 2013 race.
Quote Of The Week #3

"I am not arrogant enough to think that I in my orange shirt can change the culture in a country of 60 million people."
- Charles van Commenee, head coach of Britain's track and field team despite being a 52-year-old Dutchman, talking in great Independent profile on him about what it's like to coach in a country famous for having totally unrealistic expectations for its sporting heroes.
Quote Of The Week #4

"I like my water but if I drink too much, I drown. If I eat too much I'm going to get fat."
- Charles van Commenee, head coach of Britain's track and field team, talking in a Reuters article about how the decision to start holding the European Championships every two years is a bad one. We agree - and don't see how anyone thinks holding Euros before the 2012 Olympics is smart. Sounds like the dumbest decision ever. In our minds, the World Championships should also be held either every four years - two years after the Olympics - or every year but the year of the Olympics. Every four years probably is better.
Video Of The Week #2
*Former Oregon 1,500 man Jere Van Dyk, who was a sub-4 equivalent guy back in the 1960s and 1970s and a player at the 1972 Olympic Trials is back in the news. Now a journalist, he was held as a prisoner of the Taliban for 45 days and he's written a new book on the affair, entitled Captive: My Time as a Prisoner of the Taliban. In the book, he talks about how he started training again because he thought he might need to be able to run to try to escape. The Oregonian has written a nice article on Van Dyk and his book, How 'Captive' author Jere Van Dyk discovered himself while at the Taliban's mercy. The article also reveals that Van Dyk was far from a big fan of Bill Bowerman.
Van Dyk appeared on the Daily Show recently and his six minute interview is our Video of The Week #2.
Photo Of The Week
Kudos to LetsRun.com visitor Dillon Gracey for being a true fan of the sport.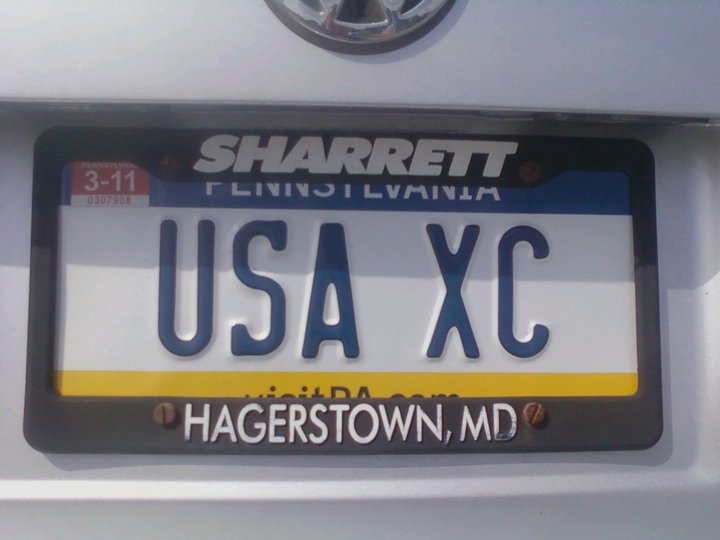 Almost as good as Rojo's CU XC plates that used to exist before they were confiscated by the New York state police for failure to maintain insurance coverage of a vehicle.
Recommended Reads
*"The Myth of Prodigy and Why it Matters."
*OUT OF NOWHERE: Andrew Wheating Profile From 2009
*Christophe Lemaitre scorns controversy over breaking 10-second barrier
*Profile Of British Coach Charles van Commenee van Commenee: "It is simple. Our individual athletes need to improve."
*146 And 0. British Junior Sprinter Jodie Williams Is Undefeated For Life
*Rinse Your Mouth With Carbohydrates Before Running And You Will Run Faster
*LRC Ritzenhein To Make Marathon "Re-Debut" At 2010 ING New York City Marathon
Quotes Of The Day From Last Week
Monday: "It was not a very hard race," said Mutua despite his opponents running out of steam in the final 100m. "When we started racing my body showed me I could win."
- Kenya's David Mutua talking to IAAF reporters after kicking past leading Casimir Loxsom and Robby Andrews in the last 50m to take the IAAF World Junior 800m gold.

Sunday: "Robby Andrews, come get me."
- Casimir Loxsom after winning his 800m semifinal at Worlds by over 1 second. Loxsom said after the first round that he could run 1:45 if he needed to. He'll have Andrews (who also won his semifinal) and 2 Kenyans to deal with on the final day of World Juniors on Sunday.
Saturday: "Having competed all these years, I have missed on the normal life other young women live. Now that I've seen it, I can say that normal life is really boring."
- Double Olympic pole vault champion, Yelena Isinbayeva, the greatest female vaulter in history, talking in an BBC article where she states she'll come back to the sport in time for the winter 2011 season.
Friday: WHEATING = 3:30.90!!!!!

- New pro Andrew Wheating is now the second-fastest American-born athlete in history at 1,500 thanks to his stunning fourth-place showing in Monaco. The race was unbelievably fantastic, as Silas Kiplagat announced himself as track and field's newest star (just as we predicted) with the fastest time in four years (3:29.27), while Ryan Gregson broke the 19-year-old Australian record (3:31.06).
Thursday: "We believe if someone is punished for a penalty, it is finished. In criminal law, people kill each other and if they are sentenced and then go back to the community, they start life over."
- Can Korkmazoglu, the director of the Cezmi meet in Istanbul, talking in a NY Times article that is sympathetic to Justin Gatlin, who is having a hard time finding meets to compete in as he is about to come back from his drug ban. Korkmazoglu is one of the few who wants to let Gatlin race.
Wednesday: "I don't say this to everybody and I've said it to far less than a handful of athletes, but I know that Dathan can win the ING New York City Marathon"
- Mary Wittenberg, head of the NYRR, talking in a nationwide teleconference where it was announced Dathan Ritzenhein be running the 2010 ING New York City Marathon.

Tuesday: "It's something you can't teach or tell someone about. You try to tell someone what it's like, but they don't get it. They have to experience it first-hand,"
- America's (and New Jersey's) Robby Andrews talking about of what it's like to run in high-profile races. His last high-profile races of the year start on Tuesday as he begins competition in the 800 at World Juniors as the event's #1 seed. Andrews' quote comes from an Asbury Park Press profile of him written on the eve of World Juniors by LetsRun.com visitor Josh Newman, who also has written a second profile on fellow New Jersey mid-d star Ajee Wilson, who has split 2:00.59 as a 16-year-old already this year.
Last Week's Homepages
*Mon (July 26) *Sun (July 25) *Sat (July 24) *Fri (July 23) *Thur (July 22) *Wed (July 21) *Tue (July 20)
---
Runner's World &
Running Times



Combined Only $22
a Year
Save $87

---

Running & Track and Field Posters
---


More Nice Offers: Nike Lunar Glide Savings Super popular shoe from Nike featuring Flywire and Lunar Foam

*Nike Air Max Moto Sale $69.99 for this shoe from our partner.
---