Dathan Ritzenhein To Make Marathon "Re-Debut" At 2010 ING New York City Marathon

His Coach Alberto Salazar Is Confident Ritz's Injuries Are Finally A Thing Of The Past
By Robert Johnson
July 20, 2010
*NYRR Release On Ritz Here
Calling into a nationwide teleconference from a maintenance shed on the Nike campus in Beaverton, Oregon, former American record holder Dathan Ritzenhein announced that he'll make his re-debut in the marathon at the same place he made his initial debut four years ago - New York.
Four years ago, Ritzenhein made a much-hyped debut in New York and received what was one of the largest, if not the largest, appearance fees for an American athlete in marathoning history.
The results were far from spectacular. His 2:14.01, 11th-place showing was far from an utter disaster, but certainly wasn't what he or American distance running fans wanted. The next three years resulted in more of the same, as Ritzenhein failed to make his mark internationally on the track or in the marathon, although his 9th-place showing in the Olympic marathon wasn't too shabby.
Still, ninth in the Olympics certainly was far from what was hoped for from "Ritz" - a guy who in high school absolutely dominated American record holders Ryan Hall and Alan Webb at the Foot Locker high school championships and earned a bronze medal at the junior World Cross-Country Championships.
However, after last year's coaching change to Alberto Salazar, which quickly resulted in a 12:56 American record at 5,000, as well as a bronze medal at the World Half Marathon Championships, Ritzenhein feels he is ready once again to tackle the 26.2 miles of of the ING New York City Marathon.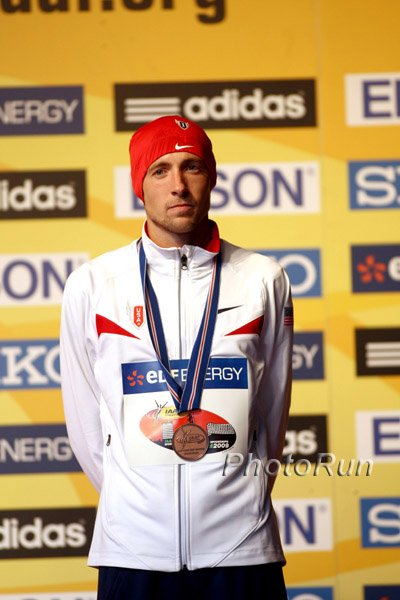 Dathan Ritzenhein
Ritz's Re-Debut
"I consider my success in the marathon to be moderate. I have a lot higher expectations than what I've achieved. But since my switchover to Alberto as a coach, I've definitely become a different athlete and I'm kind of thinking of this as my re-debut as a marathoner," said Ritzenhein.
"I feel like a completely different athlete and am so much more ready and maybe not as ignorant as I was the first time around. I have a lot more respect for the event. So hopefully I can combine those two into a great performance."
Ritzenhein later added, "I think with my first marathon in 2006, I went into with a pretty arrogant attitude as how easy it would be. I was 23 and it doesn't seem that hard to run 4:55 per mile and I hit the wall big-time there. The biggest lesson I learned from it was from the nutritional side. (Since then) I haven't hit the wall like I did there, running out of muscle glycogen where I was struggling to run 6:30 miles."
As for what the expectations are for New York, Ritzenhein didn't specially address that question, but it was clear from the opening of the call that the goal is simple - to win.
The head of the New York Road Runners Mary Wittenberg opened the call by saying, "I don't say this to everybody and I've said it to far less than a handful of athletes, but I know that Dathan can win the ING New York City Marathon."
Salazar, himself a 3-time winner in New York, joined the teleconference a few minutes late after finishing up supervising the end of a workout involving Galen Rupp and Alan Webb on the Nike campus. Salazar was clearly excited as to what he thinks the future holds for Ritzenhein, as for the first time since college (when Ritzenhein started to be troubled by foot pain), Salazar thinks the issue has been figured out.
Foot Problems A Thing Of The Past?
"Things are going well. Obviously last year, Dathan had a breakout year. Of course, this winter, things didn't go well," said Salazar. "Dathan continued to have some foot problems that he's had for years and I thought by keeping him on soft surfaces and making sure that he was fully recovered that this would be taken care of, but he continued to have metatarsal problems."
"About six weeks ago, his training had been going very well. He'd been training very well for a couple of months - averaging about 90 miles a week. Then the metatarsal problems came up again and we finally started to do some in-depth studies on it."
"Gordon Valiant - the head of bio-mechanics for Nike - did an evaluation of Dathan and was able to find some things that are unique to Dathan with the way he runs and strikes his foot. With that (study completed), we now have some modified inserts. I wouldn't call them orthotics - just an insert into the shoe where he has an abnormal amount of force near his third metarsal. It seems to have alleviated his symptoms completely and we've retested him in the lab and shown those forces have been lessened tremendously."
"We're really excited. There's a very good chances that he won't have these recurrent metatarsal stress reactions and fractures that he's had throughout his career."
With the recurring foot pains possibly a thing of the past, the goal is now to get Ritz in tip-top shape over the course of the next 16 weeks. The good news is that even though Ritz hasn't raced since US Cross-Country, he;s in relatively good shape right now.
Current Fitness Is Good
"He is in good shape now," said Salazar. "Over the last 3 months, he probably averaged about 85 miles per week. That;s a great base phase. (Plus) he;s done a lot of weight training, flexibility training."
"I feel his form is a lot better than it was even a year ago when he ran his American record in the 5k. I like what I see in terms of his biomechanics. The only thing is he hasn't had a chance to race and have fun. It's pretty boring to just be training all the time."
"We could (have actually) rush him into races but there is no sense in doing that. Even though you haven't seen his name, he hasn't been that injured to the extent you might think."
Ritzenhein agreed with Salazar's assessment of his current fitness, as he said, "Generally my fitness is really good right now. I've been able to train a lot harder than I have in the past when I've been hurt."
As for popping a good race in the hills of New York, Salazar thinks Ritzenhein is ideally suited for New York.
"I think New York is a great race for Dathan because he's a great cross-country runner," said Salazar. "It seems like good cross-country runners do well in New York."
When LetsRun.com followed up with a question as to whether or not Salazar had confidence that Ritzenhein would ultimately be a top-notch marathoner, given the fact his 5k and 10k PRs convert to better than Ritz's 2:10:00 marathon best, Salazar said that he feels Ritz has both the form and psychology of a marathoner.
"Obviously, he's got the aerobic capacity to run a 2:07 or faster if you take his current 5k PRr. Then I look at what type of runner he is (and) I think he's got a great stride for the marathon. It's very efficient and not too bouncy. (And) he's now much more efficient in his arm carriage as we've done some form changes. I think form-wise he's very suited for it."
Psychologically Ritz Is Very Strong
As important to his form, Salazar said that he also believes Ritz has the temperament to be a top-tier marathoner.
"I think the other part is just psychologically he's very tough. He has the ability to grind. He was on his own (training for so long alone) and it made him very tough mentally."
"I mean this morning Alan (Webb) and Galen (Rupp) were running a workout and we were talking about how those guys' ability to really push each other is going to help (them), and Dathan said to me, 'I wish I had someone to push me all those years.' And my comment to him was, 'Yeah, but you didn't and that's what has made you so tough as you had to push yourself.'"
"So at some point, it will be good when he has the other guys to push him. But Dathan has the psychological ability (to be a great marathoner). What he did in Zürich last year - to basically start out in last and keep passing people proves that. Ultimately in the marathon, the ability to push yourself and keep concentration for a long time (is key)."
"The only question one could have about Dathan is physically can he do the training and not come down with an injury?"
"Now that we've addressed it, I'm very confident that we have control of that situation. I honestly believe that. This isn't all-out Russian roulette (any more) if he's going to get injured or not and that has been his Achilles heel."
The next 16 weeks will prove whether Salazar is correct, but if he is, Ritz fans as well as American distance fans will be very excited on November 7th when the gun goes off to start the 2010 ING New York City marathon.
---
Editor's Addition: Ritz also said a few other interesting things in the teleconference that weren't really related to the upcoming marathon.
1. Ritz revealed that he didn't watch his American record fall in the 5,000 and he's never watched the race replay. Ritz says he was busy lifting weights at the time. "I recorded it but I never ended up watching it. I was anxiously awaiting the results. I knew everybody would let me know. It's really exciting that we've had four guys run under 12:58 (in the last year). That one record stood for 13 years. I knew I was just opening the floodgates and that it was a real mental barrier."
2. Ritz said he'll definitely focus on the marathon for 2012. "(2012) will be the real peak of my physiological career hopefully. I think that's the event I'll do best in, as it gives me the best chance to do really well at the Olympics."
3. As was the case with his first child, Ritz's wife is past due with their second child and if things don't happen naturally, the baby will be induced before the end of the week. Ritz is having a boy.
---
Runner's World &
Running Times



Combined Only $22
a Year
Save $87

---

Running & Track and Field Posters
---


More Nice Offers: Nike Lunar Glide Savings Super popular shoe from Nike featuring Flywire and Lunar Foam

*Nike Air Max Moto Sale $69.99 for this shoe from our partner.
---