Final Day 2010 World Juniors: David Mutua over Cas Loxsom and Robbie Andrews, Kenyan Steeple Dominanc and 1500m Surprise
By Chris Lotsbom
(c) 2010 Race Results Weekly, all rights reserved
July 25, 2010
*LetsRun.com Photos Gallery
*Results

(25-Jul) -- In what was arguably the most anticipated race of the IAAF World Junior Championships on the men's side, David Mutinda Mutua didn't disappoint the crowd at Stade de Moncton 2010 in the 800m final. The 18 year-old Kenyan won a thrilling race in the final meters, outkicking a pair of Americans in the process to give Kenya their seventh and final gold medal of the championships.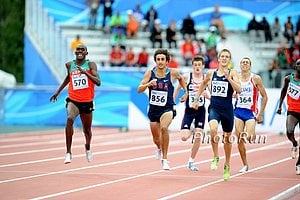 Mutua's teammate Dickson Kipsang Tuwei took the early pacing duties, taking the field of eight through 200m in 24.72, and 400m in 52.19. Right behind Tuwei was Casimir Loxsom and Robby Andrews, both of the United States, as well as Mutua, all waiting to make their move with 200m to go. It was setting up to be a classic kickers race.

"When there was 110 meters left, my body woke up and I knew I could win the race," said Mutua.

As Tuwei hit the final curve, Loxsom and Andrews kicked together, passing the exhausted Tuwei who was fading fast. With only 50m remaining, Mutua seemed to be shot out of a cannon, overtaking both Loxsom and Andrews. Finishing in a personal best 1:46.41, Mutua clocked the second fastest junior time of the year.

Behind him, Loxsom beat Andrews in a finish similar to one that occurred at the USA Junior Championships last month in Des Moines, Ia. Loxsom clocked 1:46.57 for the silver medal, a personal best, while Andrews crossed in 1:47.00 for the bronze.


Following the race, the Penn State sophomore Loxsom said: "I had the same game plan as yesterday. I sat on the Kenyan; man, he was strong at the end. I thought I had it. He snuck up on me. I'm happy with silver. I'm happy with two [American] medallists. It's definitely a cool experience to be able to run around the track with another American [with the flag]."

The other men's distance event of the afternoon was the men's 3000m steeplechase. Jonathan Muia Ndiku of Kenya controlled the race, taking the lead at the 1-kilometer mark from teammate Albert Kiptoo Yator.

With four laps remaining, the lead pack of four began to break up, and ultimately Ndiku ran away with the race, covering the final kilometer in 2:47.44. Earning the gold in 8:23.48, Ndiku takes his second straight Junior Championship steeplechase title.

"Last time, I won in Bydgoszcz in 2008. I did well because I defended my title," said Ndiku. "This race is our culture. Itís a Kenyan race."

Yator ultimately held on for silver in 8:33.55, while Uganda's Jacob Araptany took bronze in 8:37.02.

The women's 1500m had yet another African winner, like on the men's side, but an Irishwoman took the spotlight by capturing the silver medal. Ethiopia's Tizita Bogale won the gold in a personal best of 4:08.06, but that gold medal wasn't just handed to her. Instead, she had to earn it by outkicking Ireland's Ciara Mageean. Mageean made a move with one lap to go, coming into the picture for a potential upset. But Bogale was just too strong, sprinting through the line first. Mageean did run a national junior record of 4:09.51, giving Ireland their only medal at the championships.

"I'm so bloody happy," said Mageean. "I'm so proud. I just wanted to do it for everyone back home. And to finish with a national record, I'm thrilled,"

Nancy Chepkemoi of Kenya finished third in 4:11.04. American Jordan Hasay placed fourth in 4:13.95; she had been the silver medallist in this discipline at the IAAF World Youth Championships in Ostrava in 2007.

| | | | | | | |
| --- | --- | --- | --- | --- | --- | --- |
| 1 | 3 | 570 | David Mutinda Mutua | KEN | 1:46.41 | (PB) |
| 2 | 6 | 892 | Casimir Loxsom | USA | 1:46.57 | (PB) |
| 3 | 5 | 856 | Robby Andrews | USA | 1:47.00 | . |
| 4 | 7 | 385 | Niall Brooks | GBR | 1:47.02 | (PB) |
| 5 | 2 | 364 | Samir Dahmani | FRA | 1:47.82 | . |
| 6 | 4 | 577 | Dickson Kipsang Tuwei | KEN | 1:48.97 | . |
| 7 | 8 | 721 | Mohamad Al-Garni | QAT | 1:50.16 | . |
| 8 | 1 | 359 | Pierre-Ambroise Bosse | FRA | 1:53.52 | |
More:
*LetsRun.com Photos Gallery
*Results
*Andrews and Loxsom First Americans To Medal In World Junior Middle Distance Event
---
Runner's World &
Running Times



Combined Only $22
a Year
Save $87

---

Running & Track and Field Posters
---

Great Offer: Nike Lunar Glide Sale Multiple colors of this shoe available.

*Nike Air Max Moto 7 Get 2 Pairs for a Crazy $112
---