LetsRun.com: The Week That Was In Running: November 30 - December 6, 2009

By LetsRun.com
To read last week's LRC Week That Was, click Here.
To read any 2009 LRC Week That Was, click Here.
December 7, 2009 - Once again, we recap the action for you from across the globe, whether it's the high school nationals in Oregon of the Fukuoka Marathon in Japan. Along the way, we introduce you to a ten miler where 90 people broke 50 flat and give you the cure to stress fractures. And since we feel greatness comes in pairs, we talk about Usain Bolt & Tyson Gay, Alan Webb & Galen Rupp, Chris Derrick & Craig Virgin, Al Sharpton & Jesse Jackson, plus Marion Jones, Gina Procaccio, Jenny Barringer and others.
Last Week's Homepages
*Mon (Nov. 30) *Sun (Nov. 29) *Sat (Nov. 28) *Fri (Nov 27) *Thu (Nov. 26) *Wed (Nov. 25) *Tue (Nov. 24)
****Race Of The Week
Our Race of The Week isn't the Nike Cross nationals or the Fukuoka Marathon. Rather, it was the Kumamoto Kosa 10 Mile Road Race in Japan, which serves as a major tuneup for the corporation ekiden national championships on Jan 1. The 10-miler is definitely the most competitive 10-miler on the planet, as a staggering 90 people broke 50 minutes. In the international division, 23-year-old Kenyan Martin Mathathi (bronze medallist in the 10k at the 2007 Worlds) missed his course record of 44:51 (the time also is the junior world record) by 1 second, as he won in 44:52. Japan's Masato Imai won the Japanese division in 46:40. Many thanks to Japan Running News for letting us know all about the race.
More: *Mathathi, Imai Take Kumamoto Kosa 10-Miler
****2010 Fukuoka Marathon
The most prestigious race from last weekend in Japan was the Fukuoka Marathon. If you donít know the history of Fukuoka, you need to read David Montiís piece on it, as it's a very important marathon in the world. Monti said it best when he wrote, "Before the running boom of the 1970s, only three marathons mattered: Boston, Fukuoka and the Olympics (the first world championships wouldn't be held until 1983)."
Well, at Fukukoa this year, Ethiopian Tsegaye Kebede proved that he is without a doubt one of the finest marathoners in the world, as he ran a huge negative split to break his own Japanese soil record and set new personal best of 2:05:18 as Ethiopians took 3 of the top 4 places. Kebede hit the halfway mark in 1:03:05 but just accelerated away from the field between 30k and 40k, which he covered in a ridiculous 29:14. Yes, two straight 14:37s after 30k. That is simply sensational. For comparison's sake, realize that Gebselassie ran 29:09 for that segment during his WR run in Berlin.
The win was Kebede's sixth straight great performance at the 26.2 distance. After making his marathon debut in 2007 (2:08:16 in Rotterdam), Kebede has run 3 marathons in each of the last two years and he's yet to have a poor showing. He's definitely one of the most consistent top performers on the planet.
2008 - 2:06:40 (1st in Paris), 2:10:00 (3rd in the Olympics), 2:06:10 (1st in Fukuoka)
2009 - 2:05:20 (2nd in London), 2:08:35 (3rd at World Champs), 2:05:18 (1st in Fukuoka)

Oh yeah, and he's only 22 years old.
But in Fukuoka there also was a guy who gives hope to seasoned marathoners looking for a breakthrough. 2nd-place finisher Tekeste Kebede, who ran 2:07:52, had according to the IAAF run more than a dozen marathons before finally breaking 2:10:00 this spring in Boston (tilastapja.org shows that Boston was actually his 10th marathon, so we're not sure who to believe). Now he has run 2:07:52. The key to his scucess? Not overtraining by forcing himself to match his training partners and coach's instructions, as he told the IAAF: "Previously, I was training in a group with a coach but I am now self-coached. I think it gave me an opportunity to think about the right training for me and that I think is the reason why I was able to improve the personal best by a huge margin."

The Japanese men didn't do well in the most prestigious of all the Japanese marathons, as the fastest was Harun Njoroge, who ran 2:14:17 after a 70:06 2nd half. (Editor's Note: Harun is a Japanese based Kenyan. The top Japanese runner was Tadashi Shitamori who ran 2:14:42 and was 9th). At least six Japanese went out under 2:05:00 pace, and two others who went out in the 1:03 range, but Njoroge was the first finisher.
One more thing about Fukuoka - we love how it starts (and ends) on a track. The pacemakers are bound to get it right.
Oh yeah, the race winner Kebede covered his last lap in 66 seconds according to the Japanese Running blog.
More: *Video Highlights From 2009 Fukuoka *Fukukoa Results *Japanese Running Blog's Recap *IAAF Recap Of Fukuoka
****2010 Virgin London Marathon Field Is Announced
Last week, the 2010 Virgin London Marathon field was announced and, while this is the first year that Virgin is the sponsor, there is nothing inexperienced about the field assembled. London has proven once again that it is the most competitive marathon in the world and the hardest to win for the pros.
Defending champs Irina Mikitenko and Sammy Wanjiru will be back to defend their crowns. But Wanjuru, who has a 2:05:10 best, is only the third-fastest guy in the men's field.
To prove that London is the most competitive race in the world, take a look at the following chart compares the 2010 London field to the fields at three American majors in 2009 (we assembled the following stats kind of quickly, so there may be a mistake or two, but you get our point):
| | | | | |
| --- | --- | --- | --- | --- |
| | # of sub-2:05 guys | # of sub-2:06 guys | # of sub-2:07 guys | Total |
| London 2010 | 1 | 5 | 1 | 7 |
| New York 2009 | 1 | 2 (but Lel withdrew, so 1) | 3 | 6 (5 ran) |
| Chicago 2009 | 0 | 3 | 1 | 4 |
| Boston 2009 | 0 | 0 | 4 | 4 |
So London has more sub-2:07 guys and is also way more top heavy than the others.
How could London get better? It's simple in our minds. Get rid of the rabbits every other year. In our minds, races should have rabbits only every other year at most, as time trials end up being a bit boring.
More: *2010 Virgin London Marathon Field Announced
****Marion Jones Continues To Disgrace Herself & The Mainstream Media Continues To Buy It
So it came out last week that Marion Jones is going to try to play in the WNBA. The New York Times broke the story on her comeback and reading it made us realize that Tim Montgomery was right - MJ is like no one else on the planet. Her ability to live in fantasy world is unreal.
She talked about wanting to help kids about making the right choices afte making a mistake by saying:
"I thought it would be an interesting journey if I decided to do this. It would give me an opportunity to share my message to young people on a bigger platform."
That message is fine but that sad thing is Marion Jones still acts like she wasn't a drug cheat. She fails time and time again, whether it's on Oprah or in the Times, to acknowledge she was a doper, as in the article she acts like her only mistake was lying to the grand jury and not that AND doping.
"Within 20-30 seconds - it wasnít longer than that - I made the choice that I wasn't going to tell the truth. It's that one moment. Many people can't trace a turning point in their lives to one moment. I can."
All we can say is: disgraceful.
Oh yeah, there was one more disgraceful thing was revealed in the article. According to Marion, it was the NBA, not Marion, that came up with the idea to return to basketball.
*More: Marion Jones Aims For A Comeback, In Basketball
****We Give Him Credit For His Honesty
Michael Johnson was in Jamaica last week working on a BBC documentary on Usain Bolt. Check out what Johnson, who is 2004 Olympic 400 meter champion Jeremy Wariner's agent, said when asked by the Jamaica Observer what Bolt would need to do to beat Wariner and/or LaShawn Merritt.
"Well right now, not very much because they're not running that fast. They didn't run 43 seconds last year, so I think he (Bolt) could step on the track this year and run 43 seconds, I honestly do."
MJ was also right on the money in saying that he thought the move to the 400 would be a natural move for Bolt, as a big part of track and field is having the desire to train and he may soon grow bored of the 100 and 200.
*More: He can do it! Bolt Can Conquer 400m As Well, Says Johnson
****Weekly Drug Update
Let's face it, if Usain Bolt ever tests positive or is implicated in PEDs during his prime, track and field will be in big trouble. We here at LRC have always thought he was clean and thus it was a big relief that last week Arne Ljungquivst, vice chairman of WADA, said the following about Usain Bolt as reported in 'htuleht Online (and translated by our friends at google):
"Usain Bolt is completely clean. We have so much of his data, which can not be fooled."
Note that Ljungquivst isn't saying like so many did in the past that Bolt is clean because he's passed a ton of tests like Marion Jones. Rather, he is clean because they've analyzed his entire profile.
In related news, it came out last week that WADA is set to approve it's biological passport system. With the system, athletes could be banned without a positive test if their profiles changed in huge, inexplicable ways.
And lastly a big Thumbs Up to pharmaceutical giant, GlaxoSmithKline, who announced it will build a £10 million laboratory to test thousands of athletes during the 2012 Olympics and Paralympics under a sponsorship deal announced by London organisers.
****Quote Of The Week #1
"Athletes who cheat and those who assist them are much more likely toget caught. The momentum is clearly on our side ... Wada has helped change attitudes toward doping and doping is now widely recognised for what it is: a corrosive evil that threatens the integrity of sports."
- International Olympic head Jacques Rogge speaking at a World Anti-Doping Agency (Wada) meeting as reported in The Guardian. We agree with his sentiment 100%. 10 years ago, clean athletes probably felt as if everyone was against them. Now it's reversed.
****Runner Of The Week
Our Runner of the Week is someone you've probably never heard of: 27-year-old Anne Mahlum. The Philadelphia resident is an early morning runner and one day as she was running by the city's homeless at 5:00 am, she thought to herself, "Why am I running past these guys? I'm moving my life forward every day - and these guys are standing in the same spot."
That thought led to action and now the "Back On My Feet" running club exists and it now has 54 homeless members, 250 volunteers and 5,000 miles behind it. Read more about it on CNN: *Runner Gets Homeless On Right Track
****Common Sense Prevails
Would you rather run a half marathon in New York in the midst of the summer heat of August or in the coolness of March? A no-brainer, right? March is obviously the answer. Well, the NYRR agrees and has moved the date of the New York Half to March. This year it will be March 21st.
We imagine the quality of the race will go up a bit, as August was a bit early for it to be ideal for fall marathon preparations. March is ideal for people getting ready for London and Boston. We'd love to see Sammy Wanjiru in New York for the half and hope NYRR tries to get him as part of an eventual effort to get him to race New York in 2011 after maybe getting the world record somewhere else in 2010.
We got the following statement from Richard Finn of the NYRR:
"The NYC Half Marathon will continue to be one of the crown jewels of the NYRR racing calendar and an important race on the professional calendar. The new March date should be very attractive to be both professionals and recreational runners looking for a good race as part of any preparations for a spring marathon like Boston or others. The previous summer date always presented some weather concerns which should not be an issue with the March date."
Oh yeah, one more thing. The lottery for the 2010 race is now open.
****NXN
The Nike Cross Nationals (NXN) were held on Saturday in Portland to crown the best boys and girls high school XC teams in the country.
The action was dominated on the girls side by Fayetteville-Manlius, coached by the amazing Bill Aris. FM put five in the top 20 in the team scoring and won 74 to 149 over Saratoga. It was FM's 4th-straight national title.
It's incredible that one team could win four consecutive titles on the HS level when one considers that in high school, there are no scholarships, so it's not like a coach can just consistently buy the best talent. Aris flat-out can coach, as his FM boys are a staple at NXN themselves and even won the New York state title without the services of their #1 runner.
Aris said after winning NXN, that the key to his program is interchangeability, which was proven by the boys state title win and by the fact that Hannah Luber, FM's sixth finisher on Saturday, was the team's lead runner at the Manhattan race in October.
"Interchange-ability is the key to this sport, it's the key to our program. They really all are selfless kids, they all love each other and they all work for each other," Aris told the Syracuse Post-Standard.
On the men's side, there really was no dominant team at all. Texas' Boerne HS ended up coming from 3rd at 4k to 1st to win a tight one. But to us, the race really showed why for a long time the high school scene did just fine without a team nationals, because the average high school team just isn't relatively nearly as good as the average college team. In college, most of the top teams have the best individuals. In high school, most of the top individuals aren't on the best teams.
At NXN, 24 of the top 40 individual placers on the boys side were runners that weren't on teams in the meet. At NCAAs, only 7 of the 40 were from teams not in the meet. Imagine if Foot Locker XC was done away with. It would be very conceivable that you'd have a Nike race where maybe 10 of the top 70 were individuals on teams with people in the meet.
As a result, NXN needs to think about changing the team scoring and maybe count everyone in the scoring, as if there is every a team with a superstar individual, they should be rewarded for that.
The boys individual race was one to remember as pre-race favorite Joe Rosa was caught in a 3-way blanket finish at the line and ended up third as Craig Lutz got the win. Dyestat had an amazing photo of Lutz getting the win. Definitely worth a click.
And the best news of all is that Lutz is racing Foot Locker finals next weekend, so at least on the boys side, there will be a true individual national champion (although we guess he can use the excuse that he was tired after 3-straight big races).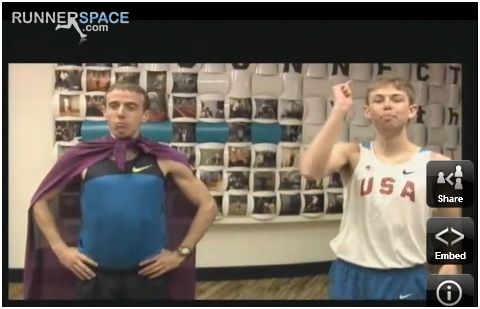 At NXN, the athletes are treated like royalty by Nike. In that front, Nike made a spoof design video featuring amongst others Galen Rupp and Alan Webb. Definitely worth a watch here. Whenever you get a chance to see Galen Rupp and Alan Webb wearing a superman cape, you've got to check it out.
Glad to see them and Nike having a good time. The two are probably the two most ridiculed/criticized runners in cybersapce given their high profiles. By making videos like this, they are humanizing themselves and taking some of the sting out of their detractors.
More: *2009 NXN Boys Results *2009 NXN Girls Results *Craig Lutz Interview *Oregonian Recap Of NXN *Meet Website
****Usain Bolt's SuperParty & Tyson Gay On ESPN
Usain Bolt's 9.58 SuperParty was held last week in Jamaica. The rapper Ludacris flew out to the event, which apparently was a success, as the police shut down things at 4:15 am. The ever-gracious host, Bolt, wasn't happy that the partying had to end at such an early hour. Bolt himself took a microphone and said the following according to trackalerts.com: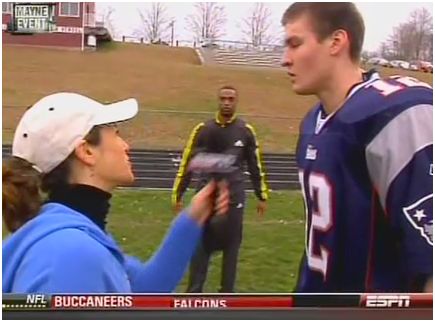 "Yow people Ö mi a apologize fi dis, a no my fault. De police dem sey dem hafi turn it off and mi no know why dem a do dat. Mi cant do anything because di police dem a Gwan a way Ö it hurt me to si dem a gwan soÖ but, thanks for coming out."
All we can say is, thank god a mainstream American paper didn't quote Bolt like that or Al Sharpton and Jesse Jackson would have the place boycotted within 15 minutes.
Usain Bolt wasn't the only sprinter in the news last week. His only rival, Tyson Gay, showed up on a funny ESPN spot where he "coached" ESPN sideline reporter Suzy Kolber on speed in a Kenny Mayne spot prior to Monday Night football. A pretty funny spot if you have a few minutes to watch.
****Post-NCAA News

Just As She Planned It
Runnersworld.com had a nice chat with Villanova coach Gina Procaccio, who talked about what it meant to win a national title at her alma mater as a woman coach. It was a great read, but Procaccio said the key was when she realized she needed to recruit a certain type of runner, as all of the very top kids were going to the more glamorous Stanfords and Oregons of the world:

"To be honest, I decided three years back that I was just going to start looking at second tier kids because I wasn't attracting the top tier kids. And I decided just to focus on the Northeast, because that's just where the majority of our success from these teams was. And I was able to convince five girls - they're from Pennsylvania, New Jersey, New York, Maryland, and then Sheila Reid from Canada - I basically told them, "look, when I came to Villanova, we weren't very good. But I came in with Vicki Huber, Kathy Franey, that class. And by the time those girls were seniors, they were national champs. And I think we can so the same bit. I think by the time you guys are juniors, we can be national champs."
In other post NCAA women's news, Jenny Barringer announced last week that she will stick with Colorado coach Mark Wetmore. A wise move in our minds, as Barringer's career at Colorado was simply amazing, except for the one horrible blemish at the end.
In the past, former Buff stars like Jorge Torres and Dathan Ritzenhein ended up being forced to go or choosing to go their own way. Also, Barringer said that Ray Flynn will be her agent.
****American Road Action
In terms of American road action, there were a few things worth noting. 34-year-old Josh Cox deserves a Thumbs Up for setting a new PR, as he got the win in 2:13:51 - 9 years after running 2:13:55 in Chicago. Kudos for Josh for sticking with it for so long, but his career shows just how much American distance running has progressed in 9 years, as in 2000, he was a pretty big player or name in US distance circles.
In 2000 (when the US only sent one runner to the Olympics as we only had one under the 2:14:00 standard prior to the trials as we only had two sub 2:14 guys with the standard but USATF wanted to protect the winner), Cox was 4th for the year with his 2:13:55. This year, his 2:13:51 is 7th on the US list.
At the Las Vegas half marathon, Bekana Daba, the guy who ran a 13:17 5k to defeat Galen Rupp back in February in Arkansas, had a successful (61:40) half marathon debut, as American Stephen Haas ran 2:18 in the marathon.
And there is one other road race that we should mention even if it wasn't in America. In Singapore, 2007 marathon world champion Luke Kibet ran 2:11 in 87-degree heat. The guy is insanely good in the heat.

More: Bekana Daba Wins Half In 61:40, Kenyans Win M/W Marathon - Top American Stephen Haas In 2:18 *LRC Vegas Photos *Americans Run Fast On Cold, Windy Day In Sacramento *Hot Weather Marathon Specialist Luke Kibet Runs 2:11 CR In 87-Degree Heat
****The Cure To Stress Fractures
The New York Times had a nice piece last week on some research into stress fractures. For women, the advice is simple, according to University of Minnesota scientists. Strengthen your calves:
"The primary difference, the researchers concluded, between the women who suffered stress fractures and those who hadnít was the size (and presumably strength) of their calf muscles ... It does seem as if strengthening the calf muscles may be a very easy way to reduce fracture risk," says Moira Petit, an associate professor of kinesiology at the University of Minnesota and an author of the study."
For men, the calf strengthening may not help (but we think it certainly might help you with your Achilles, so you should do it anyway), but some researchers at Iowa State think they have an easy solution. Shorten your stride by up 10%. Don't know how much 10% of your stride is? No worries, says lead researcher Brent Edwards:
"Ten percent is about as much as you can shorten your stride without it beginning to feel quite uncomfortable. Seven or eight or nine percent is fine."
More: *NY Times: Phys Ed: How To Prevent Stress Fractures
****Weekly Free Training Tip/Message Board Thread Of The Week
Famed Italian coach Renato Canova chimed in this week on the messageboard on the importance of progressing in one's training over one's career (which we featured as our Quote Of The Day for Saturday) and then came back to talk at length about his core training principles, including the need to touch on all types of training year round. In that light, we'll share with you another great quote from Mr. Canova:
In any project of training, we never can lose what already we have. So, staying too long time without training some quality is ALWAYS a mistake. Today, it's not possible to apply Lydiard system, because the athletes have to compete frequently.
More: *Q for Renato Canova, Aerobic House - Gradual or Quick Mileage increase?

****USATF News
Last week USATF head Doug Logan issued his State of the Sport address. Things worth knowing from the address ... USATF has done a very good job of raising dollars. From Logan himself: "After nearly six years of a flat budget of approximately $15 million, we have submitted an annual budget for 2010 of $21 million. Twenty-one million dollars. To increase our budget 40 percent in daunting economic times, we increased our revenue and changed our mindset from status-quo to 'go, go, go.'"
That seems rather remarkable until one realizes that it probably almost all came from Nike:

"One way we have already done this is by reaching a deal in mid-2009 that increases the value of Nike's contribution to USATF by almost 50 percent. A good portion of those funds are earmarked specifically for the athlete, thanks to a pool of money known as the 'Project 30 Fund.'"
Based on reading that, it's not sure if the budget is way up or if it's just slight accounting tricks.
More: *Doug Logan's Blog
****Photo Of The Week
LetsRun.com visitor James Galen took the following photo at NCAA XC just before Thanksgiving, which we definitely are labeling as our Photo of the Week. One old-time Illinois raised legend talks to another - Craig Virgin speaks to Chris Derrick:

We're not sure what Craig was talking to Derrick about, but we're pretty sure Virgin was talking about his own past. As a sophomore in 1974, Virgin valiantly went for victory against Nick Rose at NCAAs and ended up fading badly to 12th, after coming into the race undefeated just like Derrick this year. The next year? A year older and wiser, Virgin got the win after a gripping battle with Rose.
Recommended Reads/Views From Last Week
*A Brief Chat With Gina Procaccio The Villanova coach survived some lean years and now the Wildcats are national champs.
*London Times Columnist Tells The Story Of Arranging The Prison Interview With Tim Montgomery
Remembering The Last Week With The Quotes of the Day - Day-By-Day:
Monday: "I was probably a little too aggressive. It kind of blew up in my face the last couple of miles ... I wouldn't do it any other way."
- Hansons runner Mike Morgan (2:15:27) after leading Sunday's California International Marathon for 23 miles before Josh Cox (2:13:51) and Tesfaye Girma-Bekele (2:13:42) passed him. In the link is a good recap of the race from The Sacramento Bee's John Schumacher.

Sunday: "Previously, I was training in a group with a coach but I am now self-coached," Tekeste Kebede, 28, said. "I think it gave me an opportunity to think about the right training for me and that I think is the reason why I was able to improve the personal best by a huge margin."
- 2nd-place Tekeste Kebede after an Ethiopian romp in Fukuoka.
Saturday: "My friend, the philosophy I always follow has been to give my athletes a plan for progress. Sometimes you see, people ask me about what my great athletes do for training. This question is not bad. But better question in my opinion is 'how did your athletes make progress to what they train now?' 'How many steps did they take to achieve this result where they can handle my training plan'. You see, great training programs, they always have progress plan. Many people wish to have advice that makes them better in just few weeks. You want some magic workouts that will make you run faster results in just few weeks. No my friend, training does not work like that."
- World-famous distance coach Renato Canova answering a LetsRun.com reader on the Message Boards.

Friday: "I think my best asset is having a lot of balance in my life. I enjoy running but I don't let it take over my life. This has kept me enjoying the sport of cross-country and track and field for the past eight years which is a long time to be competing at a high level."
- NCAA 5,000m and cross-country champion Angela Bizzarri answering a question in a web-chat with fans on the Illinois website. Bizzarri also said she ran 45-53 miles a week this XC season and ate fajitas after the race, for those of you looking for the other secrets to her success.

Thursday: "I told my fiancee (sic) 'man, if I can win NCAAs, then my wedding day will be the greatest day of my life.' It's going to be at Villanova's church, and the top seven (from the NCAA Championships) are actually involved in the ceremony."
- Villanova women's coach Gina Procaccio in a Brief Chat with Runner's World. Luckily for her fiancť, she won NCAAs! Ahhh, to be a college coach ...

Wednesday: "I can't talk to you. I can't talk to anyone. I can't say to anyone how I feel or what's in my mind." I said I thought that must suck. "No," she said, very firmly. Her voice was strong and low. "That doesn't suck. It sucks when I was running and they were writing those things. That sucked. That is when it sucks. Now I just have to walk away. That's all I can do." She smiled a small, bemused smile. "Walk away from all of this, maybe forever. Now I just walk away."
- Caster Semenya quoted at the end of a tremendous article written by Ariel Levy for The New Yorker.

Tuesday: "Back in May, when I got a call from someone in the N.B.A. asking if I would possibly be interested in the W.N.B.A., my reaction was, 'Yeah, right.' ... But I thought it would be an interesting journey if I decided to do this. It would give me an opportunity to share my message to young people on a bigger platform. I think I can be an asset to a franchise, so it comes down to, Why not?"
- Marion Jones on her new training focus - the W.N.B.A. Fresh out of prison for cheating the sport of track and field and committing check fraud, Jones was a member of a 33-2 national championship UNC team in 1995.