Recommended Read: Joash Osoro Profile - UPortland Runner Adopted By American Family From Kenya
Saturday - Check Here For Results Of 3 Foot Locker Champs Qualifiers (HS XC)
Transient Professional Athletes Struggle With Real Estate Market We thought this was an interesting read.
US Distance Runners In Action On Thanksgiving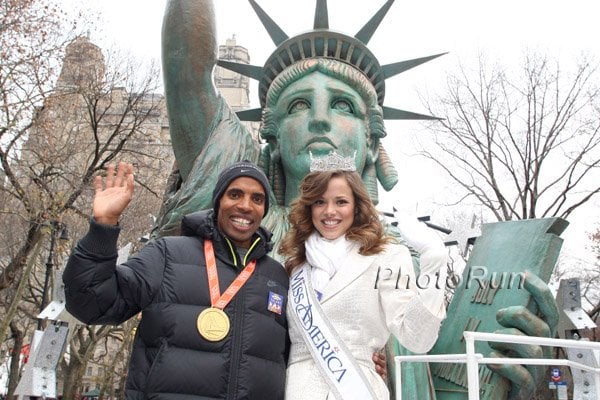 LRC Photos From Meb Keflezighi's Appearance In The Macy's T-Giving Day Parade With Miss America Meb on the event: "My kids couldn't sleep, I couldn't sleep ... I was so excited, I thought I was running a major event this morning." Perhaps Meb asked Miss America questions such as, "Now that you are Miss America, what will you do to help solve the home foreclosure crisis?"

Manchester Road Race Searchable Results We are surprised how deep the men's field was.
*Top Results:
Men: 1. Haron Lagat 21:40; 2. Patrick Smyth 21:41; 3. David Jankowski 21:44
Women: 1. Alemtsehay Misganaw 25:26; 2. Amy Rudolph 25:27; 3. Teyba Naser 25:31
An NCAA Meet To Remember
LRC Prediction Contest Scores *DII Contest

Results: *Men's Ind. *Men's Team *Women's Ind. *Women's Team *LRC: Updated And Expanded Photos More coverage below.
Nike Coaching Award Goes To ... Alberto Salazar!
Salazar Named Nike Coach Of The Year By USATF Sure, it's a little comedic that it's an award sponsored by Nike, but Alberto Salazar has done a fantastic job coaching and mentoring Amy Yoder-Begley, Galen Rupp, Kara Goucher and Dathan Ritzenhein, to name a few.

LRC Threads: *Salazar - Named Nike Coach of the Year by USATF *Meb wins NYCM, Rowbury medals at Berlin WC, and Al Sal didn't coach them yet he gets NIKE Coach of the Year?
NCAA D1 XC Championships Results & Post-Race Media Coverage
Results: *Men's Ind. *Men's Team *Women's Ind. *Women's Team *LRC: Updated and Expanded Photos

LRC Prediction Contest Scores

Column Of 2009 Champions
Dave Smith Explains Team And German Fernandez Performances Apparently, world junior indoor mile record-holder German Fernandez was struggling with an injury, but ran the best he could for the team. Smith credits Girma Mecheso - who struggled all year - with the clutch performance of the meet for Ok. St.
Don't Know Angela Bizzarri? Here's Your Chance To Learn About A Top American Runner
'Nova Completes Perfect Dream Season
Nice Article On Coach Gina Procaccio And Villanova Using Laughter And Relaxation Women's stat of the year: No team that ran against Villanova this year finished their 3rd runner before Villanova finished their 5th. Congrats on a dream season come true. Also props to Amanda Marino finishing as 'Nova's first runner for the first time this year.
Sam Chelanga Crushes Field In Record 28:41 - Oklahoma State Wins Nail-Biter Team Title w/ 5th Man German F In 97th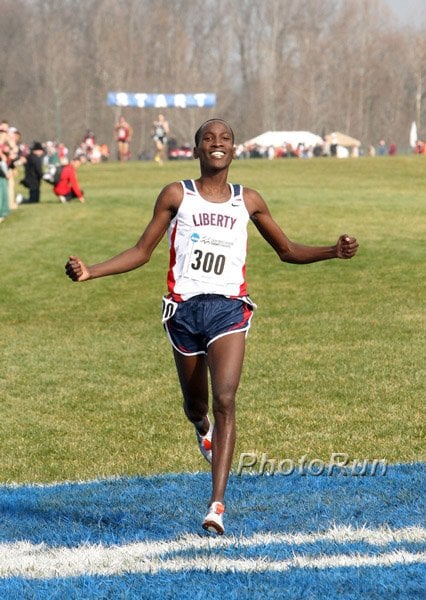 *Dick Patrick's USA Today Write-Up Of NCAA D1 XC Championships
*LRC: Photos From NCAA XC Championships
As we've been predicting all year, Oklahoma State won the men's team title at the NCAA XC Championship meet. But the way they did it - winning by a narrow margin as crucial 5th man German Fernandez placed 97th (!) - was a shock. Also a surprise was the peak performance of the veteran Oregon Duck team, which almost snagged a 3rd consecutive NCAA team XC title after a dismal season up until Monday (only 1% of LRC voters picked Oregon to win in our prediction contest). Near unanimous nationally #1-ranked Stanford showed that all good things must come to an end, as their dream season turned into a nightmare as they finished an unbelievable 10th as a team (but don't say we didn't see it coming). Team scores at halfway? 1. Ok St. 93 2. Stanford 99. Unreal. Individually nobody could touch Sam Chelanga (he went out in 14:09 at 5k). David McNeill almost broke Galen Rupp's course record finishing 25 seconds behind Chelanga and just in front of an exhausted Chris Derrick, who beat Chelanga at Pre-NCAAs 5 weeks ago with a big kick. See the splits for Ok State, Stanford and Oregon below to see why Ok State deserved the title.
Who Ran Smartest?
Ok State Splits: (Place, 1st 5k, 2nd 5k, Difference)
Ryan Vail (9th) 14:47, 14:53 (+6)
Colby Lowe (10th) 14:48, 14:54 (+6)
John Kosgei (13th) 14:48, 15:00 (+16)
Girma Mecheso (28th) 14:47, 15:26 (+39)
German Fernandez (97th) 15:08, 15:45 (+37)
(average +21)

Stanford Splits: (Place, 1st 5k, 2nd 5k, Difference)
Chris Derrick (3rd) 14:38, 14:36 (-2)
Elliot Heath (38th) 14:48, 15:31 (+43)
Jake Riley (54th) *no splits
Miles Unterreiner (117th) 15:10, 15:55 (+45)
Justin Marpole-Bird (216th) 15:23, 17:00 (+97)
Brendan Gregg (222nd) 15:41, 17:23 (+102)
Ben Johnson (230th) 15:15, 19:06 (+231)

Oregon Splits: (Place, 1st 5k, 2nd 5k, Difference)
Luke Puskedra (21st) 14:46, 15:16 (+30)
Matt Centrowitz (27th) 14:54, 15:16 (+22)
Kenny Klotz (29th) 14:54, 15:20 (+26)
Danny Mercado (31st) 14:54, 15:22 (+28)
Diego Mercado (61st) 15:04, 15:31 (+27)
(average +27)
Latest International Results:
*Llodio, Spain IAAF Cross-Country Results - Linet Masai Wins Women's Race
*Japan-Based Gideon Ngatuny Runs 59:50 PR In Nagoya Half Marathon Ho-hum, just another sub-1 hour half marathon.
International Races/News
From World's Fastest Man To Prison - Two Of The Most Interesting Reads You'll Find All Year
4 Positive Stories For American Track Fans
USA Chiba Ekiden Runners: Clubs, Colleges, Splits, Leg Winners
Jordan Horn, (McMillan Elite, Cal St., Fullerton)
5k, 13:53, 8th (13:23, Craig Mottram)
Meghan Armstrong, (Strands/Team USA Minnesota, U. Of Iowa)
5k, 16:18, 7th (15:09, Yuriko Kobayashi)
Ian Burrell, (McMillan Elite, U. Of Georgia)
10k, 29:14, 4th (29:07, Kensuke Takezawa)
Lindsey Allen, (McMillan Elite, Stanford)
5k, 16:28, 4th (15:34, Yukiko Akaba)
Andrew Carlson, (McMillan Elite, Minnesota)
10k, 29:20, 4th (28:57, Atsushi Sato)
Jennifer Donovan, (New Balance Boston, Boston College)
7.195k, 24:29, 5th (23:12, Hikari Yoshimoto)
Interesting NCAA Post-Race Coverage
Think Bolt Is Dirty? Foremost World Anti-Doping Expert Doesn't
News From Japan
Amazing Day-After Interview With Jenny Barringer
2009 NCAA D1 XC Championship Results
*Men's Team Results
*Men's Individual Results
*Women's Team Results
*Women's Individual Results

D2: *DII Men Complete Results
*DII Women Complete Results

D3: *WTeam *WIndiv
*MTeam *MIndiv

NAIA: Results
Vin Lananna Post-NCAAs
NCAA Champ Angela Bizzarri
Usain Bolt's ESPN Commercial Released
New LRC Readers' Book Reviews
From Last To First, A Race Like No Other, And See Dane Run From Last To First is the autobiography on English marathon record holder Charlie Spedding, A Race Like No Other is NY Times Writer Liz Robbins' take on the NYC Marathon, and See Dane Run recounts a guy who ran a marathon a week for a year.
Recommended Reads - You Can Buy The Books Online
One for the Mind: Running Within
One for the Soul: Best Efforts
More Great Deals