Underappreciated: WADA Celebrates 10 Years Of Cleaning Up Sports
LRC NCAA D1 Regionals Are This Weekend - Vote In Our Pre-Regional Polls The regional system may be insanely complicated and most of the major coaches might hate it, but let's see if the most informed readers on the planet can figure out which teams should be in and which should be out. *Funny Read: Try To Understand the NCAA At-Large Selection Process Without Giving Yourself A Migraine
IAAF Year-End Award Nominees
Tuesday's Distance News
Max King Wins USATF Trail Marathon Championship 6 Days After 2:19 In New York Max doesn't give a hoot about running what or how "the man" tells him to ... and we love it. Max King LRC Video Interview After New York City Marathon Blowup

Brief Chat With Most Overlooked US Marathoner Nick Arciniaga While most bonked, Hansons runner Nick Arciniaga PRed by over 2 minutes in finishing in the top 10 in New York. N/A also was the top American finisher in Boston in 2008.

November 22nd - Bad Boy 8k XC Information And Entry Contacts Always a fun race ...
LRC Boards: Dude wins SC State XC Championship wearing high-top Air Jordans (great picture)
Asian Track Championships Coming Up - Liu Xiang Headlines Asia - where track season never ends.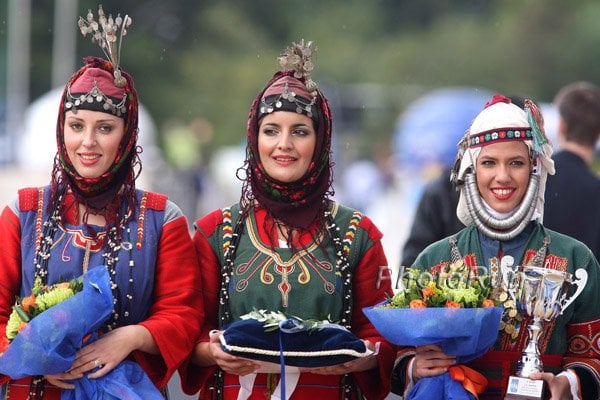 Athens Marathon Classic Made Even Tougher By Steady Downpour *LRC As Always, Beautiful Photos From PhotoRun One of track's best writers, Pat Butcher, was on the scene and writes an informative recap of one of the toughest major marathons. 23-year-old Kenyan Josephat Kipkirui Ngetich won in a stellar 2:13:44 given the hilliness and the rain, while Japanese Akemi Ozaki, 32, won in 2:39:56. Ozaki is coached by the same coach (a woman, to boot) as the unfortunate Yuri Kano, who fell in New York last weekend, so a nice consolation for their training group.
Fernando Cabada Talks After Stockade-athon Win In Schenectady Boulder, CO's Fernando Cabada ran a solid 46:35 on the tough Stockade-athon course in Schenectady, NY, where former American marathon record holder Jerry Lawson holds the course record of 44:39. Cabada ran smoothly in his first race back from injury, but the man who got the biggest rise from the local crowd was 78-year-old Ed Whitlock of Canada (the best 70+ male runner of all-time?), who again produced an age-graded whopper time with a 1:06:12 (7:14 pace). *Results *Thread
XC Returns In Europe And Kenya
*Cross-Country All Stars Clash In Spain With Dibaba Sister And World XC Champ Gebremariam Winning Not a big race to American fans, but the players were heavyweights.
*Kenyan Cross-Country Season Kicks Off & Locals Take Wins
Final Entry Of The Exclusive LetsRun.com Series
LRC American High School Student Travels To Addis And Trains With The Ethiopians - Entry #9 - Addis Ababa University In this the final episode, Neb does a track workout on one of the three tracks in Addis.
International News
Interesting Exhibit On San Jose State University Athletics And Civil Rights Fight In America
Are Running Records Getting Near The Limits?
5,000 Beijing Olympic Condoms Left Over By Athletes To Be Auctioned To One Buyer 100,000 were made for the athletes in the Olympic village. You do the math.
Marathon News
Sprints/Field Event News
Recommended Read: LetsRun.com Compiles All The Meb Coverage Letterman, Conan, Colbert and Darren Rovell react to Meb's win. What was the last American distance performance to catch the public eye as much as Meb's NY win done in the USA jersey?
Recommended Read New Yorker Article Reminds Us 16 Months Ago Meb's Career Was On The Rocks Some great commentary and perspective in this article. More inspiration for those of you struggling and looking for lessons in perseverance.
Exclusive: Parisian Doctor Writes To LetsRun To Offer Opinions On Meb This is just one of many emails we've received from passionate readers around the world.
LRC: Listen To A Replay (Or Download An MP3) Of Our Thursday Night Live ING NYC Marathon Preview Internet Radio Show Featuring 2004 Olympic Silver Medalist Meb Keflezighi "Meb" was the featured guest on our 2009 ING NYC Marathon preview show. Meb talked about his chances on Sunday and his resurgent 2009, during which he has won a US half marathon title, a US XC title, set half marathon and marathon PRs and broke the US 20k record.
LRC: MEB WINS ING NYC MARATHON The 27 years of waiting are over, as Meb Keflezighi broke Robert Cheruiyot just prior to mile 24 and gave America it's first men's victor since 1982. Overall, it was a great day for the American men, as there were 6 American men in the top 10, the most ever since the race moved to Central Park in 1976. We break down the men's race for you and along the way try to cheer up a terribly disappointed Ryan Hall in the process.
LRC: Absorbing The Post-Race Elite Vibe: Injuries And Wind Challenge Humbled, Grateful Pros We try to give you a behind-the-scenes look at how the elites reacted after the vast majority of them were humbled in New York City.
Non-Meb News Highlights
Interesting Read: Ryan Hall's Pre-NYC Blog An 18-mile tempo run went extremely well for Hall about 15 days out from the marathon.

Tulu's 2nd Comeback Gets Her Another Big Win - 17 Years After Barcelona Gold IAAF article on the life of Derartu Tulu, who tried to help Paula keep up with the lead pack on Sunday before winning.
Women In Running
Non-Running Sports News
Sprint News And Other Insanity
Conference XC Champs Speak
Hot Marathon News
Sh*t H*ts The Fan For Athletics South Africa
Take It Easy, Usain
New York City Marathon, Meb K Coverage
Sprinting News
Semenya Headlines - Official Apology And Finally A Suspension
2010 Hosts
Meb On Letterman
Meb Wins It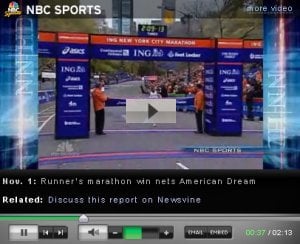 NYC Stats Of The Day
13: Number Of NYC Marathons American Men Won In A Row Starting With The First One
7: Number Of NYC Marathons American Women Won In A Row Starting With The 2nd One
0 1: Number Of NYC Marathons American Men Or Women Have Won Since
1: Number of Men Who Appeared on the LetsRun.com NYC Marathon Preview Show
1: Number of Men On the Show Who Won the 2009 ING NYC Marathon (listen to Meb talk about his chances here)
Meb On The Win
Meb Entering Columbus Circle
Usain Bolt Arrives, Dances Like A Masai Warrior In Kenya
Latest Relevant Links
*NCAA XC Coaches Polls
*Read Any 2009 LRC Week That Was *Latest WTW
*LRC's Pre-Nats Coverage
New LRC Readers' Book Reviews
From Last To First, A Race Like No Other, And See Dane Run From Last To First is the autobiography on English marathon record holder Charlie Spedding, A Race Like No Other is NY Times Writer Liz Robbins' take on the NYC Marathon, and See Dane Run recounts a guy who ran a marathon a week for a year.
Latest Photo Albums From PhotoRun.net
Recommended Reads - You Can Buy The Books Online
One for the Mind: Running Within
One for the Soul: Best Efforts
More Great Deals